Old Bay Soft Shell Crab Burger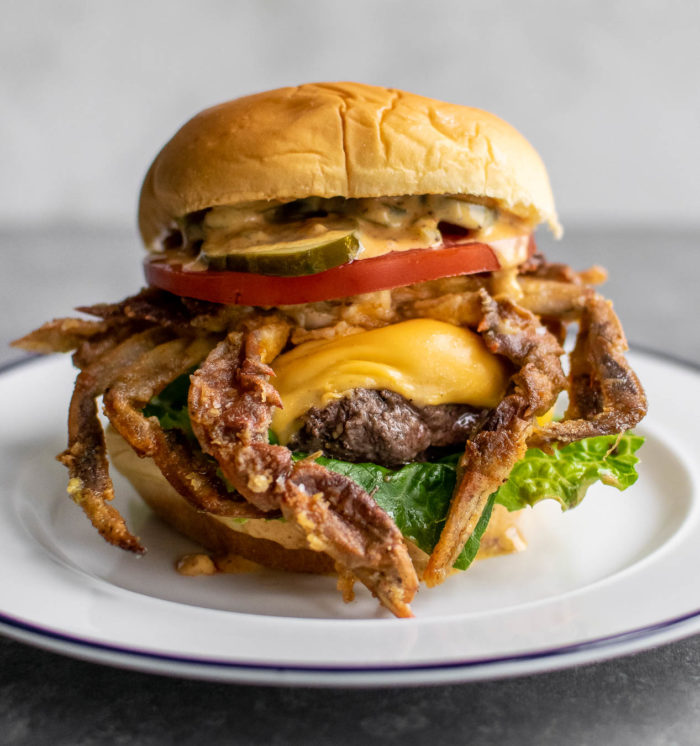 I know you're thinking I'm crazy for this one, but you know what, I think it's crazy that more people aren't putting soft shell crabs on their burgers! I'm here to rectify the situation.
Soft shell crabs are crabs who have shed their hard shells or "molted" and are caught before being able to grow a new one. This means that the entire crab, shell and all, is soft and edible. Soft shell crab season is usually from March to September, depending on where you live. If love seafood, you must try soft shell crabs!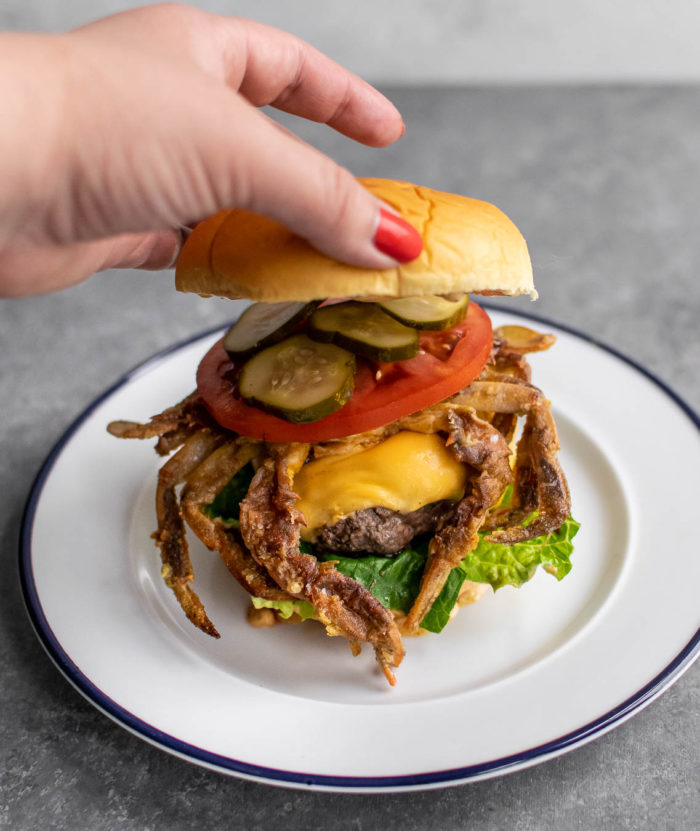 Every year when my favorite seafood shop gets softies in, a buy a few for my tried and true recipes, and a few to test out some new recipe ideas. I already have a recipe for a soft shell crab burger, but I wanted to do a more traditional one using Old Bay seasoning. It's no secret that crabs and Old Bay go perfectly together!
This burger has all the standard toppings—American cheese, lettuce, tomato, pickle—but it's also got a special sauce with plenty of Old Bay to compliment the crab. You can cook your burger patties on the grill or in a cast iron pan. The crabs get dredged in Old Bay spiked flour and then pan fried. Load it all up on a soft potato roll and dig in! Grab a few napkins though, this is a messy one.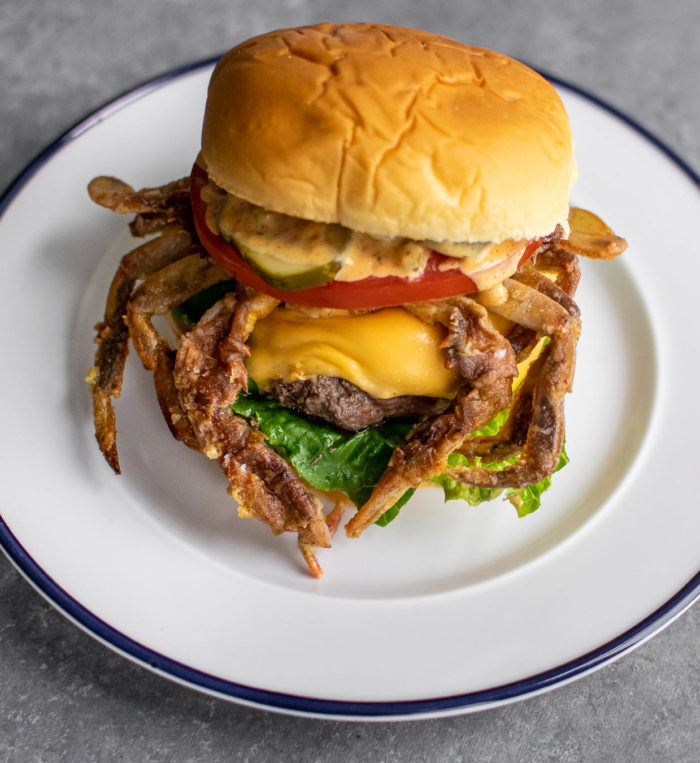 Enjoy soft shell crab season!
*Note: When buying soft shell crabs, make sure they are alive right up until your fishmonger cleans them. You want them to be as fresh as possible! You can clean them yourself if you like, but I prefer to let them do it for me and then cook the crabs right away when I get home. If you plan on cleaning the crabs yourself, it's very easy! You will need to snip off the face right behind the eyes, remove the gills, and remove the apron. This is a great resource!
*Note: Because they're wet, soft shell crabs have a tendency to to "spit" and pop when added to hot oil. A splatter screen is your friend!
Recipe Summary
Old Bay Soft Shell Crab Burger

Level:

Easy

Servings:

2

Ingredients:

For the sauce

3 Tablespoons mayo
2 Tablespoons ketchup
1 Tablespoon yellow mustard
1 Tablespoon sweet relish
1 Teaspoon Old Bay seasoning

For the crabs

1/3 Cup AP flour
1 Teaspoon Old Bay seasoning
1/2 Teaspoon kosher salt
1/4 Teaspoon garlic powder
2 Tablespoons butter
1 Tablespoon olive oil
2 Soft shell crabs, cleaned

For the burgers

1/2 Pound ground beef (80/20 or 85/15)
Kosher salt
2 Slices American cheese
Lettuce
Tomato
Pickles
2 Potato rolls

Instructions:

Combine all of the ingredients for the sauce in a small bowl. Taste and adjust to your liking. Set aside.
Being careful not to overwork the meat, form the beef into 2 patties. Season each with salt and a pinch of Old Bay. Make an indentation on each patty with your thumb.
Cook the burgers. Heat a cast iron pan until very hot. Add a pat of butter and then the patties, indentation side down. Flip after 3 minutes and top with cheese slices. Cook until desired doneness (I like medium rare).
Meanwhile, cook the crab. Whisk the first 4 ingredients together on a plate. Dredge each crab in the flour mixture and shake off the excess. Heat the butter and oil in a pan over medium high heat and add the crabs, top side down. Cook for 3 minutes and then flip; cook for an additional 3-4 minutes until crabs are red and coating is golden and crispy. 
Assemble the burgers on the potato rolls by placing the burger patty on the bun and the soft shell crab on top of the burger. Add lettuce, tomato and pickle. Spread the sauce on the top bun and close it up.
Enjoy that crazy burger!