Pasta with Italian Sausage and Peppers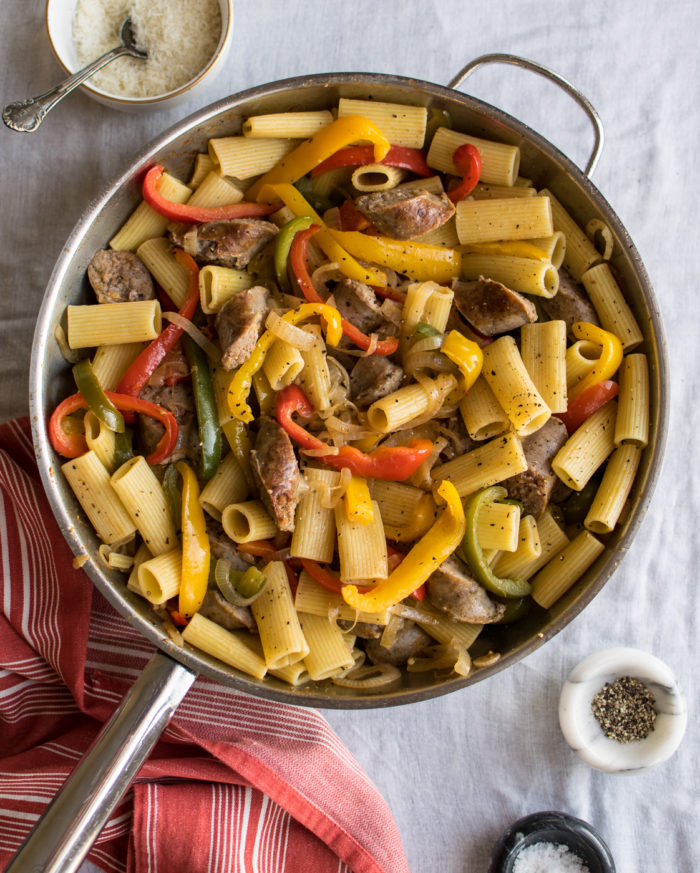 Pasta with Italian Sausage and Peppers is a quick and easy dinner that's packed with flavor. Grab your favorite Italian sausage—hot, mild, or a combination of both—and dinner will be on the table in 30 minutes!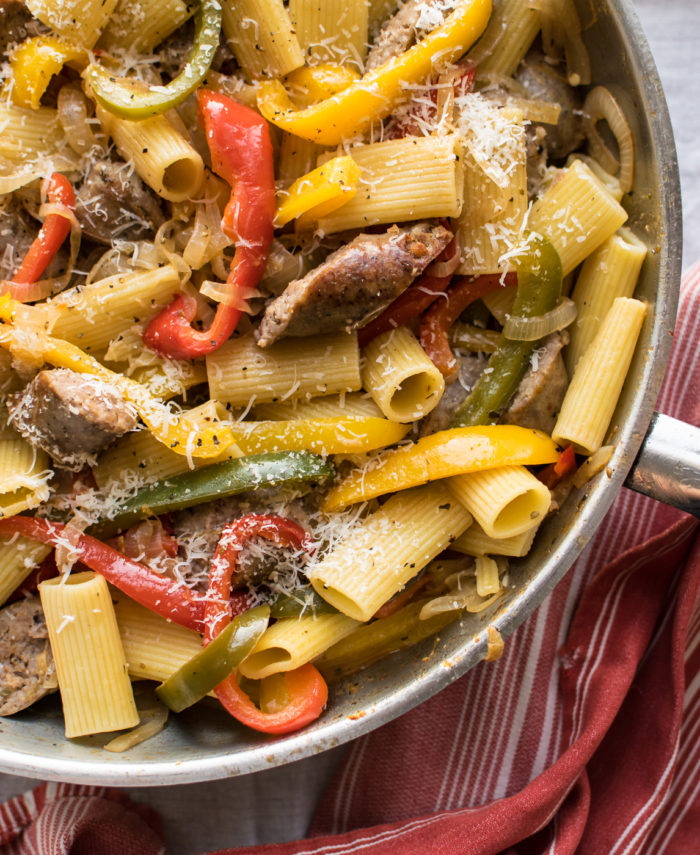 This pasta is always in heavy rotation around here. It's just so easy and fast, it's perfect for a weeknight dinner! My parents used to make this pasta for us growing up and I would always push the peppers and onions aside and try to get away with eating just the pasta and sausage. How lame is that? Now that I've got some better taste buds going, I know that the peppers and onions make the whole dish! Well, that and the sausage. And the pasta. And cheese. Okay, it's all delicious!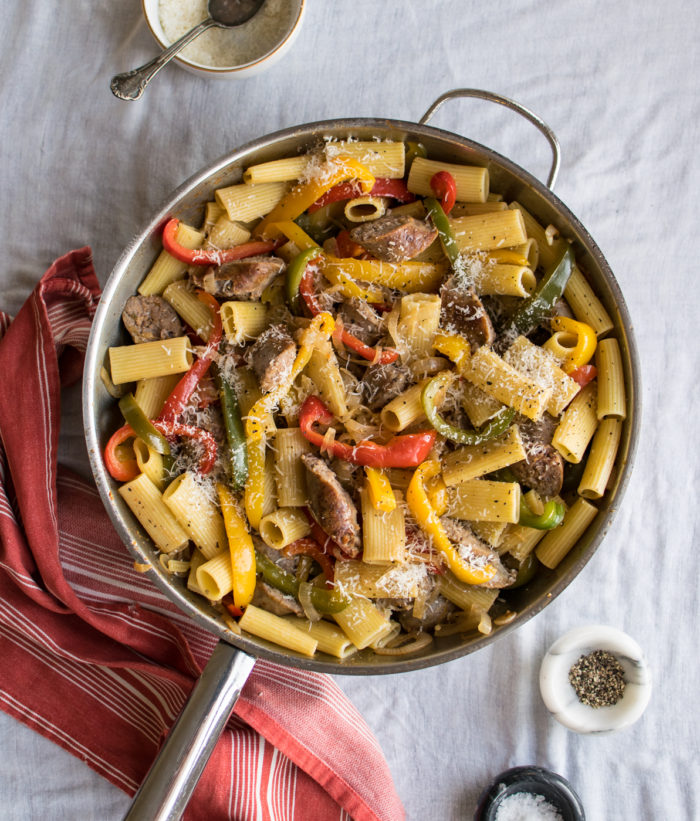 If you love Italian sausage (and seriously who doesn't?) you'll love this! I like to use a combination of both sweet and hot Italian sausages when I make this pasta but you can choose whichever you like best. Same goes for the peppers, I always do a trio of colors, yellow, red and green, but any combo will do. That's the great thing about this recipe, you can customize it according to your preference or what you have on hand, and it'll be delicious no matter what!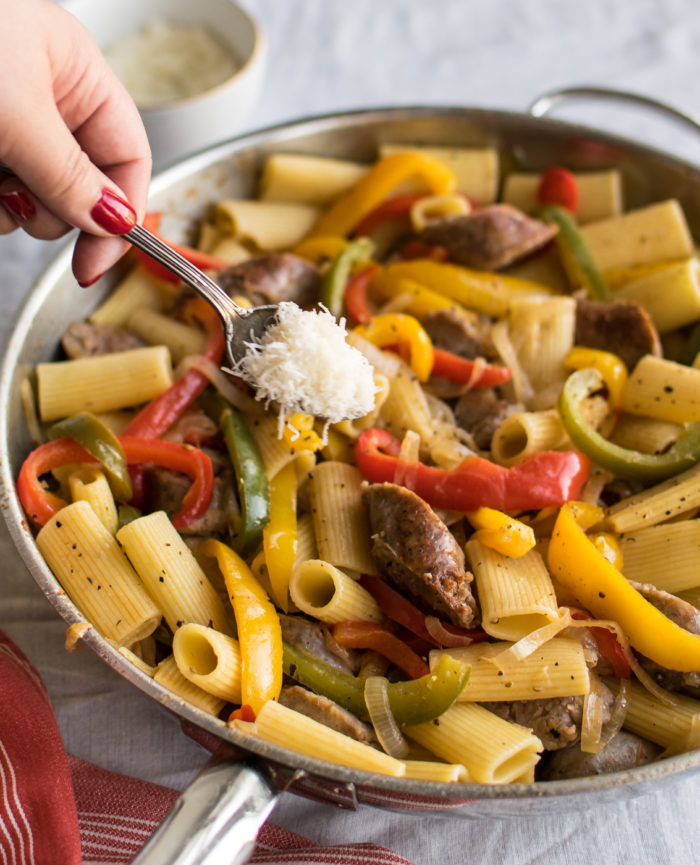 Add these ingredients to your shopping list, you're going to want to make this recipe ASAP! Oh, and if you're into pasta dishes with peppers, give this Cajun Spaghetti with Seafood a try!
Recipe Summary
Pasta with Italian Sausage and Peppers

Level:

Easy

Servings:

4-6

Ingredients:

3 Tablespoons olive oil
1-1 1/2 Pounds Italian sausage, sweet and hot
1 Yellow onion, thinly sliced
3 Bell peppers (green, red and yellow) thinly sliced
1 Tablespoon tomato paste
1/2 Teaspoon dried oregano
1/2 Teaspoon kosher salt
1/4 Teaspoon cracked pepper
2 Tablespoons red wine vinegar
1 Pound rigatoni, penne or casarecce
Parmesan and Pecorino cheeses

Instructions:

Add 2 tablespoons of the olive oil and the sausages to a very large pan over medium high heat. Brown sausages on all sides until they're almost cooked through; about 10-15 minutes. Remove the sausages to a plate and set aside.
Add the remaining olive oil and the tomato paste to the pan and stir until the tomato paste has melted into the oil. Add the onions and peppers and cook until soft; about 10 minutes. Add the vinegar to the pan.
Slice the sausages into 1 inch pieces and add them back into the pan.
Meanwhile, bring a large pot of salted water to a boil. Cook the rigatoni to 2 minutes less than the package directions. Reserve 1 cup of pasta water and then drain the pasta.
Add the pasta to the pan with the sausage and peppers along with 1/2 cup of the pasta water. Stir and cook for 2 more minutes or until the water has cooked down, the sausages are cooked through and the pasta is coated with sauce. Add more pasta water to loosen the sauce if needed.
Serve with the cheese. Enjoy!