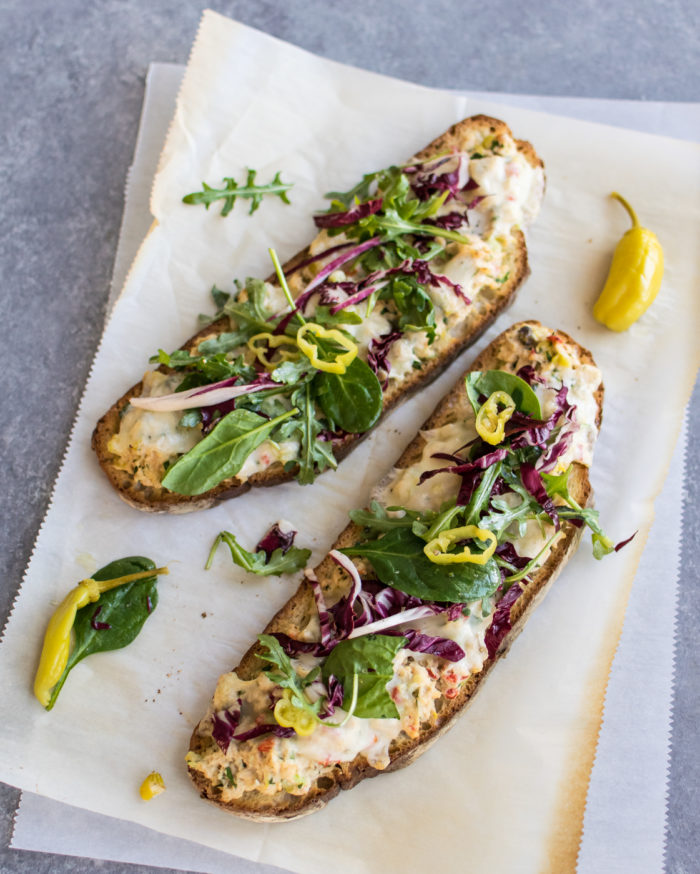 This Italian Tuna Melt is a weeknight favorite in my house! The tuna is packed with peppers, capers, and fresh herbs and then covered in delicious fontina cheese and broiled to tuna melt perfection. Top it all off with some greens and you've got a healthy meal that's ready in under 30 minutes!
Can we just talk about how weird tuna melts are? Like, what are we doing making tuna salad, then heating it up with cheese?! Whoever the first person to be like, "hey you know what I'm going to do to this perfectly good tuna salad? I'm going to make it hot tuna salad!" was kind of a loon. But you know what? I'm thankful for that hot tuna loon because now we have tuna melts and they are delicious. I am currently running on 4 hours of sleep so I am laughing unreasonably hard at "hot tuna loon."
Moving on.
One of the things that makes this tuna melt so delicious is that the bread is rubbed with garlic. Garlic = good. I use the same technique I would for my bruschetta or any crostini. You brush the bread with olive oil, pop it under the broiler for a few minutes, and then rub a clove of garlic over the bread. Believe me, this makes all the difference! Plus, giving the bread some time under the broiler before adding the tuna will help to side step a soggy tuna melt situation. Nobody wants that.
I usually like to make the tuna a little bit ahead of time because that way the flavors have time to meld and the tuna ends up being more flavorful. If I know i'm going to make these tuna melts for dinner, I'll make the tuna the night before or in the morning. Of course, this isn't a requirement! The tuna melts are going to be delicious either way so just do what fits into your schedule best.
I love using fontina on these melts. I buy a block of it and slice it myself. If you can't find fontina, mozzarella or mild provolone will work great! The one thing that I'm not flexible on for this recipe is the tuna. You HAVE to buy tuna packed in olive oil. The difference in taste between oil packed and water packed tuna is huge. Once you go oil packed, you don't go back. Or something like that. I linked a couple of my favorite tuna brands at the bottom of this post.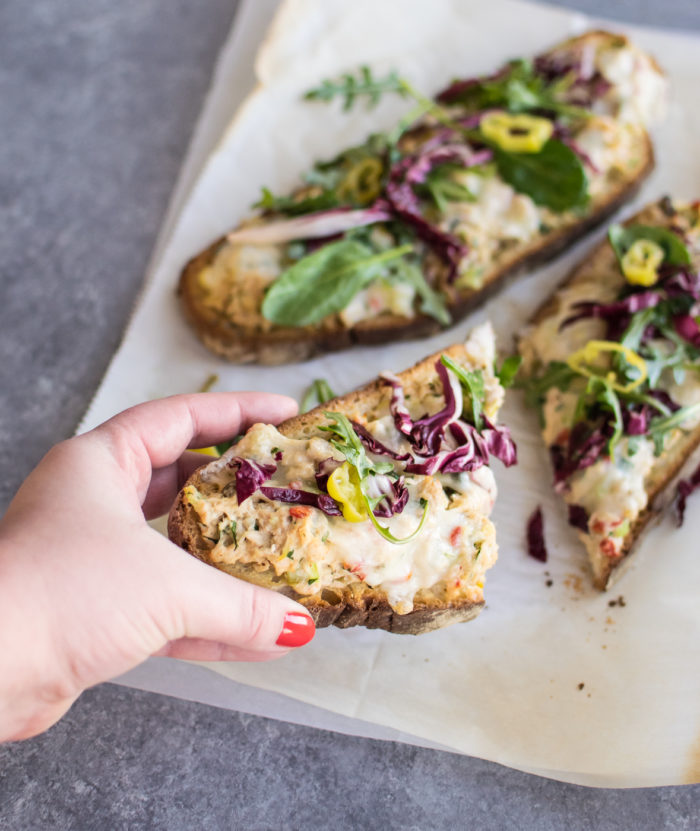 I always like to top these tuna melts with a little salad. Peppery arugula and bitter radicchio go really well with the tuna but you can use whatever greens you have laying around. Just toss the greens with a little olive oil and red wine vinegar, add some sliced pepperoncini and you're set!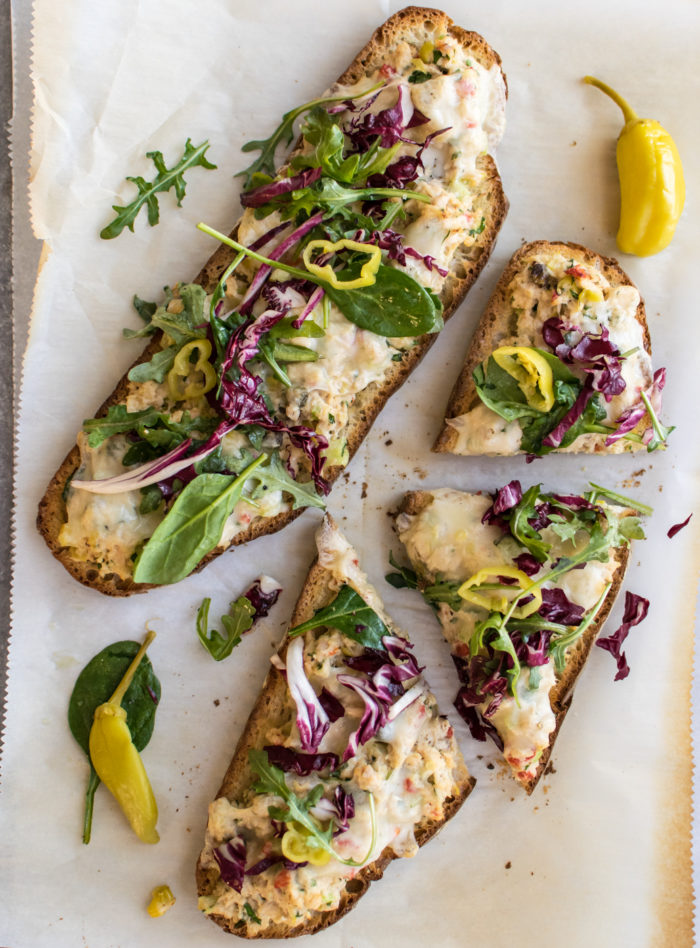 I hope these Italian Tuna Melts will become as much of a staple in your house as they are in mine!
Recipe Summary
Italian Tuna Melt

Level:

Easy

Servings:

2-4

Ingredients:

For the tuna

2 (5 ounce) cans tuna packed in oil, drained
1/2 Cup mayonnaise
2 Teaspoons Dijon mustard
2 Teaspoons red wine vinegar
2 Tablespoons (about 5 peppers) jarred pepperoncini, chopped
2 Tablespoons jarred roasted red peppers, chopped
2 Tablespoons fresh parsley, chopped
1 Tablespoon capers, drained
1 Stalk celery, diced
1/8 Teaspoon garlic powder
Salt and Pepper, to taste

For the toast

2 Large slices Italian bread
Olive oil
1 Clove garlic
Fontina cheese, sliced

For the salad topping

Arugula
Radicchio, thinly sliced
Olive oil
Red wine vinegar
Jarred pepperoncini, sliced

Instructions:

Make the tuna. Mix all of the ingredients for the tuna together and refrigerate until ready to use.
Pre heat the broiler to high and line a baking sheet with parchment paper.
Brush the bread with olive oil, place on the parchment lined baking sheet and broil for 5 minutes. Rub the bread with the garlic.
Spread the tuna on the bread and layer the cheese over the tuna. Broil for 5 more minutes.
Toss the arugula and radicchio with sliced pepperoncini and a splash of olive oil and red wine vinegar.
Serve the tuna melts with the salad. Enjoy!