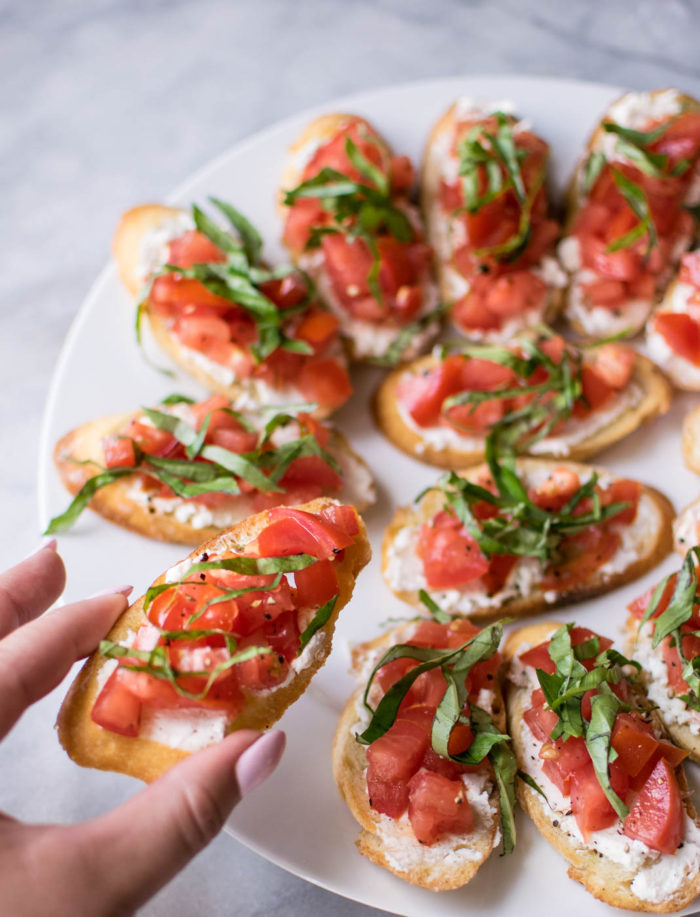 When I was in third (or fourth?) grade, I wrote and turned in a story called "When the lights went out" That was literally the exact same story that Mr. Mertle, from The Sandlot, told Smalls and Benny about how he lost his sight. I'm talking, I stole the entire story, wrote it as if I came up with it myself, and turned it in to my teacher. It cracks me up to imagine her reading the story and realizing that it's completely plagiarized from The Sandlot. In my defense, At least I chose an excellent movie to steal ideas from. Why am I telling you this, you ask? In the interest of that type of thing not happening again. Particularly, with this recipe.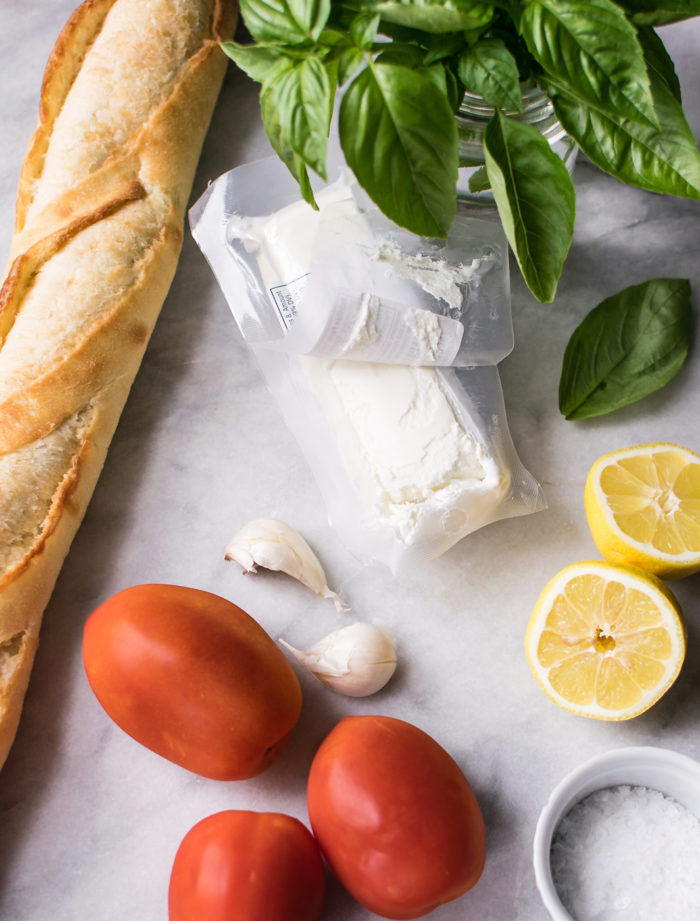 *This post may contain affiliate links. See disclosure for further details.
This is the bruschetta that my family has been making for years and years. And, since my dad is Italian, I just assumed it was a family recipe! When I told my dad I wanted to share the recipe on the blog, he said, "Of course you can! But you know it's not my recipe, right?" I did not know that! My dad explained to me that the version our family had always made was adapted from this recipe. There are a few differences from the original. In this recipe, we're using basil instead of mint and instead of warming the tomatoes through, I like to keep them at room temperature.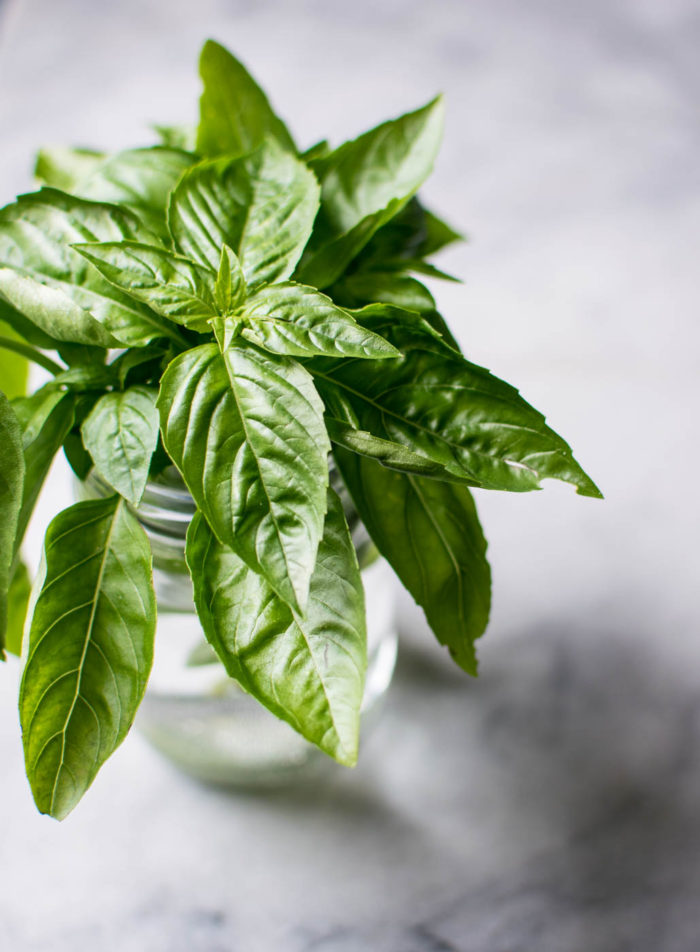 This is a great recipe for summertime and especially for a party! It's incredibly easy to make and in all the times I've made these for a group, I haven't gotten one complaint. The opposite, in fact. This bruschetta is ALWAYS a hit!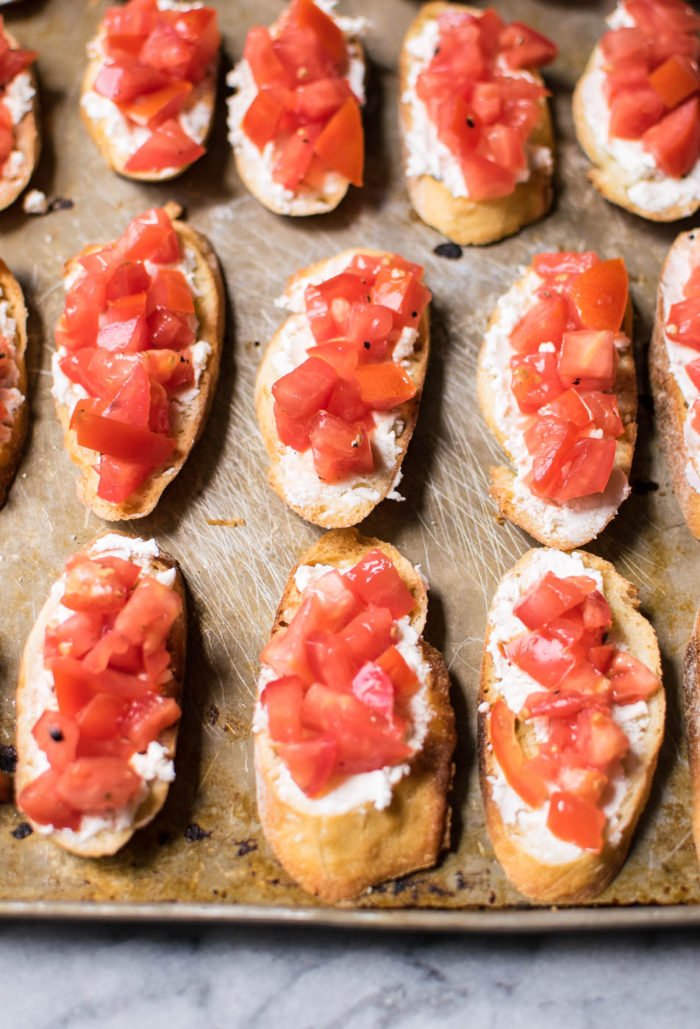 The most important part of this recipe is the garlic, in my opinion. When you take the olive oil brushed toasts out of the oven, you will rub a clove of garlic on each one and it really adds a ton of flavor! Super important step. A good trick for rubbing the garlic and not getting the smell on your fingers is to use a fork. Smash the garlic clove, stab it with a fork (a little cocktail fork works best) and rub it on the toasts while they're still hot from the oven.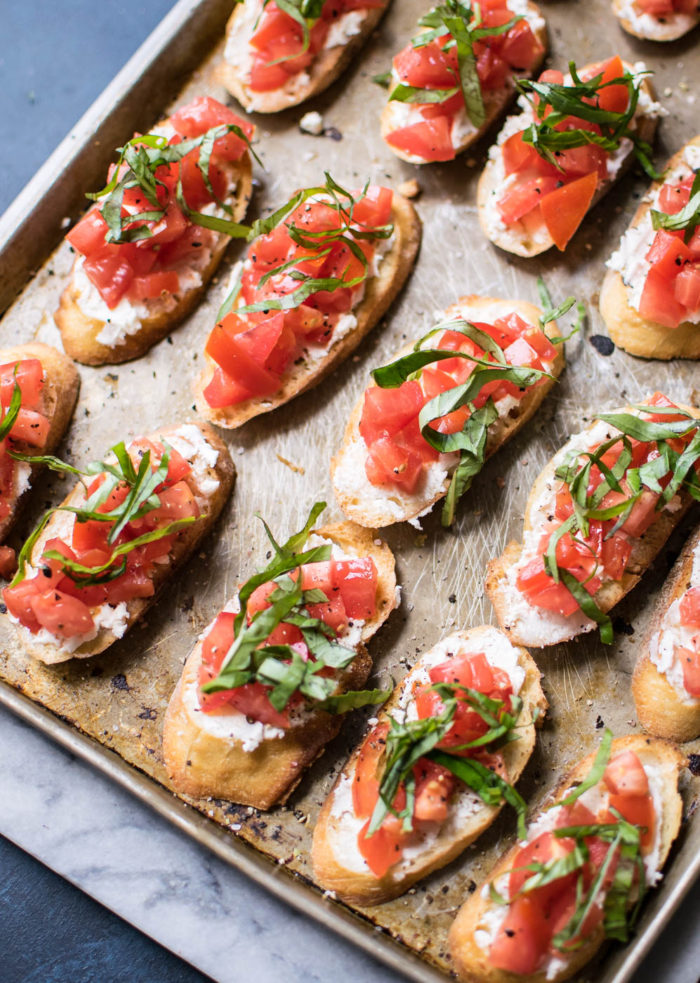 The tomatoes, after sitting in the lemon juice with salt and pepper, will be incredibly flavorful! Just don't skimp on the salt! Tomatoes and salt are best friends.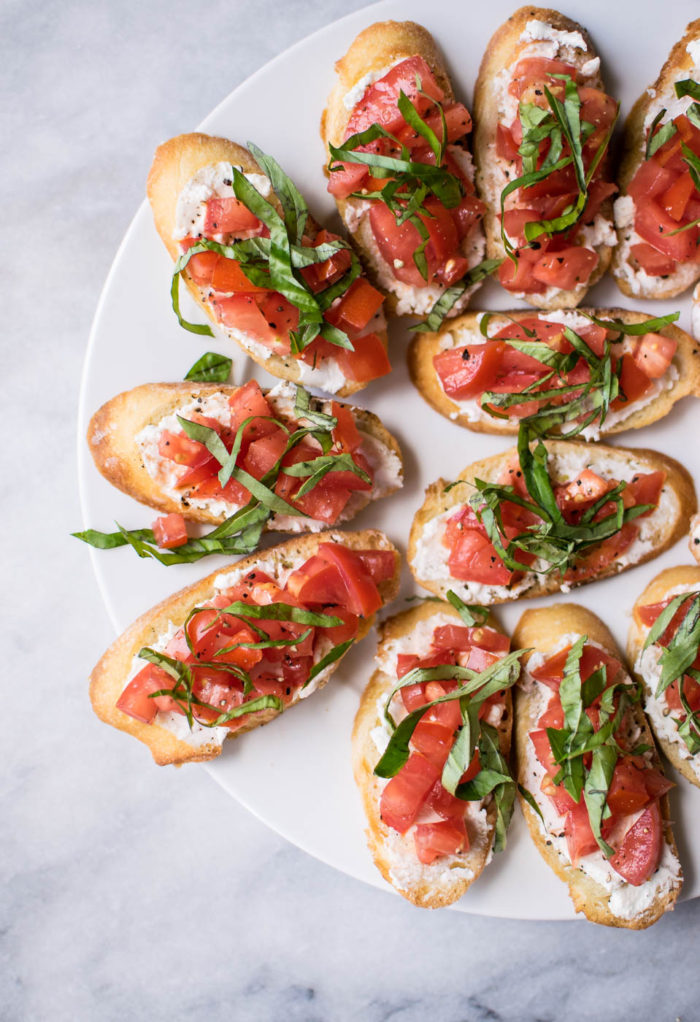 For the goat cheese and the basil, there aren't exact measurements. You'll want to smear enough goat cheese on the toasts so that you can taste it in each bite but not too much so it's overpowering. With the basil, just sprinkle as much on top as you like! For me, You can't really have too much fresh basil. It's so delicious and summery!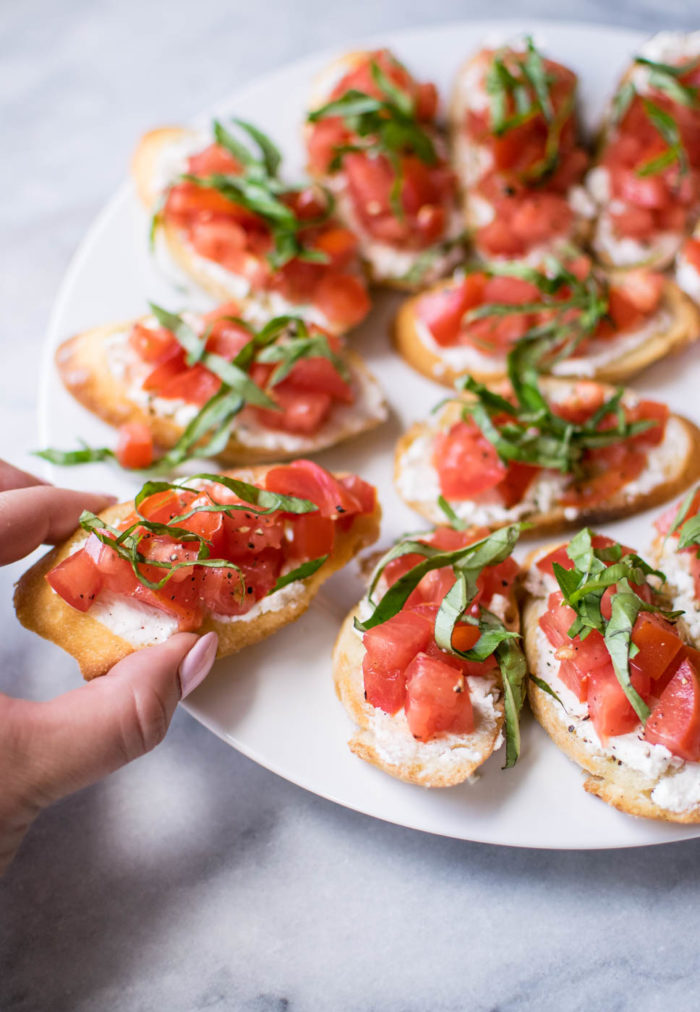 As I mentioned before, this bruschetta is great to make for a party or picnic. Not only because they are easy to make and super tasty, but they are supposed to be served at room temperature so they'll do well sitting out.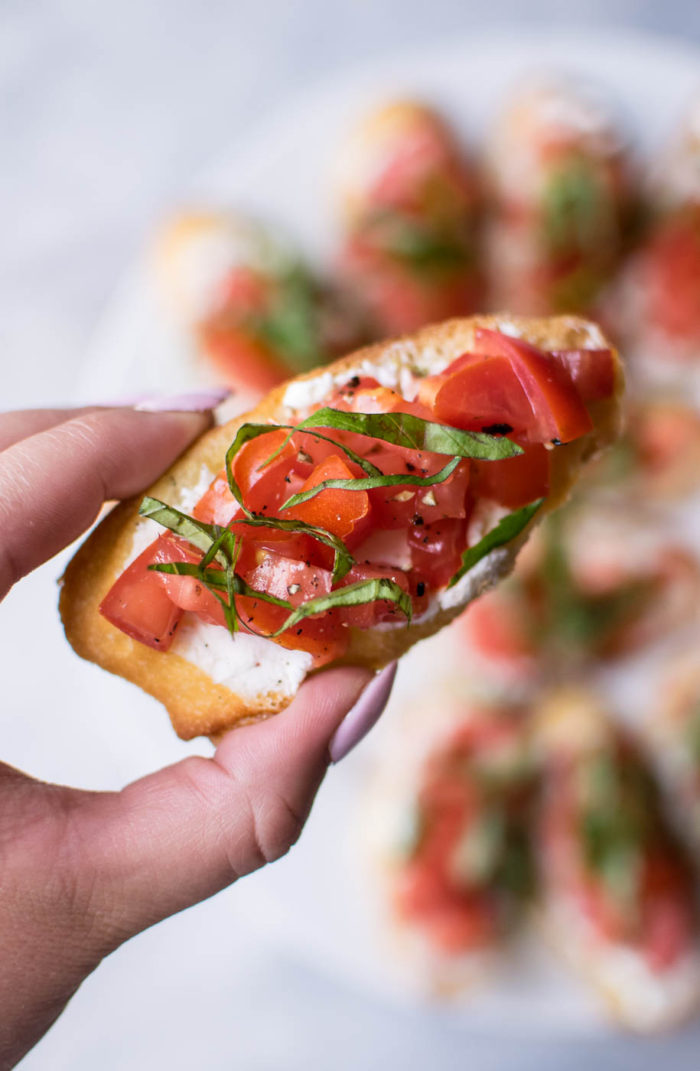 So go ahead and make this bruschetta for your next backyard barbecue and your friends will love you for it! And maybe strike up a convo about The Sandlot.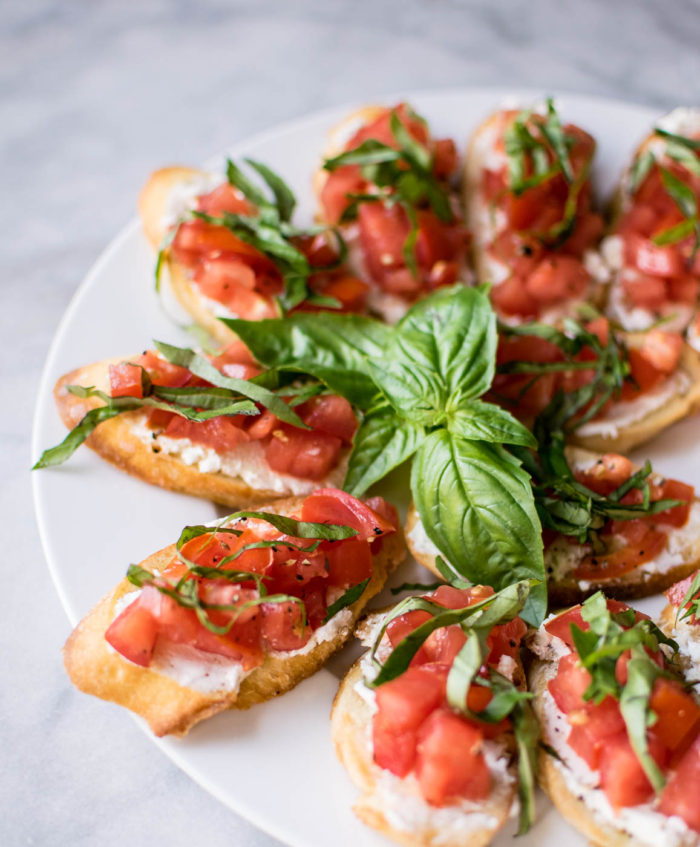 I hope you love them!
*Adapted from:
Crispy Bruschetta With Goat Cheese, Tomatoes and Mint
Bon Appétit, April 2000
You might also like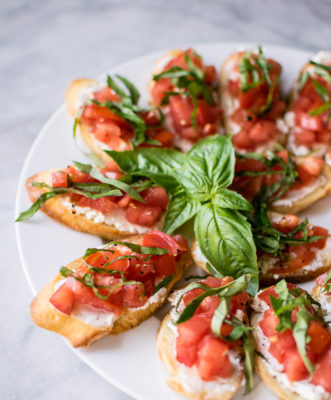 The Best Bruschetta
This easy recipe is always a crowd pleaser!
Ingredients
1

Baguette

sliced

5

Roma tomatoes

diced

2

Cloves garlic

peeled

Juice from 1 Lemon

Goat Cheese

Fresh basil

chiffonade

Olive oil

Salt and pepper

to taste
Instructions
Pre heat the oven to 400 degrees.

Slice the baguette on an angle and brush each piece with olive oil. On a baking sheet, toast the bread slices in the oven until golden brown; about 15 minutes.

Make the tomato mixture. In a large bowl, toss the chopped tomatoes and lemon together. Season with salt and pepper to taste. Set aside.

When the breads are golden brown, remove them from the oven and rub them with the garlic cloves.

Spread the goat cheese on each toast and top with the tomato mixture and fresh basil.