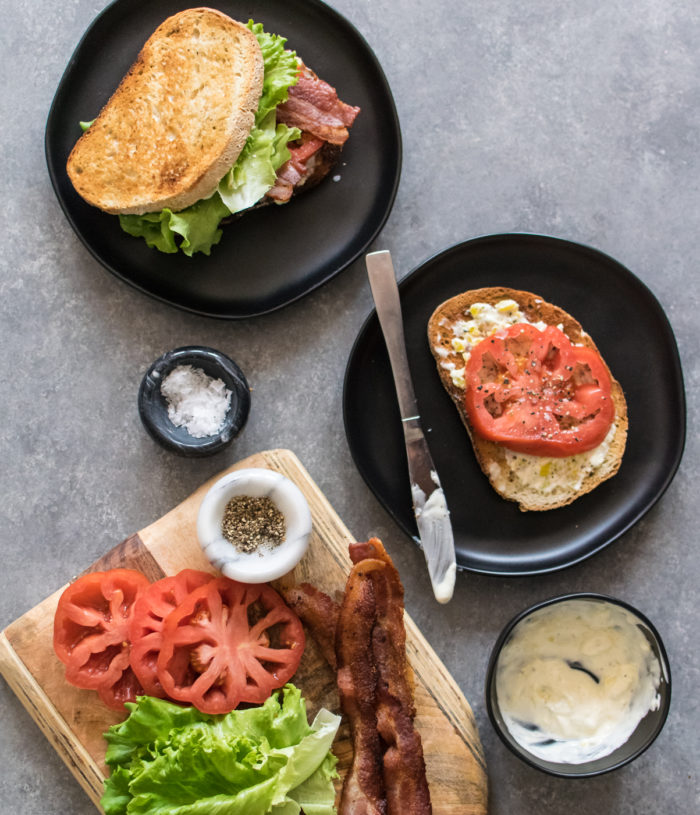 I love this recipe because it's a fun way to breathe new life into an old favorite. But why mess with a classic, you ask? Well, I'm not really messing with it per se—I'm enhancing it! The BLT is one of the most beloved sandwiches out there, try making it this way, and you'll love it even more than you already did!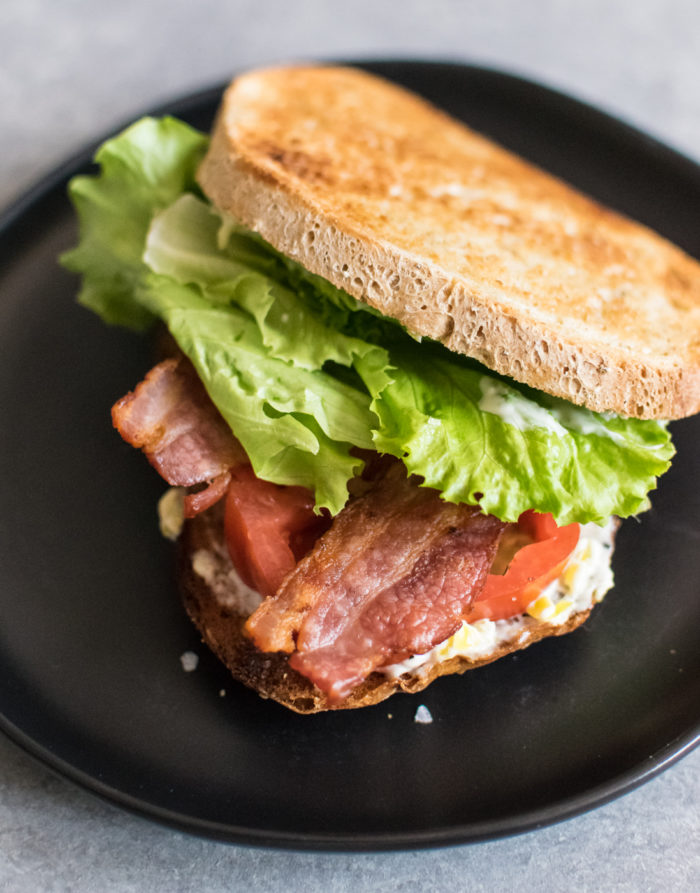 *This post may contain affiliate links. See disclosure for further details.
Warning: you'll be inclined to put pepperoncini mayo on everything from now on. I say, don't fight that urge! It's definitely one of my go-tos when I want to jazz up a sandwich—and who doesn't want a jazzy sandwich, eh?
Now I know I'm not the boss of you but I'm telling you, you HAVE to make this sandwich exactly the way I tell you to in the recipe. I like to build the BLT in a certain way for optimum deliciousness so follow the steps just as they're written. Listen, it's for your own good! If after you've made this recipe my way, you think I'm an idiot and want to do it your own, non idiot way. That's fine, but I don't really see that happening. I'll admit I'm an idiot sometimes in life but I'm fairly certain, when it comes to the recipe, I'm a damn near genius!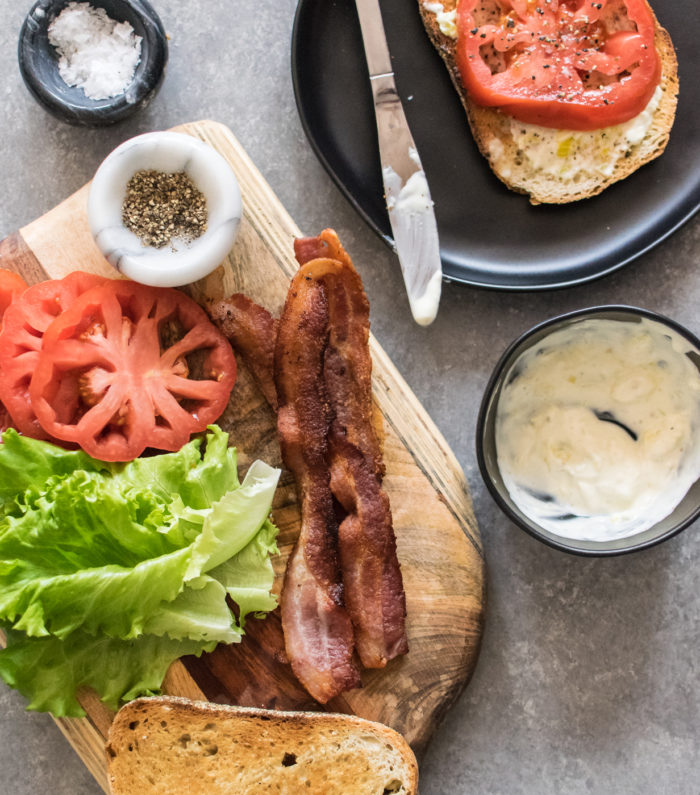 Alright, let's talk ingredients. Obviously you're using bacon, lettuce and tomato. Obviously. But you can't just use any old bacon or a random unripe, grocery store tomato. Nope. That would be a bad idea! It's tomato season RIGHT NOW so that means, get your bunz (yes, bunz with a z) to a Farmer's Market and grab yourself some big, juicy heirloom tomatoes. Or, if you're really cool, maybe you grow your own tomatoes and you've got some to use! If you come across this recipe when it's not tomato season, don't worry, some grocery stores like Whole Foods carry heirloom tomatoes year round. It won't be the same, but I understand that sometimes that BLT craving just can't be denied.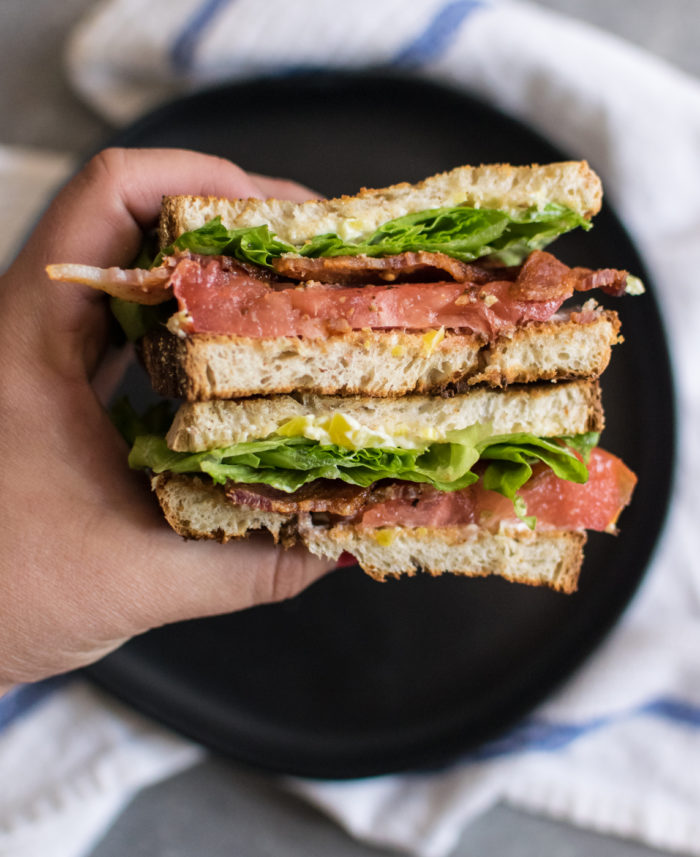 Back to the rest of the ingredients! You're going to need thick cut smoked bacon. We're not playing around. Also, you'll need either sourdough or ciabatta bread. Lots of people like to use white bread for BLTs (like straight up wonderbread) but those people aren't writing this recipe. For the lettuce, I like crisp, crunchy lettuce like iceberg or Bibb. This is not the time for spinach or arugula.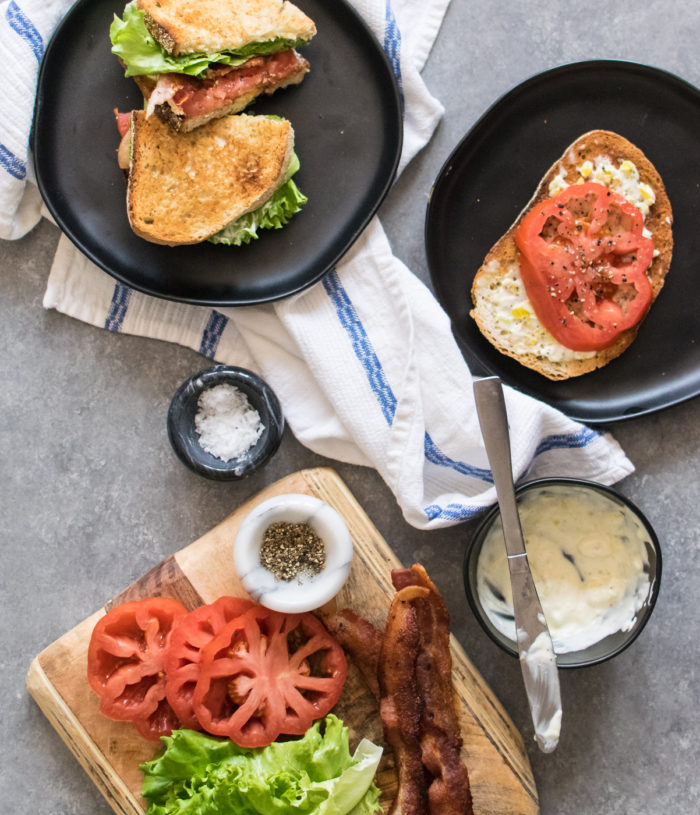 Move this recipe to the top of your list because tomato season won't last forever! (But how cool would it be if it did?!)
You might also like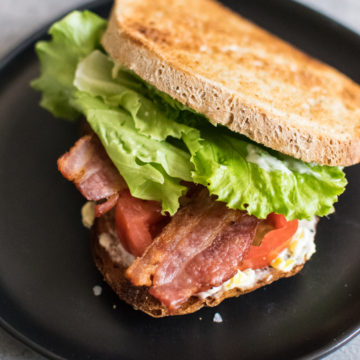 BLT with Pepperoncini Mayo
The BLT is one of the most beloved sandwiches out there, try making it this way, and you'll love it even more than you already did!
Ingredients
For the Pepperoncini Mayo
¼

Cup

Mayonnaise

⅛

Cup

Jarred Pepperoncini

(about 5), seeded and finely chopped

Fresh cracked black pepper

to taste
For the BLT
6

Pieces thick cut bacon

4

Slices ciabatta or sourdough bread

toasted

1

Clove garlic

peeled

1

Ripe Heirloom tomato

thickly sliced

Iceberg, romaine, bibb or green leaf lettuce

Salt and pepper

to taste
Instructions
Make the mayo. In a small bowl, Mix the chopped pepperoncini with the mayo and season with freshly cracked black pepper.

In a large non stick pan, cook the bacon until crispy and transfer to a paper towel lined plate to drain.

Brush some of the bacon grease from the pan onto one side of each slice of bread. Toast the bread in the toaster until golden brown then rub each slice with the garlic clove.

Build the sandwich. Spread the pepperoncini mayo on both slices of bread and lay the tomato on one piece. Season the tomato with salt and pepper. Next layer on the bacon, then the lettuce followed by the second piece of bread with mayo. Repeat steps for the second sandwich.