Roasted Asparagus with Marinated Tomato Salad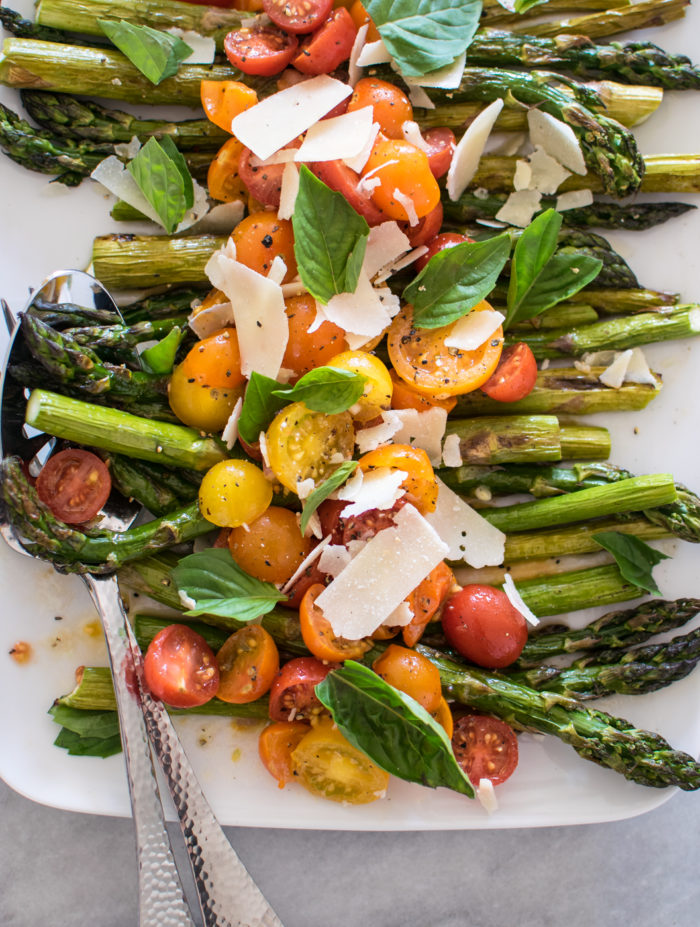 This salad is perfect for the end of Spring/Beginning of Summer. Asparagus is still in season and cherry tomatoes are popping up at farmer's markets all over. The combination of slightly charred asparagus and sweet, juicy tomatoes is really delicious and then top it off with Parmesan and fresh basil? Perfection!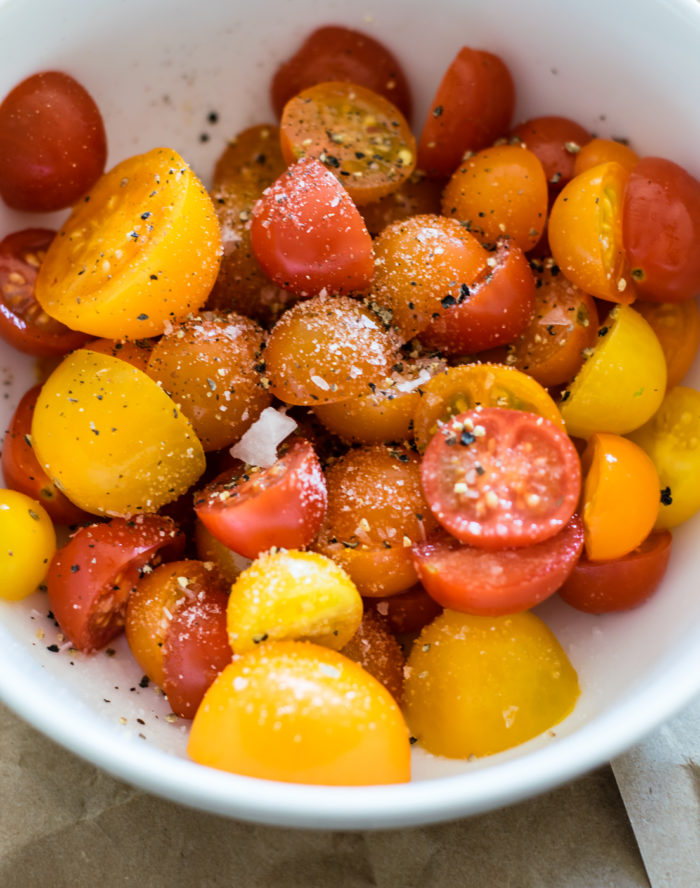 Also, can we just appreciate how really, really ridiculously good looking this dish is? I love the colors of the tomatoes! I've been finding really delicious Sungold tomatoes at the farmer's market lately and really enjoying them, but you can use whatever cherry tomatoes are nice and ripe.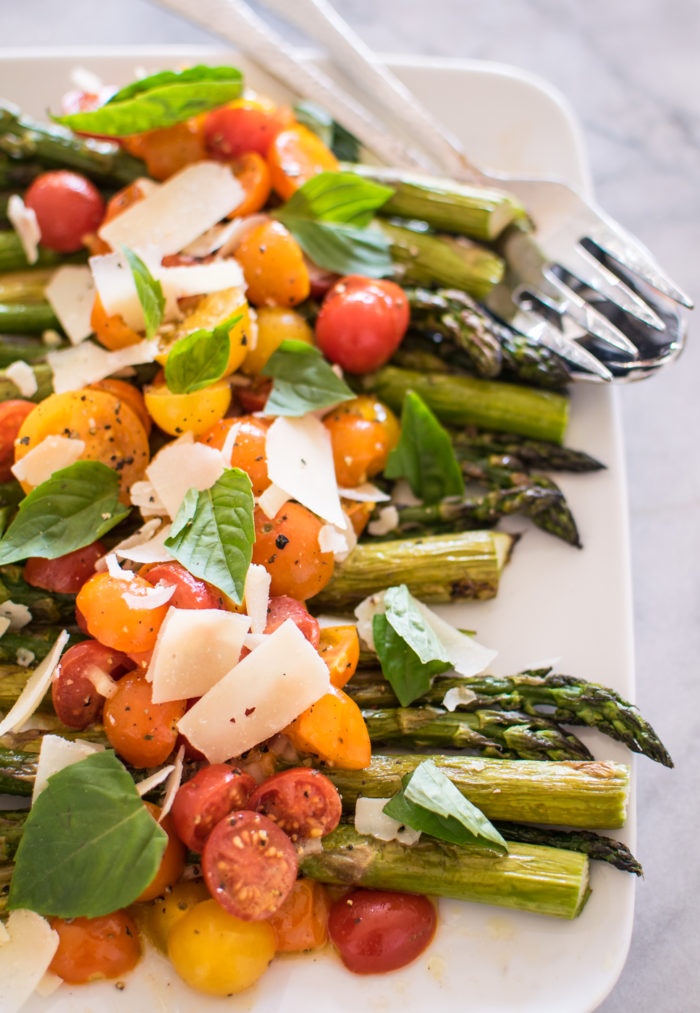 Of course, with the weather being nice, you might want to grill the asparagus instead of roasting. Go ahead and do that! I like to roast the asparagus because it's super easy and you can make the marinated tomatoes while the asparagus is in the oven but this salad will be just as delicious with grilled asparagus.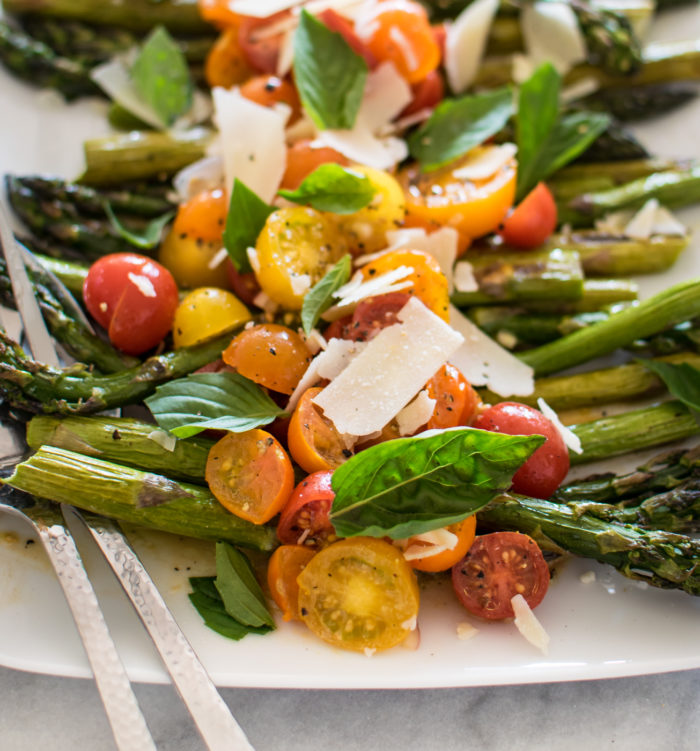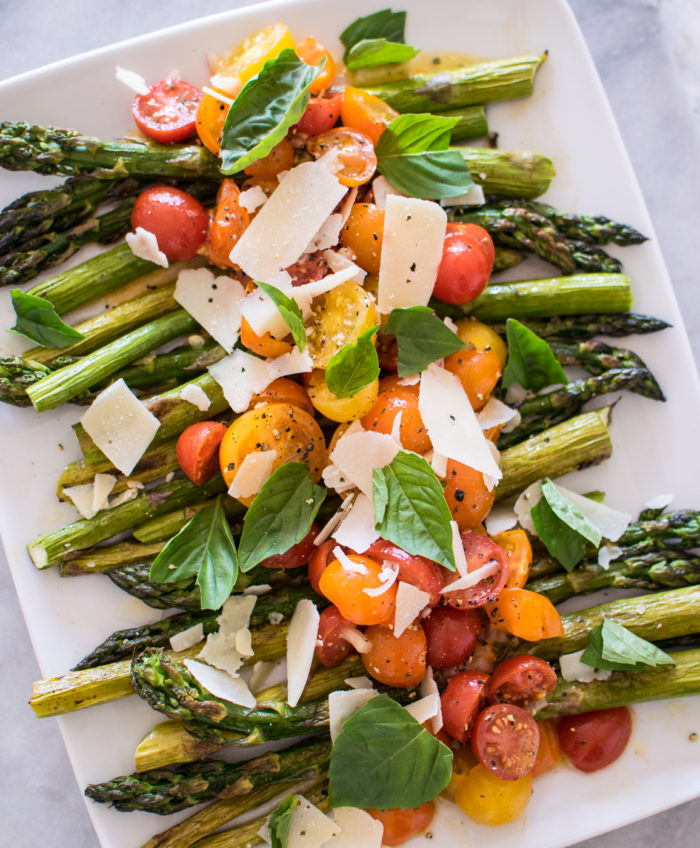 Top it all off with shaved parm, torn basil and a couple turns of cracked pepper and you're good to go. Oh, but don't forget to take a picture before you dig in! It's just too pretty not to.
Recipe Summary
Roasted Asparagus with Marinated Tomato Salad

Level:

Easy

Servings:

4

Ingredients:

For the Asparagus

1 Bundle asparagus (about 20 stalks)
1 Tablespoon olive oil
Pinch of salt

For the tomatoes

2 Cups assorted color cherry tomatoes, halved
1 Tablespoon shallot, minced
3 Tablespoons olive oil
1 Tablespoon red wine vinegar
1 Teaspoon Dijon mustard
1/4 Teaspoon coarse salt
Pinch of pepper

Other

Fresh basil, torn
Shaved Parmesan

Instructions:

Pre-heat oven to 425.
Snap the woody stalks off the bottoms of the asparagus. Lay the asparagus on an aluminum foil lined sheet pan in a single layer. Drizzle the asparagus with a tablespoon of olive oil and a pinch of salt and toss to coat. Roast the asparagus in the oven for 15 minutes, flipping halfway through.
While the asparagus is roasting, prepare the tomato salad. Cut the tomatoes in half and place them in a bowl. Add the salt, pepper and shallots to the bowl. In a different bowl, whisk together the olive oil, red wine vinegar and Dijon mustard. Add the dressing to the bowl with the tomatoes and toss to coat. Let the tomatoes sit in the dressing while the asparagus is roasting.
Arrange the roasted asparagus on a platter, spoon the tomatoes and any dressing at the bottom of the bowl over the asparagus. Top with shaved Parmesan, fresh torn basil and cracked pepper.
Enjoy!