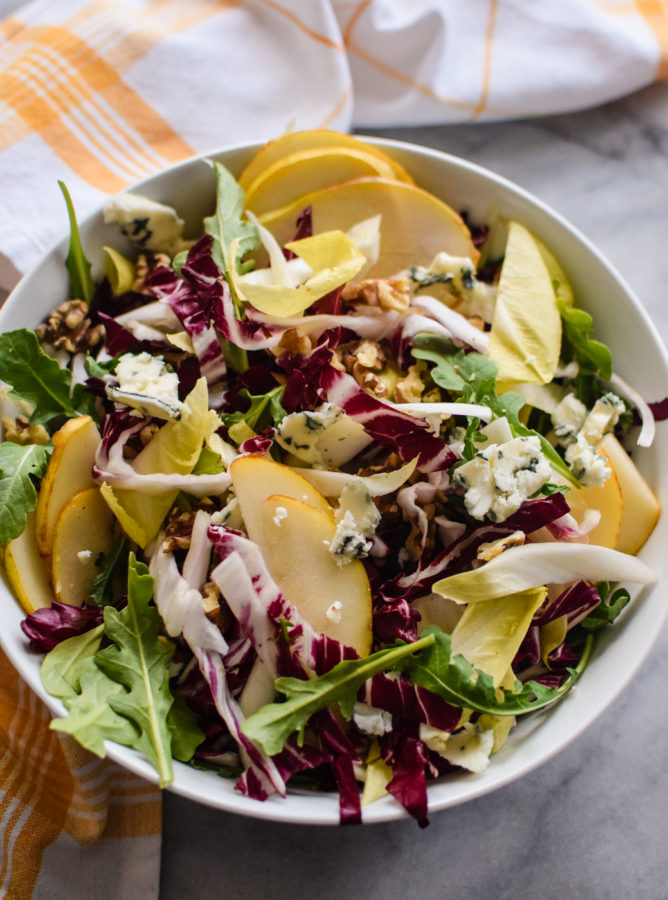 My mom used to make a similar salad to this one when I was growing up and I used to resist it because my (totally wrong) brain thought that pears couldn't be good in a salad. Well, when I finally came around and realized that pears are DELICIOUS in salad, I felt like a real moron. Take it from me guys, and don't be a moron, make this salad with pears.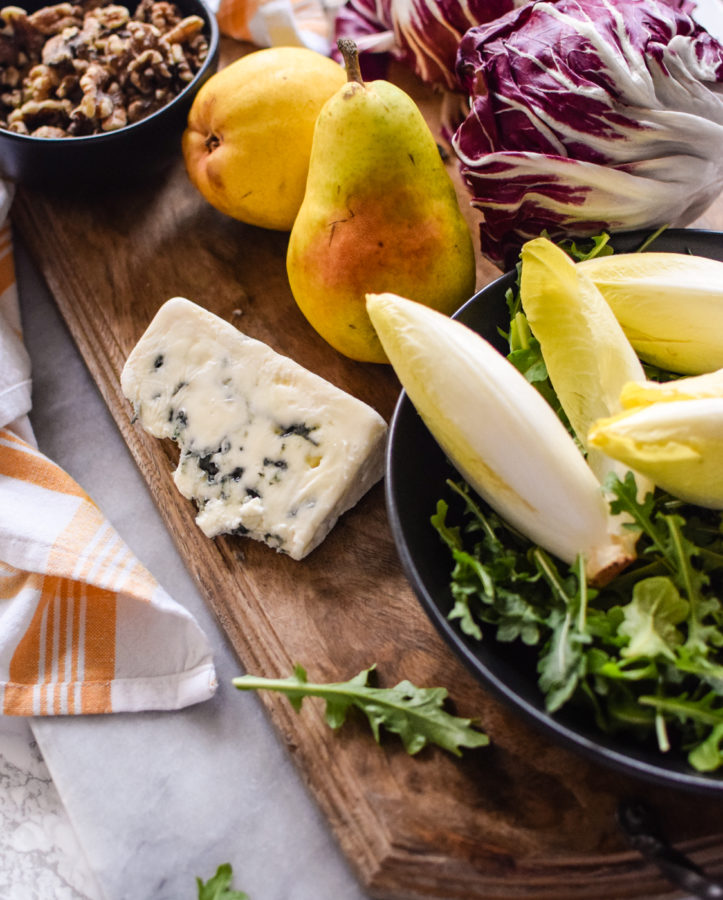 *This post may contain affiliate links. See disclosure for further details.
If you have visited my site or follow me on instagram, you probably know that I love, love, love arugula. I pretty much put arugula on everything so it's no surprise that it's in this salad. Arugula is not, however, the star of this show. Enter: the chicories (there's a reason why it's called chicory salad after all.) If you're not familiar with radicchio or endive, get ready to be obsessed! Both radicchio and endive are part of the chicory family and they have a delightfully bitter flavor that goes really well with the pears in this salad. We got a whole cornucopia of flavors happening here!
For the blue cheese, I usually go for Roquefort because it's my favorite but you can use Gorgonzola instead if you like. If you're in a time crunch, you can use pre-crumbled cheese but I always prefer to crumble it myself. It takes hardly any time and the cheese will be more flavorful and moist. Plus, you'll probably have a good chunk of cheese leftover afterwards and you should totally put that on a burger.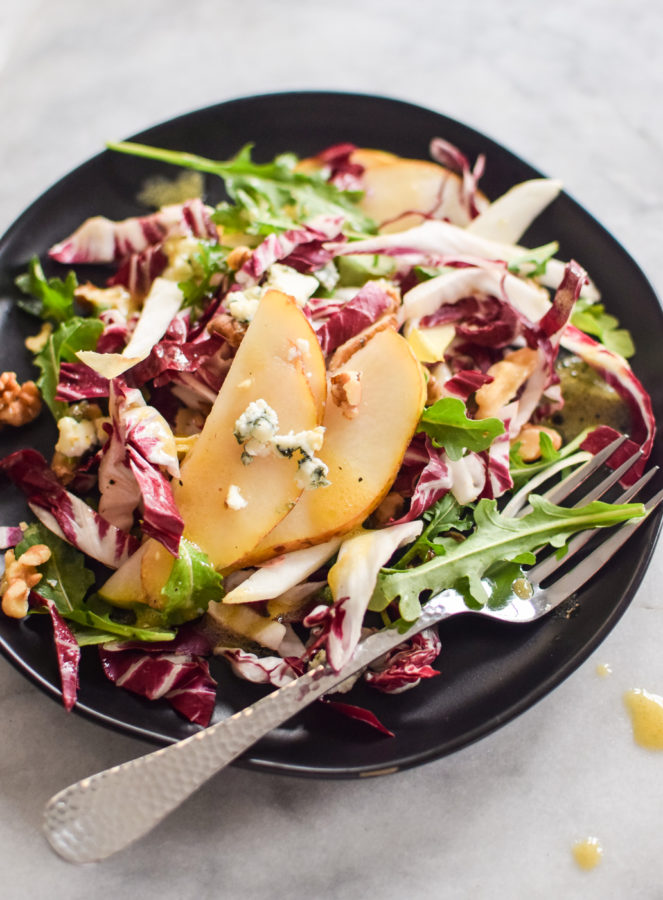 Even though we've got a lot going on in this salad—blue cheese, toasted walnuts, pears, chicories—my favorite part is the vinaigrette. Why, you ask? Because there's sherry vinegar in there! People (myself included) really don't use sherry vinegar enough and that's a damn shame. Sherry vinegar has a nutty and slightly sweet flavor that seems perfect for fall. If you can't find sherry vinegar, you can substitute rice wine vinegar I suppose. But, like, look reeeaaallly hard for some sherry vinegar first. I'm telling you, you won't regret it. From here on out, I pledge to use sherry vinegar at every possible opportunity.
I've never met a person who doesn't like this salad. There, I said it. I even served this to my boyfriend's (fairly picky) family and they gobbled it up and went for seconds! I hope you guys give it a try!
You might also like
Chicory Salad with Blue Cheese and Pears
This salad is packed with flavor and easy to make! I fun departure from your basic garden salad.
Ingredients
For the salad
4

Cups

arugula

1

Head of radicchio

cored and thinly sliced

3

Endives

cored and thinly sliced

2

Pears

thinly sliced

1

Cup

walnuts

½

Cup

blue cheese

crumbled
For the dressing
6

Tablespoons

olive oil

2

Tablespoons

sherry vinegar

1

Teaspoon

Dijon mustard

1

Clove garlic

smashed

Salt and pepper

to taste
Instructions
Toast the walnuts. Pre heat the oven to 350. On a foil lined baking sheet, spread the walnuts out in an even layer and bake for 7-8 minutes. Remove from baking sheet and chop walnuts into coarse pieces.

Make the vinaigrette. Whisk the oil, vinegar and mustard together. Add the garlic clove and season with salt and pepper to taste. Discard the garlic clove before using.

Mix the arugula, endive, and radicchio in a large serving bowl and season with salt and pepper. Add the sliced pears, toasted walnuts and crumbled blue cheese. Drizzle with the vinaigrette and serve.