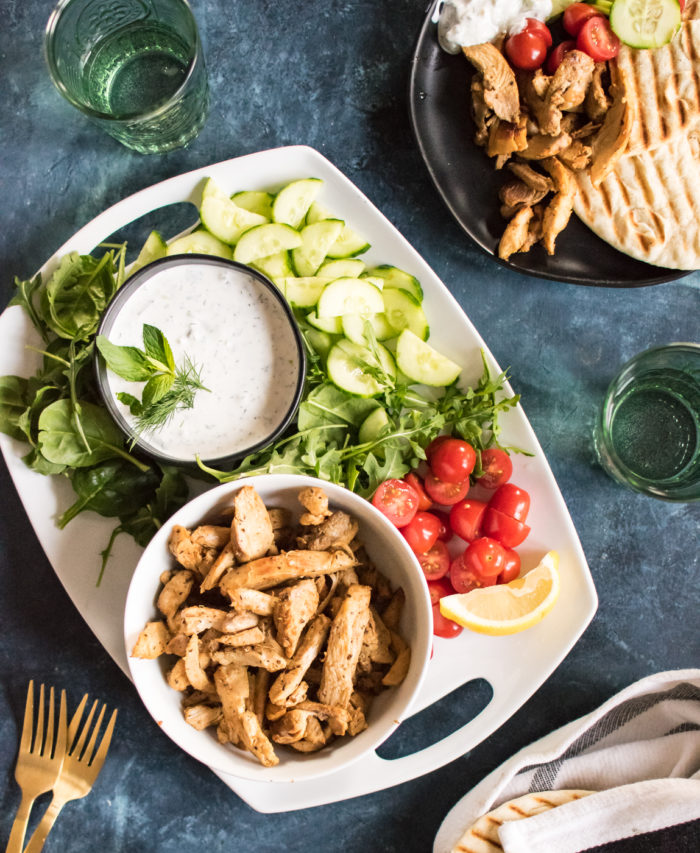 I am submitting myself to relentless teasing by posting this recipe. Why, you ask? The cumin. I have always said that I hate cumin and while I still maintain that I don't like it, it keeps finding it's way into my recipes these days. Eek! My dad (who always makes fun of me for not liking cumin) is going to have a field day with this one. So, yes there is cumin in this recipe, there is cumin in the BLT guacamole that I recently posted and I may or may not have added cumin to the marinade for my shrimp tacos the other night. That DOES NOT mean that I like it, okay? Just that sometimes the teensiest bit is necessary.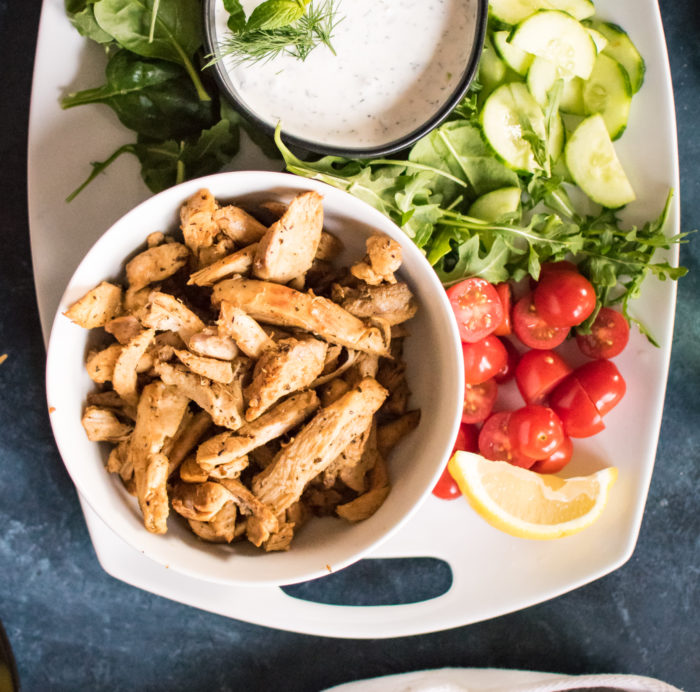 *This post may contain affiliate links. See disclosure for further details.
It's not like I didn't know that there was cumin in the Mexican food or gyros that I love. I've always known I'm not living a cumin-free life! I just had never brought myself to really use it in my recipes. Until recently, obviously. I feel like cumin can be really overpowering when used in larger amounts and that's when I really don't like it. That's why, in this recipe, there's only ⅛ (¼ if you're into it) teaspoon of the stuff. The Greek seasoning that's in the recipe is my fave because it's got mint and oregano. If you can't find Greek seasoning, you can totally just use oregano!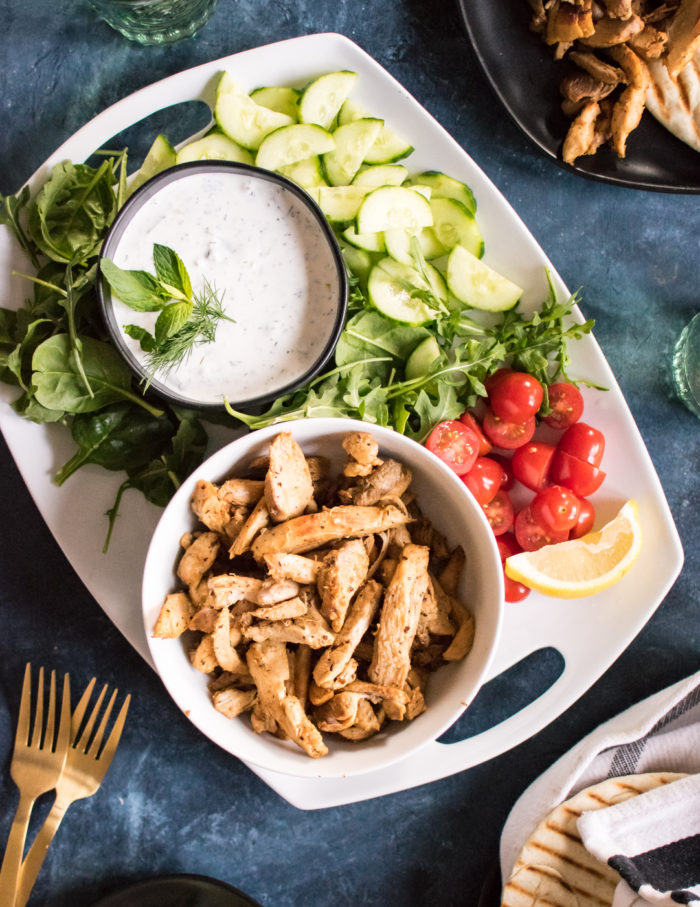 It's super important to make the tzatziki at the same time that you make the marinade for the chicken because it needs to sit in the refrigerator for a while to realize it's full potential. Like, you could eat it right after you make it but it definitely won't be as good as if you let it chill for a while. First of all, there's raw garlic in there so letting it sit in the yogurt takes some of the bite out of it. Second, letting the tzatziki sit helps all the flavors come together and get stronger. It's just worth it, okay?!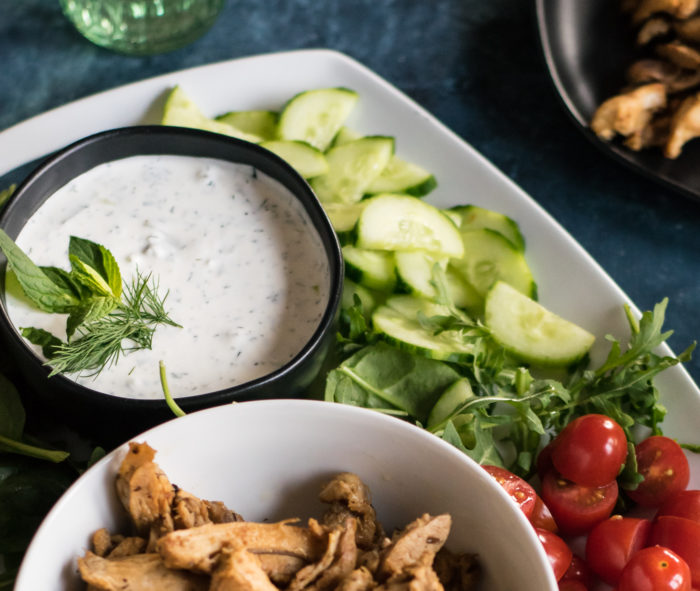 I like to serve the chicken with the tzatziki, warm pita, cucumbers, tomatoes and some kind of leafy greens. You could also add red onion to the spread if that's your thing. Serving everything on a platter makes it easy for people to choose how they'd like to eat it. They can make a wrap with the pita or maybe a Greek salad. Plus, it looks really pretty served this way. Don't forget to put a few lemon wedges out there for a little spritz of brightness!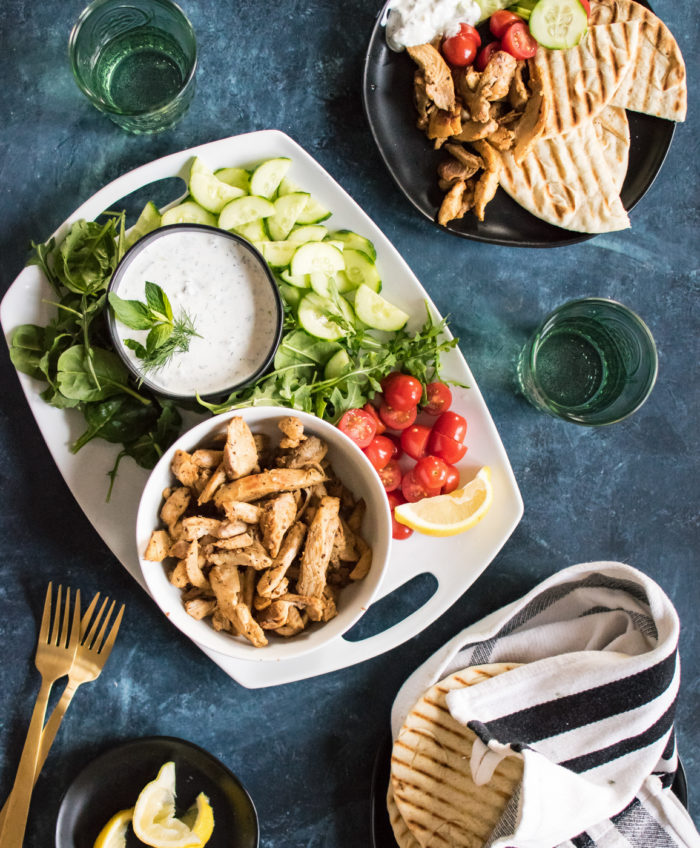 I hope you guys love this recipe! I'm honestly probably working on another recipe with cumin right now. Ugh, who even am I?
You might also like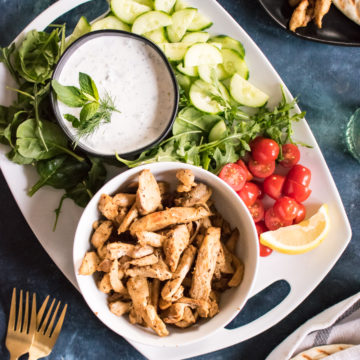 Greek Chicken with Tzatziki
Ingredients
For the chicken
5

Boneless, skinless chicken thighs

3

Tablespoons

olive oil

1

Lemon

juiced

4

Cloves garlic

smashed

3

Teaspoons

Greek seasoning

¼

Teaspoon

cumin

½

Teaspoon

kosher salt

Pinch of pepper
For the Tzatziki
1

Cup

greek yogurt

¼

Cup

sour cream

1

Tablespoon

lemon juice

½

Cup

english cucumber

chopped

1

Clove garlic

minced

1

Tablespoon

fresh dill

minced

2

Teaspoons

fresh mint

minced

Kosher salt

to taste
For serving
Pita

grilled or warmed in the oven

English cucumber

thinly sliced

Cherry tomatoes

halved

Leafy greens

such as arugula

Lemon wedges
Instructions
In a zip top bag, add all of the ingredients for the chicken. Shake the bag so the chicken is coated and place it in the refrigerator to marinate for at least 3 hours.

Meanwhile, make the tzatziki. Mix all of the ingredients for the tzatziki in a bowl, cover with plastic wrap and place in the refrigerator for the flavors to come together while the chicken marinates.

Heat a cast iron pan over medium high heat. Add the chicken to the pan along with the marinade. Cook the chicken until golden brown and cooked through; about 5 minutes on each side. Remove to a cutting board and let the chicken rest for 5-10 minutes. Slice the chicken into strips and add it back to the pan over medium heat to crisp up around the edges; about 3 minutes. At this point, you can taste the chicken and add additional salt, cumin or Greek seasoning to your taste.

Serve the chicken with the tzatziki, vegetables and warm pita.