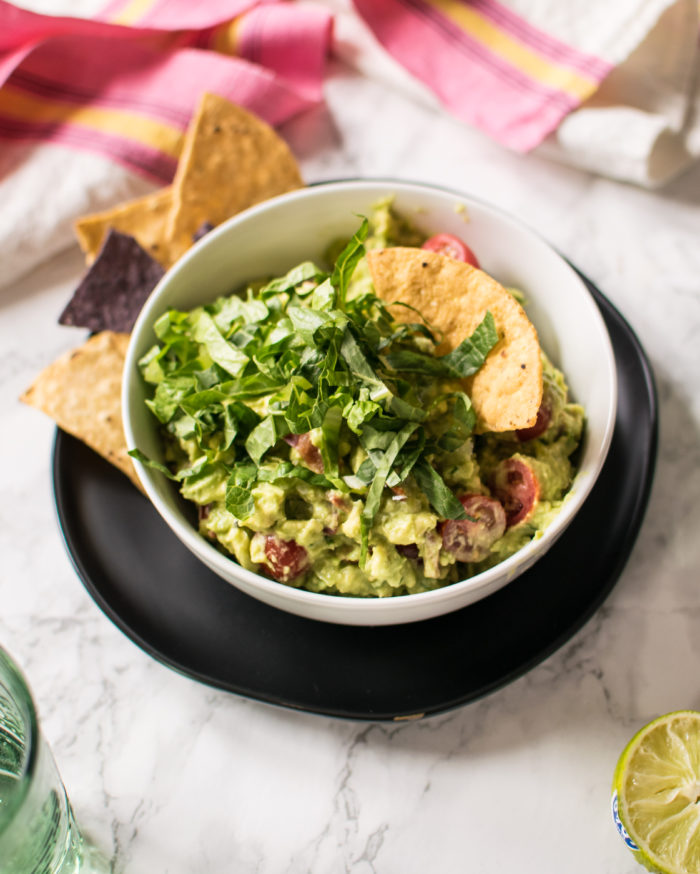 Ah, BLT Guacamole, a combo of two of the best things. I literally don't know a single person who doesn't like guacamole and the only people I know who don't like BLTs are vegetarians. So, if you're a human being who eats meat, you're going to love this recipe! (And honestly, if you're a human being who is a vegetarian, just 86 the bacon and you're good.) Sure, BLT Guacamole might seem a little extra, but I thought guac was always extra..
*This post may contain affiliate links. See disclosure for further details.
...Extra delicious! Oh man, that was ridiculous. Anyway, all I know is, BLT and guacamole make a really good team. And kind of rhyme?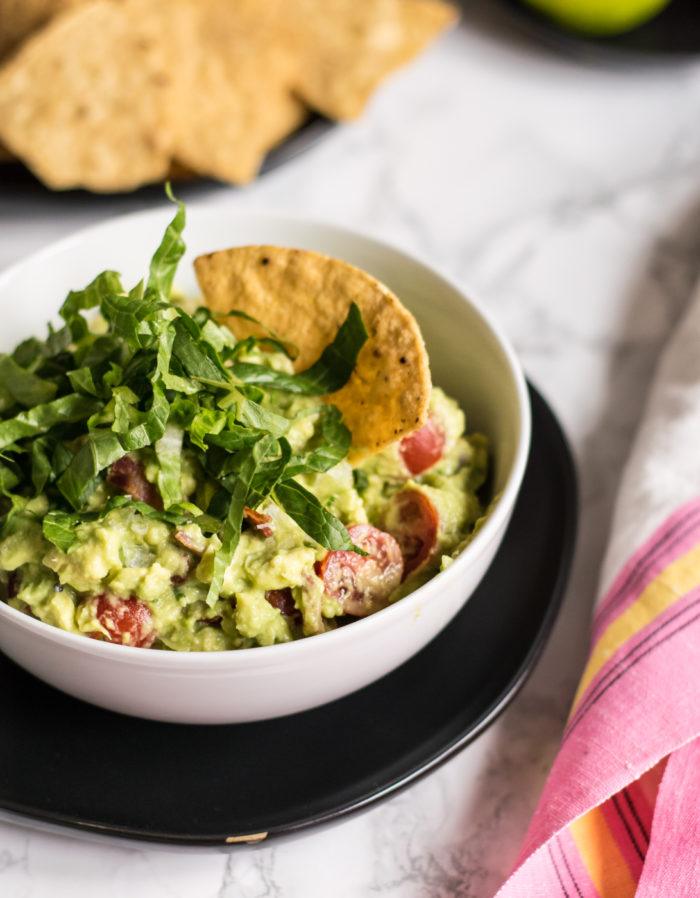 Speaking of teams, I hate to admit it but this guacamole would be a perfect thing to serve while you're watching your favorite football team play. Not that I support watching football buttt... I know a little something called the Super Bowl is coming up and you might want to make a big bowl of this for the occasion.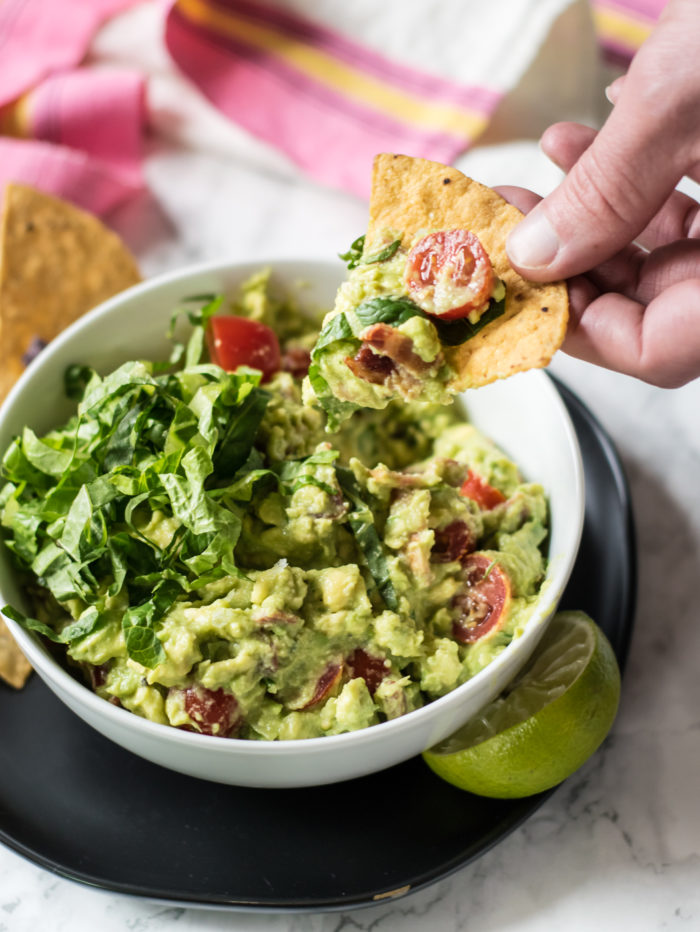 Or, for the bachelor!! That's way more my speed. While we're on the topic, what do you guys think of Arie? I think he's a little boring and he needs to lay off the word "amazing" for sure. He's definitely no Peter but I'll take him over Dean, but I digress.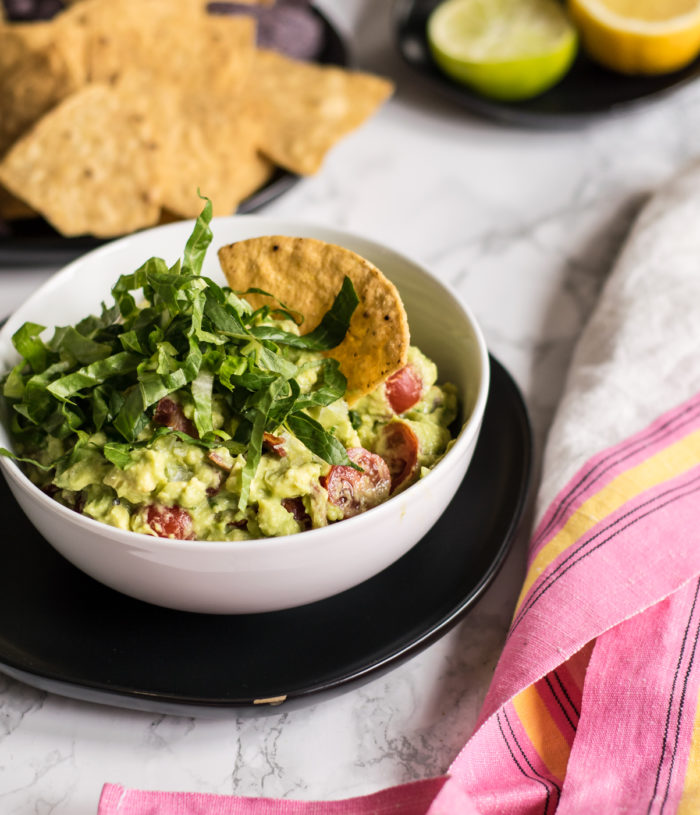 Back to the guac! I like my guacamole on the chunkier side so I use the "cut to mix" method where you take two knives and just keep cutting to mix it instead of using a spoon or fork. This way, you can control the texture to get what you want. I add the shredded lettuce on top of the guacamole instead of mixing it in so that it stays crisp. You can replenish the lettuce as it gets eaten.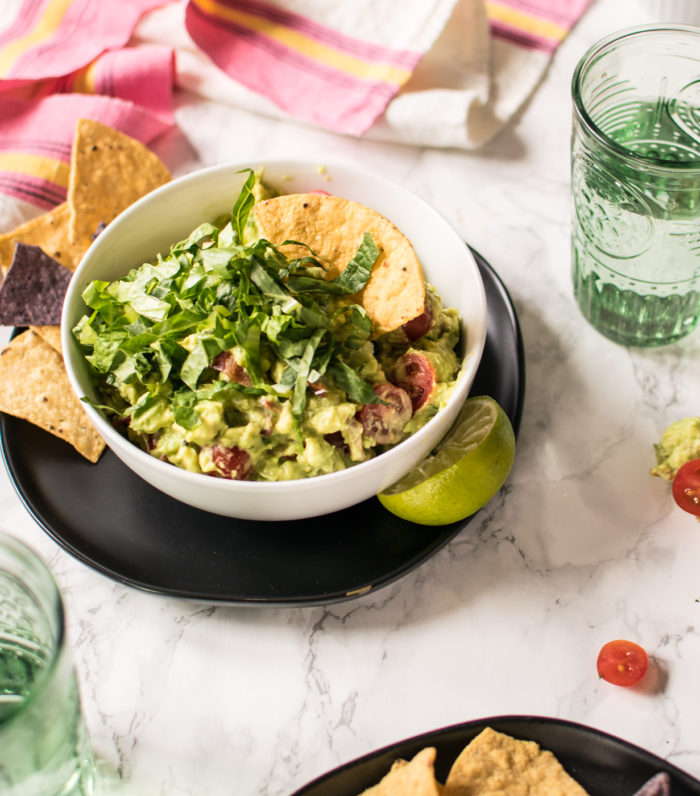 Let's talk about the parsley/cilantro situation. In the recipe, I say you can use parsley OR cilantro because, guess what?! I hate cilantro. I hate cilantro and I don't care who knows it! For every recipe that I know should have cilantro in it, I use parsley. If you don't hate cilantro (lucky you) you should totally use it. If you're like me, use parsley instead. Certainly don't leave it out completely though, because fresh herbs make everything better! I also included jalapeño as an optional add in that will be delicious for people that want a little kick.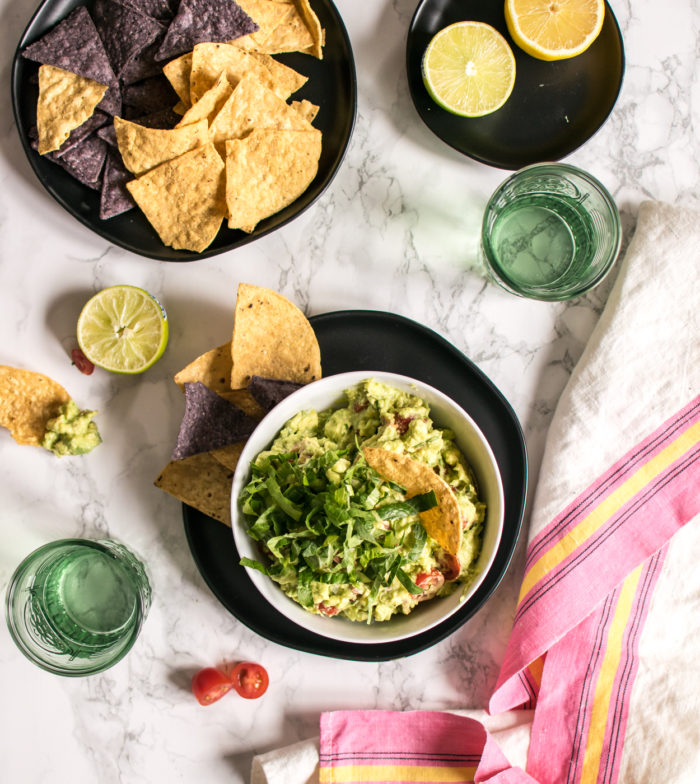 Alright, I think I've gone over everything I needed to go over and now it's time to crank up the guacamole song and get in the kitchen! Let me know if you make this recipe because, well, it's my favorite thing ever when you do!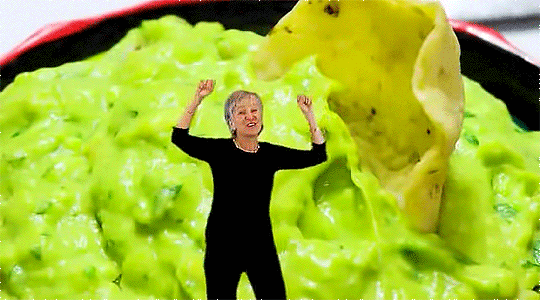 You might also like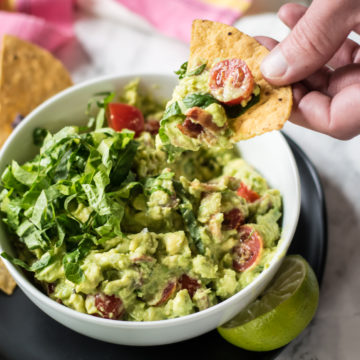 BLT Guacamole
This BLT Guacamole is a fun twist on the classic Guacamole!
Ingredients
4

Avocados

pitted and peeled

5

Slices bacon

cooked and chopped

½

Cup

cherry tomatoes

halved

5

Romaine lettuce leaves

thinly sliced

1

Scallion

light green and green parts only, thinly sliced

5

Sprigs of parsley or cilantro

roughly chopped

½

Lime

juiced

½

Lemon

juiced

1

Teaspoon

flaky sea salt

salt such as Maldon, to taste

Pinch of pepper

to taste

Pinch of cumin

to taste

Optional add in: Jalapeño

finely chopped
Instructions
Fry the bacon until crispy, drain on a paper towel lined plate and then chop.

To a large bowl, add the avocados, lemon, lime, salt, pepper, and cumin. With two knives, cut the mixture until you reach your desired consistency (I like my Guacamole a little bit chunky.)

Fold in the bacon, tomatoes, scallions, and parsley or cilantro being careful not to break up the avocado chunks too much.

Top the guacamole with the shredded lettuce and serve with tortilla chips.

Enjoy whilst listening to The Guacamole Song, preferably.