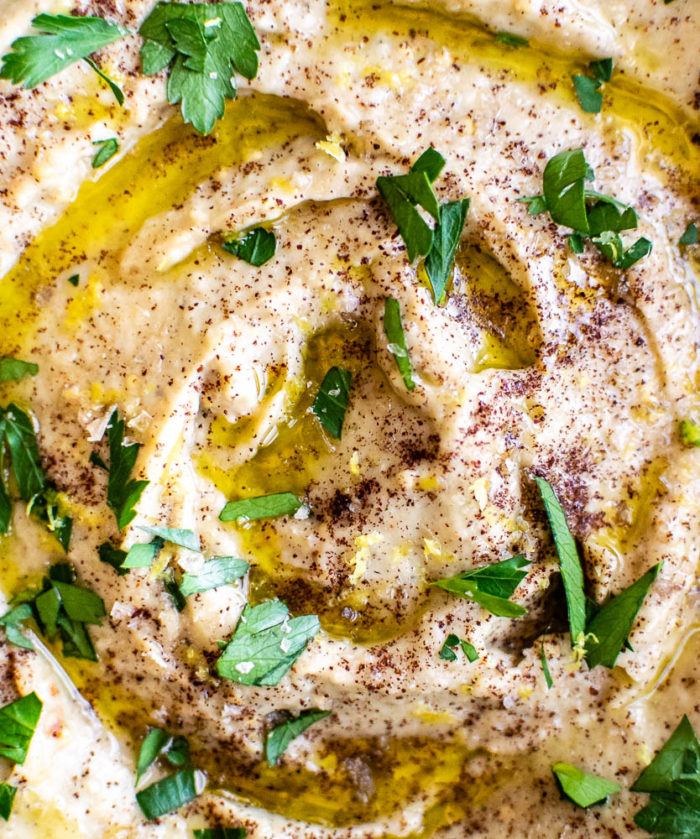 Creamy, Smoky, delicious. Baba Ganuosh is super easy to make at home—what are you waiting for? I've been on a pretty big Baba Ganoush kick lately. As if I need another reason to be thinking about Vince Vaugh. Wait what?!
Okay, so Baba Ganoush reminds me of Vince Vaugh because of the movie Wedding Crashers. Wedding Crashers seems to have made quite an impact on my life (and food!) because my mind also goes directly to that movie when eating crab cakes or meatloaf. I hope I'm not alone in this. Anyway, to sum things up: 1. Wedding Crashers is still one of the greatest movies of all time, 2. Yes, I have a crush on Vince Vaugh, and 3. This Baba Ganoush is freaking delicious.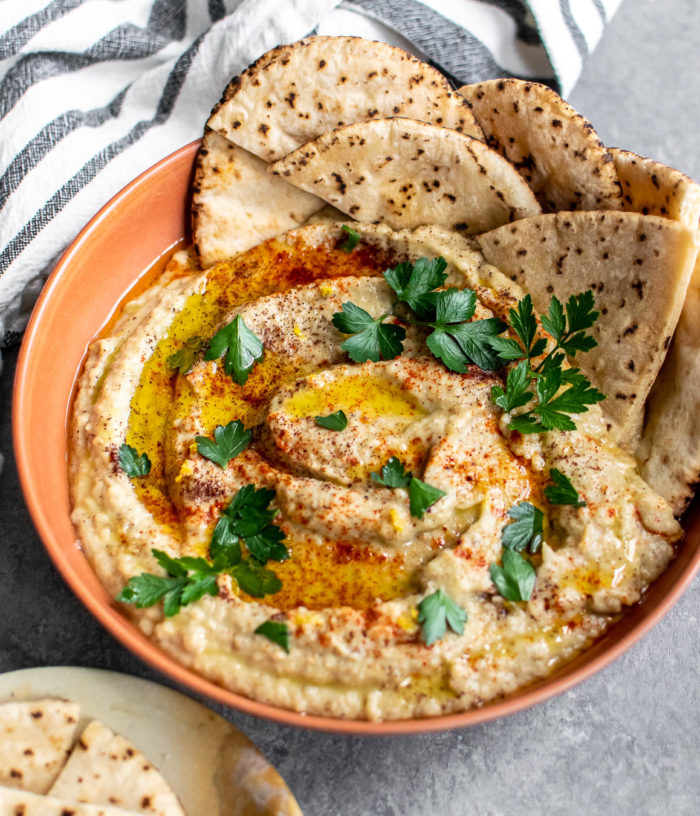 *This post may contain affiliate links. See disclosure for further details.
So what is Baba Ganoush, anyway? Baba Ganoush (also spelled Baba Ganouj) is a dip or spread made from eggplants and tahini. Traditionally, the eggplant would be roasted over an open flame, but for our home cooking purposes, we'll roast it in the oven! The roasted eggplant then gets blended with tahini, garlic, lemon juice, a little olive oil and some spices.
There is some debate about where Baba Ganoush originated, but the short answer is: somewhere in the middle east! Counrties like Lebanon, Turkey, Egypt (and many more) have their own versions of this dish.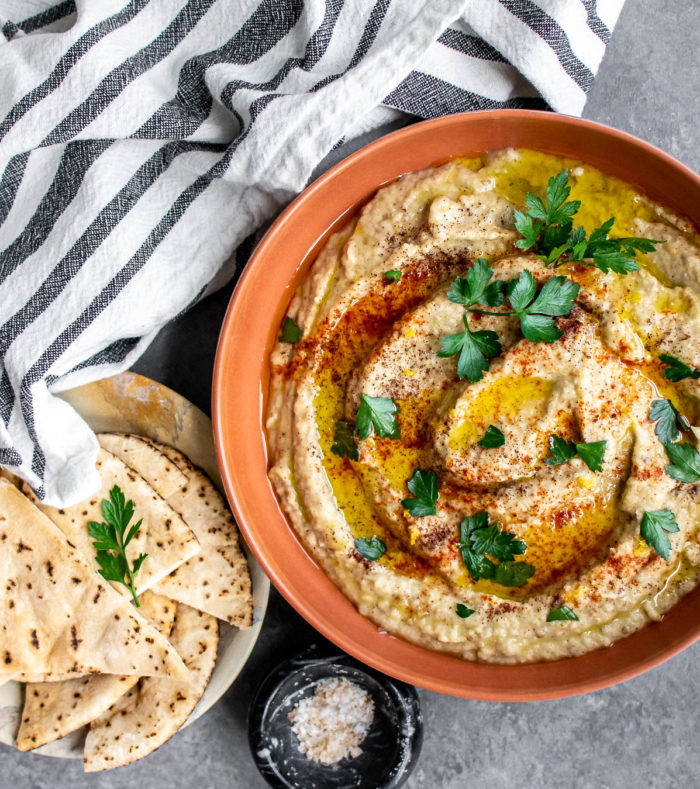 Because we're roasting the eggplants in the oven, instead of an open flame, you'll miss some of that smokiness that a traditional Baba Ganoush would have. Enter: smoked paprika. Smoked paprika may not be traditional, but it adds a subtle smokiness that I love! I also love using sumac in this recipe. Sumac is a spice that's used in a lot of middle eastern and Mediterranean cooking that has a lemony flavor. You'll often see ground sumac sprinkled over hummus or, you guessed it, Baba Ganoush! You should be able to find both smoked paprika and ground sumac at most grocery stores these days.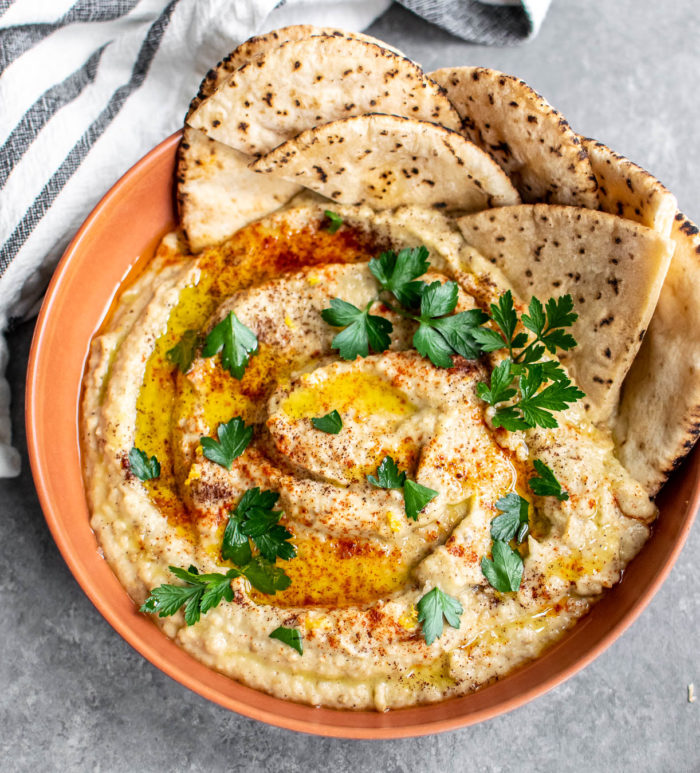 After blending up all the main ingredients, I like to chill the Baba Ganoush in the fridge for about an hour to make sure all the flavors have had time to hang out and meld. Then, when you're ready to eat, drizzle olive oil over the top and garnish with lemon zest, fresh parsley, and a pinch of sumac and flaky sea salt. Serve with warm pita bread!
This recipe tastes best while watching Wedding Crashers.
You might also like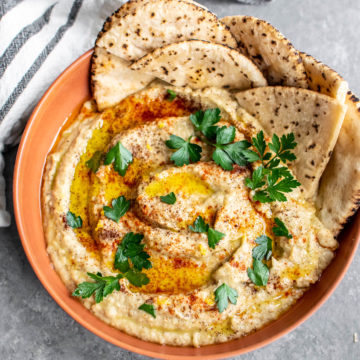 Easy Baba Ganoush
This Baba Ganoush is creamy, smoky, delicious and super easy to make at home.
Ingredients
For the Baba Ganoush
2

Medium eggplants

cut in half longways

4

Teaspoons

olive oil

divided

3

Tablespoons

lemon juice

2

Tablespoons

tahini

½

Teaspoon

kosher salt

½

Teaspoon

sumac

¼

Teaspoon

smoked paprika
For serving
Olive oil

Lemon zest

Sumac

Flaky sea salt

such as Maldon

Fresh parsley

roughly chopped

Warm pita
Instructions
Pre heat oven to 400 degrees and prepare a parchment lined baking sheet. Rub the eggplants with half of the olive oil and sprinkle with salt. Roast the eggplants, skin side up, for 30 minutes.

Let the eggplant cool a bit and then scrape out the flesh with a spoon. Discard the skins.

Add the eggplant, lemon juice, tahini, remaining olive oil, salt, sumac and smoked paprika to a food processor and blend until smooth.

Transfer the Baba Ganoush to a bowl and refrigerate for at least 1 hour before serving.

Drizzle olive oil over the top and garnish with lemon zest, fresh parsley, and a pinch of sumac and flaky sea salt. Serve with warm pita bread.

Enjoy with your date, Vince Vaughn.