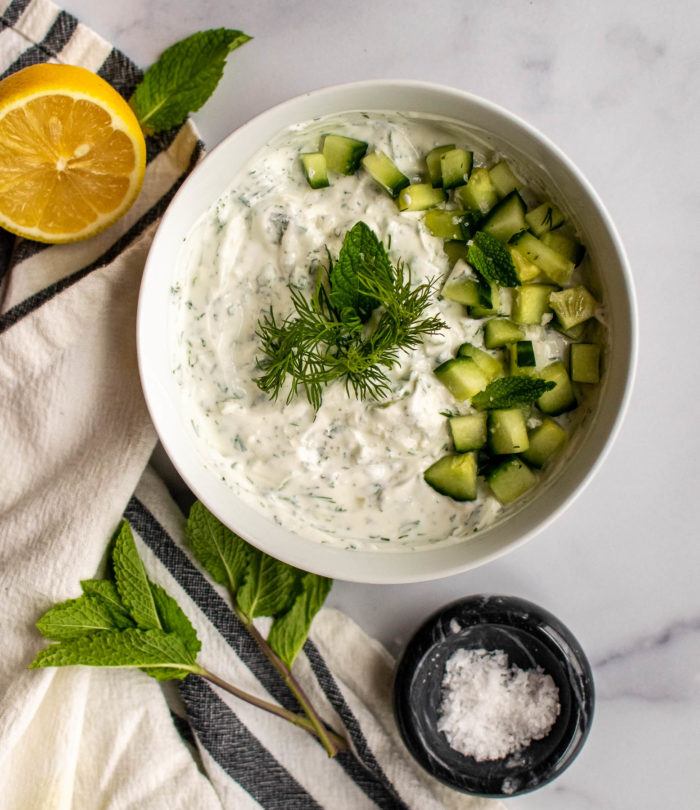 Okay, so it's a little annoying of me to claim that this Tzatziki is "the best" BUT it really is the best! I don't know if it's the combination of the greek yogurt and the sour cream, or the addition of the fresh mint, but this Tzatziki sauce is always a hit and you need to make it like, yesterday.
So what is Tzatziki, anyway? Tzatziki is a sauce or dip that comes from Greece. It's usually made of greek yogurt, cucumbers, garlic and dill. In my version of Tzatziki, I love adding fresh mint as well.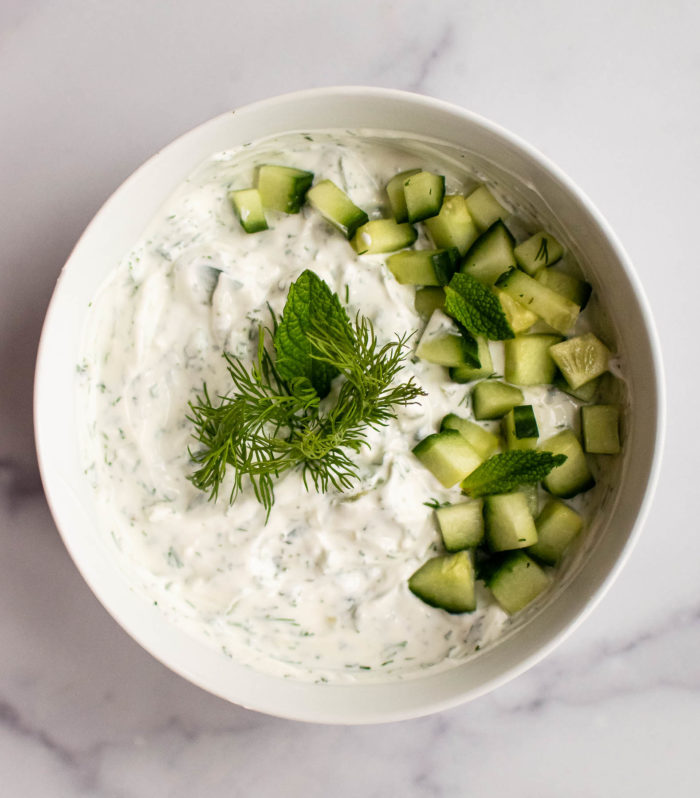 I didn't use mint in my savory cooking for such a long time and I totally regret that! You don't need much, but adding a bit of chopped fresh mint to wraps, tacos, salads, and sauces is SO delicious! So if you're skeptical about the mint in this recipe, don't be! You're going to love it.
Making Tzatziki is extremely easy. Like, the easiest. All you have to do is mix the ingredients together in a bowl, cover it, and let it chill in the refrigerator for a bit before using. Of course you can use the sauce right away if you forgot to plan for the chilling time but, it will be much better if you let the flavors hang out together for a while. When I know I'm going to be having Tzatiki for dinner, I just quickly whip up a batch in the morning and by dinner time, it's ready to go.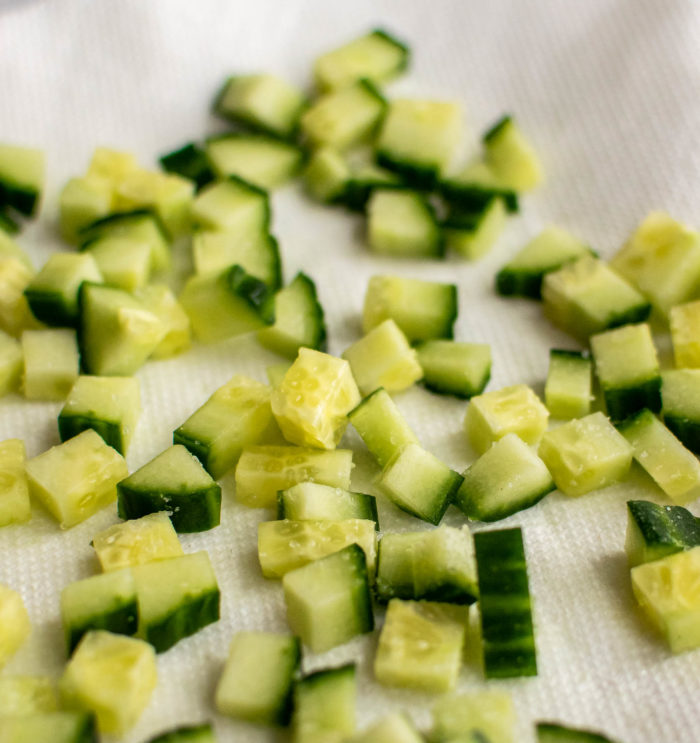 One thing that can happen with Tzatziki, is the cucumbers can make it a bit runny. I mean, it's not their fault they're made up of  like 95% water! If you want to combat this problem, you can chop the cucumbers, sprinkle them with a bit of sea salt, and let them sit on some paper towels or in a colander over a bowl for a bit. I skip this step most of the time because, well, I'm lazy. But you could easily do it while you're chopping up the other ingredients. Speaking of chopping, I like to chop the cucumbers instead of grating them like many Tzatziki recipes call for. I prefer the chunkier texture!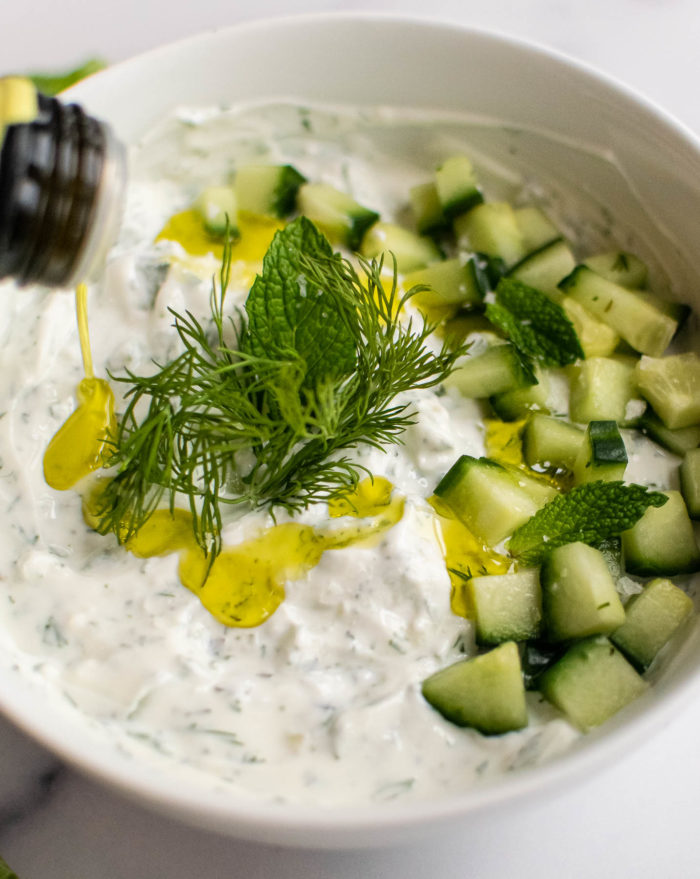 So, now that you've got big plans to make this Tzatziki, how are you going to use it? There are so many ways! I like to serve it with greek chicken, put it on sandwiches and wraps, and often times, I just eat it as a dip! If I'm eating it as a dip, I usually add a drizzle of olive oil to the top. It's tasty, and pretty. Win win. If you're going to do that, just make sure it's good quality olive oil!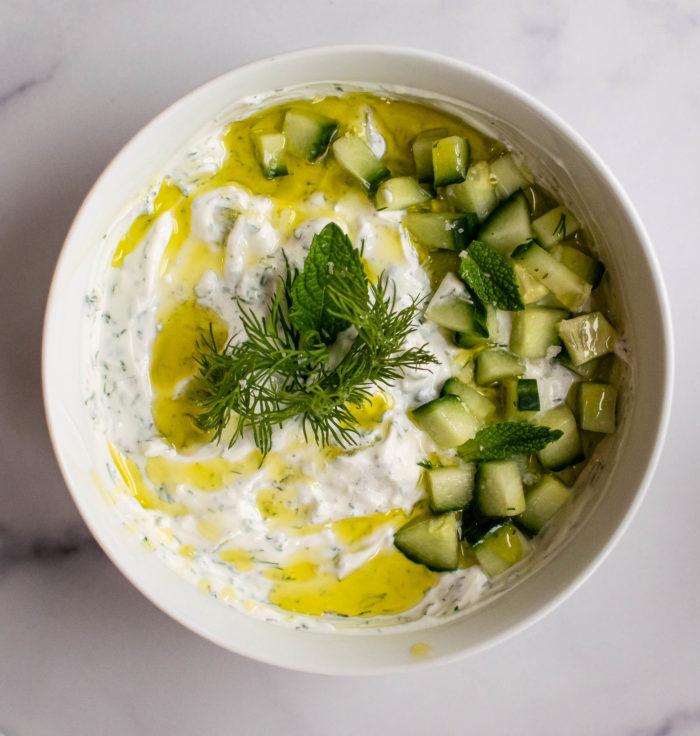 Let me know what you think of this Tzatziki recipe—I hope you love it and put it on all the things!
Recipe Summary
The Best Tzatziki Sauce

Prep Time

10 Minutes, plus 1 hour for chilling

Total Time


1 Hour, 10 minutes

Level:

Easy

Servings:

4-6

Ingredients:

1 Cup greek yogurt
1/4 Cup sour cream
1 Tablespoon lemon juice
1/2 Cup english cucumber, chopped
2 Cloves garlic, minced
2 Tablespoon fresh dill, finely chopped
1 Tablespoon fresh mint, finely chopped
Salt, to taste
Olive oil, for drizzling (optional)

Instructions:

Spread the chopped cucumbers on a paper towel lined plate and sprinkle them with salt. let them sit for 15 minutes or so, to drain excess moisture.
Meanwhile, mix all of the ingredients (except for olive oil, if using) in a bowl. Stir in the cucumbers. Season with salt to taste.
Drizzle with olive oil before serving (optional).
Enjoy!