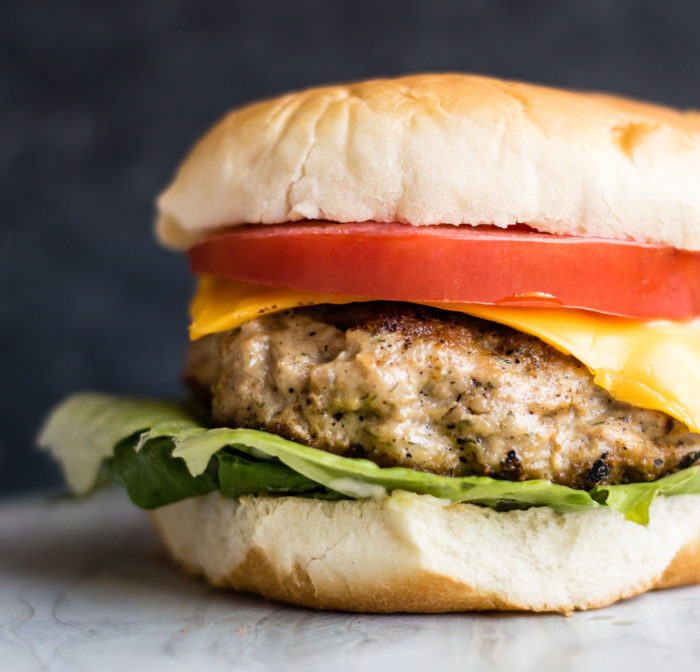 Turkey burgers, to me, are hit or miss. I've had some good experiences and some really bad experiences. What makes a bad turkey burger, in my opinion? Fillers! Too often I find that turkey burgers just have too much stuff in them! These burgers are the BEST because they are always a hit, never a miss AND there are only 4 ingredients in them! You heard that. 4 ingredient turkey burgers!
So, there are only two photos in this post which is kind of lame, I know. But honestly, burgers are SO hard to shoot! It's super tricky trying to keep them looking juicy while you shoot them and they're weirdly tall and always sliding around on the bun. Ugh. It's honestly one of my biggest frustrations (insert that emoji that looks, well, you know, frustrated.)
But anyway, back to the burgers. Did I mention they only have 4 ingredients in them?! Yep, 4. Not counting salt and pepper, of course. Since there are so few ingredients in the burgers, they can be a little difficult to handle. My best tip is to oil your hands a bit when forming the patties so that they don't stick. Also, since they will shrink up when they cook, make sure to form the patties thinner and wider than you might initially think to. Easy peasy.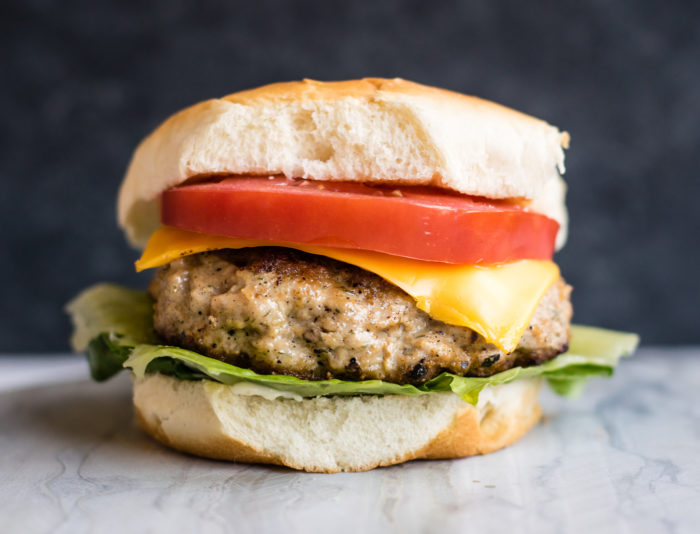 *This post may contain affiliate links. See disclosure for further details.
The mustard is what keeps these guys nice and juicy and the dill adds a really delicious, yet not overwhelming flavor! I sometimes eat these burgers in a lettuce wrap with cucumbers and fresh dill or I dress them up with the classics; lettuce, cheese and tomato. These burgs will be great with any and all of your favorite toppings! I swear, I would not lie to you guys.
You might also like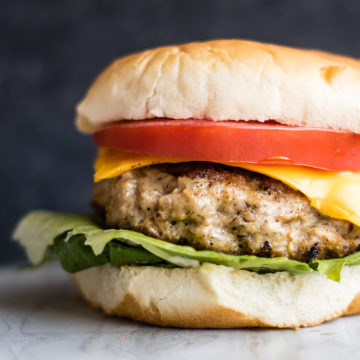 The Best Turkey Burger
These turkey burgers have only 4 ingredients, are super easy to make and always come out juicy and delicious!
Ingredients
1

16 Ounce

package lean ground turkey

1

Egg

1

Tablespoon

Dijon mustard

2

Teaspoons

dried dill

½

Teaspoon

kosher salt

Pinch of pepper

Oil
Instructions
Mix all of the ingredients for the burgers in a large bowl and form into patties.

Heat oil in a cast iron pan over medium high heat. Place the patties in the pan and cook 5 minutes on each side or until cooked through.

Serve with buns, cheese, lettuce, tomato or whatever toppings you prefer!