This recipe is great because it's super easy, it's healthy and you get to say, "en pappillote" which is always fun. Oh, and duh, it's very tasty! Total no brainer, this recipe.
"En pappillote" means "in parchment" in French (we're being fancy) and it sounds more tricky than it is. In fact, this is one of the easiest, if not the easiest, ways to cook fish!
All you have to do with the parchment paper is rip off a good sized rectangle, fold it in half, and cut it into a heart shape. Remember when you were little and you tried to cut out a heart and it turned out all wonky so the teacher taught you to fold the construction paper in half and cut one half of the heart and then open the paper up and there was a heart with two even halves? We're using that technique!
Once you've got your heart, you can arrange the fish and vegetables on one half, then fold the other half over and pinch around the edges to create a little packet.
The fish will steam in the packet and come out perfectly cooked! Plus you get to open it on your plate like a little present so that's fun.
Even my extremely old and completely blind cat, Gus, was into it. He followed his nose and busted onto the scene to get a taste! I did give him a little tiny piece because, well, he's cute and old so he deserves it. This recipe is both human and cat approved!
Note: I chose Cod for this recipe because it's nice and mild and flaky but if you want to swap it for halibut or tilapia that's totally fine! Any white fish will work!
You might also like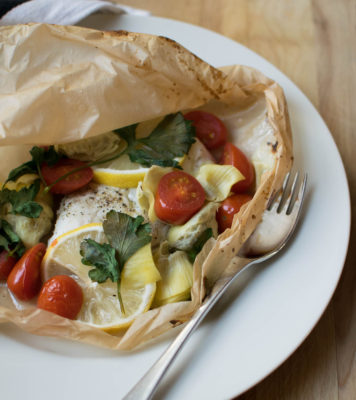 Cod en Papillote with Tomatoes and Artichokes
Ingredients
2

6 Ounce

cod fillets

1

Cup

grape tomatoes

halved

½

Cup

canned artichokes

10

Sprigs of parsley

4

Slices of lemon

Olive oil

Salt and pepper

to taste
Instructions
Pre heat the oven to 400 degrees.

Season the cod fillets liberally with salt and pepper and drizzle each with olive oil.

Cut the parchment paper into heart shapes. Open the heart and place each fish fillet on one side of each heart and top with half the tomatoes, artichokes, parsley and lemon slices. Fold the other side of the heart over the top of the fish and roll the edges up to create a packet.

Place the fish packets into the oven and cook for 20 Minutes.

Serve each fish in their paper for people to unwrap on their plates.

Feed a piece to your cat. (optional)