Crispy Fish Tacos with Sriracha Sesame Mayo and Quick Pickled Cabbage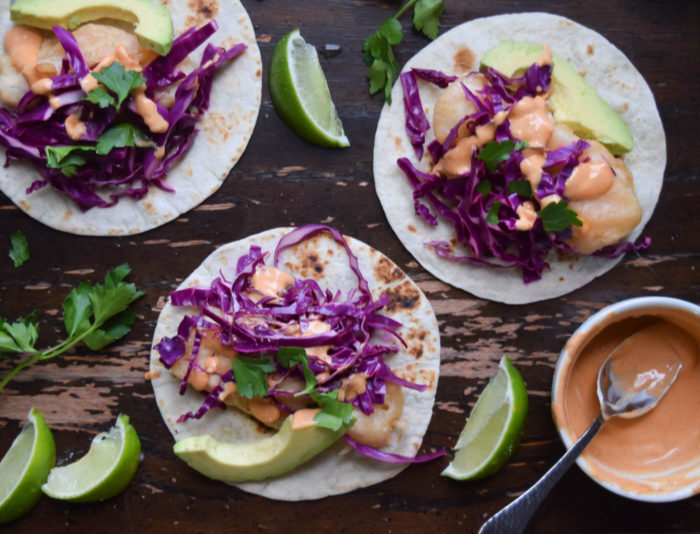 Serious question, do I know anybody that doesn't like tacos? No? That's what I suspected. Tacos are just the best. My favorite kind happen to be of the fish variety and this is my favorite way to make them.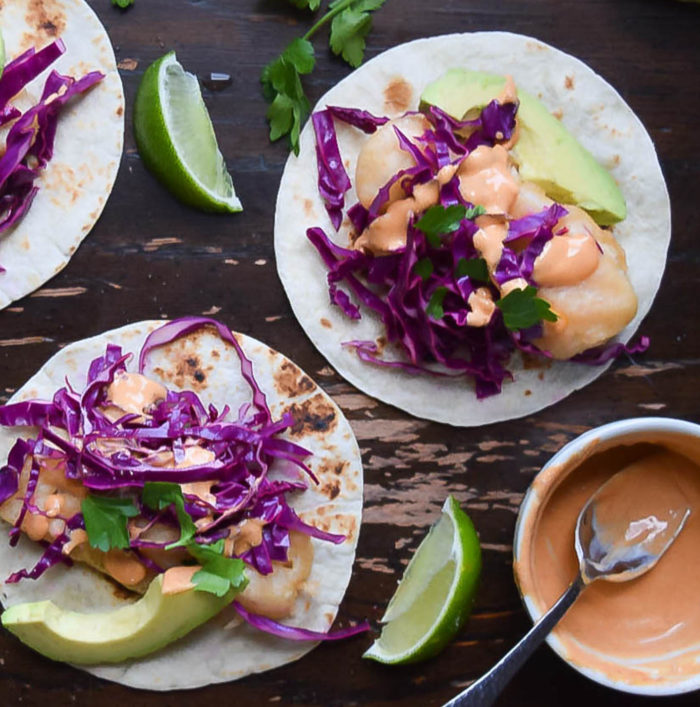 The combination of the crispy fish, crunchy, bright cabbage, creamy avocado and spicy sauce is just incredible. It really doesn't get much better! Honestly, one time I made these and my boyfriend asked if there were any leftover for him and I straight up said, "nope!" and proceeded to polish off the last two like a total taco-loving jerk. I'm not even sorry.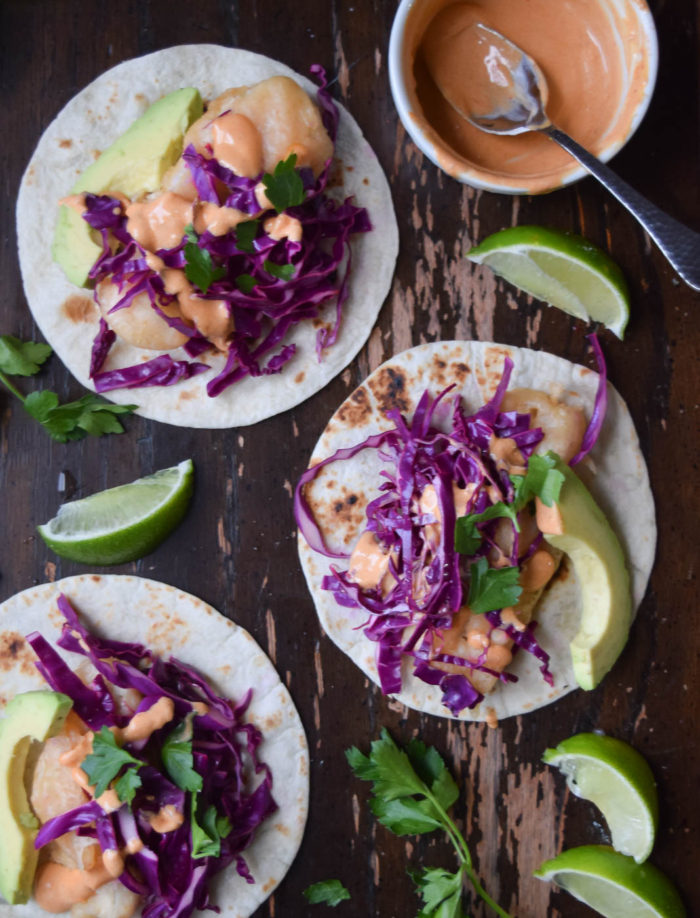 These guys are pretty easy to make and you can customize them to your liking. I prefer flour tortillas but if you guys like corn, go ahead and use those! The cod can be swapped for haddock or tilapia and to all my people that don't get down with cilantro, throw a little parsley on there for a bright garnish (that doesn't taste like soap).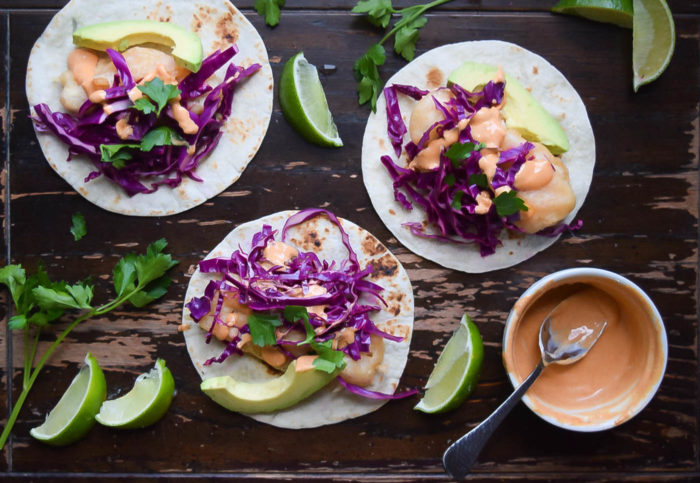 Alright, now I'm hungry. Brb, gotta go have a taco party!
Recipe Summary
Crispy Fish Tacos with Sriracha Sesame Mayo and Quick Pickled Cabbage

Level:

Medium

Servings:

6

Ingredients:

Crispy Cod

3 Cod fillets cut into one inch strips
1 1/2 Cups AP flour
1/4 Cup corn starch
1 1/2 Cups club soda
1/2 Teaspoon salt
Salt and pepper, for seasoning
Vegetable oil, for frying

Quick Pickled Cabbage

1/2 Head of red cabbage, shredded
1 Lime, juiced
1/2 Teaspoon salt
1/2 Tablespoon honey

Sriracha Sesame Mayo

1 Tablespoon sriracha
1 Tablespoon mayonnaise
1 Teaspoon sesame oil
splash of fish sauce (optional)

Other

6 Flour tortillas
1 Avocado, sliced
Cilantro or parsley, for garnish
Limes, for serving

Instructions:

Shred the cabbage and toss in a large bowl with the lime juice, honey and salt. Set aside.
Mix all the ingredients for the mayo and set aside.
Season the cod with salt and pepper.
In a large bowl, make the batter for the cod. Whisk the flour, corn starch and salt together and slowly add in the club soda, stirring until smooth.
In a saucepan, heat 3 inches of vegetable oil to 350 degrees, checking the temperature with an oil thermometer.
Dip the cod slices into the batter then gently place in the oil. Work in batches of two at a time so as not to crowd the pan or lower the temperature of the oil. Fry for about 5 Minutes, flipping a couple times until golden brown. Place the cod on a cooling rack to drain and sprinkle with a pinch of salt.
Heat the tortillas over an open flame on the stove, flipping to make sure they don't burn, until slightly charred and bubbly.
Assemble the tacos as follows: Tortilla, fried cod, cabbage, avocado slice, drizzle of mayo, cilantro or parsley, and a squeeze of lime.
Devour immediately!