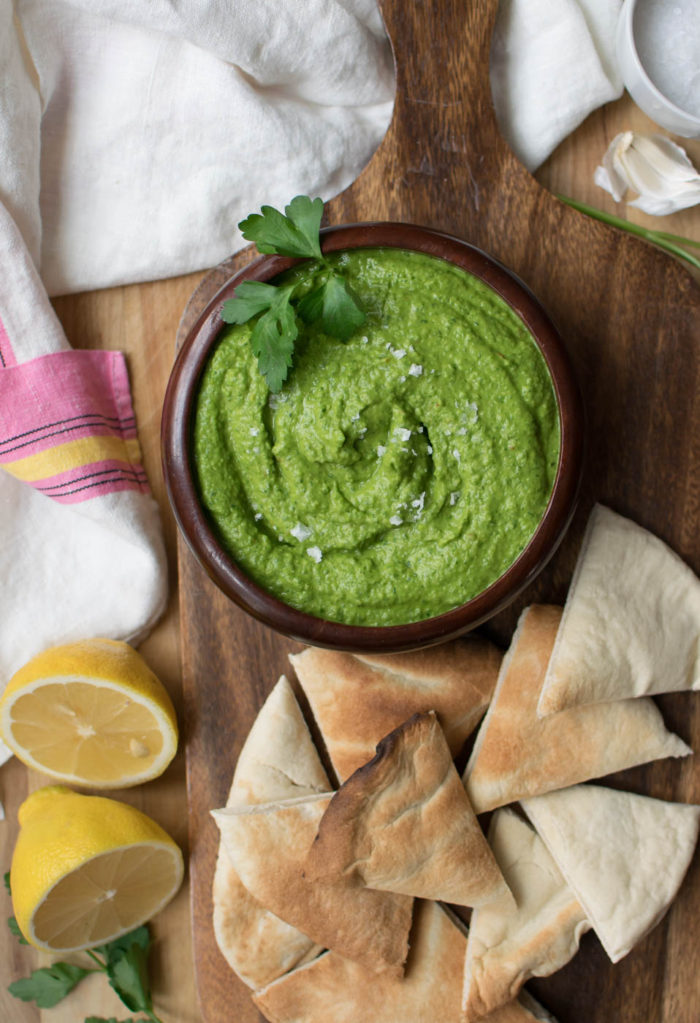 Green Dip! I call it Green Dip because, well, it's green and it's a dip. Also, I've called it Green Dip since I first made it years ago and I'm not going to just come up with some new fancy name all of a sudden just because. I can't be doin' that. Anyway, the dip, it's green, it's delicious and you should make it.
*This post may contain affiliate links. See disclosure for further details.
The best part about this recipe is that you can totally customize it to your taste. You just throw everything in the food processor, whiz, taste, and adjust. Easy Peasy! Want more lemon? Add it. More salt? Do it. Have some Kale that you want to throw in? Go right ahead. Whatever floats your boat or finds your lost remote!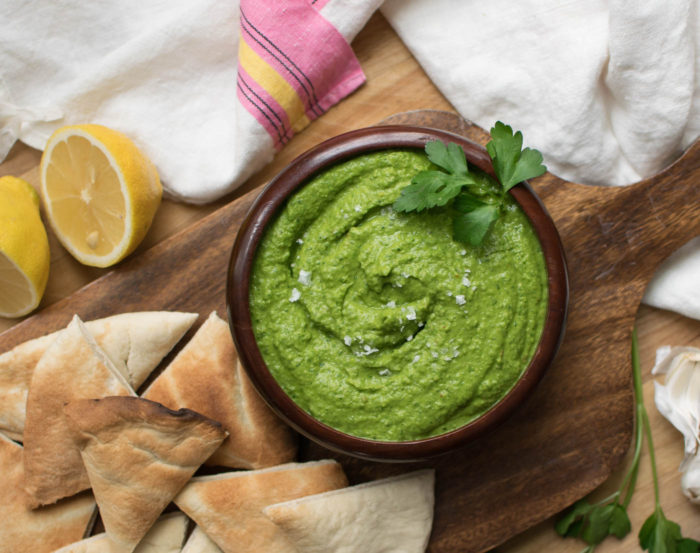 Just one tip, don't make out with anyone after eating this. I mean, unless you have some sort of garlic fetish (is that a thing?!) then go right ahead, this'll be perfect for you! But for all the rest of you, you're going to have garlic breath after eating this so maybe don't eat it before a first date or an interview, ya feel me? Good.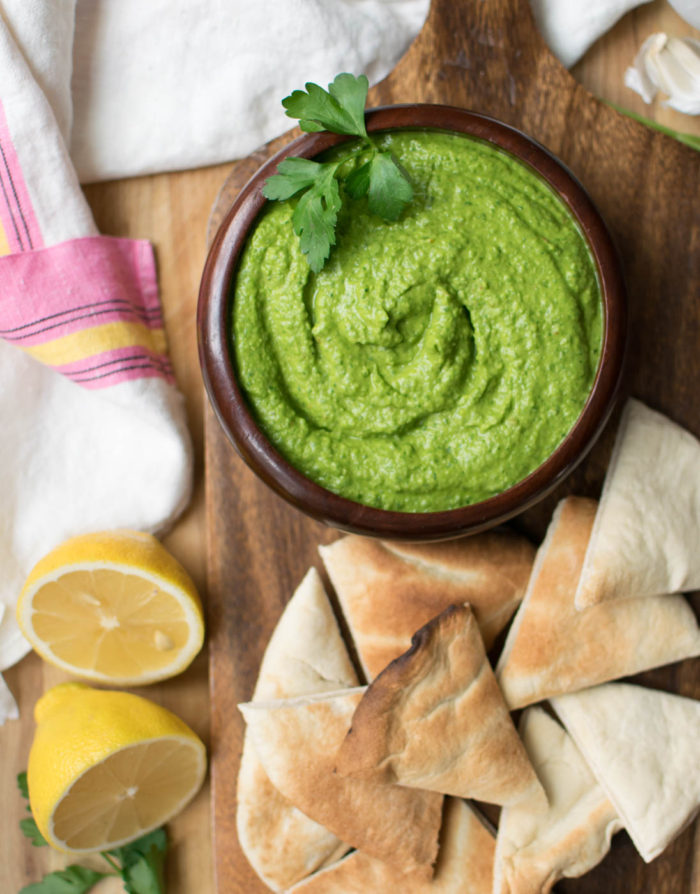 I am all about the garlic in this recipe. I love the added spice and garlic, especially raw, is really good for you! But, if you feel like two cloves is going to be too much for you, start with one, taste, and add another clove if you like. Like I said, that's the great thing about this recipe, you can customize it to suit your fancy!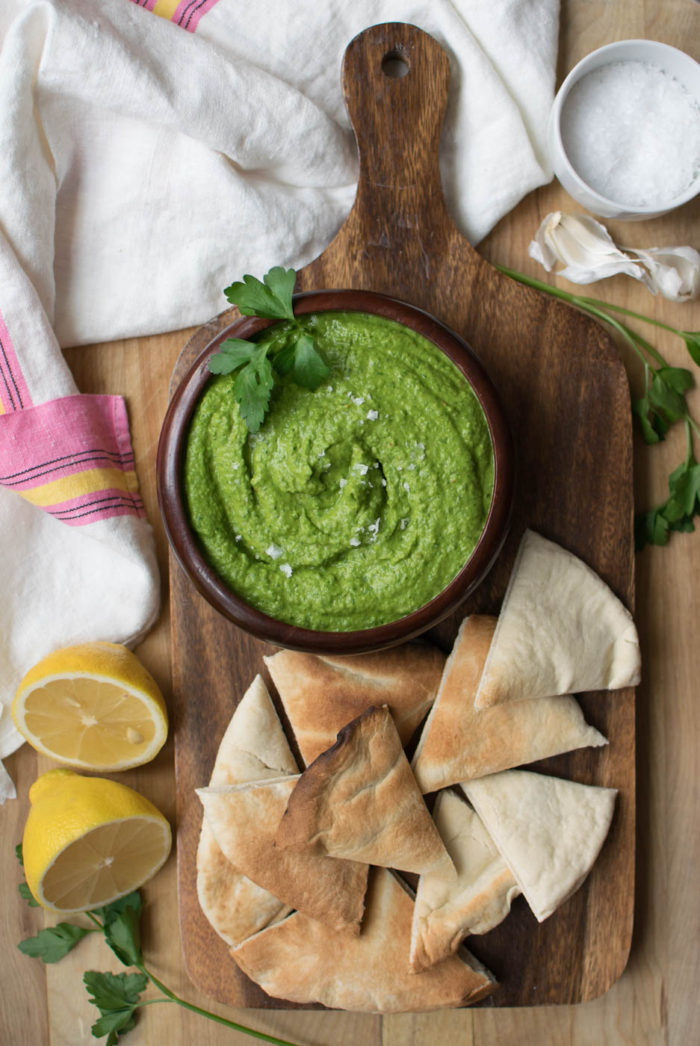 My favorite way to enjoy this dip is with warm, toasty pita bread. So. Good. But guess what? It's also delicious with pita chips, veggies, on toast, and sometimes I even add a dollop to my eggs. Yum! You can serve this dip right away or, what I like to do is let it chill for a little bit so the flavors can hang out together and get even yummier. Your call!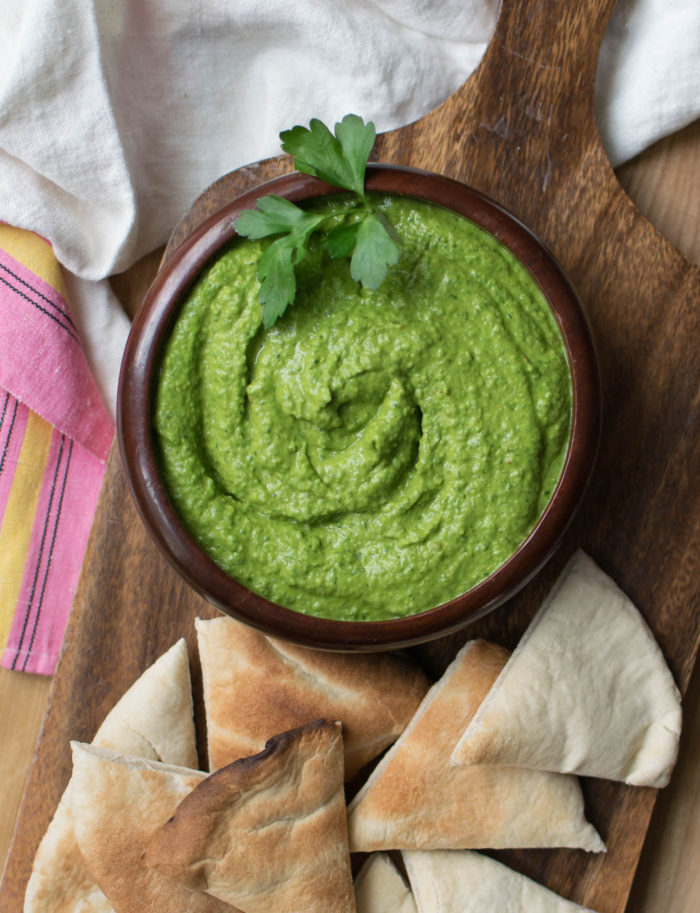 You might also like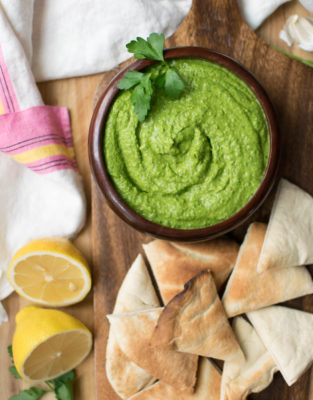 Green Dip
Ingredients
Green Dip
1

16 Ounce

Can cannellini beans

rinsed and drained

2

Cups

spinach

1

Cup

Italian flat leaf parsley

loosely packed

½

Lemon

juiced

2

Tablespoons

olive oil

2

Cloves garlic

1

Teaspoon

red pepper flakes

Salt and pepper

to taste
For Serving
Pita bread

toasted and cut into triangles

Flaky sea salt

such as Maldon, optional
Instructions
Drain and rinse cannellini beans, add to food processor.

Add spinach, parsley, lemon, garlic, salt, pepper, red pepper flakes, and half of the olive oil.

Blend all ingredients together, drizzling the remaining olive oil in to desired consistency.