This Beet Carpaccio is one of those recipes that looks fancy, but is incredibly easy to make. Like, seriously, it's almost embarrassing how easy it is. You'll roast some beets, slice 'em up, add some delicious toppings and there you go, a beautiful and tasty dish!
Speaking of beautiful, can we just take a moment to appreciate how pretty beets are? Just look at those colors! I like to use both red and golden beets in this recipe because I think they look great together on the platter but, you can use only one type if you want. This recipe is super flexible!
*This post may contain affiliate links. See disclosure for further details.
In fact, just about every aspect is flexible. I love the pepitas in this dish, but I've made this with walnuts before and that's just as tasty. There aren't exact measurements for the arugula, goat cheese and pepitas because I figure, you can decide how much you want! See? Flexible.
I kept the dressing really simple because I wanted to make sure you could taste the beets. A simple lemon vinaigrette compliments the beets without overpowering them. Just be sure to save the juice from the red beets after they're done roasting! Adding a tablespoon of the reserved juice will give the vinaigrette that gorgeous pink color—as if this dish needed any more help in the looks department—and a slight earthiness.
I use a mandolin to slice the beets so thinly but if you don't have one, you can use a knife. If you're using a knife, please be careful! Beets are slippery suckers when they're roasted. If you want to avoid pink stains on your hands from the beets, you can wear gloves but I never bother. It washes off pretty easily!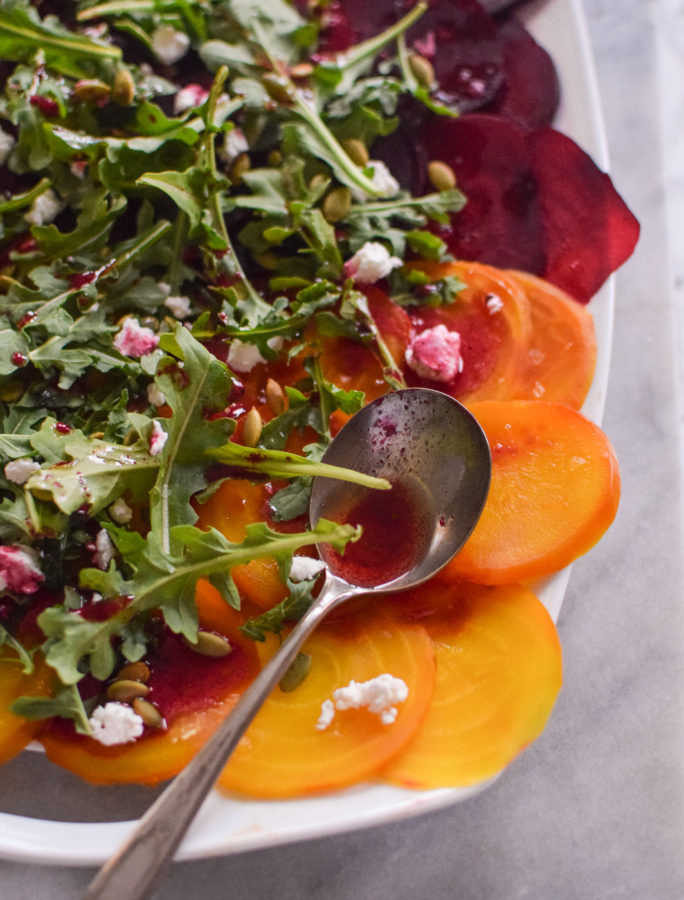 So there you go, a super easy, yummy, healthy, beautiful dish that's perfect for the holiday season! I'm going to serve this at Christmas dinner, I'm just saying...
You might also like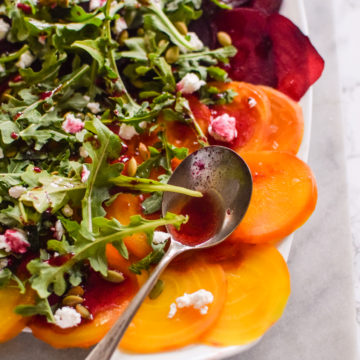 Beet Carpaccio with Goat Cheese and Pepitas
This Beet Carpaccio is one of those recipes that looks fancy, but is incredibly easy to make.
Ingredients
3

Red beets

beet juice reserved

3

Golden beets

A few handfuls of arugula

Goat cheese

crumbled

Pepitas

Salt and pepper

to taste
For the Lemon Vinaigrette
¼

Cup

olive oil

2 ½

Tablespoons

lemon juice

1

Tablespoon

red beet juice reserved from roasted beets

¼

Teaspoon

kosher salt

Fresh cracked pepper to taste

Lemon zest

(optional)
Instructions
Tear off two large pieces of aluminum foil. Place the red beets on one sheet and the golden beets on the other. Loosely fold the foil around the beets to form a packet for roasting. Keeping the beets separated will keep the red beets from bleeding onto the golden beets. Place the foil packets directly on the middle oven rack and roast for 1 hour.

Carefully open the packets making sure to reserve about a tablespoon of the juice from the red beets. Let the beets cool down enough to handle and then peel. Thinly slice the beets and arrange the by color on a platter.

Make the vinaigrette. Whisk all of the ingredients for the vinaigrette together including the reserved red beet juice.

Top the beets with a few handfuls of arugula, crumbled goat cheese, pepitas and season with salt and pepper. Drizzle the vinaigrette on top.