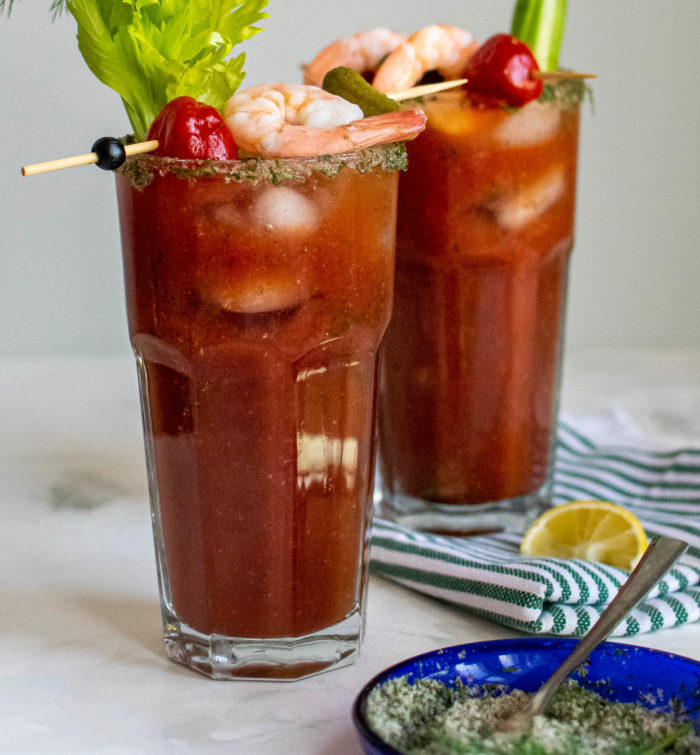 This Aquavit Bloody Mary is a fun switch up from your ordinary vodka Bloody Mary! Using aquavit in place of vodka gives this drink a delicious, herbal flavor. Laced with fresh dill and horseradish and topped with cocktail shrimp—what's not to love?
If you've never tried using aquavit in your Bloody Mary, you're in for a real treat! Aquavit (sometimes spelled Akvavit) is a Scandinavian neutral spirit, flavored with herbs and spices. It's most commonly flavored with caraway and dill, but can also include coriander, fennel or citrus.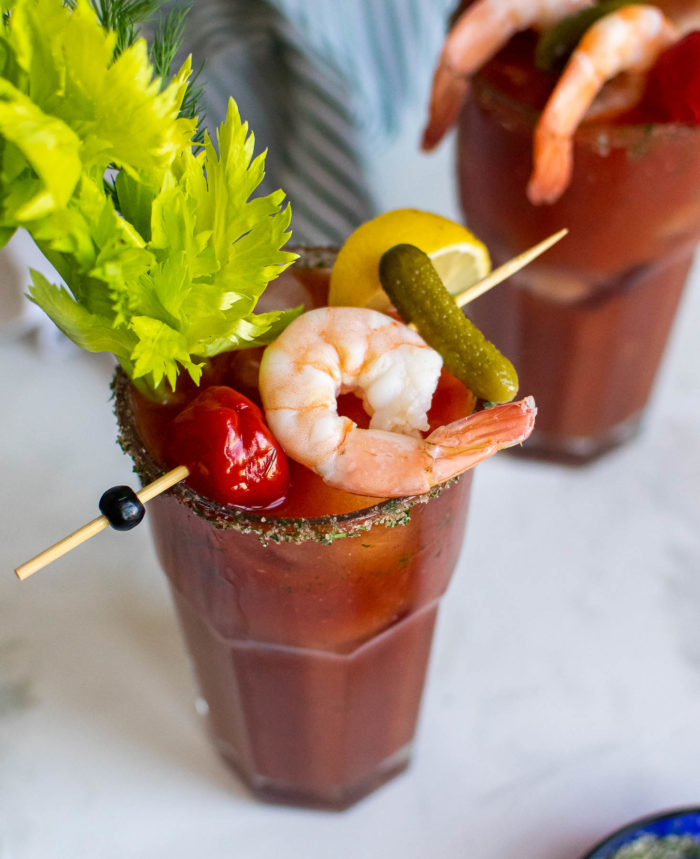 I wanted to keep these Bloody Marys pretty simple so that they wouldn't overpower the Aquavit. I decided to play up the flavors of this Nordic spirit by focusing on dill, lemon, and horseradish—No lime or hot sauce here! I promise, you'll want to be able to taste the flavor of the Aquavit.
For the rim, I used a combination of kosher salt, celery salt, and fresh dill. So tasty!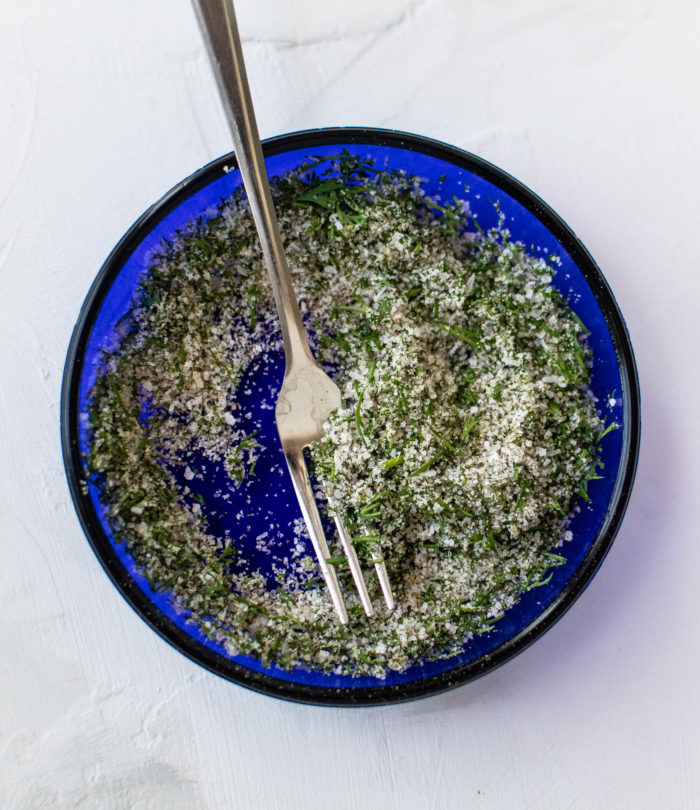 I like to make the Bloody Marys in a pitcher and then pour the mixture over ice when I'm ready to serve them. It's much easier than making each drink individually! I usually will mix up a batch, stash it in the fridge, work on my garnishes, and then pull the pitcher out and serve. You can even make them a day in advance!
For the garnishes, shrimp felt like the right choice! You can poach the shrimp yourself, or buy pre-cooked cocktail shrimp from the grocery store. Just make sure they're chilled! There's nothing like a perfectly chilled, plump shrimp hanging out on your Bloody Mary.
In addition to the shrimp, I went with pickly things (that's a technical term) and traditional celery. Peppadews and cornichons we're what I had on hand and worked perfectly! You can use whatever pickled veggies are your favorite. Try not to use anything too overpowering though, remember, we're focused on the Aquavit!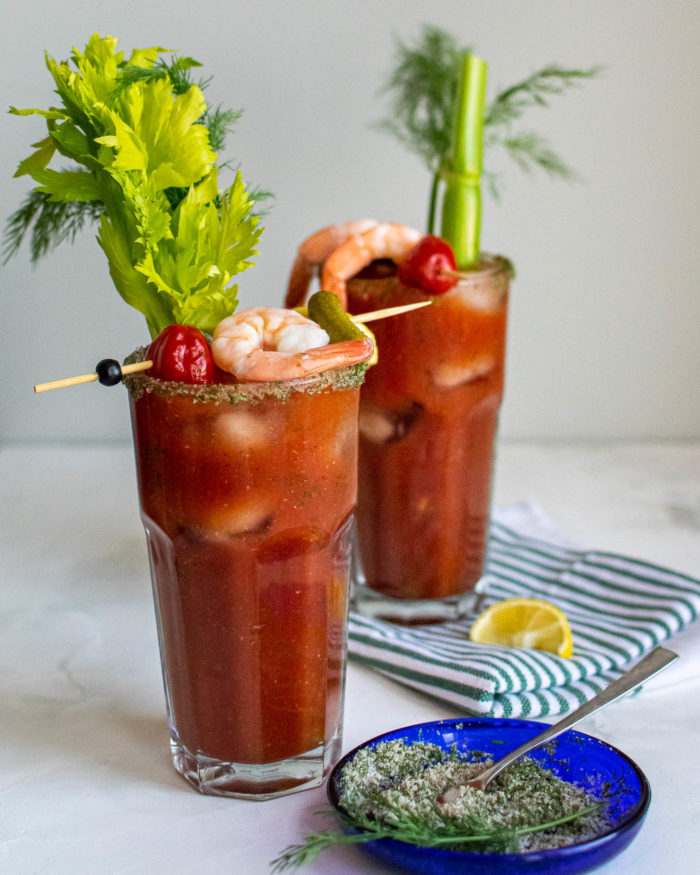 So there you have it, my current obsession, the Aquavit Bloody Mary! I hope you give it a try. Cheers!
Recipe Summary
Aquavit Bloody Mary

Level:

Easy

Servings:

2

Ingredients:

For the Bloody Mary

14 Ounces (about 2 cups) tomato juice
6 Ounces (3/4 cup) Aquavit
1-2 Tablespoons prepared horseradish, to taste
1 Tablespoon fresh lemon juice
1 Teaspoon Worcestershire
1 Teaspoon fresh dill, finely minced
1/4 Teaspoon kosher salt

For the rim

1 Tablespoon fresh dill, finely minced
2 Teaspoons kosher salt
1 Teaspoon celery salt
1/4 Teaspoon ground black pepper

For garnish

Celery stalks
Fresh dill sprigs
Cooked shrimp, chilled
Pickled peppers (such as Peppadew)
Cornichon

Instructions:

In a pitcher or mason jar, combine all of the ingredients for the Bloody Marys and refrigerate until ready to use.
Prepare the glasses and garnishes. Mix the fresh dill, salt, and celery salt together on a small plate. Wet the rim of each glass with a lemon wedge and dip it into the dill mixture. Thread the chilled shrimp and pickled vegetables onto small skewers.
Fill the glasses with ice, pour the Bloody Mary mixture over the ice, and serve with garnishes.
Enjoy!