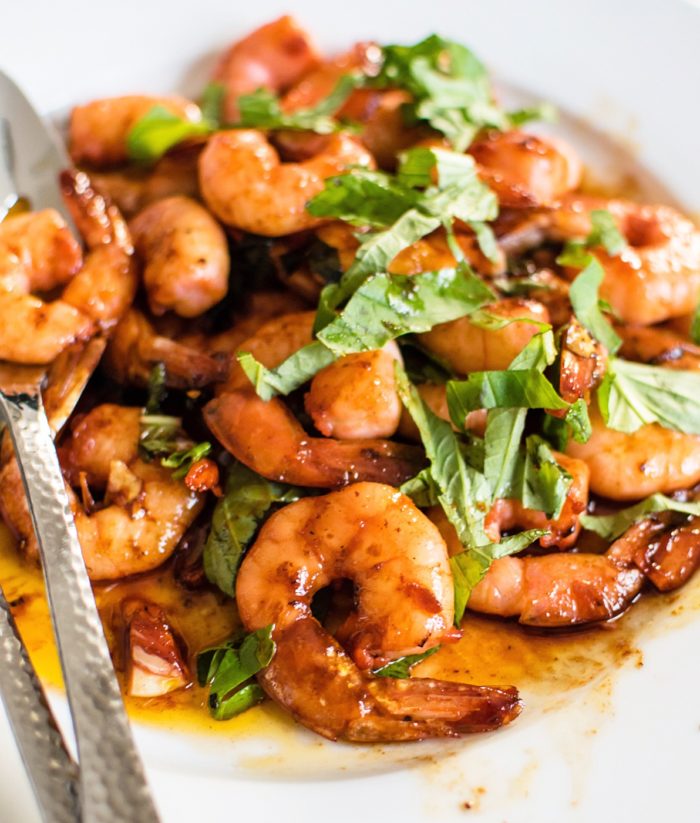 I was staring into the empty refrigerator one night, trying to decide what I wanted to cook when I just about gave up and ordered take out. The fridge was bare and Chinese was sounding pretty good. I was going to order my usual seafood dish. Or maybe something sweet and sour? Then the responsible side of my brain kicked in and told me to suck it up, be creative, and work with what I had.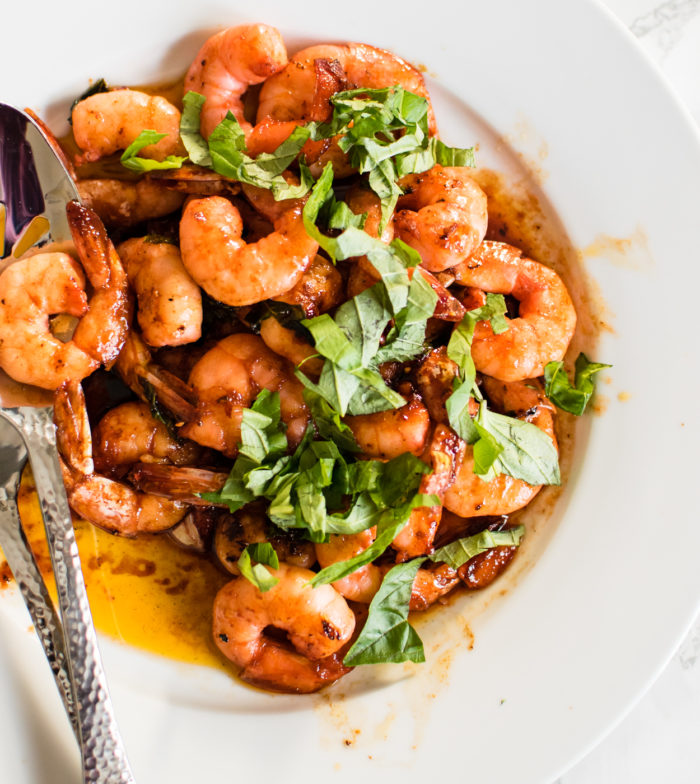 *This post may contain affiliate links. See disclosure for further details.
What I had was frozen shrimp. That took care of the seafood craving! Now, where did we land on that sweet and sour situation? And that's when the light bulb flicked on—grenadine! That'll work! I wasn't entirely sure what I was doing while making this dish (You know, a little of this, a little of that) but it turned out to be so delicious and the grenadine worked perfectly.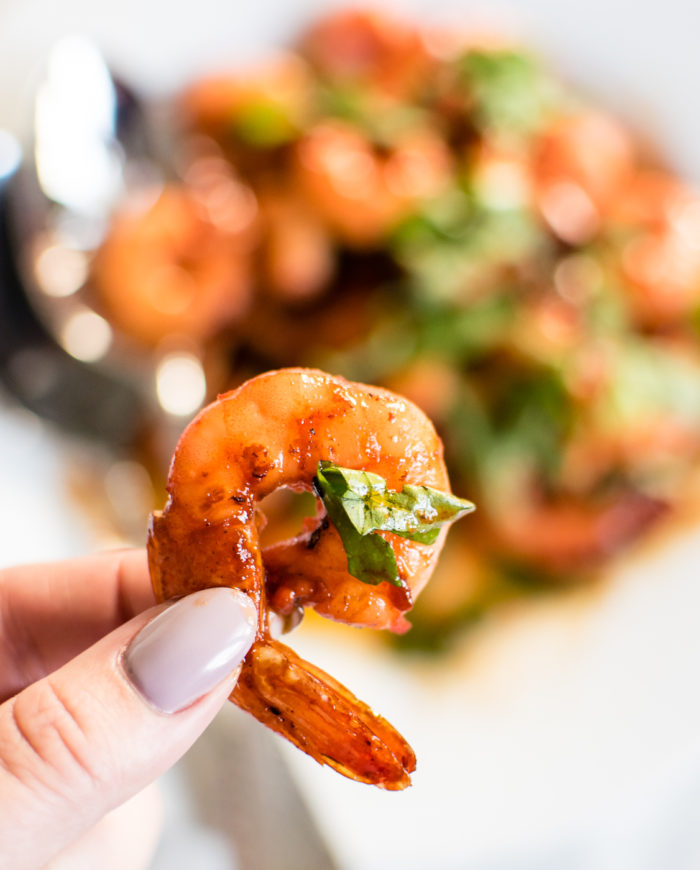 As I tested the recipe, I made some adjustments and tweaks. Like, Instead of sweet and sour, it's sweet and spicy, for example.
The sweetness of the grenadine goes perfectly with the basil and you'll get a nice kick from the ginger, sriracha, and cayenne.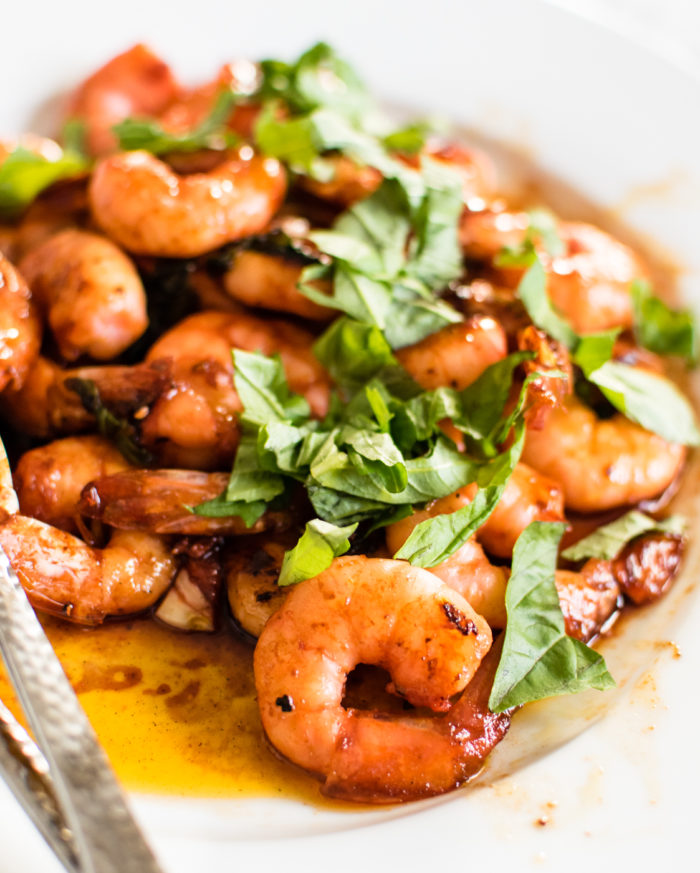 The best part is that, if you're not using frozen shrimp, this whole dish can be ready in 15 minutes! Whoa. If you are starting with frozen shrimp, add another 10 minutes on there. That's still way faster than takeout! Speaking of takeout, these shrimp are delicious with sticky white rice if you want to make them for dinner. I personally think they're great as an appetizer! Use tail on shrimp and set these out for your guests. They'll totally be impressed!
You might also like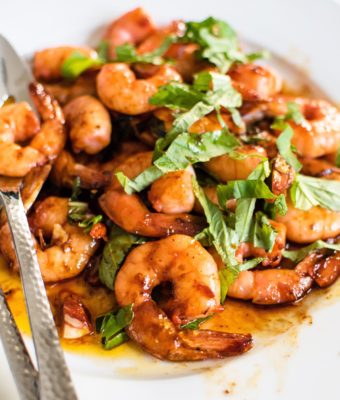 Sweet and Spicy Grenadine Shrimp with Basil
Ingredients
1

Pound

large raw shrimp

Fresh basil

chiffonade

Olive oil
For the Grenadine Sauce
2 ½

Tablespoons

grenadine

4

Cloves garlic

minced

2

Tablespoons

olive oil

1

Tablespoon

coconut aminos

1

Tablespoon

sriracha

1

Tablespoon

rice vinegar

1

Teaspoon

soy sauce

1

Teaspoon

fish sauce

¼

Teaspoon

ground ginger

1

Dash of cayenne

Salt and pepper

to taste
Instructions
In a large bowl, combine all the ingredients for the grenadine sauce. Add the shrimp to the bowl and toss to make sure each shrimp is coated.

Heat some olive oil in a cast iron pan over medium high heat. Add the shrimp to the pan, reserving the extra sauce. Cook the shrimp for about 3 minutes on each side or until opaque and cooked through. Remove from pan and set aside. Pour the reserved sauce into the pan and bring to a boil. Lower the heat and cook the sauce for a few more minutes and it has thickened up.

Pour the sauce over the shrimp and top with the basil. Enjoy!