This Italian Seafood Salad is one of my absolute favorite dishes. With plenty of fresh herbs and lemon, this salad is light, refreshing and super flavorful. Seafood salad gets better as it marinates so make it a day before serving for the best results!
My family makes seafood salad every year for Christmas Eve as part of one of the most delicious Italian traditions, the feast of the seven fishes, and I've always looked forward to it every year. There's no reason to wait until the holiday season to enjoy this dish, however. I move that we make this Italian Seafood Salad a year round tradition! I'll also just go ahead and second that motion since I'm the only one here right now. Great, so it's decided. Make this recipe any damn time you please.
*This post may contain affiliate links. See disclosure for further details.
One of the great things about seafood salad is that you can choose whatever seafood you like best. For my version of this recipe, I've chosen to use shrimp, squid, mussels and scungilli but you can add in more or 86 whatever you're not into. Hate mussels? That's weird, but yeah, get rid of them! Obessed with scallops? Add em in! Can't find scungilli? Well... look harder.
If you're wondering what the heck scungilli is, I'll drop some quick knowledge on you. Scungilli is conch. You know, those big ass snails? Well, turns out they are seriously delicious. I'd like to thank the first human who looked at one of those huge snails and said, "I'm going to eat that." You're weird and brave and we thank you for your service.
Anyway, thanks to that weirdo, and my dad for being Italian, I've been enjoying scungilli for as long as I can remember. Scungilli comes cooked and sliced in cans and all you have to do is drain and rinse it. We buy this brand and it's great! You can find scungilli in Italian specialty shops, some grocery stores, or order it online. Of course, you don't neeeed scungilli in your seafood salad, but it's a delicious addition.
I know cooking seafood can be a little intimidating to people, especially seafood with tentacles, but I'm telling you, this seafood couldn't be easier to cook. Each type of seafood in this salad takes only minutes to cook! You'll bring a large pot of water, wine and salt to a boil and cook all of the seafood in this liquid, one type at a time. The reason to do each type separately is because they all have different cooking times and we don't want anything to be over cooked! I start by dropping the squid in the liquid and cooking it for about 1-2 minutes—you'll see it become firm and opaque. Then the shrimp, then the mussels. Then use a slotted spoon or a spider skimmer to transfer the seafood to an ice bath to stop the cooking.
The dressing for this recipe is simple and easy, and all the fresh herbs give it the prettiest bright green color! You'll just add everything to a blender, and blend until smooth. Easy Peasy.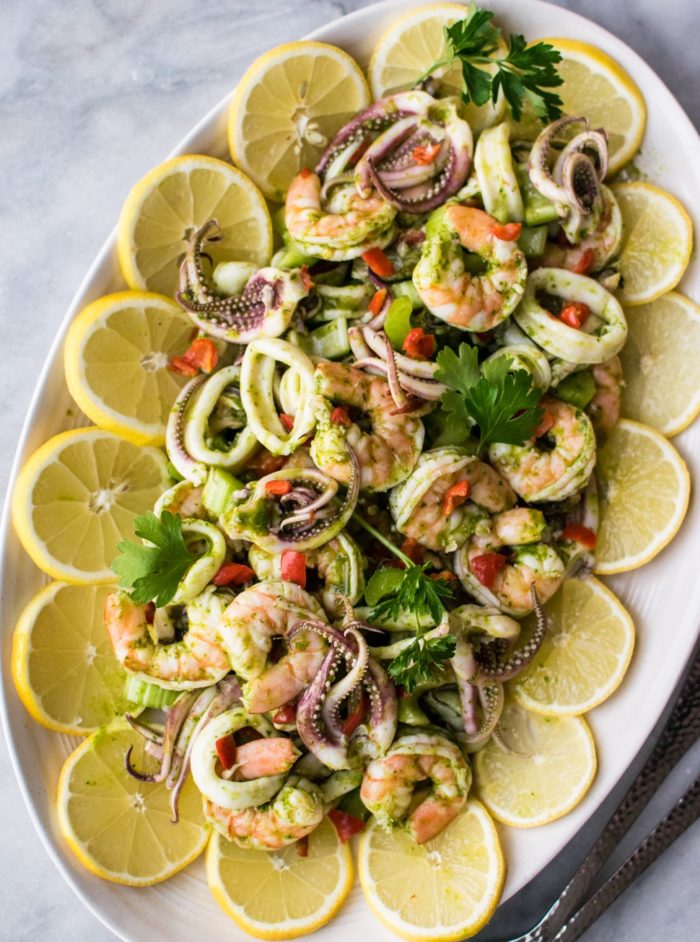 As I mentioned above, this recipe is definitely better when prepared a day ahead of time. Sure, you could serve it right away but it just won't be as good. The seafood and the dressing need time to hang out and marinate! I just toss the seafood with the dressing, two smashed garlic cloves and some lemon slices, cover it with plastic wrap and let it do it's thing in the fridge for a day. Then take the salad out of the fridge about 30 minutes before serving so the seafood can come closer to room temperature—that's it! So if you're going to make this seafood salad for a party, plan on making it one day in advance! Not only will you end up with a much tastier dish, but you'll get some cooking out of the way—win win!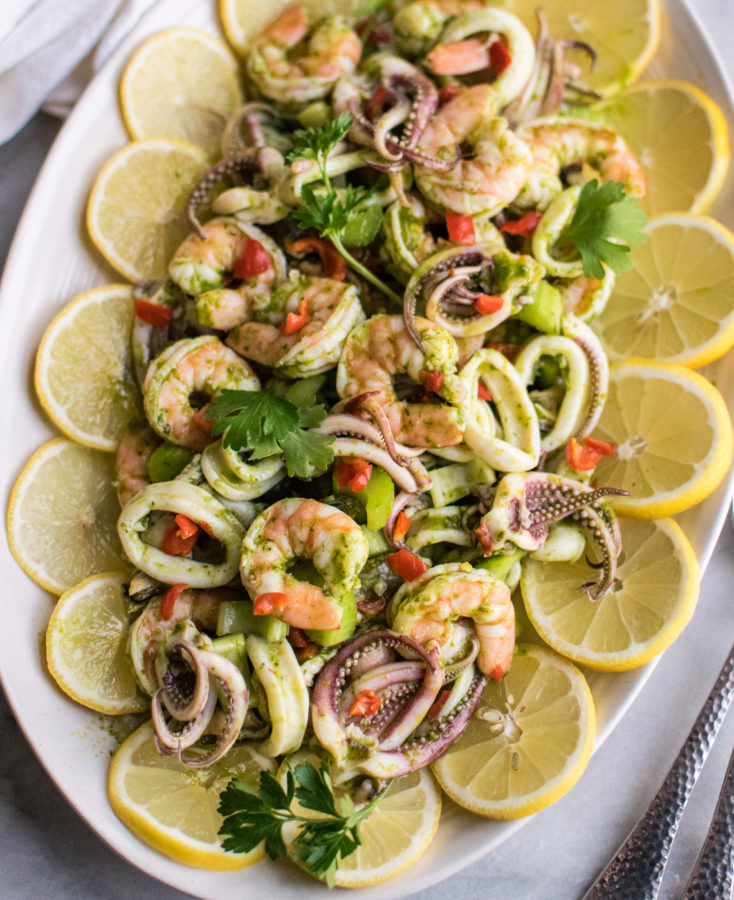 This Italian Seafood Salad really is one of my favorite recipes and I can't wait for you guys to try it. And remember, you don't have to wait until Christmas Eve!
You might also like
Italian Seafood Salad
With plenty of fresh herbs and lemon, this salad is light, refreshing and super flavorful. Seafood salad gets better as it marinates so make it a day before serving for the best results!
Ingredients
For the Seafood Salad
10

Cups

water

2

Cups

dry white wine

2

Tablespoons

kosher salt

1

Pound

cleaned squid, tentacles and tubes

tubes cut into ½ inch rings

1

Pound

medium raw shrimp

shelled and deveined

1

Pound

mussels

1

Can scungilli

drained and rinsed

2

Stalks celery

thinly sliced

2-3

Pickled sweet cherry peppers

minced

Fresh parsley

for garnish

2

Lemons

sliced

2

Cloves garlic

smashed
For the dressing
¾

Cup

olive oil

¾

Cup

fresh parsley

roughly chopped

½

Cup

fresh chives

roughly chopped

3

Tablespoons

fresh oregano

roughly chopped

1

Teaspoon

lemon zest

½

Teaspoon

kosher salt

3

Tablespoons

lemon juice
Instructions
Fill a large pot with the water and wine and bring to a boil. Add the salt to the water and stir.

Prepare an ice bath. Fill a large bowl with lots of ice and cold water.

Add the squid to the water and cook for 1-2 minutes; until opaque and firm. With a slotted spoon, transfer the squid to the ice bath. Next add the shrimp and cook for 2-3 minutes or until the shrimp are opaque and the tails have curled. Transfer the shrimp to the ice bath. Add the mussels to the pot and cook until they have opened and are firm; 4-5 minutes. Transfer the mussels to the ice bath and discard any that did not open.

Drain the seafood well and remove the mussels from their shells. Add the seafood, celery, pickled peppers, and smashed garlic to a large bowl.

Make the dressing. Add the olive oil, herbs, and lemon zest to a blender and blend until smooth. Next add the lemon juice and salt and blend again. Taste and adjust seasoning if necessary.

Pour the dressing over the seafood and toss to coat. Add a few slices of lemon to the bowl, cover with plastic wrap and place in the refrigerator for a day to marinate.

Remove the salad from the refrigerator 30 minutes before serving and throw out the garlic cloves. Taste the salad and add salt or a squeeze of lemon if needed. Serve the seafood salad with lemon slices and garnish with fresh parsley.