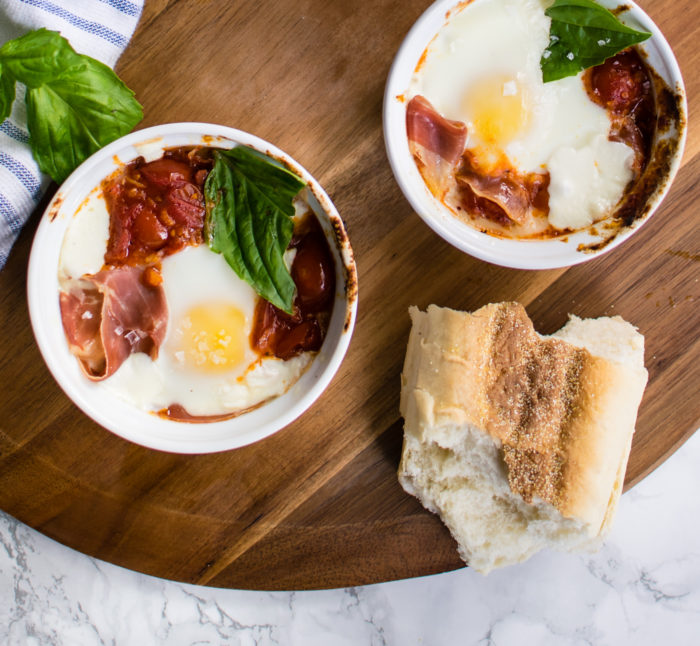 So, good news, there's a dog in this post! NOT in the recipe, don't worry. Also in good news, I'm sharing one of my favorite breakfast recipes—Italian Baked Eggs with Prosciutto!
*This post may contain affiliate links. See disclosure for further details.
Let's back up to the dog. I was taking care of my sister's dog, Marty, when I was shooting this recipe. She hung out on the balcony with me watching me take photos and waiting for a scrap to drop. She's just so cute, I had to snap a couple photos of her! So here you go, please enjoy these shots of Marty overseeing the photo shoot. Don't worry, I gave her a piece of prosciutto.
Okay, back to the recipe. This could aaaalmost be one of those no measurement, non-recipe recipes but there are a few specifics so it's not quite at that level. It is, however, incredibly easy and totally modifiable (if you feel the need).
All we're really doing is baking eggs in tomato sauce with cheese and prosciutto and topping it with basil. Seriously simple, right? Like, why am I even writing a recipe? Welp, because I happen to know multiple people who are not currently living a life in which Italian baked eggs are in breakfast rotation and I feel it's my duty, as a food loving human being, to do my part to rectify that.
Egg and tomato sauce is a pretty popular combo—for good reason! They are a deliciously rich match made in heaven. Add in melty, fresh mozzarella and prosciutto?! Forget about the match being made in heaven, YOU are going to be in heaven! ( I have read that sentence multiple times and am still unclear as to whether it makes sense or not. Carrying on anyway, though.)
Speaking of the fresh mozzarella and prosciutto, there aren't exact measurements for those two. It's up to you how much you want to use! For these three ramekins, I used three slices of prosciutto and just shy of a half chub of mozzarella.
(Five minutes later)
Sorry about the short break, I've been laughing hysterically at half chub. In my defense, I'm feeling particularly slap happy as I'm writing this brought on by lack of sleep and too much binge watching Golden Girls. But seriously, not to say "half chub" again but, you'll use about half of one of those balls of fresh mozzarella, which I swear, are referred to as chubs.
Alright I'm going to wrap this up, I'm watching one more episode of Golden Girls and then hitting the sack. Maybe after a good rest, I'll be able to regroup and suggest the amount of mozzarella to use with a straight face. I honestly doubt it, though.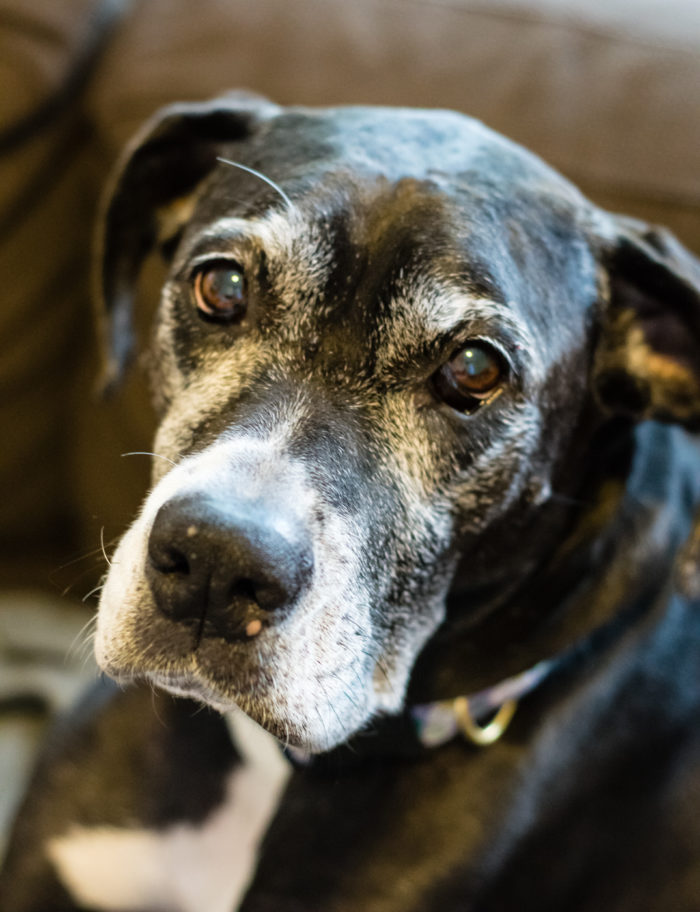 Marty says, "Enjoy!"
You might also like
Italian Baked Eggs with Prosciutto
Cheesy baked eggs in tomato sauce with prosciutto and fresh basil.
Ingredients
For the tomato sauce
2

Tablespoons

olive oil

2

Cloves garlic

minced

1

14 Ounce

Can cherry tomatoes

½

Teaspoon

red pepper flakes

½

Teaspoon

Italian seasoning

Kosher salt

to taste
Other
4

Eggs

4

Ounces

fresh mozzarella

cubed

2-4

Slices prosciutto

torn into pieces

Fresh basil

Flaky salt

Crusty bread

for serving
Instructions
Pre heat oven to 400, Grease 4 oven safe ramekins, and prepare a baking dish with half an inch of water in the bottom.

Make the tomato sauce. Heat the olive oil in a large skillet and add the garlic and red pepper flakes. Cook until the garlic is just starting to turn golden at the edges. Add the tomatoes and season with salt and pepper. Add the Italian seasoning. Cook until the sauce has thickened, about 10 minutes.

In the ramekins, lay down some tomato sauce and the cheese and prosciutto. Gently crack an egg on top and then add more cheese, sauce and prosciutto as desired.

Place the ramekins into the baking dish with water. Bake for 10 minutes or so, checking starting at minute 8, or until the egg whites have set.

Finish with flaky salt and fresh basil and serve with crusty bread.