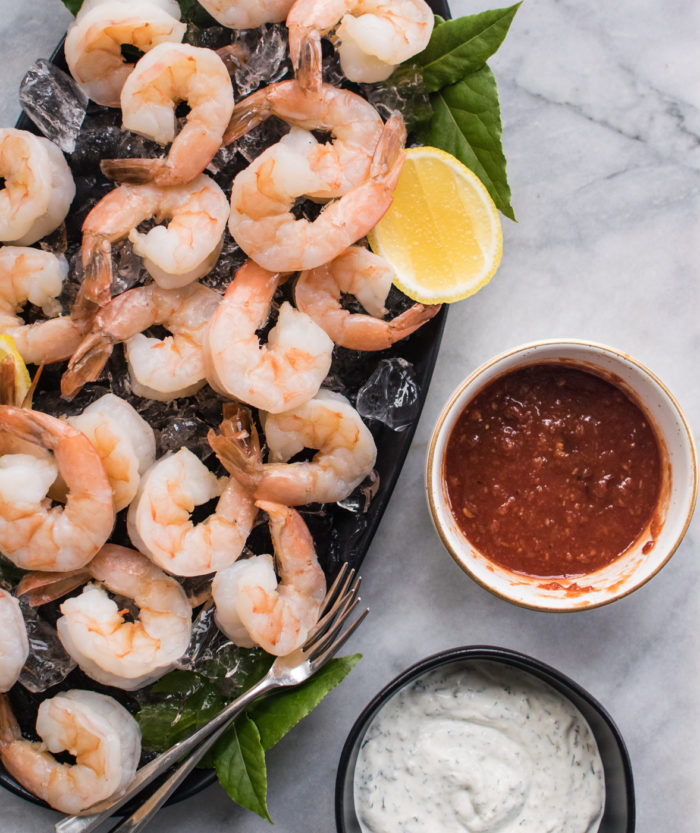 What's better than a shrimp cocktail with one sauce? Shrimp cocktail with two sauces! With classic cocktail sauce, creamy horseradish sauce and the most flavorful, juicy shrimp, this recipe is definitely one of my favorites! Make this easy shrimp cocktail for your next party or just whip it up for yourself on a Tuesday night. There's no wrong time for a good shrimp cocktail.
Listen, shrimp cocktail is one of the most basic, and most IMPORTANT party foods of all time, IMO. It's. a. delight. In fact, when I walk into a party, I make a beeline for the kitchen to check if they are serving shrimp cocktail. No shrimp cocktail? I walk straight back out the door. Okay fine, I'm making that up but that seems like the level of drama I hope to reach at some point in my life. Maybe in my 70's? Check back with me then.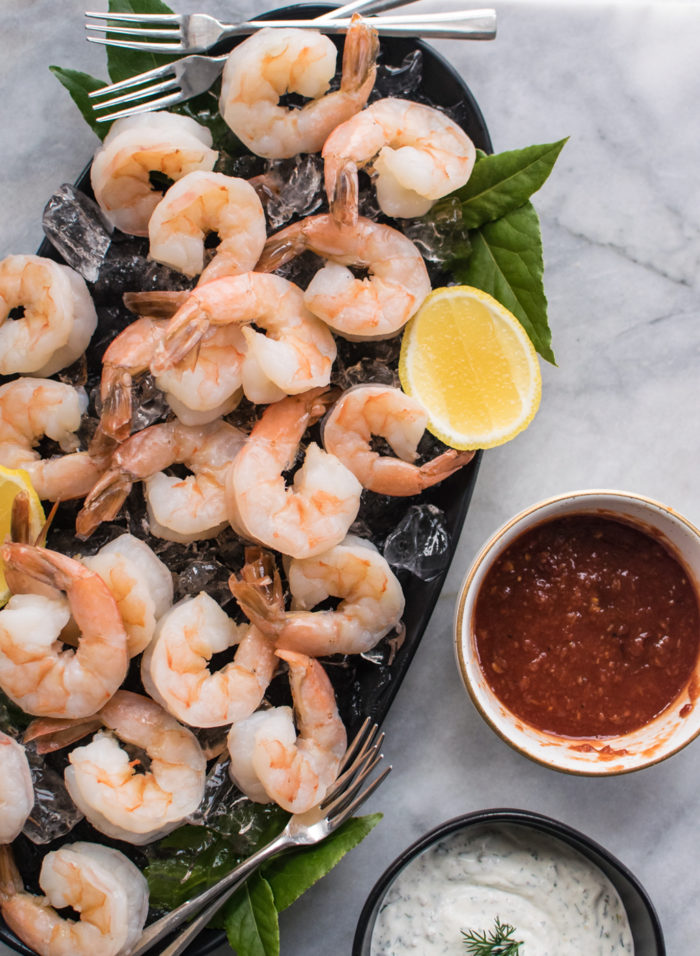 *This post may contain affiliate links. See disclosure for further details.
But let's get back to the recipe. Shrimp cocktail can go from great to "meh" pretty quickly if you don't have delicious shrimp. I'm talking big, plump, flavorful, and perfectly cooked skrimps. Sure you can buy pre-cooked shrimp from the store but they'll likely be rubbery, over cooked and flavorless. Why eat subpar shrimp when cooking them at home is so easy?
The key to the perfect shrimp cocktail is poaching the shrimp in very flavorful water. Flavoring the water with plenty of salt, garlic, bay leaves and lemon makes the most delicious shrimp! The shrimp only take minutes to cook but they'll soak up all that flavor in that time. Make sure to squeeze the lemon halves into the water before adding them to the pot and smash the garlic well!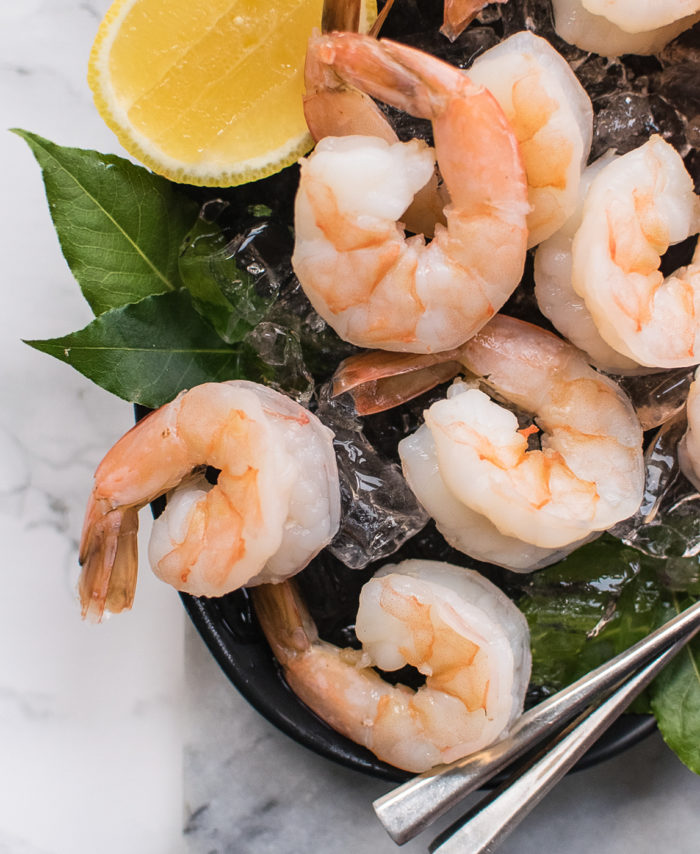 The other important key is to make sure you don't over cook the shrimp. I mean, nobody wants a rubbery shrimp, right? Literally nobody. All you have to do is set up an ice bath for the shrimp before you add them to the poaching liquid. That way, when the shrimp are perfectly cooked, you'll be able to plunge them right into the ice bath to stop the cooking. You want the shrimp to be just opaque and pink. Remember, it only takes a few minutes to cook them to perfection!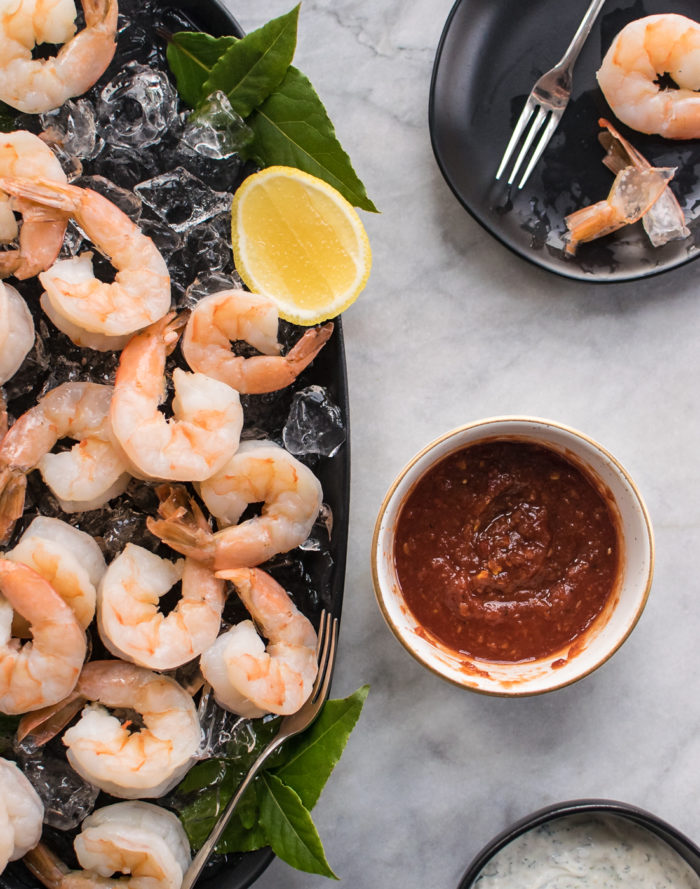 Once you've made the shrimp, they can hang out in the fridge until you're ready to serve them. I like to make them a couple hours ahead of time so that they are perfectly chilled by the time I'm ready to serve! You can make the shrimp up to a day ahead of time but I wouldn't go any longer than that. While the shrimp are chilling, it's the perfect time to make the two sauces!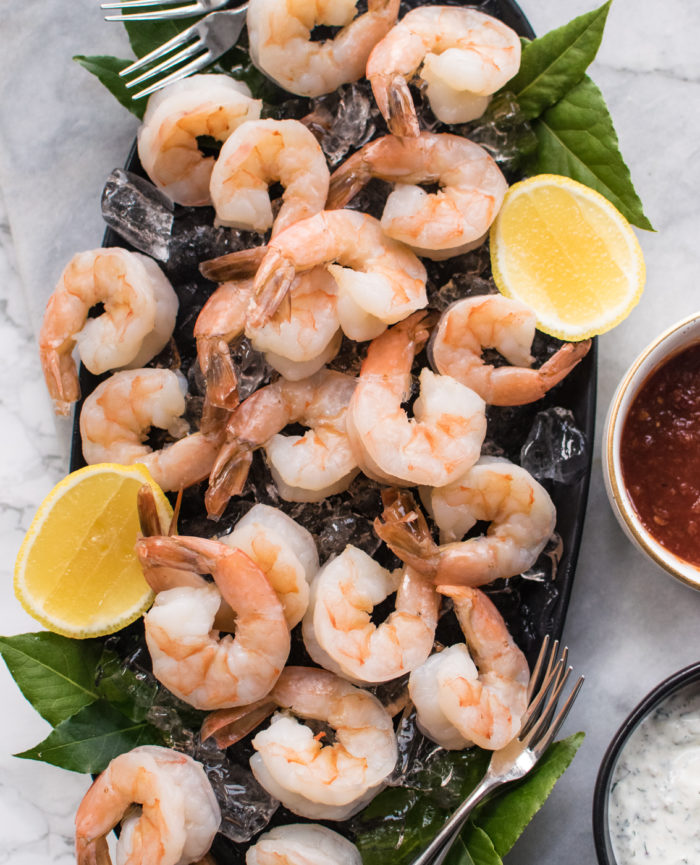 Of course when I say make the two sauces, I literally just mean mix some stuff in some bowls. These sauces could not be easier to make! I love classic cocktail sauce but it's also nice to have something a little bit different. Enter: creamy horseradish sauce! This sauce is cool and creamy but still has a little kick from the horseradish. Adding fresh dill makes it extra tasty.
I suggest making this shrimp cocktail ASAP, whether you're having a party or not! You totally deserve it.
You might also like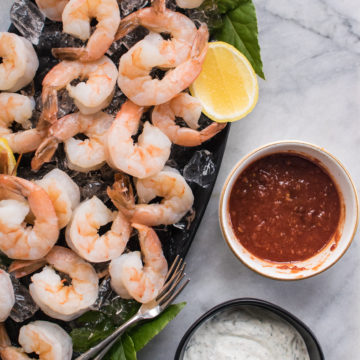 Shrimp Cocktail with Two Sauces
Make this easy shrimp cocktail for your next party or just whip it up for yourself on a Tuesday night. There's no wrong time for a good shrimp cocktail.
Ingredients
For the Poached Shrimp
2

Pounds

raw, tail on shrimp

16-20 count

16

Cups

water

1

Lemon

halved

3

Cloves garlic

smashed

1

Tablespoon

whole peppercorns

2

Fresh bay leaves

Lemon wedges

for serving
For the Cocktail Sauce
1

Cup

ketchup

3-5

Tablespoons

prepared horseradish

to taste

2

Teaspoons

fresh lemon juice

½

Teaspoon

lemon zest

Salt and pepper

to taste

Dash of Worcestershire or Tabasco

(optional)
For the Horseradish Cream Sauce
½

Cup

sour cream

2

Tablespoons

prepared horseradish

1

Teaspoon

dijon mustard

1

Teaspoon

fresh dill

finely chopped

½

Teaspoon

lemon zest

Salt and pepper

to taste
Instructions
Combine the water, garlic cloves, peppercorns, and bay leaves in a large pot. Squeeze the lemon halves into the water and add them to the pot. Bring the poaching liquid to a boil, then turn down the heat and let simmer for 15 minutes.

Meanwhile, prepare an ice bath. Fill a large bowl with lots of ice and cold water.

Turn off the heat and add the shrimp to the pot and stir. Poach the shrimp for 3-6 minutes, depending on their size, or until they are opaque and their tails have curled. With a slotted spoon, transfer the shrimp to the ice bath. Remove the shrimp to a bowl or tray and chill in the refrigerator for at least an hour before serving.

Meanwhile, mix the ingredients for the two sauces and refrigerate until ready to serve.

Serve the chilled shrimp with the two sauces and lemon wedges.