I'd like to take this opportunity to give a couple of shout outs. To my brother for studying abroad in Spain and to my parents for deciding to take a family trip to meet up with him and travel through the country. Without you guys, I might never have discovered Salmorejo and that would've been a damn tragedy.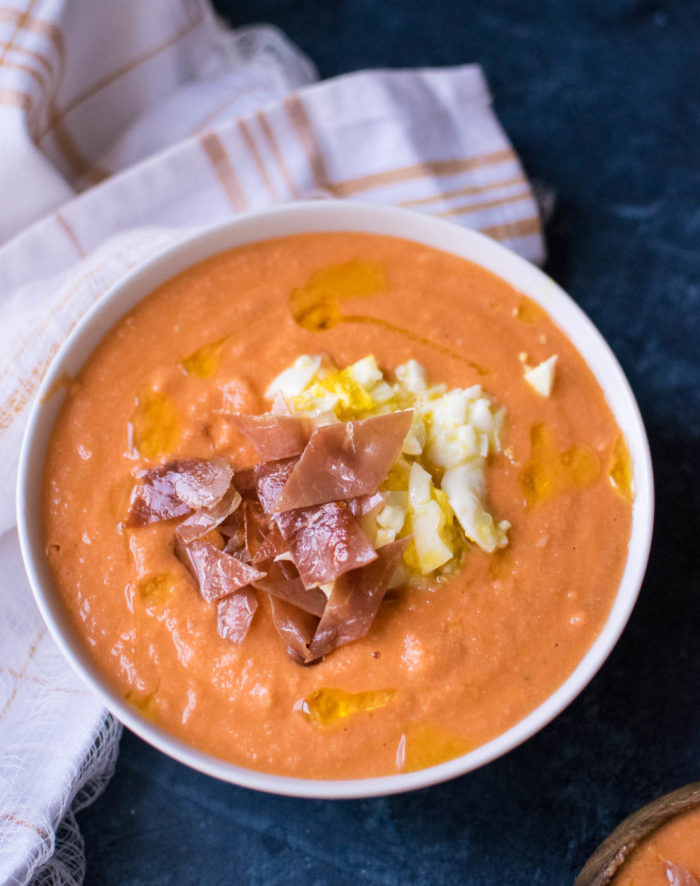 *This post may contain affiliate links. See disclosure for further details.
Salmorejo is a Spanish dish that's kind of like gazpacho but, like, not. I don't even want to call it a soup because it's a lot thicker and it's got a dip like consistency. It's pretty much a cold, salty, garlicky tomato dip with delicious toppings that's best eaten with crusty bread. Sound good? It is. Really, really good.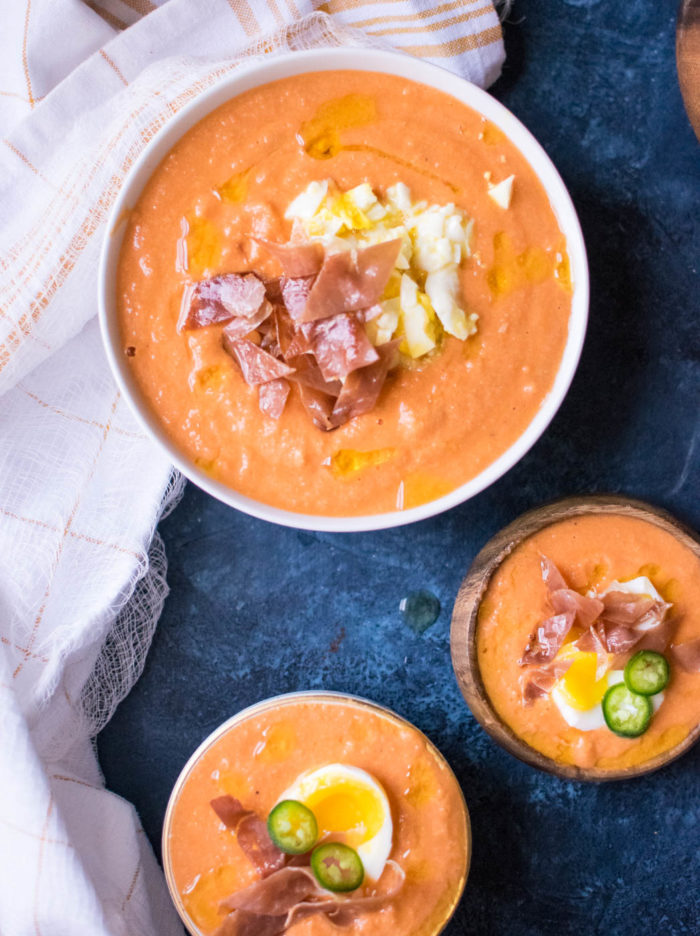 When we got to Sevilla to meet my bro, we went to a small cafe called Vineria San Telmo and, before even ordering, we were brought a bowl of this orange colored stuff and some bread. I didn't know what it was but I was starving and it was food. I think we went through four more bowls of the stuff at that first cafe on top of everything else we ordered. It was SO delicious. From there, every restaurant, cafe, and hotel breakfast buffet in Spain had Salmorejo waiting for us and we indulged each time, never getting sick of it.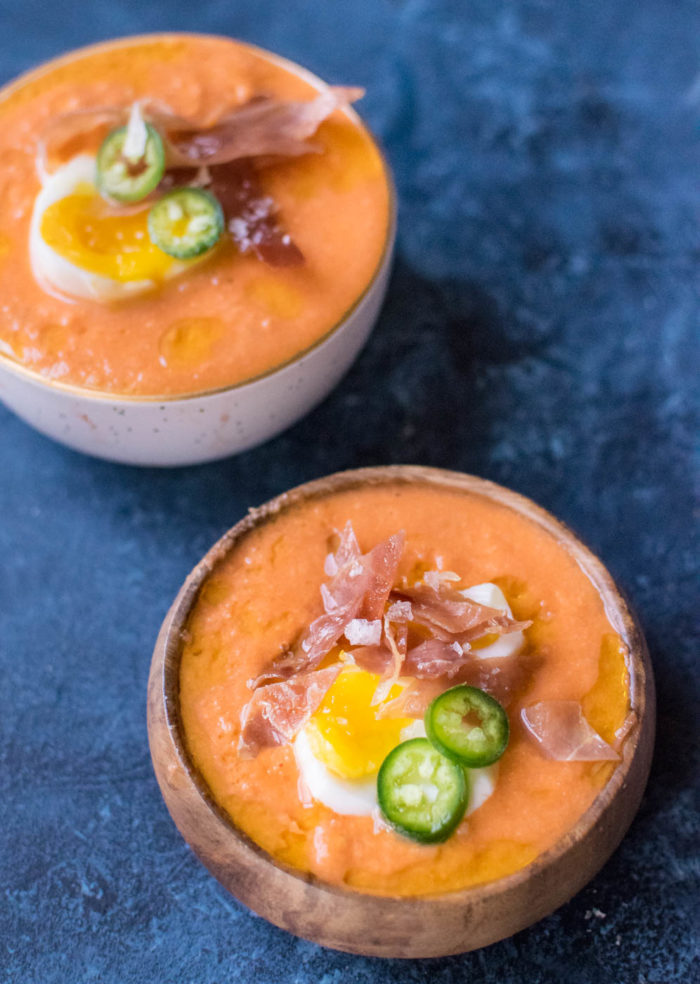 When I got back home to Chicago, I knew I wanted to make Salmorejo myself. After playing around with it for a while, this recipe is where I landed. Of course, being such a simple recipe with simple ingredients, it's impossible to screw up and this dish will be delicious whether you follow the recipe to a T or not.
The title is Salmorejo, Two Ways because I've made it, you guessed it, Two ways! There's a more traditional version, and then a spicy version. Traditionally, Salmorejo is served with hard boiled eggs and Jamón Ibérico. You might not be able to find Jamón Ibérico so prosciutto or another cured ham will do. I love the way an egg yolk tastes with the tomato so I did soft boiled egg, instead of hard, in this recipe. For the spicy version, simply add half a jalapeño to the Salmorejo and slice up the other half for toppings.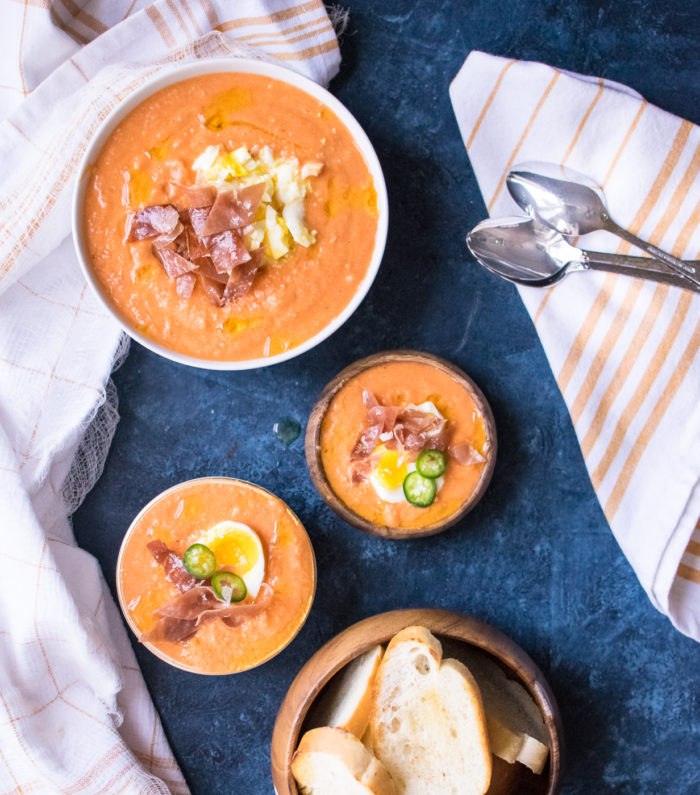 Through trial and error, I learned that I liked the flavor best when I added two eggs (hard or soft boiled) to the Salmorejo while blending instead of just as a topping. It enhances the flavor and makes for a nice, creamy consistency. The other key to the consistency is the bread! That's right, bread goes INTO the Salmorejo. You'll need to use the insides of a baguette (preferably a day old) to thicken up the Salmorejo. I like to add about two cups, blend, and then taste to see if I need to add more. For this recipe, I ended up using about three cups of bread.
This dish is definetly a good choice for a party! It's super casual, the recipe makes a lot, and it's a perfect opportunity to set up a little topping bar!
You might also like
Salmorejo, Two Ways
Salmorejo is a Spanish dish that's similar to Gazpacho and served as an appetizer. It's just as easy to make as it is delicious!
Ingredients
8

Roma tomatoes

Insides of day old baguette

about 3 cups

6

Eggs

soft or hard boiled

1

Clove garlic

minced

½

Yellow onion

diced

½

Cup

olive oil

Splash of sherry vinegar

4

Slices Jamón Ibérico or Prosciutto

Salt and pepper

to taste

1

Jalapeño

optional

Crusty bread

for serving
Instructions
Bring a pot of water to a boil. Make a small X on the bottom of each tomato and drop them into the boiling water for about 30 seconds. When cooled, peel and core the tomatoes. Put the peeled tomatoes into a food processor and pulse a few times.

Boil the eggs to desired doneness.

Soak the bread in water for about 5 minutes then squeeze out the excess water and add the bread to the food processor, pulse. Add the onion, garlic, half of the jalapeño (if using), a splash of sherry vinegar, and a pinch of salt and pepper and pulse again. Add one egg and the olive oil and blend until smooth. Taste and adjust the levels of salt and vinegar. If you want, you can add another egg.

Cover and chill the Salmorejo for at least 2 hours.

Before serving, fry the ham in a pan with olive oil until just crispy. Chop up the ham and the remaining boiled eggs. If using, slice the jalapeño.

Serve the Salmorejo with the toppings and crusty bread. Pretend you're in Spain.