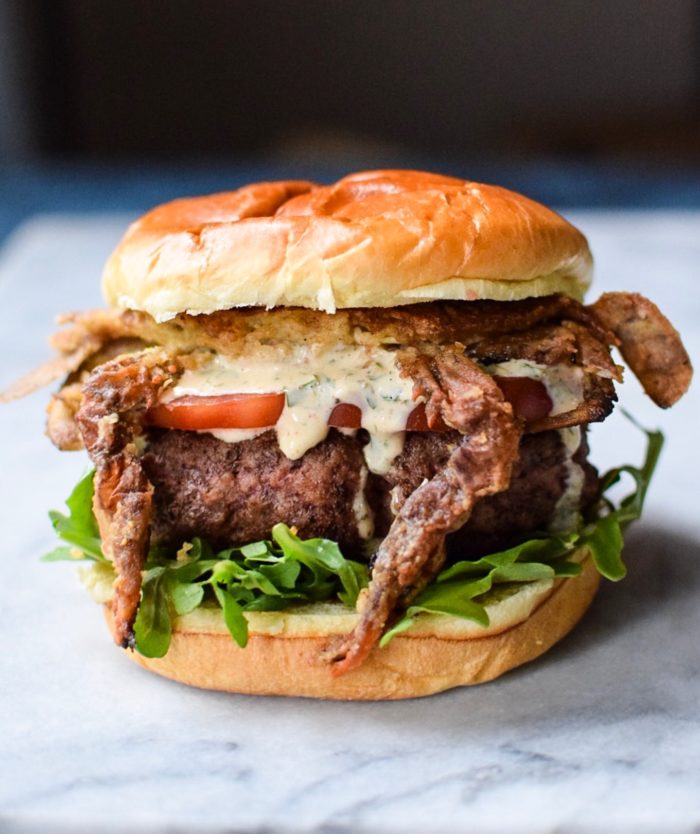 This burger caused quite a little stir after it made it's Instagram debut about a year ago, much to my surprise! Here I am thinking I'm just posting the ultimate surf and turf burger and then the comments start rolling in. A lot of people were calling it a Krabbypatty—which I've obviously embraced—some were saying it looked delicious and yet others we're calling me a crazy person for putting a crab on a burger and how it seemed impractical to have to pick shells out of their mouths while eating a burger. Well, let me clear things up. This burger is topped with a SOFT shell crab and it's freaking delicious.
Soft shell crabs are in season right now and are truly one of my favorite foods. I get excited for soft shell crab season every year! It didn't occur to me, however, (oops, my bad) that everyone might not know what a soft shell crab is. It's a crab who has shed it's shell and has been caught before being able to grow one back. Unlucky for the crab, SO lucky for us! This means that the crab is completely soft and you can eat the entire thing! That's right, no cracking and no picking. Just bite right in to a delicious, juicy crab! Which, makes it the perfect topping for, you guessed it! A burger! And so the Literal Krabbypatty is born.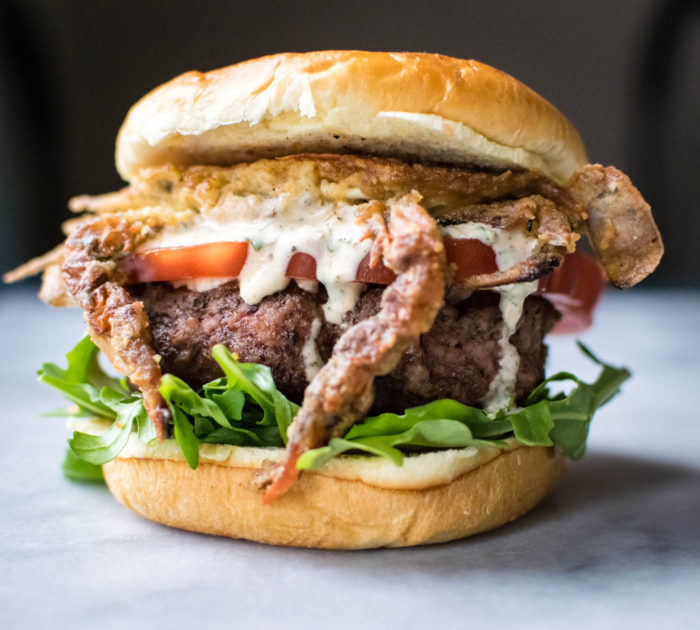 *This post may contain affiliate links. See disclosure for further details.
Since there is so much flavor from the burger and the crab, I kept the rest of the toppings simple. An easy lemon remoulade, some arugula, tomato and throw it all on a brioche bun. Feel free to use whatever toppings you like, just don't skip that remoulade!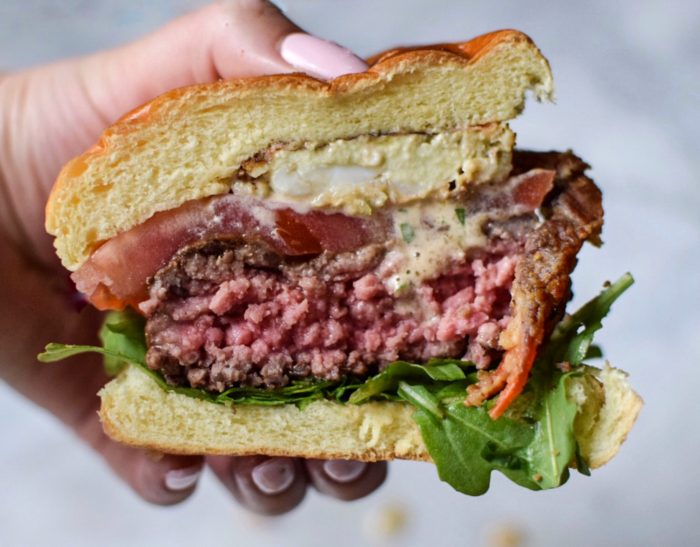 About the burgers, I like to use ground chuck and cook them in a cast iron pan. It's my favorite way to get juicy, flavorful burgers with a good sear on them. Heat the cast iron skillet while you're shaping the patties and dredging the crabs so the pan will be good and hot to get that sear. When shaping the patties, try to work the meat as little as possible. Overworked meat will result in tough burgers and nobody wants that! Season the patties with salt and pepper just before cooking. I throw a knob of butter in the pan just before putting the patties in and then cook them for about 3 minutes on each side. Don't press them!
If you guys trust me, try this burger! After eating one of these, you will not be crabby! Sorry, had to.
You might also like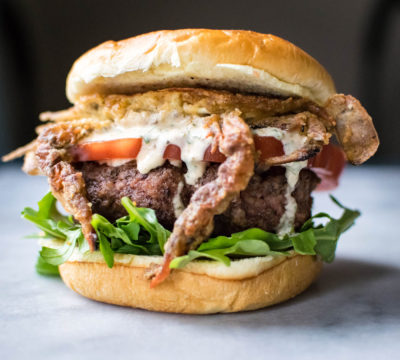 Soft Shell Crab Burger: The Literal Krabbypatty
A juicy burger topped with a crispy soft shell crab and creamy sauce- trust me on this one, this is one delicious burger!
Ingredients
For the soft shell crabs
4

Soft shell crabs

cleaned

2

Tablespoons

butter

½

Cup

all purpose flour

½

Teaspoon

kosher salt

½

Teaspoon

paprika

½

Teaspoon

garlic powder

¼

Teaspoon

pepper
For the lemon remoulade
4

Tablespoons

mayonnaise

1

Tablespoon

Dijon mustard

1

Clove garlic

smashed

1

Tablespoon

fresh parsley

finely chopped

2

Teaspoons

fresh lemon juice

2

Teaspoons

capers

drained and chopped

¼

Teaspoon

paprika

Salt and pepper

to taste
For the burgers
1 ½

Pounds

ground chuck

1

Tablespoon

butter

4

Brioche buns

Arugula

Tomato

sliced
Instructions
Make the remoulade. Mix all of the ingredients together in a bowl and refrigerate until ready to use. Discard the garlic clove just before using.

Being careful not to overwork the meat, form the chuck into 4 patties. Season each with salt and pepper. Make an indentation on each patty with your thumb.

For the crabs, mix the flour, paprika, garlic powder, salt and pepper on a plate. Dredge each crab in the flour mixture. Heat butter in a skillet, place the crabs in the pan, top shell side down. Flip each crab after 3 minutes and cook the other side for an additional 3 minutes or until the crabs are red.

Cook the burgers. Heat a cast iron pan until very hot. Add a pat of butter and then the patties, indentation side down. Flip after 3 minutes and cook until desired doneness (I like medium rare).

When the burgers are done cooking, transfer them to a plate and place the buns in the pan cut side down for a light toasting. Assemble the burgers. Bun, remoulade, arugula, burger, tomato, crab, more remoulade if wanted, top bun.