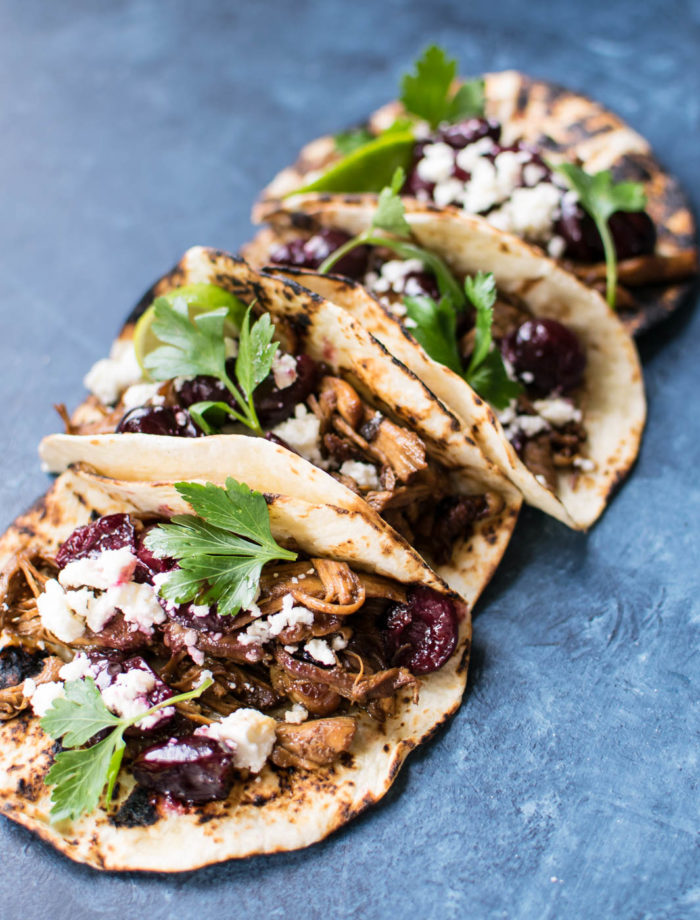 Here we are, right smack dab in the middle of cherry season! Which, in my opinion, is one of the best times of the year. I wanted to use cherries in a creative way and here's what I came up with: Cherry Chicken Tacos. And, man, are they delicious!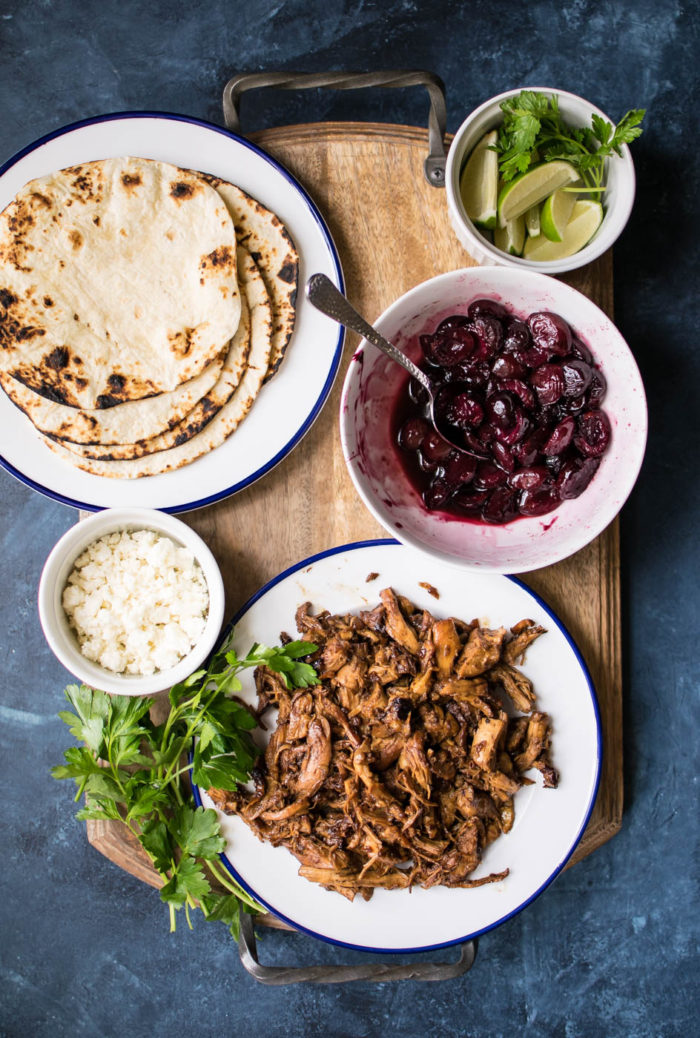 *This post may contain affiliate links. See disclosure for further details.
It's actually kind of funny that I ended up making a recipe like this. My boyfriend and I have always joked that we don't like "hot fruit". While I was only half serious, he was completely sure that he doesn't like hot fruit. No pie, no fruit sauces with meat, no grilled peaches, no hot fruit!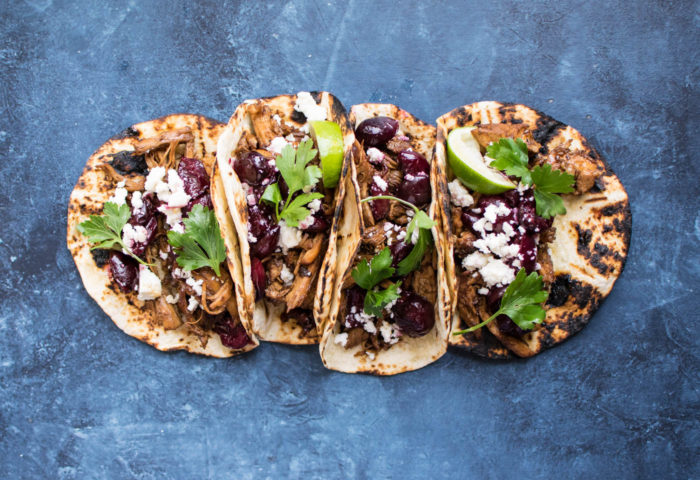 So, as you can imagine, when I told him about my idea for this recipe, he was less than thrilled. Reluctantly, he tried them and surprise, surprise! He loved them! So, I guess he's going to have to adjust that whole, "no hot fruit" rule of his.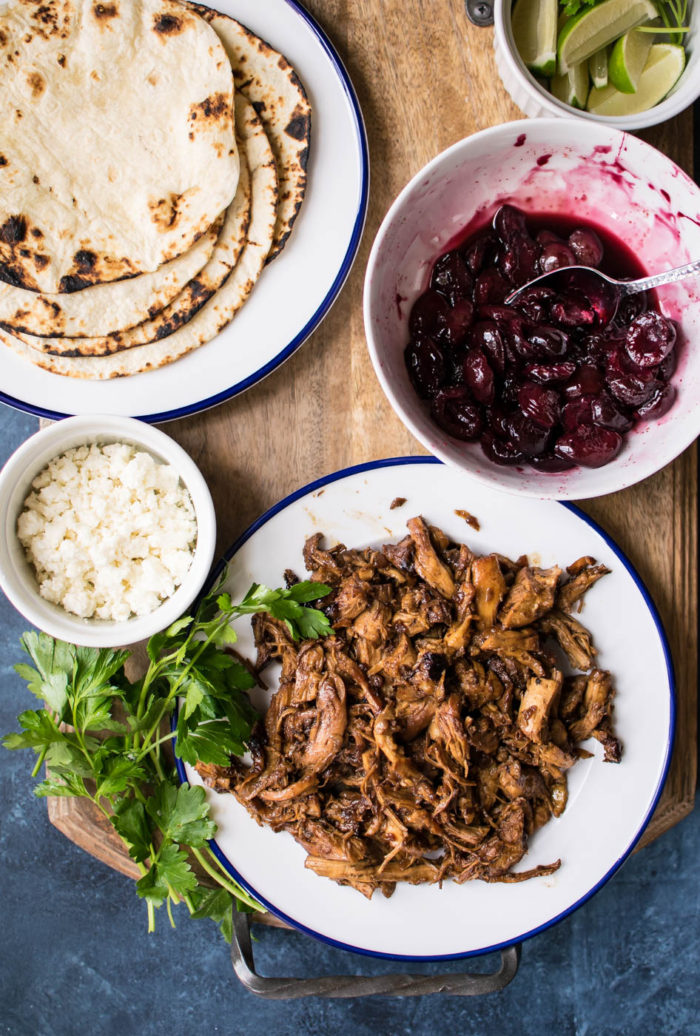 These tacos are pretty easy to make. The basic idea is getting some really flavorful chicken, and topping it with a sort of pan grilled cherry salsa. The sweetness of the cherries gets balanced out by the salty queso fresco and the bright lime and then you throw some herbs on there to freshen it up a bit. Simple, right?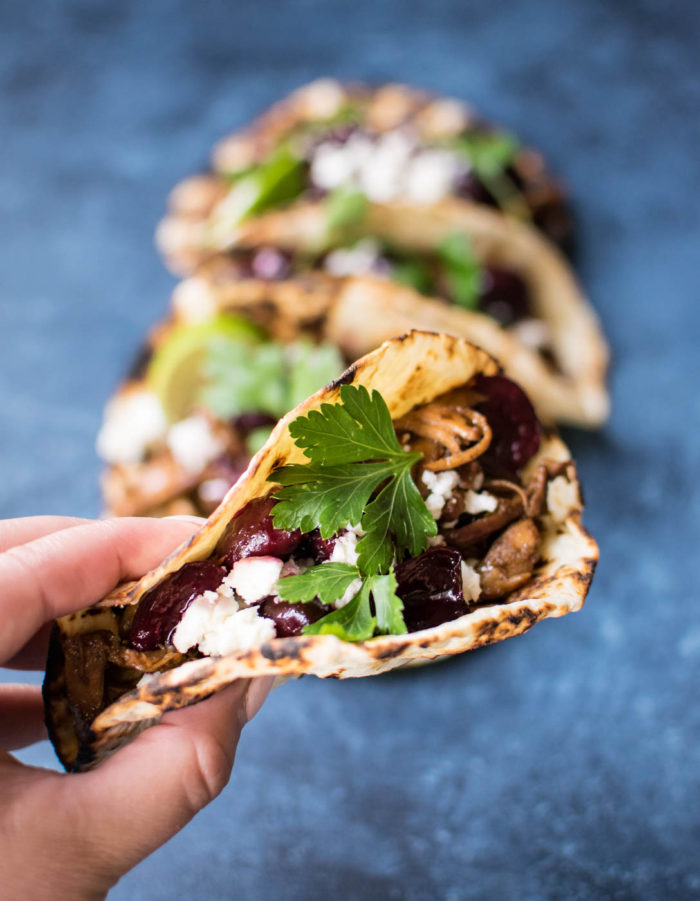 For the chicken, I like to use bone in, skin on chicken thighs because they have more flavor but if you want to use skinless, boneless chicken thighs, that's fine too! The cherries get cooked first so that when the chicken is added to the pan, it can soak up the rest of that cherry flavor that's left behind. Cooking the chicken with a little bit of water will help keep it nice and juicy and then that final toss in the pan after you've shredded the chicken is what insures that every piece of chicken is flavorful and coated in sauce.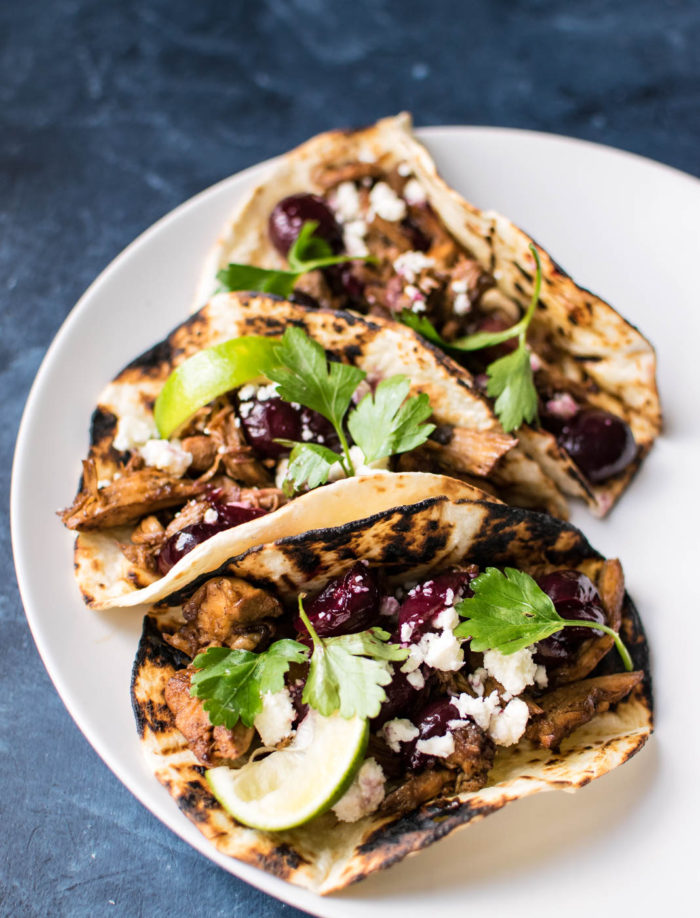 After the chicken is done, all you need to do is char some tortillas and assemble the tacos! I like to use flour tortillas but, if you prefer corn, go ahead and use those! Same goes with the parsley. I am one of those people who hates cilantro (I know, I know) so parsley is my go-to and it actually works really well with this particular recipe but if you want to use cilantro, do it! You do you.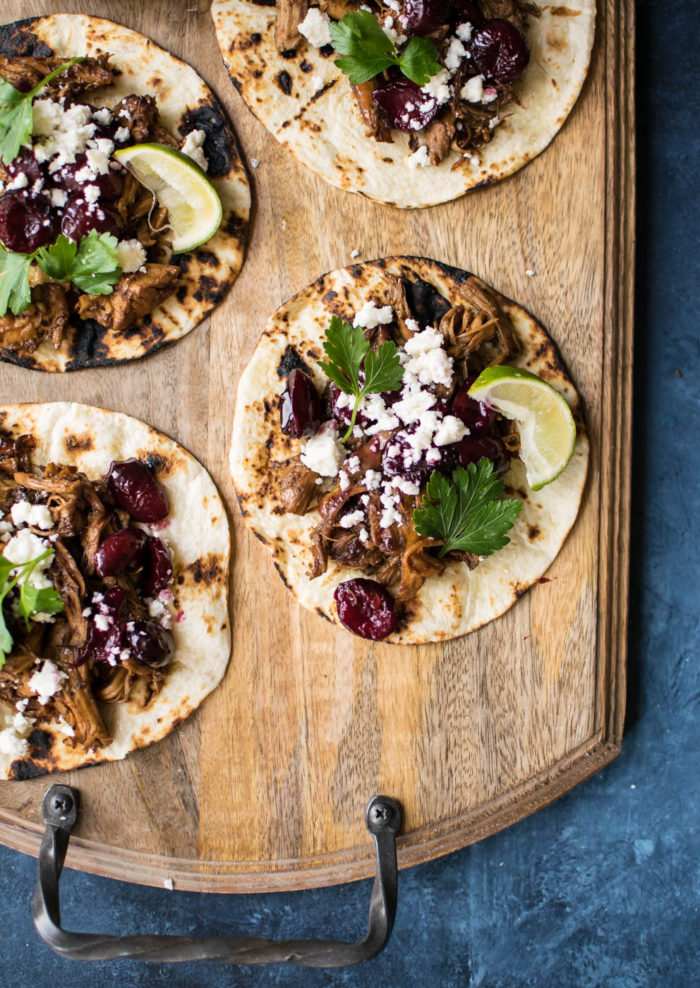 RUN, don't walk, to the kitchen and get to cooking on these cherry chicken tacos while cherry season is still upon us! Why does it ever have to end?!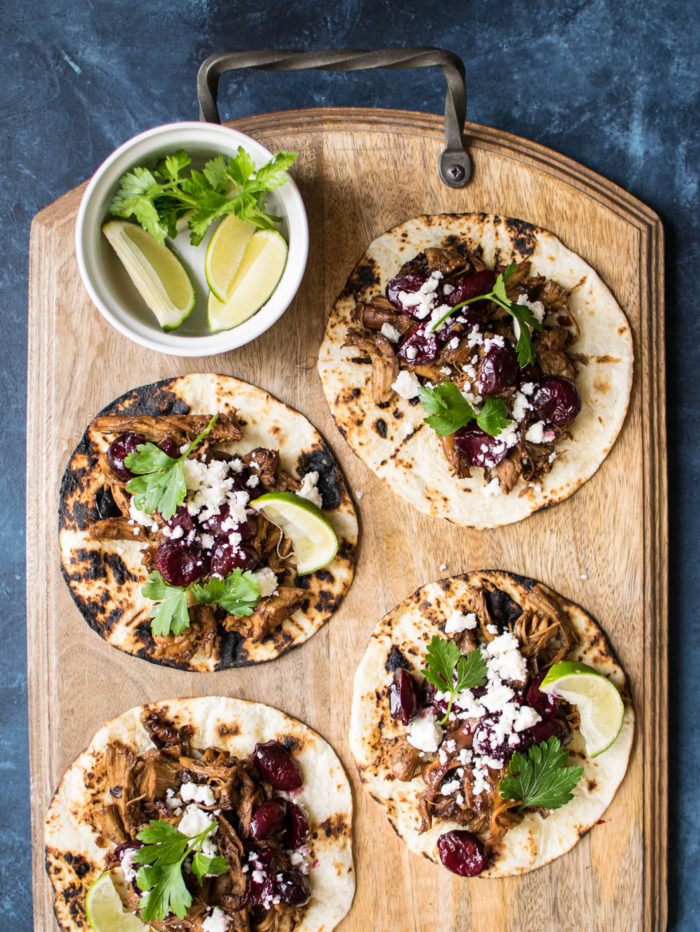 And please, enjoy your #hotfruit!
You might also like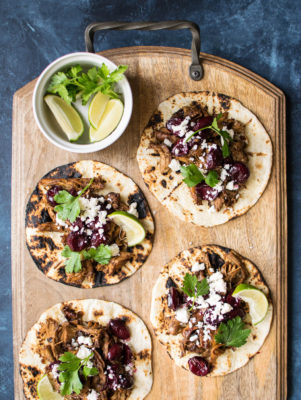 Cherry Chicken Tacos
Shake up taco night with this fun twist!
Ingredients
4

Bone in, skin on chicken thighs

½

Yellow onion

diced

Tortillas

warmed on the stove

Queso Fresco

crumbled

Parsley or cilantro

roughly chopped

Lime wedges

for serving
For the marinade
2

Cloves garlic

minced

2

Tablespoons

fresh lime juice

1

Tablespoon

avocado oil (or other neutral oil)

½

Teaspoon

kosher salt

½

Teaspoon

adobo seasoning

½

Teaspoon

paprika

¼

Teaspoon

garlic powder

¼

Teaspoon

cayenne

¼

Teaspoon

pepper
For the cherries
2

Cups

cherries

halved and pitted

1

Tablespoon

fresh lime juice

Pinch of kosher salt

Dash of cayenne
Instructions
Add the chicken and all of the ingredients for the marinade to a zip top bag and shake to coat the chicken. Marinate for at least 1 hour.

Heat a cast iron pan over high heat. In a bowl, toss the halved cherries with the lime, salt and cayenne. When the pan is hot, pour the cherries in and stir. Cook for about 5 minutes or until the cherries are hot and the juices have thickened. Remove from pan and cover with foil to keep warm until ready to use.

Add a splash of avocado oil (or other neutral oil) to the pan and add the onions. Cook the onions until soft and slightly brown; about 3 minutes. Place the chicken in the pan, skin side down. Sear the skin for about 5 minutes and then flip to cook the other side. Add a cup of water to the pan and let the chicken cook through; about 20 minutes.

Remove the chicken from the pan and place on a plate. Take the chicken off the bone and shred with two forks. Add the shredded chicken back into the pan to crisp up a bit and soak up the pan juices.

Char the tortillas over open flame and then assemble the tacos. Tortilla, chicken, cherries, crumbled queso fresco, parsley or cilantro and a squeeze of lime.