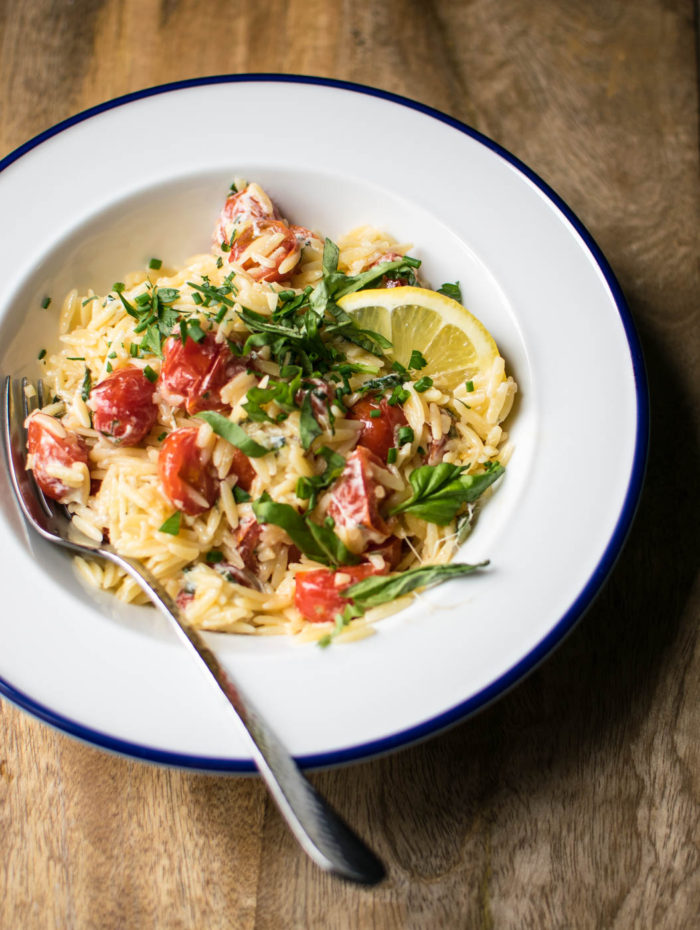 Spoiler alert: This is one of the easiest pastas I can think of. So easy, in fact, that I hadn't even written a recipe for it and wasn't planning on doing so because it's almost too easy to even be called a recipe. That is, until I made it for my best friend's baby shower a year ago (Hi Paige! Hi Carson!) and everyone like it so much that I am still getting questions about how to make it to this day! Apparently, it was a hit. So, here it is! This official but barely official recipe for my Orzo with Grape Tomatoes and Fresh Mozzarella.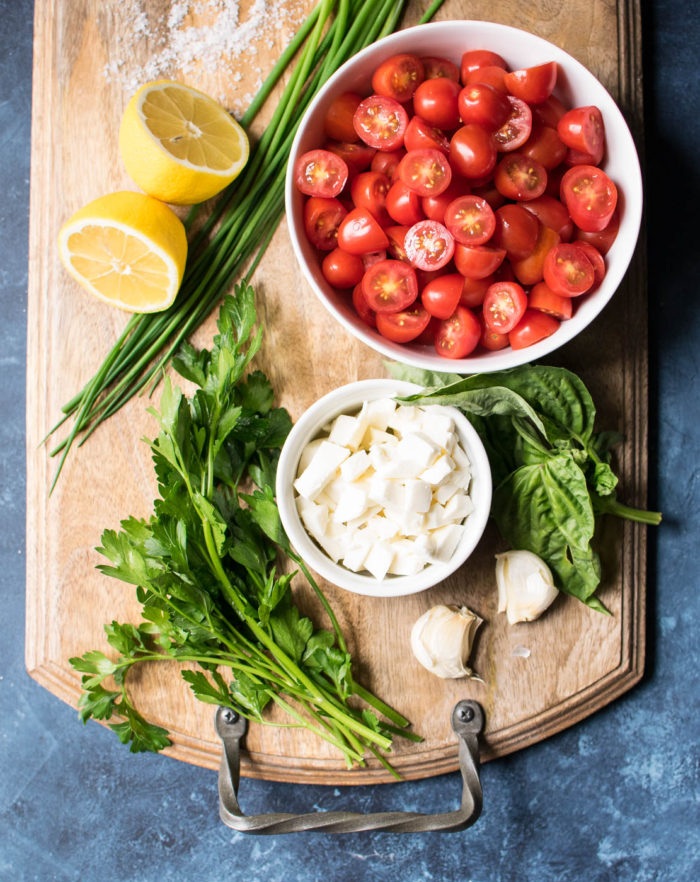 *This post may contain affiliate links. See disclosure for further details.
I mentioned that I made this for a baby shower and that's because it's just as delicious at room temperature as it is hot. Maybe even better! I knew the food would be set out and people would be serving themselves as they got hungry. If you have an occasion like that—a party, a barbecue, a picnic—this will be a really great choice because it packs up easily, and sits out well. That's a thing, I promise.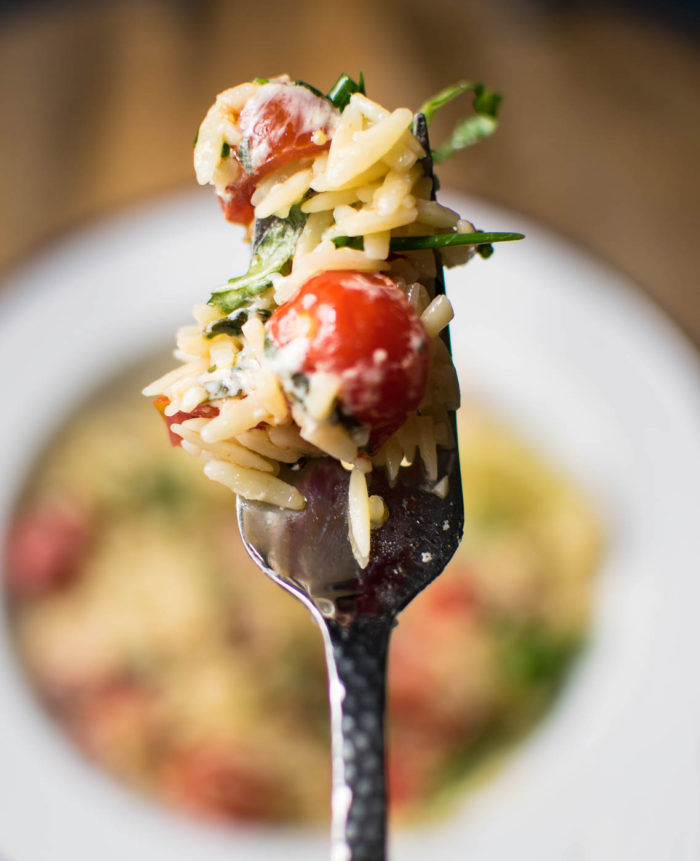 The most important part of this recipe is the fresh herbs! You guys know I love me some fresh herbs and so does this pasta. We've got the usual pasta suspects—parsley and basil—but we're adding chives as well this time. The chives add a good little onion-y bite without being overwhelming. Other than the herbs, the other important thing in this recipe, flavor wise, is the salt! Don't be afraid to hit those tomatoes with a full five finger pinch of salt. Since the sauce is so simple and the fresh mozzarella is pretty mild, you're going to need to salt the tomatoes well. If you're unsure about the amount, start with a smaller amount and add more as needed. Don't forget to taste as you go! That's always the best way to make sure you're not surprised at the end result. Taste, taste, taste.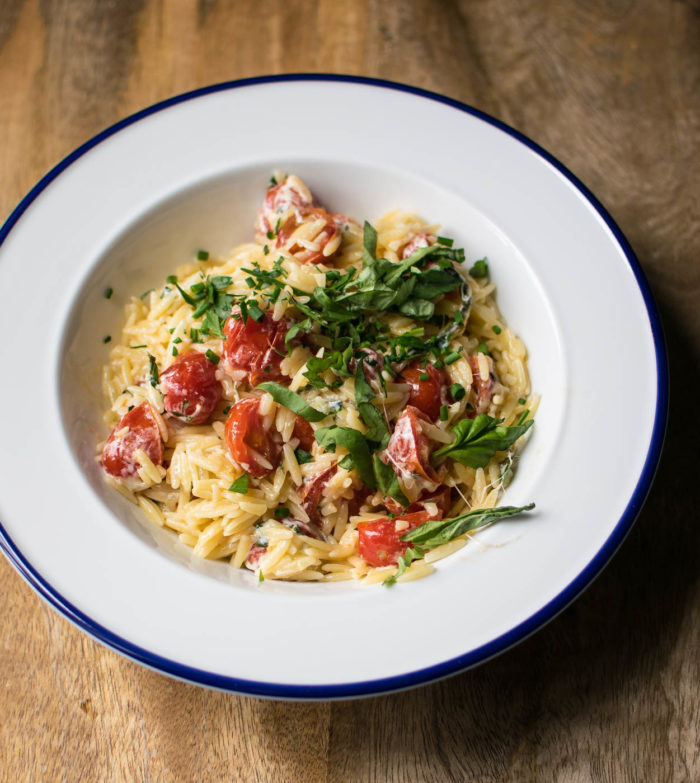 One last note before you get cooking, you know how fresh mozzarella comes in those baseball sized looking chubs? Yeah, use the whole thing. You won't regret it.
Enjoy your cheesy, melty, salty, carby, herby pasta!
You might also like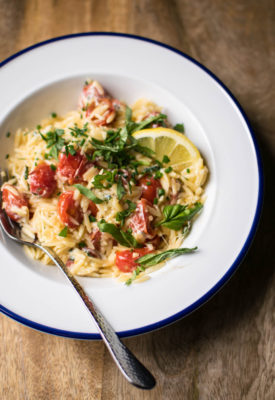 Orzo with Grape Tomatoes and Fresh Mozzarella
Ingredients
½

Pound

orzo

3

Tablespoons

olive oil

plus more for drizzling

2

Cloves garlic

minced

4

Cups

grape or cherry tomatoes

halved

¼

Cup

fresh basil

chiffonade, plus more for garnish

¼

Cup

fresh parsley

roughly chopped, plus more for garnish

⅛

Cup

fresh chives

chopped, plus more for garnish

Juice from half a lemon

Salt and pepper

to taste

8

Ounces

fresh mozzarella

diced
Instructions
Bring a large pot of salted water to a boil. Cook orzo according to package instructions or until al dente.

Meanwhile, In a large sauté pan, heat olive oil over medium heat. Add garlic and cook until fragrant and just starting to brown at the edges; about 1 minute. Add the tomatoes, a large pinch of salt and a pinch of pepper; stir and cook for about 5 minutes or until tomatoes start to soften. Add the herbs for the sauce and the lemon juice to the pan, stir and cook for about 3 minutes more. Taste and adjust.

Drain the orzo and return it to the pot it was cooked in. Add a splash of olive oil to the orzo and stir so that the orzo doesn't stick together. Stir in the fresh mozzarella. Pour the sauce from the pan into the orzo and stir again. Add more fresh herbs to your taste.

Serve with lemon wedges and more herbs if you want!