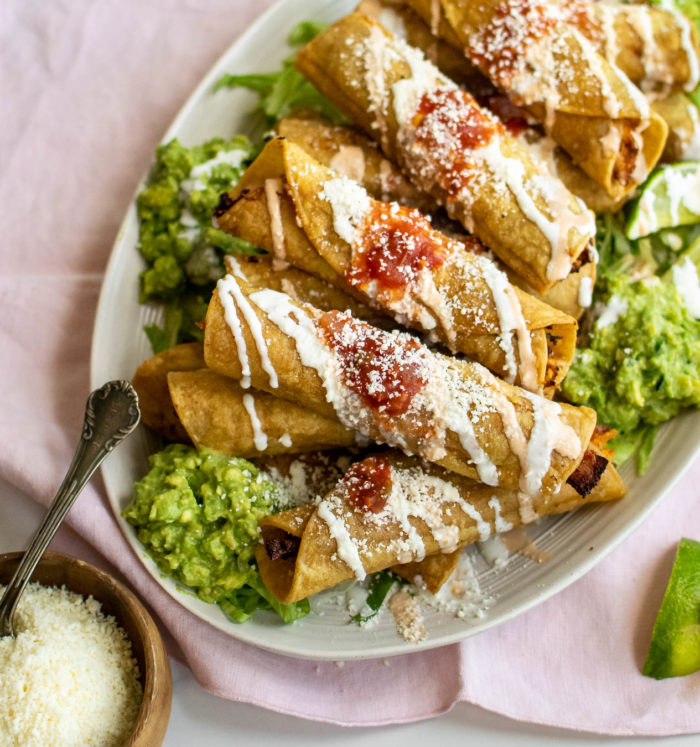 Got leftover Thanksgiving turkey? Of course you do! These Turkey Taquitos are one of my favorite ways to use up leftovers and they're so easy to make!
First of all, taquitos are just fun. I mean that's just a pure fact. But also, they're really really tasty. This version calls for leftover turkey (obviously) but you could make them with chicken too. The turkey get's tossed in delicious adobo sauce and then rolled up and fried to crispy perfection. Read through this post for tips on how to make the best taquitos!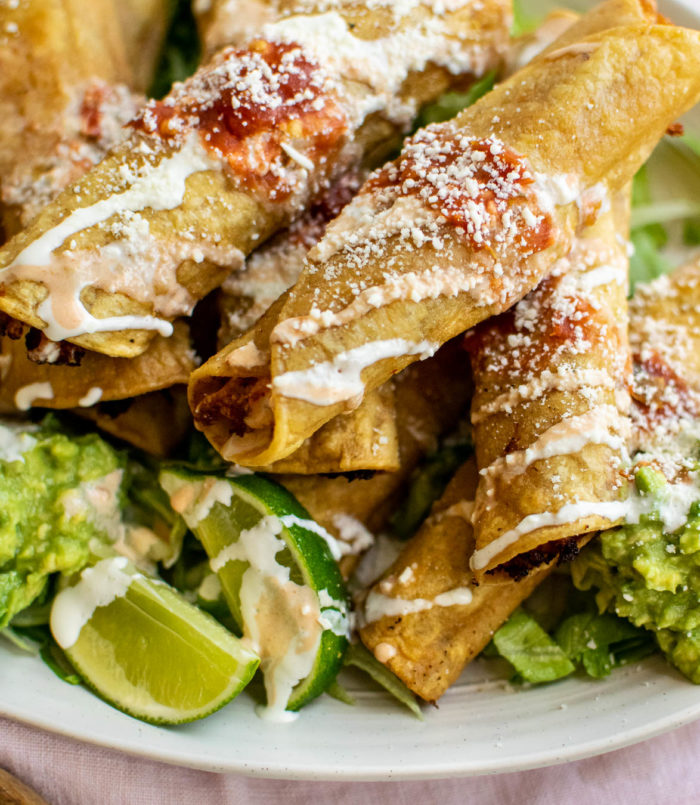 *This post may contain affiliate links. See disclosure for further details.
Obviously the taquitos themselves are delicious, but the toppings are what take them to the next level. Specifically, the crema and the cotija cheese. I live in an area in Chicago where I have access to a lot of hispanic grocery stores so finding Mexican crema is no problem for me. If you can't find crema where you live, you can use sour cream or crème fraîche and mix it with a bit of water or lime juice to thin it out. I also like to make an adobo crema with the leftover adobo sauce from the can mixed with crema. So good!
The great thing about this recipe is that it's really hard to mess up and you can customize it to your liking! You can add more peppers if you want spicier taquitos, switch up the cheeses, use chicken instead of turkey, switch up the spices. Whatever you want! The real trick is to get the taquito technique down. Once you get the hang of it, rolling the taquitos is easy, but there are a few important tricks to keep in mind.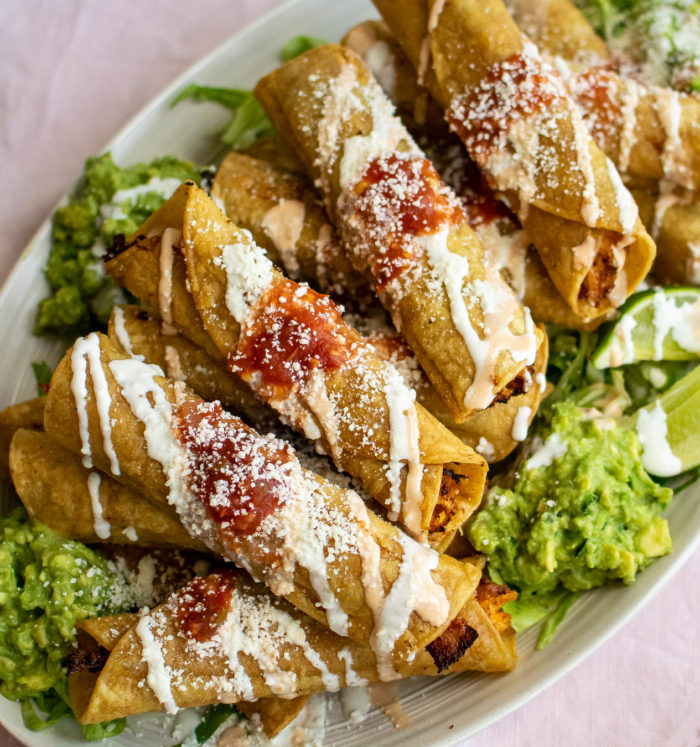 The corn tortillas need to be pliable in order to roll the taquitos—you don't want any tears! To make the tortillas pliable, I like to wrap a damp paper towel around them and microwave them for about 20 seconds. Then, while you're rolling your taquitos, keep the tortillas under the paper towel and only take one out at a time. Make sure to have your filling mixed and your oil heating up before you microwave the tortillas.
Speaking of the oil, it needs to be between 350 and 375 degrees to achieve perfect, crispy taquitos. I use my instant read thermometer to check the temp. You can use a candy thermometer as well. These taquitos are shallow fried, not deep fried, so the oil shouldn't take too long to heat up. Make sure to use a neutral oil like canola for frying.
Frying the taquitos in batches (3-4 at a time) helps keep the taquitos crispy. I know it can be tempting to just load them all in there, but don't! If you add too many at a time, it will lower the temperature of the oil and the result will be a soggier, oilier taquito. No thanks to that. They only need about 1 minute on each side and then you can transfer them straight to a cooling rack or a paper towel lined plate. I like to give them a little sprinkle of salt right when they come out of the oil.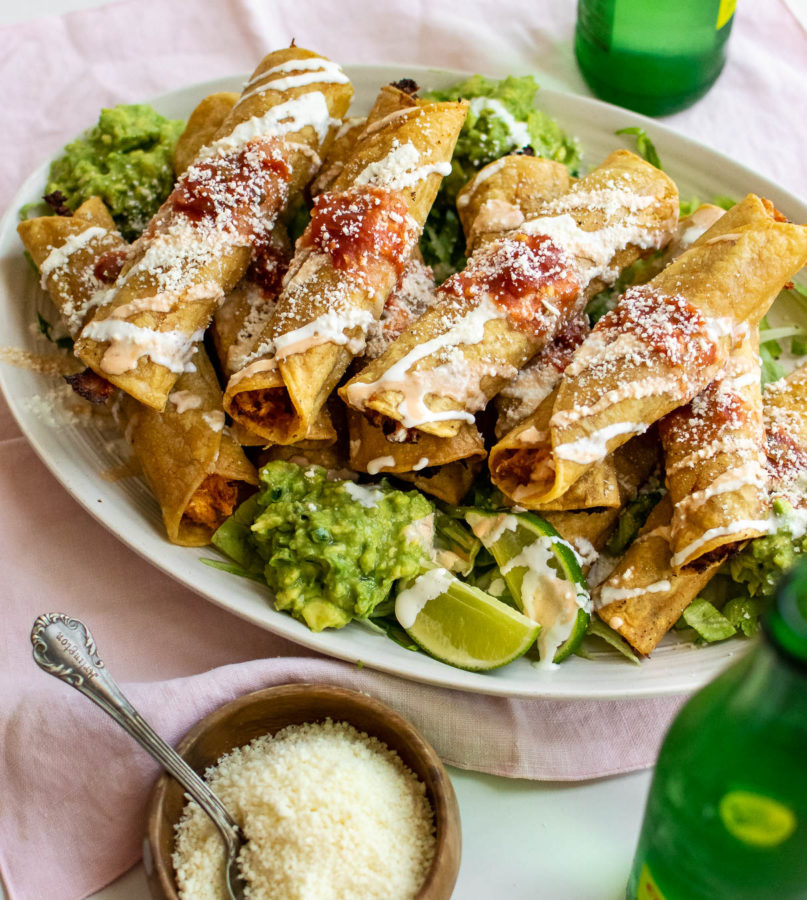 Once you've fried all your taquitos, plate them up, load up the toppings, and start eating! I promise, you'll want to make a whole Thanksgiving turkey again just to have more of these taquitos.
You might also like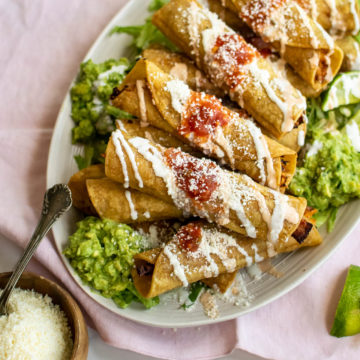 Leftover Turkey Taquitos
These Turkey Taquitos are one of my favorite ways to use up leftovers and they're so easy to make!
Ingredients
For the Taquitos
3

Cups

cooked turkey

shredded

1

Teaspoon

cumin

1

Teaspoon

ancho pepper

½

Teaspoon

garlic powder

8

Ounces

cream cheese

at room temperature

3

Chipotes in adobo

chopped

3

Tablespoons

adobo sauce

from the can

2

Cups

shredded cheese

such as Chihuahua, Cheddar, Monterey Jack or a blend

kosher salt

to taste

16-20

6 Inch

corn tortillas

Oil

for frying
For the toppings
Cotija cheese

Mexican crema

Lettuce, shredded

Salsa

Guacamole

Lime wedges
Instructions
In a large mixing bowl, combine the cream cheese, peppers and adobo sauce, cumin, ancho pepper, garlic powder and cheese. Fold in the shredded turkey. Season with salt to taste.

Put the tortillas on a plate, cover with a damp paper towel, and microwave for 15-20 seconds so they become pliable. Working with one tortilla at a time and keeping the rest under the damp paper towel, add about 2 tablespoons of the filling to the tortilla in a line and roll up tightly. Place the filled tortillas on a plate or baking sheet, seam side down. Repeat with the remaining tortillas and filling.

In a cast iron or heavy bottomed skillet, heat ½ inch of oil to 350 degrees. Fry the taquitos in batches starting with the seam side down, and then flipping; about 1 min on each side. Transfer the fried taquitos to a cooling rack or a paper towel lined plate and sprinkle lightly with salt. Repeat with the remaining taquitos.

Just before serving, drizzle the taquitos with Mexican crema and sprinkle Cotija cheese on top. Serve with shredded lettuce, salsa, guacamole, and lime wedges.
You Might Also Like