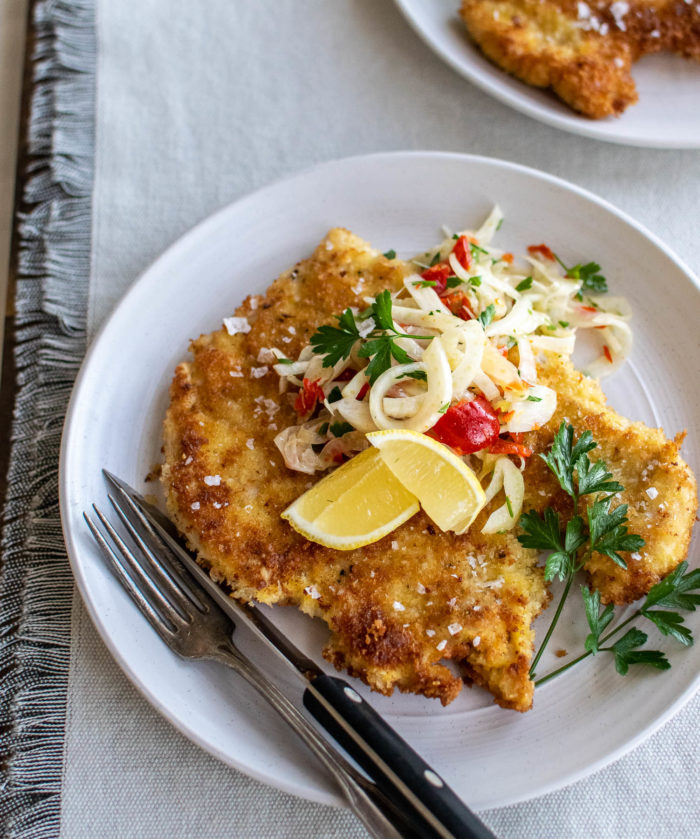 This Chicken Schnitzel with Fennel Salad is such a fun dish to make at home! Perfectly crispy chicken topped with a bright crunchy salad is easy enough for a weeknight dinner but impressive enough to serve to guests! Read through the post for tips on how to make the best chicken schnitzel.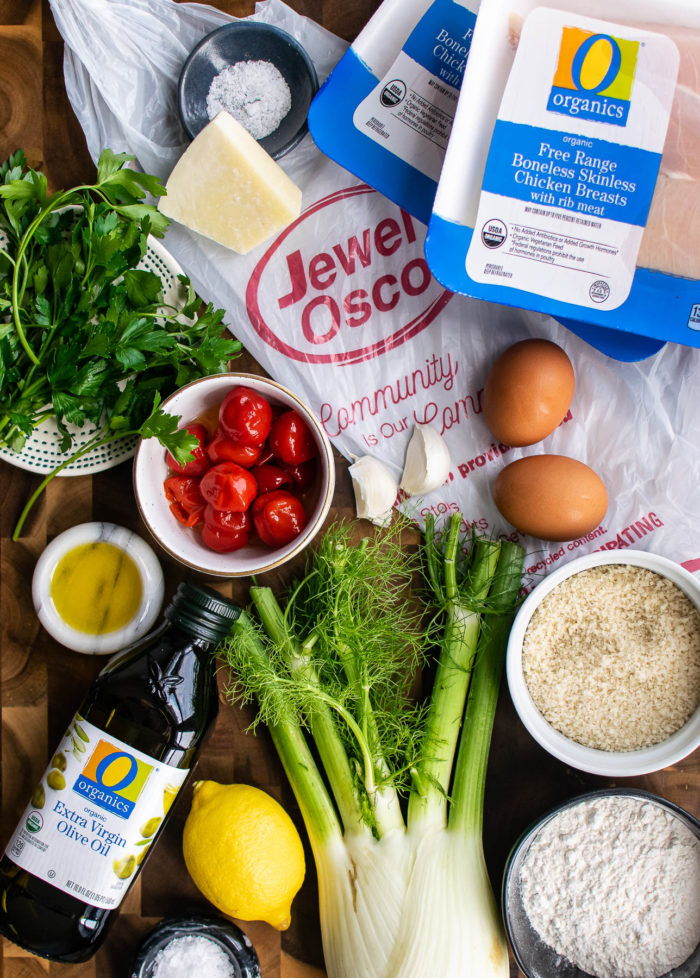 *This post may contain affiliate links. See disclosure for further details.
I try to eat organic as often as possible, but it's not always easy! I was really excited to hear that O Organics® was adding organic, free range chicken to their product lineup because it's affordable, and I can feel good about the chicken I'm eating. I grabbed these O Organics chicken breasts and all of the other ingredients for this recipe at my local Jewel-Osco, but you can also find O Organics chicken & other products at the Albertsons Companies family of stores, including Albertsons, Safeway, ACME Markets, Jewel-Osco, Randalls, Shaw's Supermarket, Star Market, Tom Thumb and Vons. Jewel-Osco also offers Grocery Delivery and Drive Up & Go™ for convenient ways to shop!
Speaking of ingredients, let's talk about fennel! Fennel is totally underrated, in my opinion. It's used a lot in Italian cooking (hence my little Italian spin on chicken schnitzel!) and can be cooked or eaten raw. If you're going to eat fennel raw, like in this recipe, it's best to slice it super thin. If you have a mandolin, you can use that or you can slice it by hand—just make sure your knife is sharp! We are only using the fennel bulb in this recipe (plus the little fronds on top if you want!) so you can discard the stalks and core.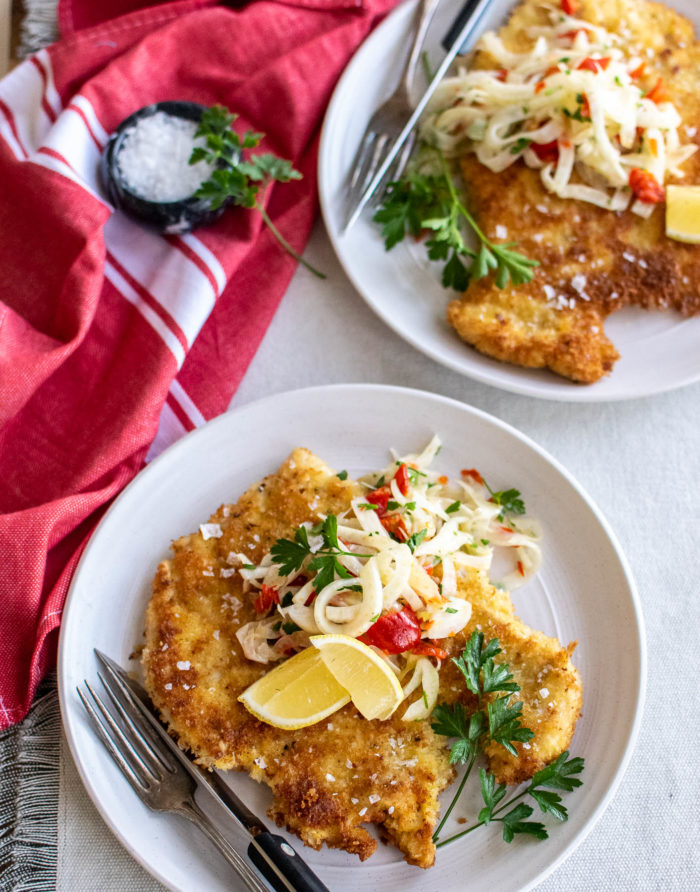 Once you've got your thinly sliced fennel, you'll just toss it with a little olive oil, lemon, salt and sugar, chopped peppers, and parsley. The longer the fennel sits in the dressing, the more flavorful it gets so you should make the salad before the chicken or up to a day in advance. Once your salad is ready, it's time for the fun part!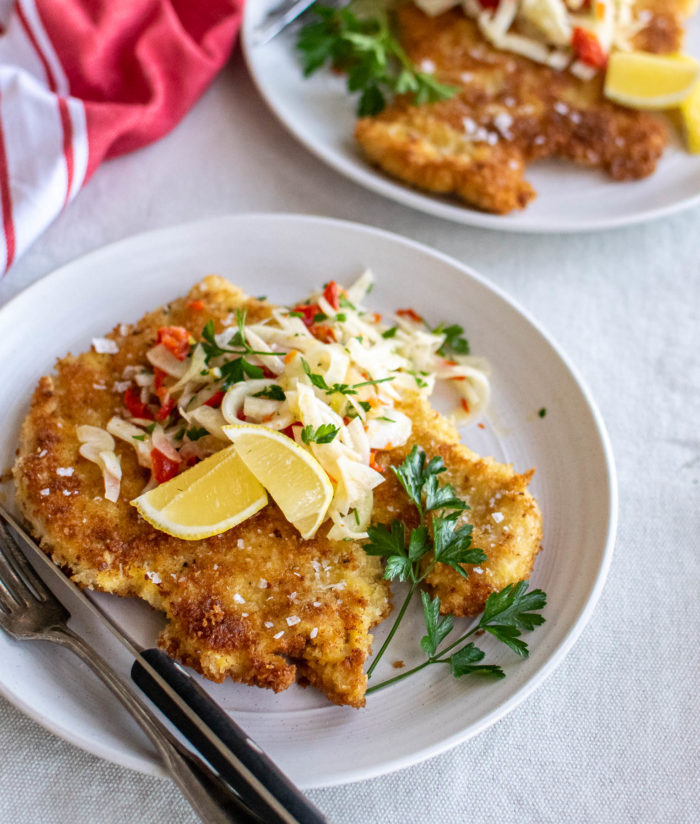 What's so fun about chicken schnitzel (besides being delicious) you ask? You have to pound the chicken thin! Grab your meat mallet—this is your workout for the day! Place each chicken breast between two pieces of plastic wrap, and pound them until they're about ¼ inch thick.
Now you'll need to set up a bit of an assembly line for the chicken. Grab three plates and put flour on one, beaten eggs on the second, and panko breadcrumbs on the third. When you're breading the chicken, you'll dredge it in the flour first, then dip it in the eggs (both sides) and then finally into the panko. Then into the pan for frying! This may seem like a lot of work but it's easy once you get going and it's fun! Just make sure to have your skillet and your breading plates ready so the whole process goes smoothly.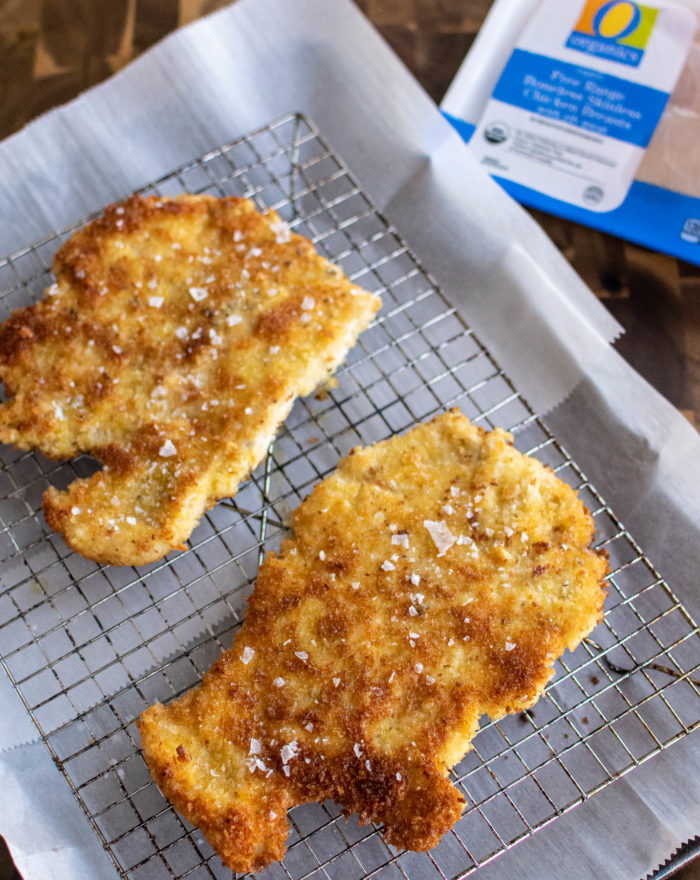 This is optional, but I like to set a baking rack over a baking sheet for the chicken. When they're done frying, I transfer them to the rack and sprinkle them with salt. This way, both sides of the chicken stay extra crispy. If you don't want to do that, transferring them to a serving plate will work just fine! They're going to be delicious no matter what! But so we're clear, the baking rack is optional, not the salt! Every time a schnitzel comes out of the oil, hit it with a bit of salt. I like to use a flaky sea salt for maximum crunch.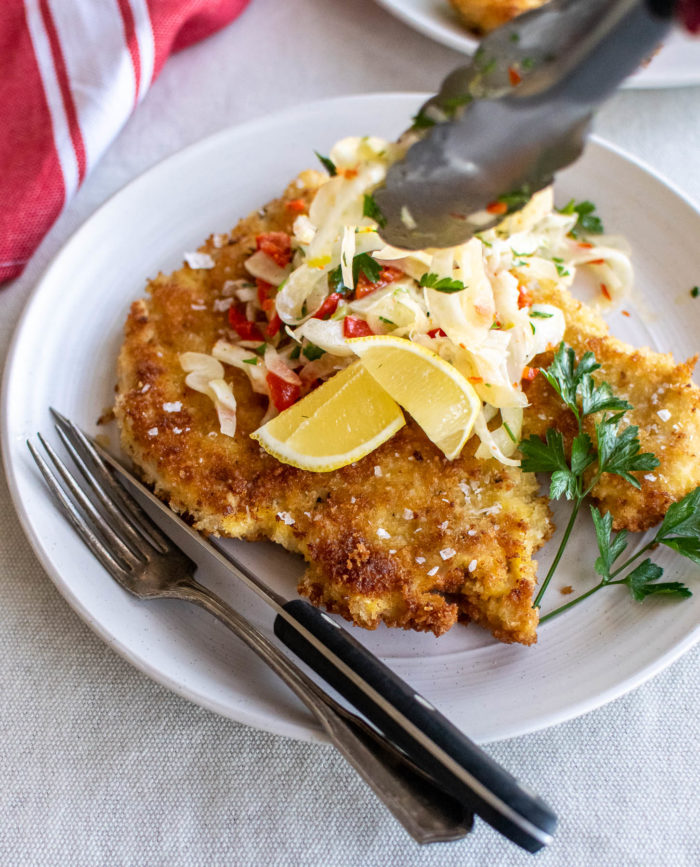 Once the chicken is all cooked, all that's left to do it serve it up! A little of the fennel salad on top, a couple shavings of Pecorino Romano, and a lemon wedge will do the trick!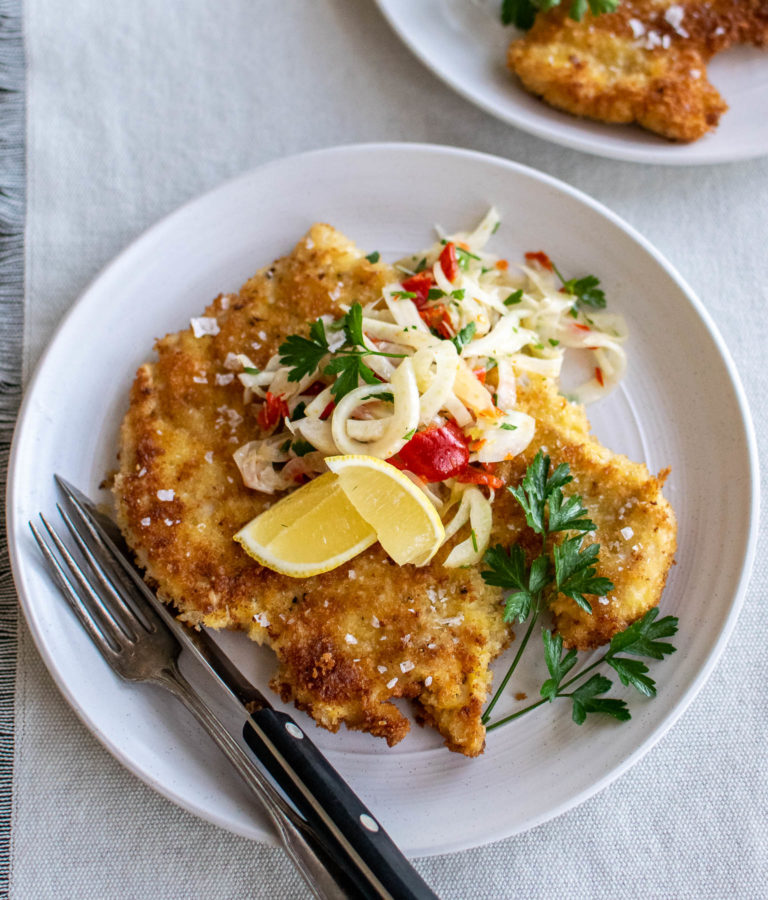 Using O Organics chicken breasts, you and your family can feel great about this recipe! I hope you enjoy!
This is a sponsored post written by me on behalf of Jewel-Osco. All opinions are 100% mine.
You might also like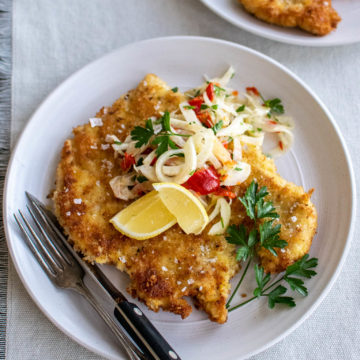 Chicken Schnitzel with Fennel Salad
Perfectly crispy chicken topped with a bright crunchy salad is easy enough for a weeknight dinner but impressive enough to serve to guests!
Ingredients
For the chicken schnitzel
¼ Cup oil for frying
4 Chicken breasts pounded to ¼ inch thickness
1 Cup all purpose flour
2 eggs beaten
3 Cups panko breadcrumbs plus more as needed
Salt and pepper
For the fennel salad
Fennel bulb thinly sliced
3 Tablespoons olive oil
2 Tablespoons fresh lemon juice
½ Teaspoon kosher salt
½ Teaspoon sugar
1-2 Cloves garlic grated or finely minced
¼ Cup pickled peppers such as peppadew or cherry
2 Tablespoons fresh parsley roughly chopped
To serve
Flaky sea salt such as Maldon
Pecorino Romano shaved
Lemon wedges
Instructions
Make the salad. In a large bowl, whisk the olive oil, lemon juice, lemon zest, salt and sugar together. Add the thinly sliced fennel, the peppers, and the parsley. Toss to combine. Set aside until ready to use.

Make the chicken schnitzel. Pound each chicken breast to ¼ inch thickness and season with salt and pepper.

Set out three large plates with the flour, beaten eggs, and panko breadcrumbs on them. Dredge each piece of chicken in the flour, then dip into the eggs, and finally into the panko breadcrumbs. Make sure to coat both sides evenly.

Meanwhile, heat the oil in a large skillet over medium high heat. Add the chicken one at a time, and cook, flipping once, until golden brown; about 4-5 minutes on each side. Transfer chicken to a baking rack or serving plate and sprinkle with flaky sea salt. Repeat with the remaining chicken breasts, adding more oil as needed.

Serve the chicken schnitzel with the fennel salad, shaved Pecorino Romano, and lemon wedges.

Enjoy!