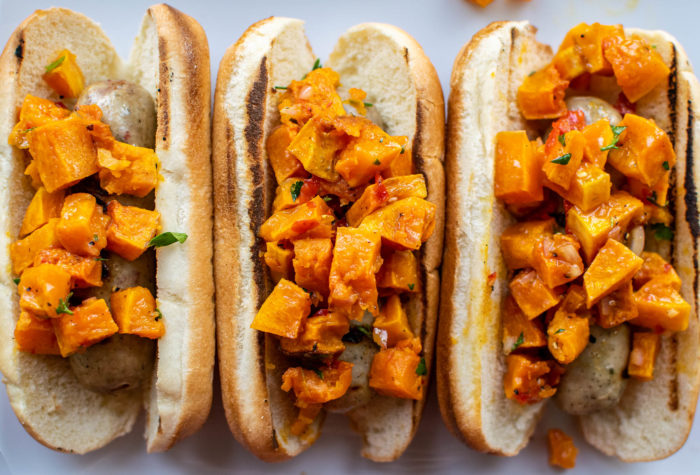 Have you ever had butternut squash and sausage together? Have you ever had butternut squash relish?! Prepare for your mind to be blown! Turns out, butternut squash relish is the perfect seasonal accompaniment to a tasty grilled sausage. You gotta try this!
When I was thinking up this recipe, I was looking to create something fun to eat that screamed fall! This butternut squash relish has the most beautiful fall colors and what's better, on a fall day, than grilling up some sausages?!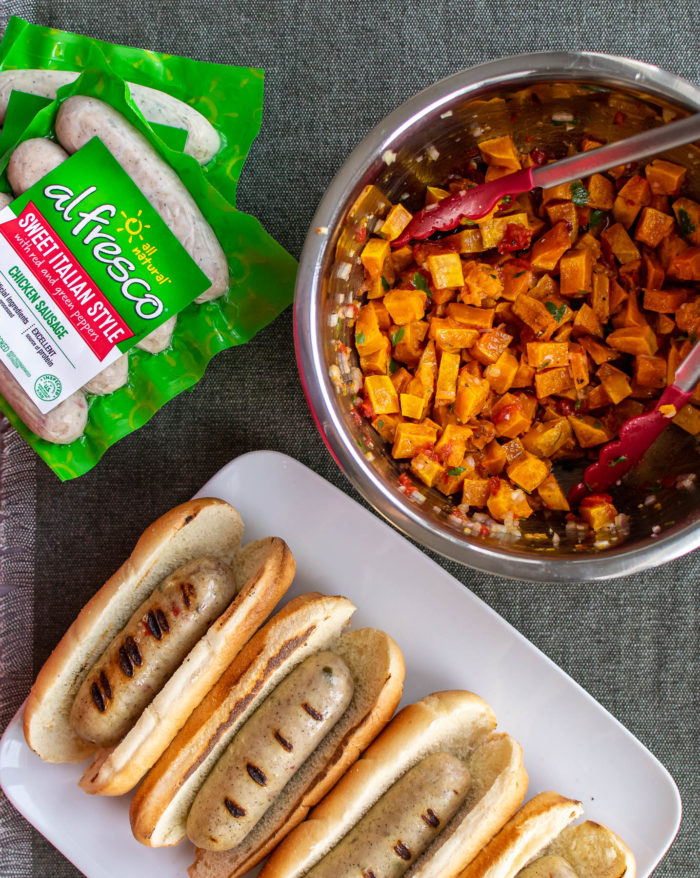 *This post may contain affiliate links. See disclosure for further details.
I have been a huge fan of al fresco chicken sausages for a while now and I use them regularly in my cooking. There are so many delicious flavors to choose from and they're already cooked, so they're perfect for a quick dinner. I always have a few packages in my fridge! For this recipe, I chose to use their sweet Italian chicken sausages, but the roasted garlic (or any flavor really!) would be perfect too.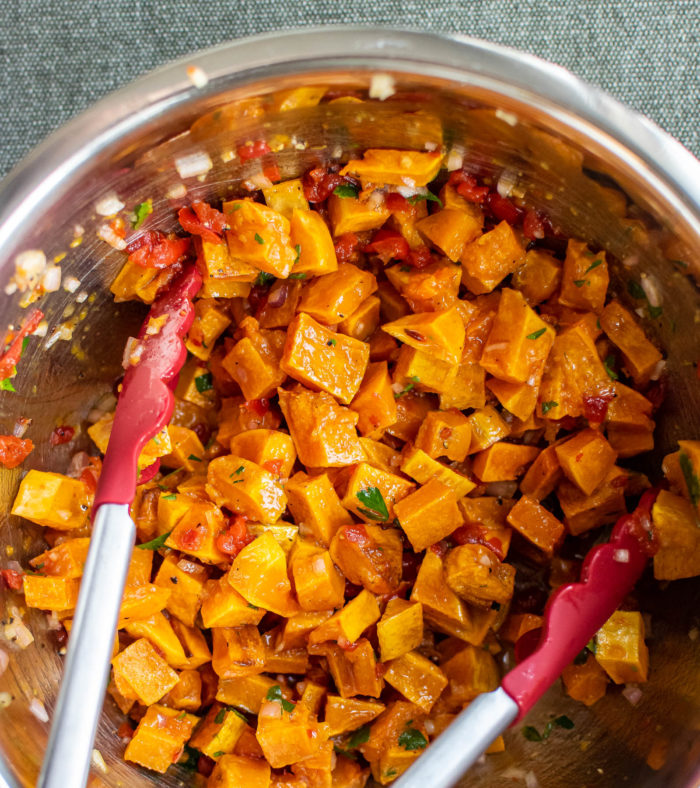 I know what you're thinking, "butternut squash relish?!" but I'm telling you, it's a really delicious and fun way to eat squash! The relish is also super simple to make. Cut the squash into cubes (or buy pre-cut squash) and roast it for 25 minutes. While the squash is roasting, whisk vinegar, oil, sugar and salt together. Add shallots and pickled peppers for a little zing and parsley for some freshness. Add the roasted squash and toss it all together.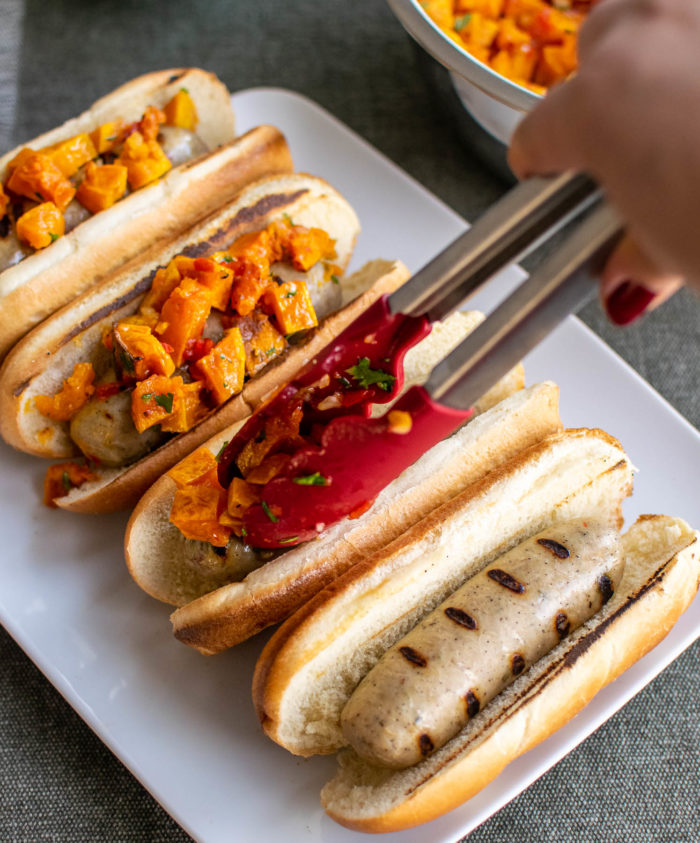 The relish can be made ahead of time and can be served cold, warm, or at room temperature. I like it warm, personally, but my boyfriend loved it cold. Try it out and see what you like best. The relish can be re-heated in the microwave or a pan.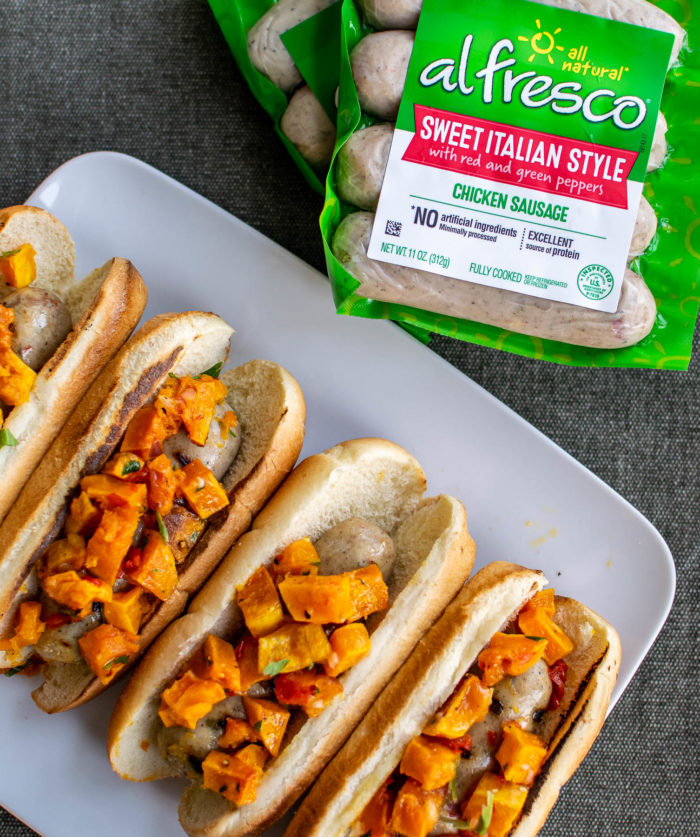 You can use whichever al fresco chicken sausages you like best for this recipe. I chose the sweet Italian flavor because the squash and pickled peppers go really well with it (and it just might be my favorite flavor). Since these chicken sausages are already fully cooked, you just need to heat them through before serving. I chose to grill them for this recipe because I love that char that you get with grilling!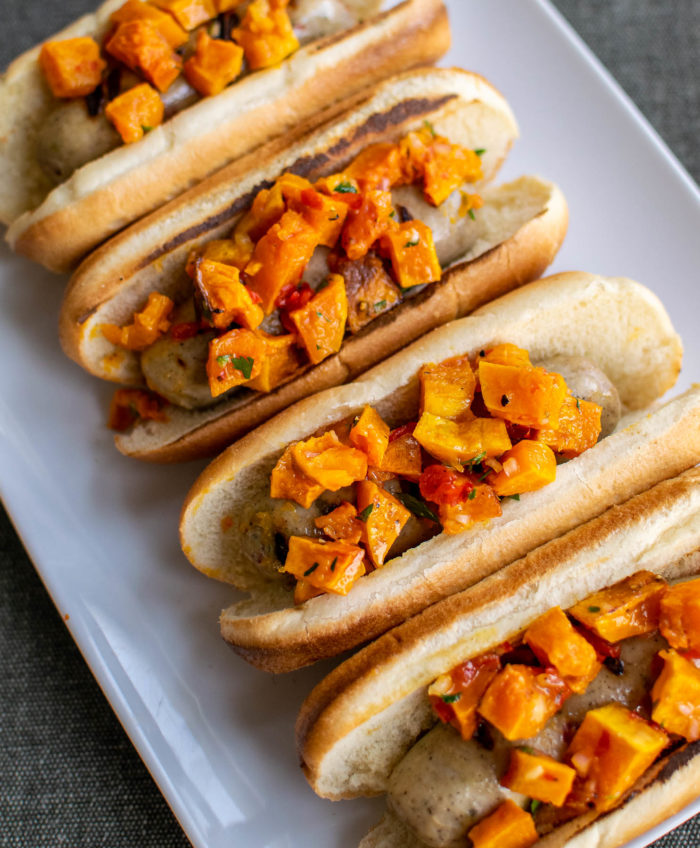 Not that I watch football, but I would imagine these would be the perfect tailgating food! Make the relish ahead of time, grill the sausages at the tailgate (there are grills at tailgates...right?) and there you go! Easy and tasty.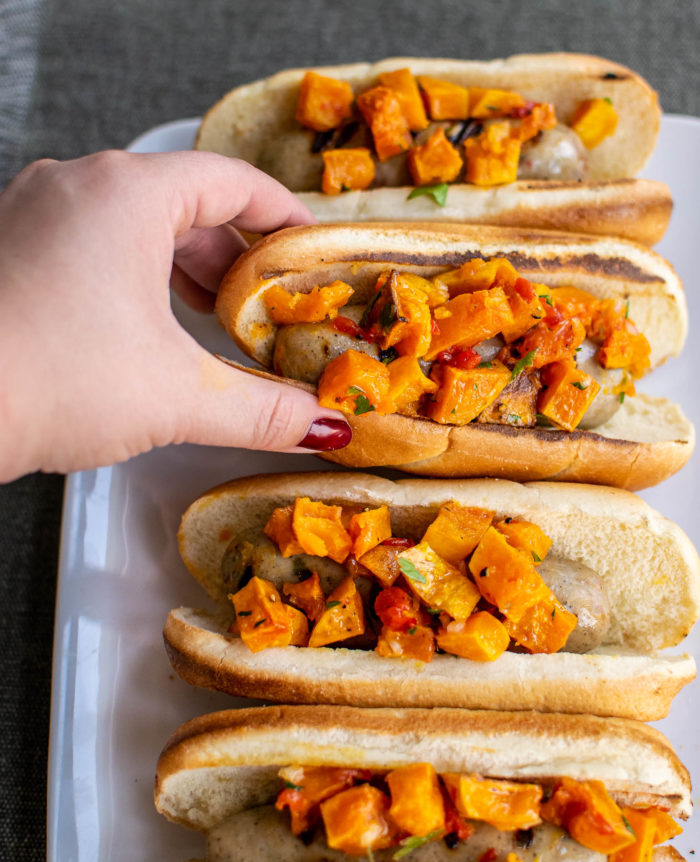 Can't wait to hear what you guys think of this recipe! I'm about to make another batch of the relish and this time, have it on the roasted garlic sausages. Happy fall!
You might also like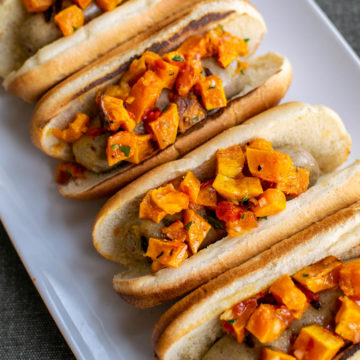 Grilled Sausages with Butternut Squash Relish
Butternut squash relish is the perfect seasonal accompaniment to a tasty grilled sausage.
Ingredients
1 Package al fresco chicken sausages
4 Sausage buns
For the roasted butternut squash
1 Small to medium butternut squash cut into small cubes (about 5 cups)
2 Tablespoons olive oil
1 Teaspoon kosher salt
½ Teaspoon pepper
For the butternut squash relish
¼ Cup apple cider vinegar
⅛ Cup olive oil
3 Tablespoons sugar
1 Teaspoon kosher salt
2 Tablespoons shallot finely minced
2 Tablespoons Peppadew peppers (or other pickled peppers), finely minced
Roasted butternut squash (from above)
1-2 Tablespoons fresh parsley roughly chopped
Instructions
Pre heat oven to 400 degrees and line a large baking sheet with parchment paper. Toss the cubed squash with the olive oil, salt and pepper and spread it out in an even layer on the baking sheet. Roast the squash, flipping once, for 25 minutes.

In a large bowl, whisk the vinegar, olive oil, sugar, and salt together until combined. Add the shallots, peppers and parsley. Add the roasted squash and toss until well coated.

Meanwhile, grill the al fresco chicken sausages until heated through and charred in spots. Grill the buns until lightly toasted.

Place the sausages in the buns and top with the butternut squash relish.

Enjoy!