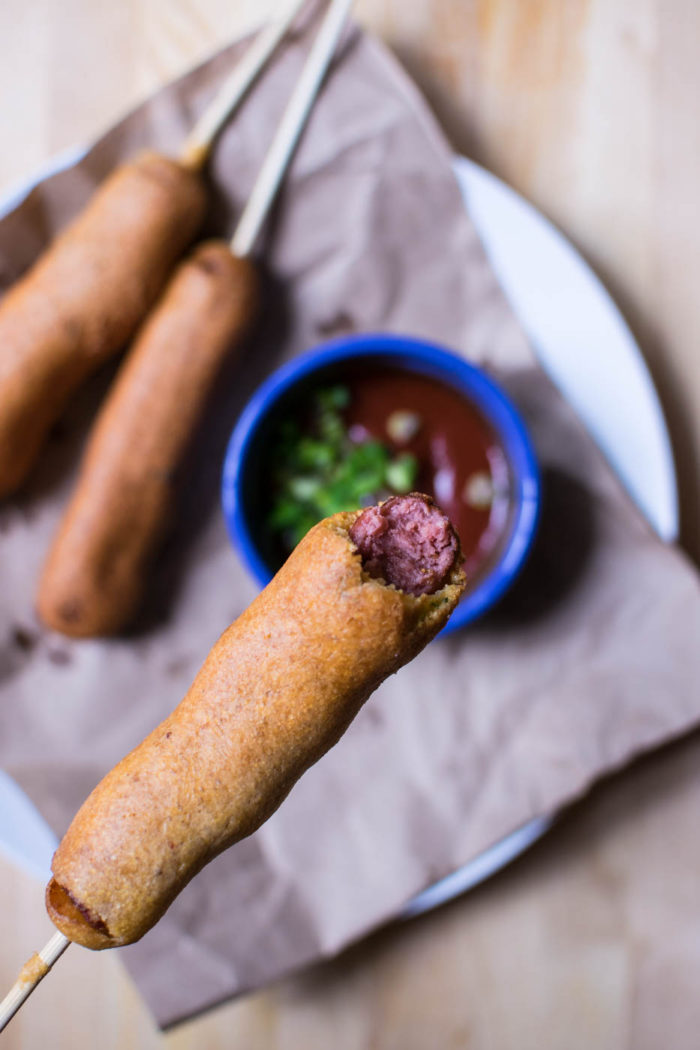 I got the idea for this recipe at the most annoying time, just like almost all of my recipe ideas, when I was trying to fall asleep. It happens every time, I start to drift off to sleep and then, boom! What about this idea? Oh! this might be good! What if instead, I made it like this... blah blah blah my brain won't let me sleep until I jot all of these ideas down in my notes on my phone. Super annoying, if you ask me. But! at least I end up with delicious recipes like this one and you jerks get to reap the benefits of my sleepless nights! Kidding, kidding. I love you guys and I totes get enough sleep. I think.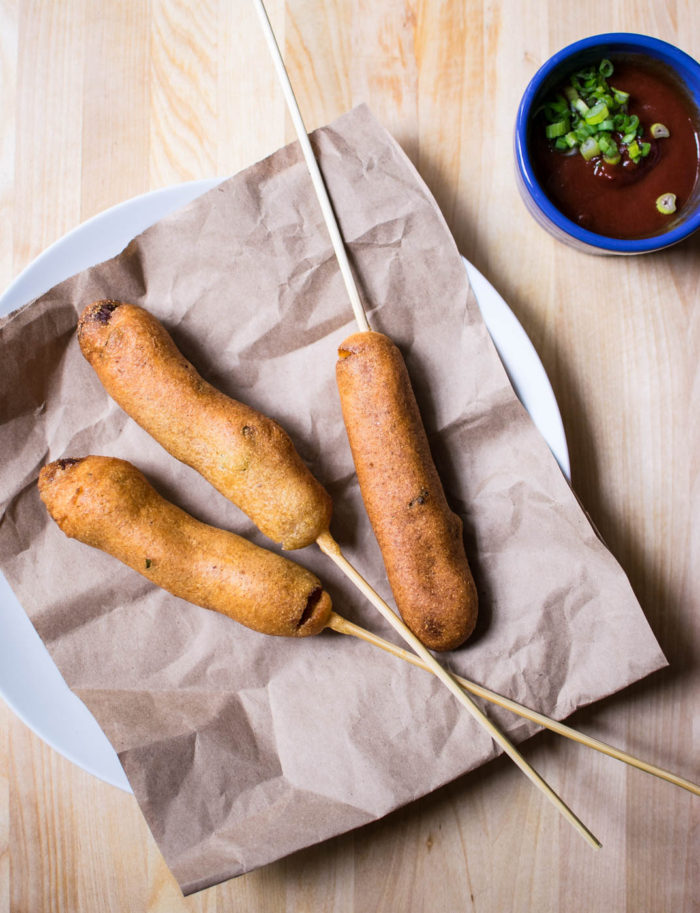 This recipe is definitely a good one for summertime. Everyone is throwing backyard barbecues and casual daytime hang outs. What better to make than a corn dog?! And what better way to make a corn dog than with a tasty twist?! Enter: Gochujang.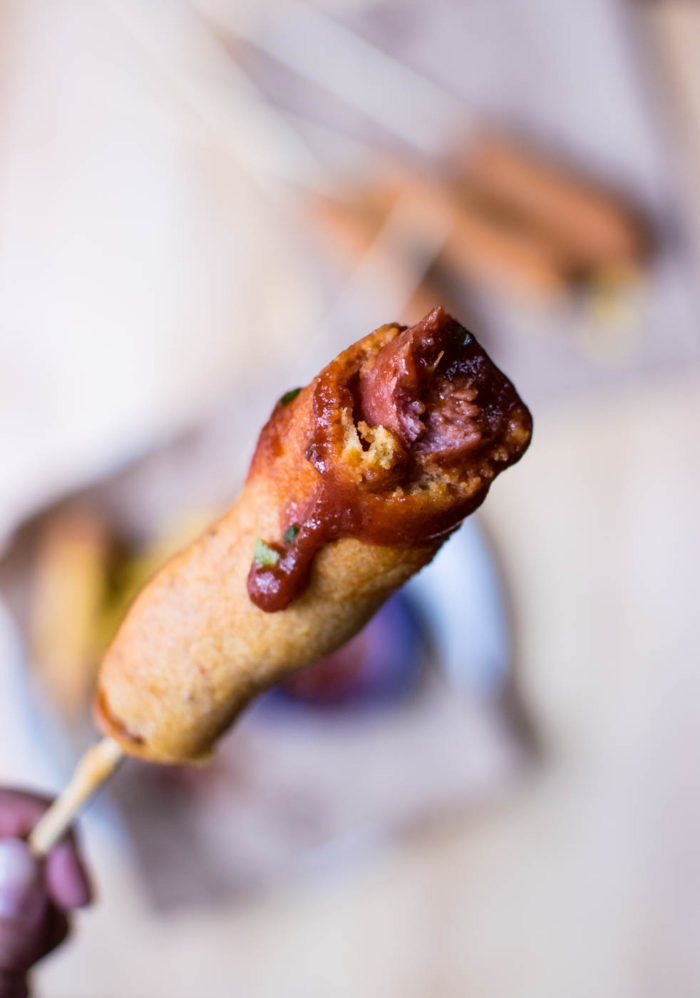 Gochujang is a delicious Korean condiment that is basically fermented red pepper paste. The flavor is spicy, salty, and a little bit sweet. Gochujang definitely packs a big punch so you won't need to use too much to take advantage of the flavor. For this recipe we'll add some into the cornmeal batter and then also use it in a spicy ketchup sauce to dip the dogs in. It's a fun way to take traditional corn dogs to the next level!
These corn dogs are pretty easy to make but, I do have a couple of tips to make the going that much easier. First, when you're dipping the dogs, you'll want to make sure they're completely covered by the cornmeal so you should use a tall drinking glass for the dipping. Fill the glass up with the batter, dip a skewered dog in there, and add a little more batter to the cup as you use it for each dog. The other important tip is for the oil. You need a thermometer! I'm telling you, if you don't already have one, you just gotta buy one. They cost basically nothing and you'll be able to make sure the oil is the perfect temperature for cooking every time. If you try to wing it, you could end up with burnt batter and a cold hot dog on the inside. Gross. Nobody wants that. So, buy the thermometer and keep the oil at 350 degrees for perfectly golden corn dogs!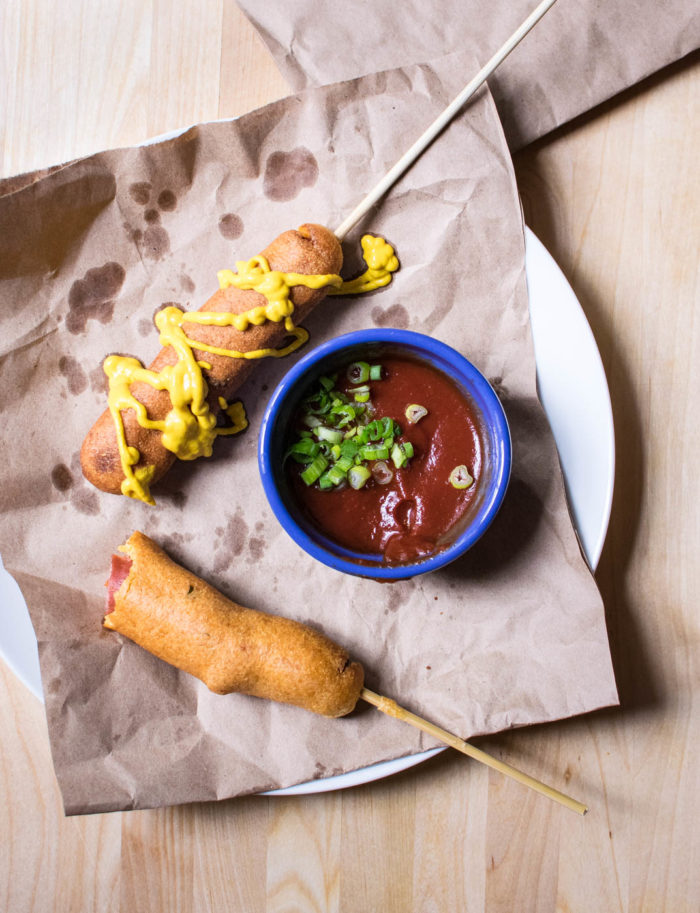 Now, let's get cooking. I'm sure you've got a barbecue to get to!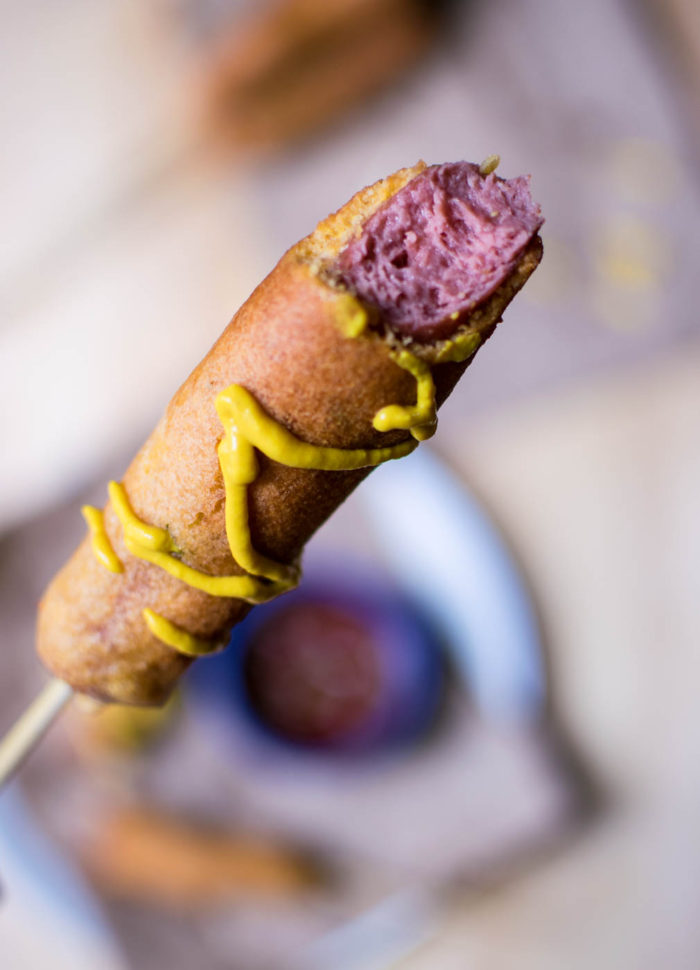 You might also like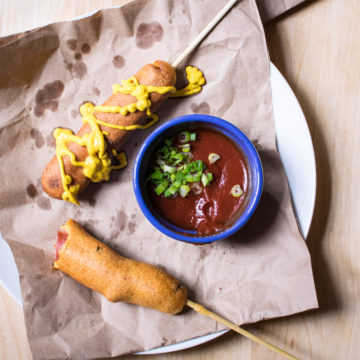 Gochujang Corn Dogs
Ingredients
5

Beef hot dogs

1

Gallon

neutral oil

for frying

Yellow mustard

for serving
For the batter
1

Cup

cornmeal

1

Cup

all purpose flour

4

Tablespoons

sugar

1

Teaspoon

kosher salt

1

Teaspoon

baking powder

1

Egg

lightly beaten

1

Cup

milk

2

Tablespoons

gochujang

⅛

Cup

scallions

thinly sliced
For the gochujang ketchup
3

Tablespoons

ketchup

1

Tablespoon

gochujang

Scallions

thinly sliced
Instructions
Whisk all of the dry ingredients for the batter together. Lightly beat the egg and add it along with the milk, gochujang and scallions to the dry ingredients. Mix until smooth.

Skewer the hot dogs with wooden skewers. Mix the ketchup, gochujang and remaining scallions together for the dipping sauce, set aside. Heat The oil in a tall sided pot to 350 degrees.

Fill a tall drinking glass with the batter, dip the skewered hot dogs into the batter and then place into the oil. Fry each corn dog until the batter is golden brown and the hot dogs are heated through, about 5 minutes. Place the cooked corn dogs on a paper towel lined plate to drain off the excess oil. Make sure to fry no more than 3 corn dogs at time and be careful not to let them stick together.

Serve with the gochujang ketchup and mustard!