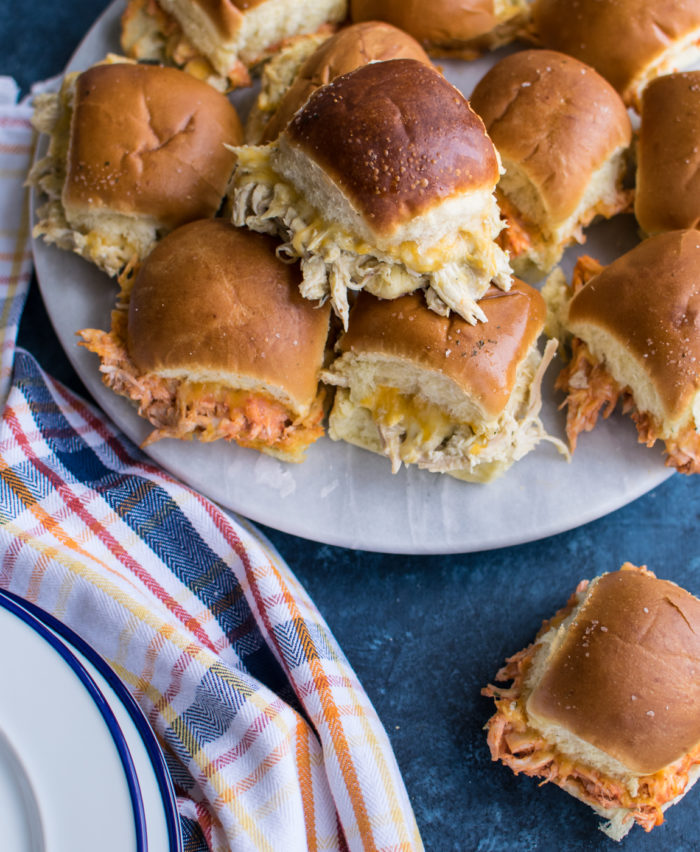 Chicken Enchilada Sliders are the perfect party food you never knew, you always needed! Although I don't watch much football, I have to admit I do love the food that comes along with it. These sliders make the perfect game day food and, since they'll be gobbled up in minutes, I decided to use a couple shortcuts so that the recipe is as easy as can be to make!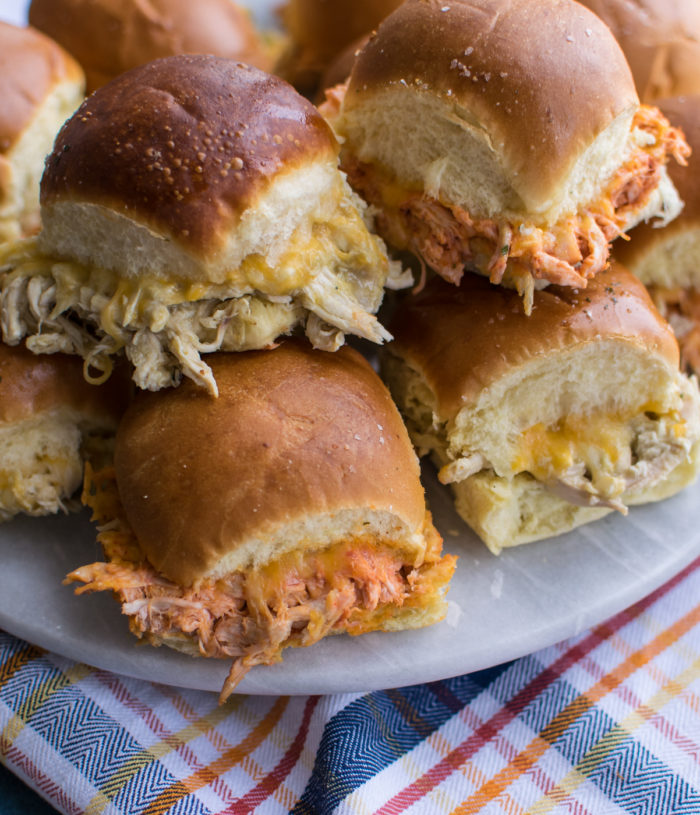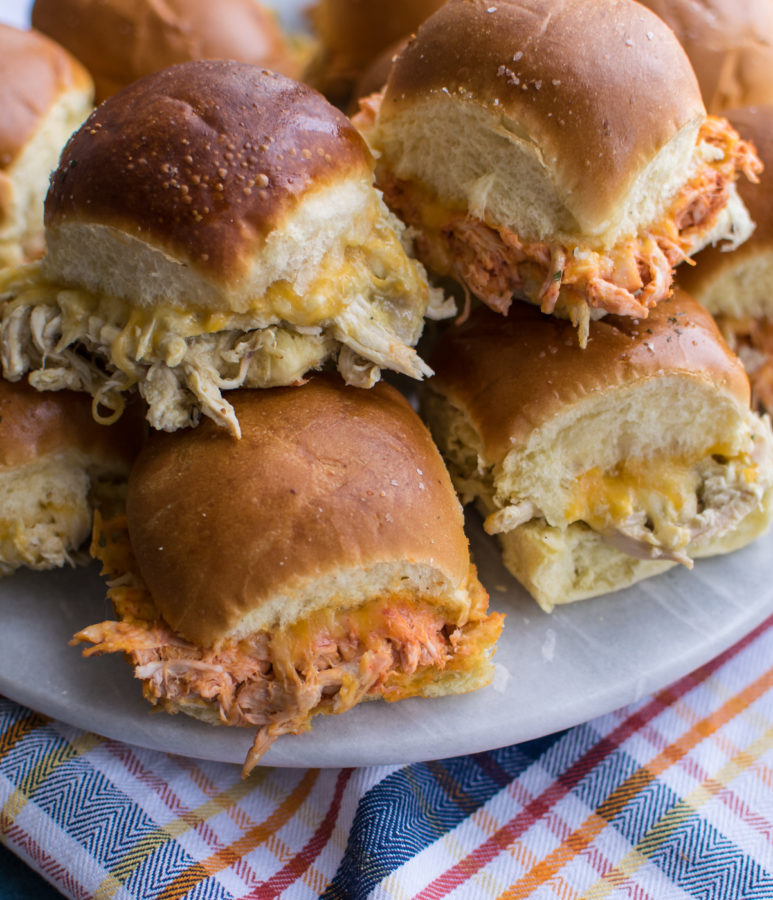 *This post may contain affiliate links. See disclosure for further details.
Basically what you're going to do is toss some cooked chicken with enchilada sauce, pile it on some slider buns, cover it all with cheese, and bake those babies until the cheese is all melted and delicious. Super easy, right? But wait! I forgot to tell you that you don't even have to cook the chicken! I like to buy a rotisserie chicken for these because it cuts out the cooking time and they're so easy to shred. And if you don't use all of the chicken for these sliders, there are a million other ways to use it up! Sometimes shortcuts are just they way to go.
If you have a preference between red and green enchilada sauces, go ahead and use whichever one you like best! I personally like to use green on half of the sliders and red on the other half. That way, people can choose their favorite or try one of each. Selfishly, the other reason why I choose to do half green and half red is because I can never decide which one I like better so I have to have both! You might have some enchilada sauce leftover, depending on how saucy you make these sliders, I like to use the leftover sauce with my eggs the next day!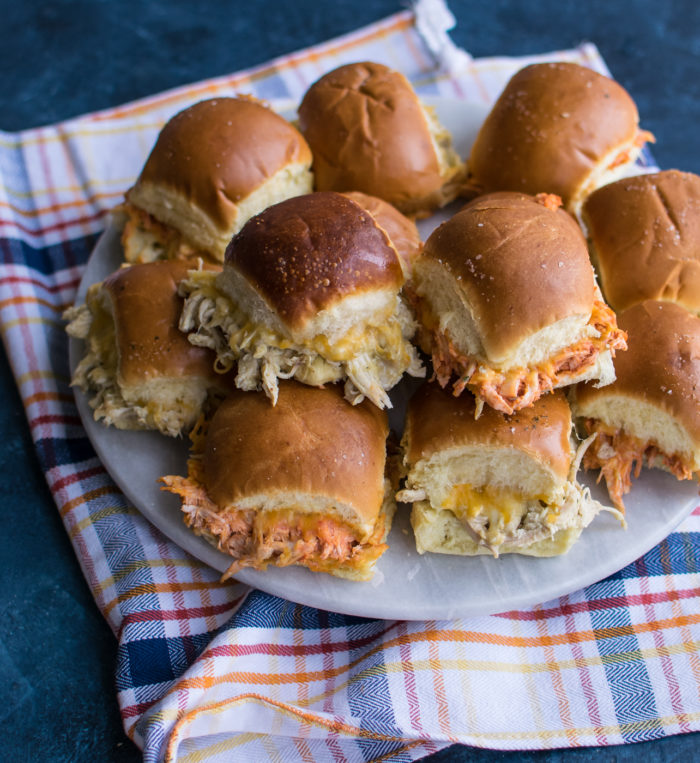 I use a combination on monterey jack and cheddar cheeses in these slider but you can play around with which cheeses you like best. You can also chop up some green onions or cilantro (or both) and mix them in with the chicken as well. I'm telling you, these Chicken Enchilada Sliders are hard to mess up and hard to not love! I just want to know one thing, are you team green or team red enchilada sauce?
You might also like
Chicken Enchilada Sliders
Chicken Enchilada Sliders are the perfect party food you never knew, you always needed!
Ingredients
3-4

Cups

cooked chicken

shredded

1

10 Ounce

can red enchilada sauce

used to taste

1

10 Ounce

can green enchilada sauce

used to taste

1

Cup

monterey jack cheese

shredded

1

Cup

cheddar cheese

shredded

1

12 Count

package slider rolls

cut in half horizontally

2

Tablespoons

unsalted butter

melted

Green onion

(optional)

Cilantro

(optional)
Instructions
Pre heat oven to 350 degrees.

Toss half of the chicken with the green enchilada sauce and the other half with the red enchilada sauce.

Put the bottom half of the slider buns in a baking dish. Pile the chicken on to the buns; green on one side and red on the other. If using, sprinkle the green onions and cilantro over the chicken, then sprinkle the cheese on top.

Put the top buns on and brush the tops with the melted butter. Bake until the cheese is melted and the buns are golden brown; 15-20 minutes.

Enjoy while watching football... or not.