Thank you, Barilla®, for this unforgettable experience and for sponsoring this post. Thoughts, photos and recipe are my own.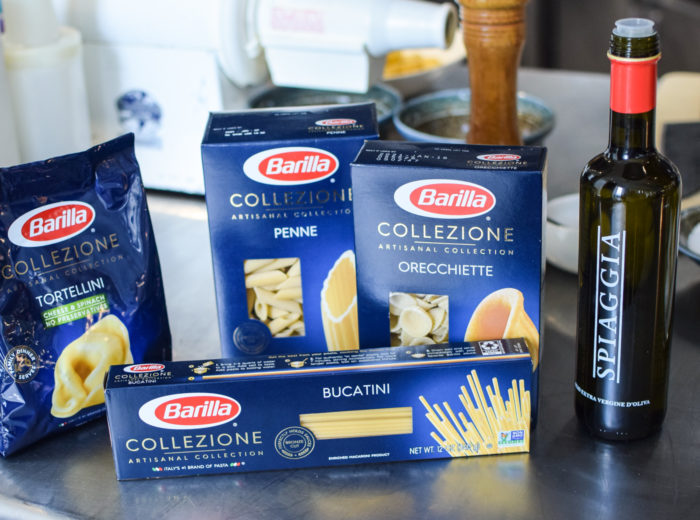 There have been moments in my blogging career when I've looked around me, taken note of what I'm doing, who I'm with and what I'm eating and thought, "This is REALLY cool." This week, I had a BIG one of those moments.
I was invited by one of my favorite brands, Barilla, to join them for lunch at one of Chicago's most beautiful restaurants, Spiaggia, and enjoy a meal made by one of the most talented and celebrated chefs in Chicago, Top Chef winner Joe Flamm. Oh, and on top of that, a couple of casual guests, Roger Federer and Mikaela Shiffrin, who are in town for the Laver Cup, would be in attendance. Ummm... RSVP YES to that!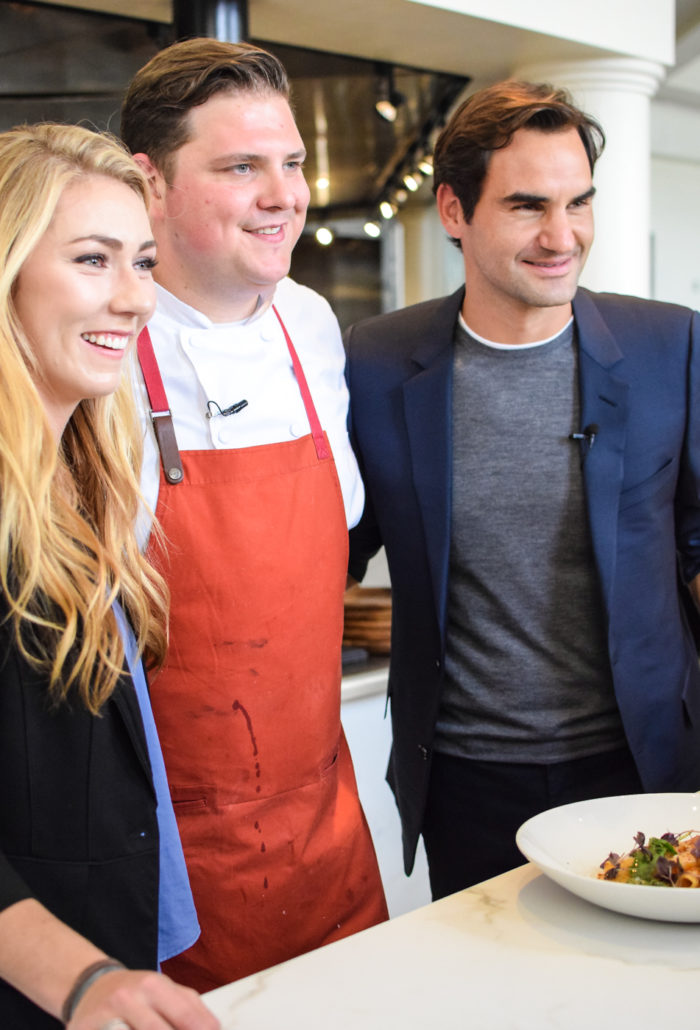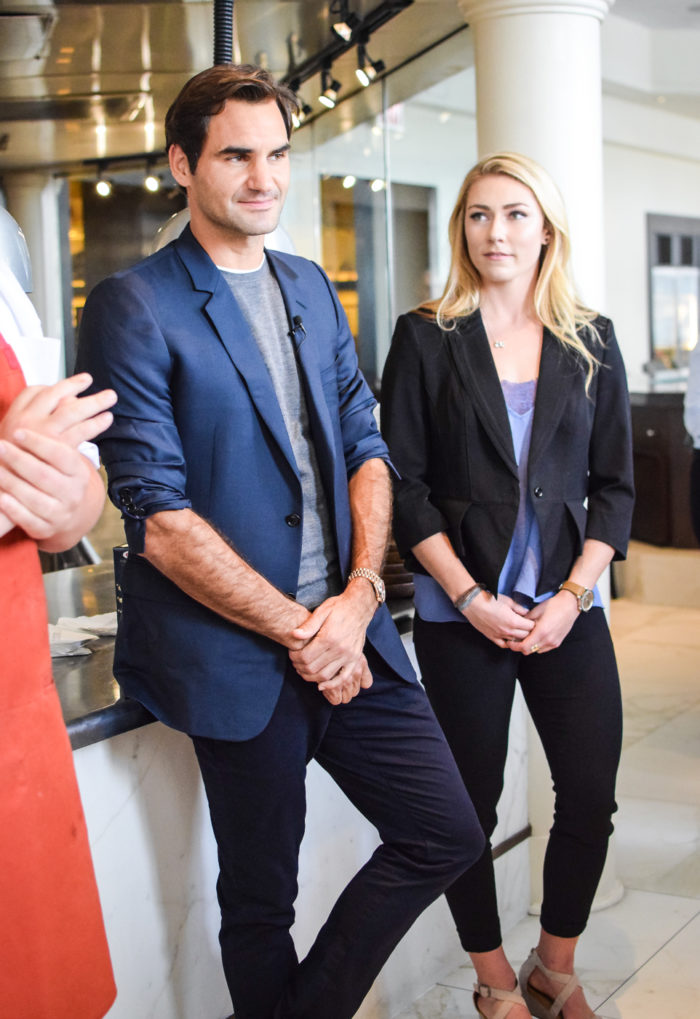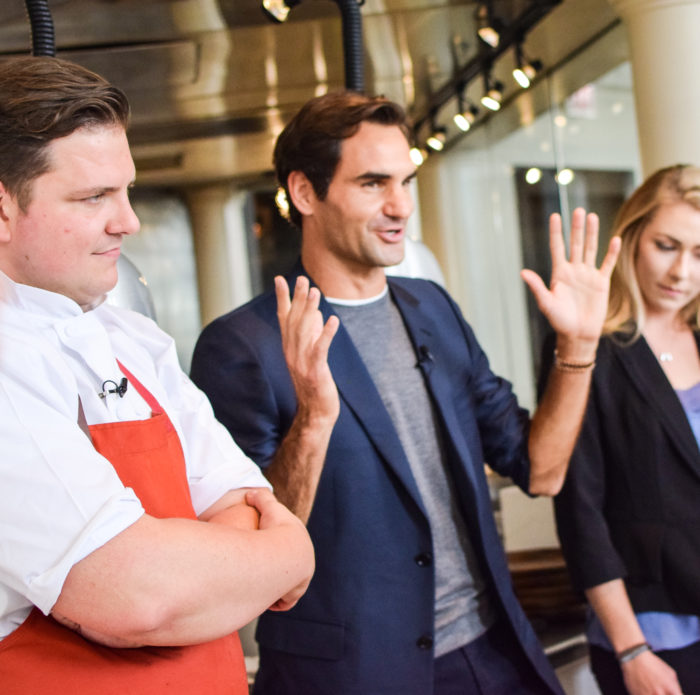 *This post may contain affiliate links. See disclosure for further details.
The lunch was lovely. We were greeted by the door with glasses of Prosecco and treated to small bites as we mingled and caught up. I headed over to the table to snap some photos before everyone settled in. It was gorgeous! A quick peek at the place settings revealed I'd be sitting next to some of my favorite bloggers and across from two time Olympic gold medalist, Mikaela Shiffrin. Nbd.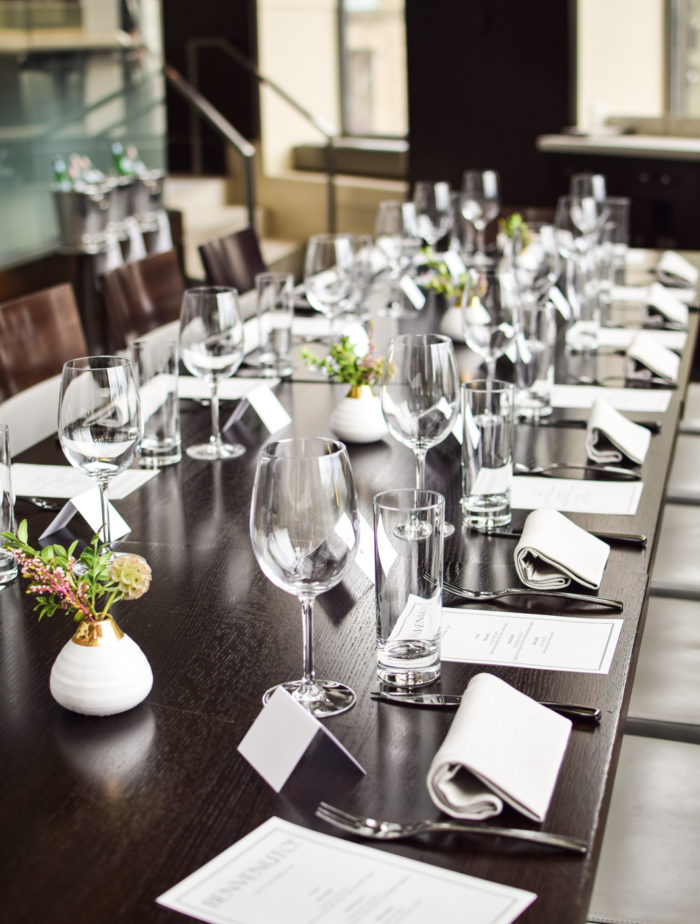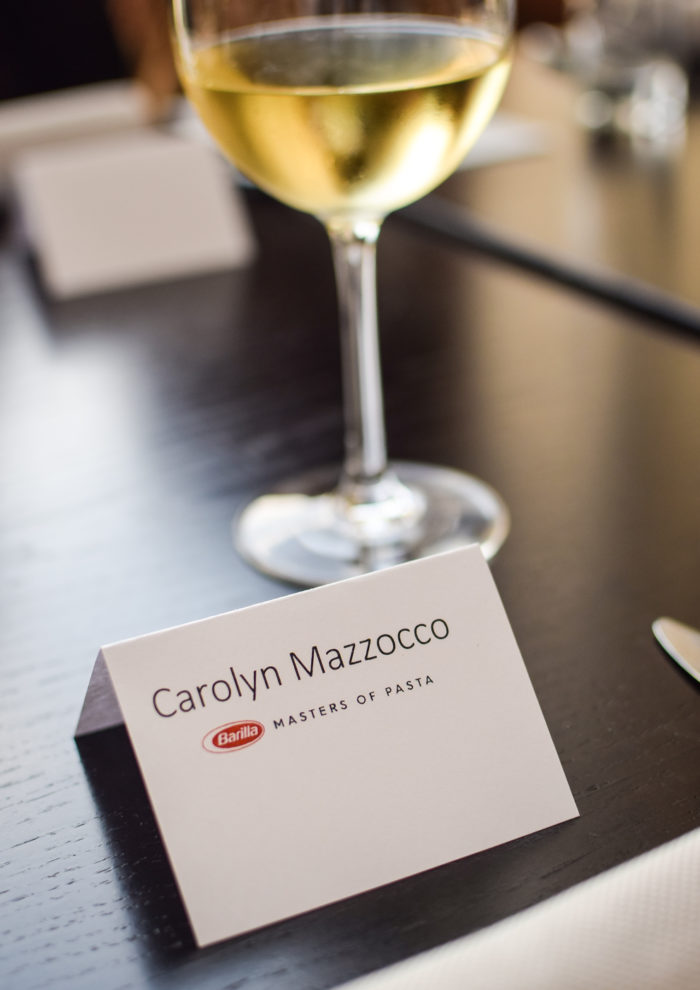 We were treated to a demo by chef Joe Flamm next. Joe showed us how he uses Barilla Collezione rigatoni in a beautiful Pomodoro Fresco dish. I picked up a tip that I can't wait to try at home (fresh AND dried tomatoes for extra flavor!) and snapped a few action shots. I love a cheese grating shot! Speaking of cheese grating shots, when I was recounting my experience to my boyfriend and looking through my photos, I said, "I got a good cheese grating shot!" to which he replied, "Of Roger Federer? Grating cheese with his tennis racket?" which cracked me up and honestly is the best idea for the next Barilla commercial, if you ask me. You heard it here first!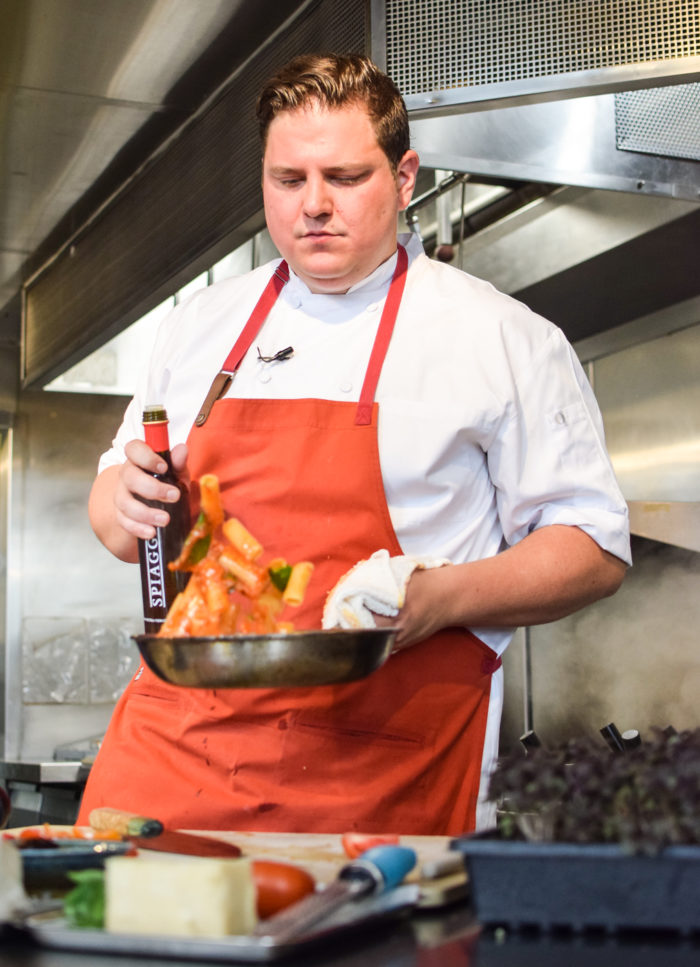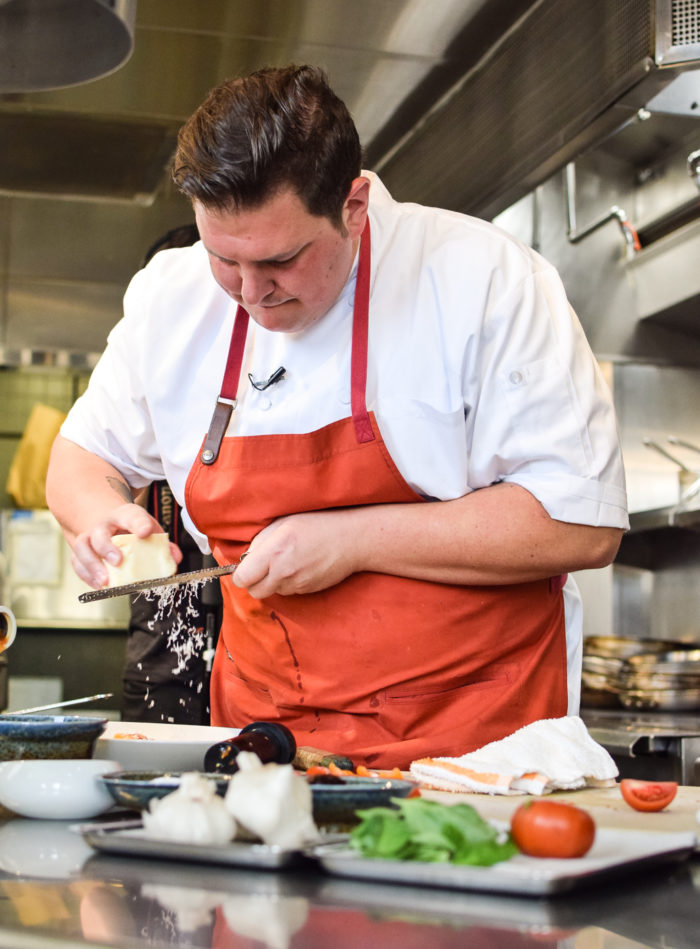 After the demo it was time for lunch and I was SO excited. I couldn't wait to try the rigatoni dish I had just seen being prepared. But first, a dish that completely blew me away and almost made me forget that pasta was coming next! Jk, nothing can make me forget about pasta. This first course though, Bluefin Tuna with Veal Aioli, Crispy Caper and Smoked Wagyu was just incredible and so beautiful! Next was that Pomodoro Fresco dish that I had been waiting on and it did not disappoint! The sauce clung perfectly to each piece of pasta. That's the cool thing about the Barilla Collezione line, the pasta is cut using traditional Italian bronze plates, giving it a rougher texture that holds sauce perfectly. I loved every bite.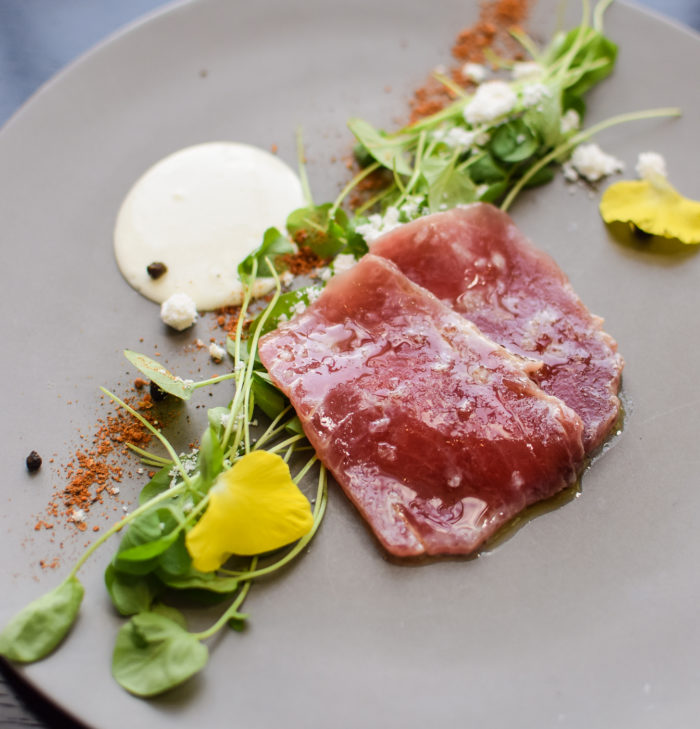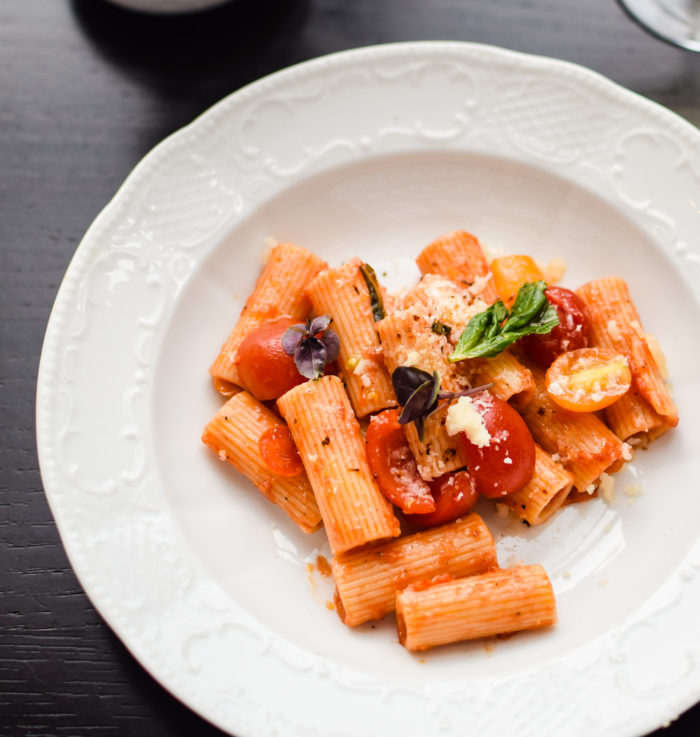 The meal finished with a beautiful dessert and some espresso and we were sent home with boxes of Barilla Collezione to use at home. I couldn't wait to get started on a recipe of my own!
Below you'll find my recipe for Casarecce with Shrimp and Garlic Breadcrumbs using Barilla Collezione Casarecce. I hope you love it!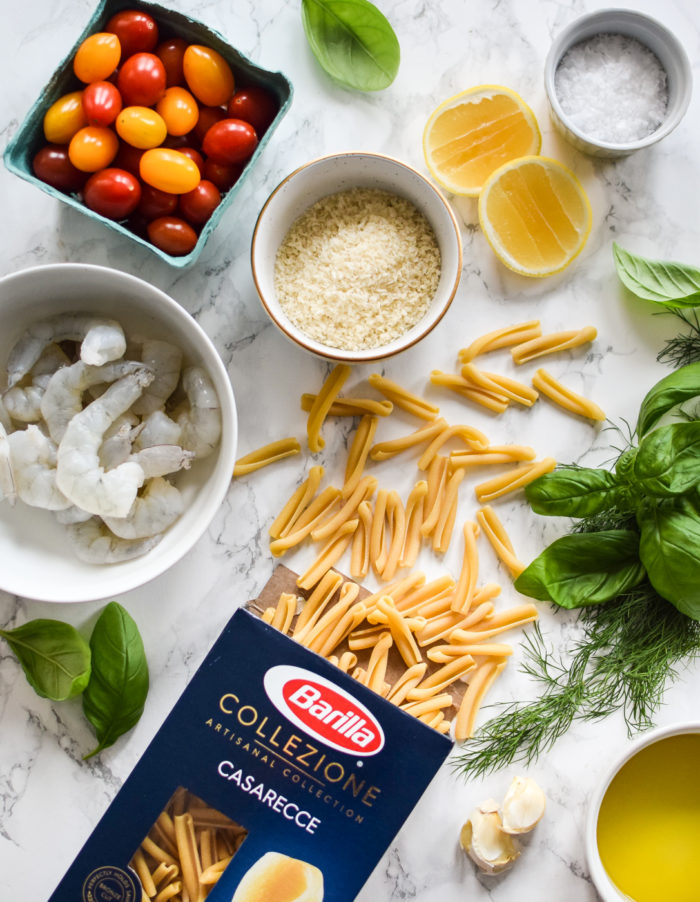 I decided to use the Casarecce for my recipe. This shape of pasta is quickly becoming one of my favorites because of it's texture and bite. In my opinion, pasta is best with simple and fresh ingredients, and since we're right in that sweet spot where late summer/early fall tomatoes are at their best, I decided to use those.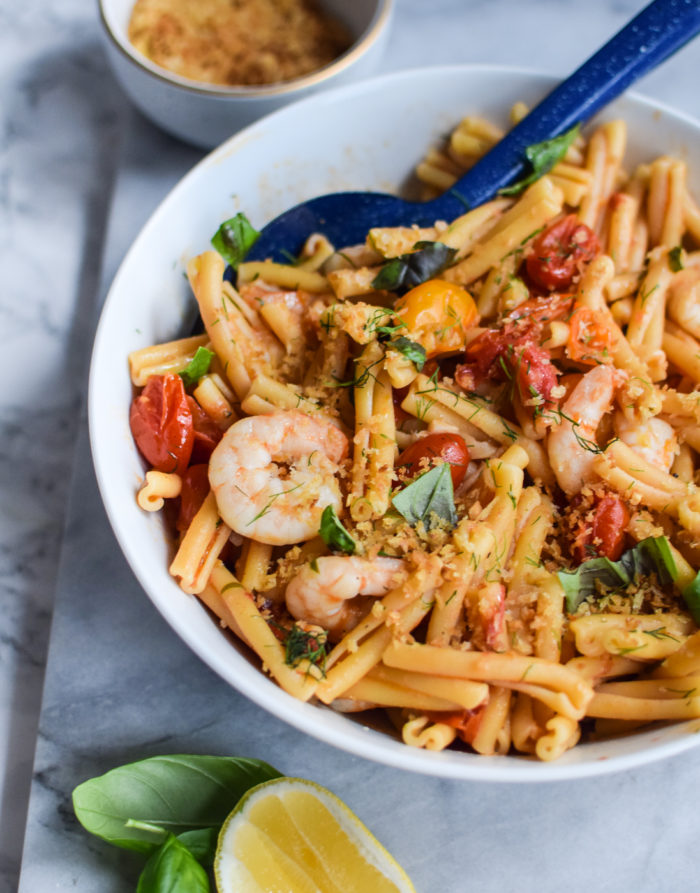 Shrimp, tomatoes, fresh herbs, and delicious garlicky breadcrumbs. What more could you want? I love the addition of dill in the recipe as opposed to the usual basil and parsley. It's unexpected and works deliciously!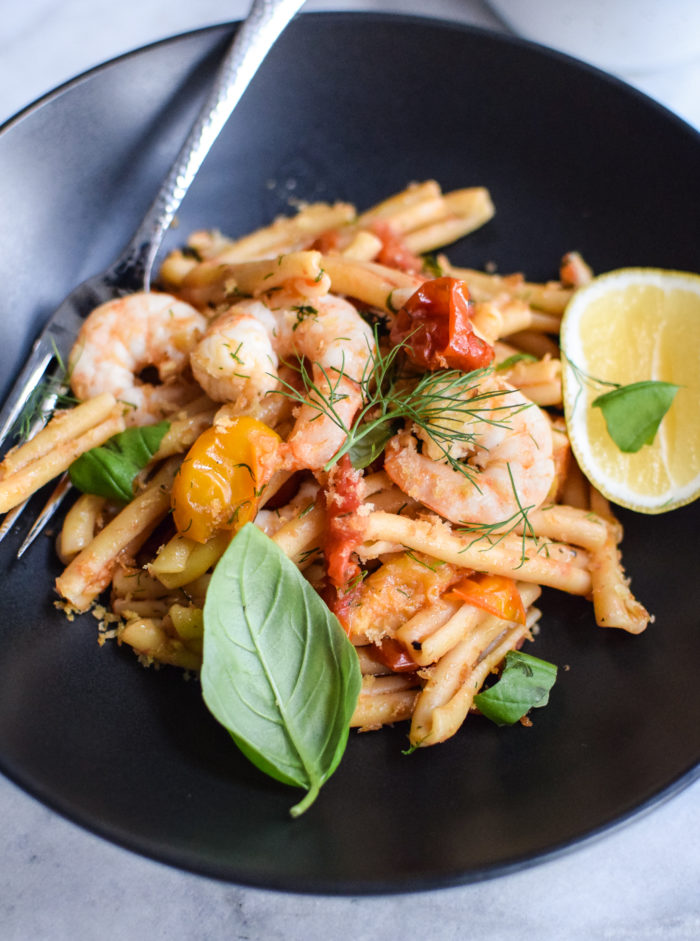 This is a dish that anyone can make, it'll be on your table in under 30 minutes, and it's packed with flavor. Sound good? To me too.
I hope you'll love this recipe as much as I do! If you are interested in hanging out with Barilla at the Laver Cup Fan Village, click here for more info.
You might also like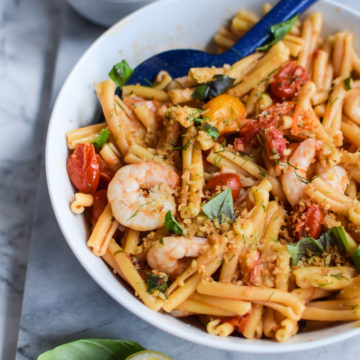 Casarecce with Shrimp and Garlic Breadcrumbs
This pasta dish is packed with flavor and will be on your plate in under 30 minutes!
Ingredients
1

12 ounce

Box Barilla Collezione Casarecce

3

Tablespoons

olive oil

2

Cloves garlic

minced

1

Tablespoon

tomato paste

2

Cups

cherry tomatoes

¼

Cup

dry white wine

½

Pound

large raw shrimp

peeled and deveined

Kosher salt

Fresh dill

roughly chopped

Fresh basil

torn

Lemon wedges

for serving
For the garlic breadcrumbs
2

Tablespoons

olive oil

2

Cloves garlic

minced

¼

Cup

Panko breadcrumbs

Large pinch of kosher salt
Instructions
Bring a large pot of salted water to a boil. Halfway through making the sauce, drop the Casarecce into the water, stir, and cook as the package indicates for "al dente."

Meanwhile, make the sauce. In a large pan, heat the olive oil over medium heat. Add the garlic and cook for 1 minute. Add the tomato paste, stir it into the garlic and cook for 1 more minute. Add the cherry tomatoes and season with large pinches of salt and pepper. Let the tomatoes cook until they burst and start to break down; about 10 minutes.

Add a splash of white wine to the sauce and scrape the pan for any garlicky bits. Stir in the shrimp and cook until opaque; about 5 minutes.

Make the garlic breadcrumbs. In a small nonstick pan, heat the olive oil over medium heat. Add the garlic and cook for 1 minute. Add the Panko breadcrumbs and the salt. Stir constantly, until the breadcrumbs are golden brown; 3-5 minutes. Transfer to a bowl.

Reserving ½ Cup of the pasta water, drain the pasta and add it to the pan with the sauce. Toss the pasta with the sauce to coat. If needed, add the pasta water to loosen the sauce. Transfer the pasta to a large serving bowl and top with the breadcrumbs, and as much basil and dill as you like. Serve with lemon.