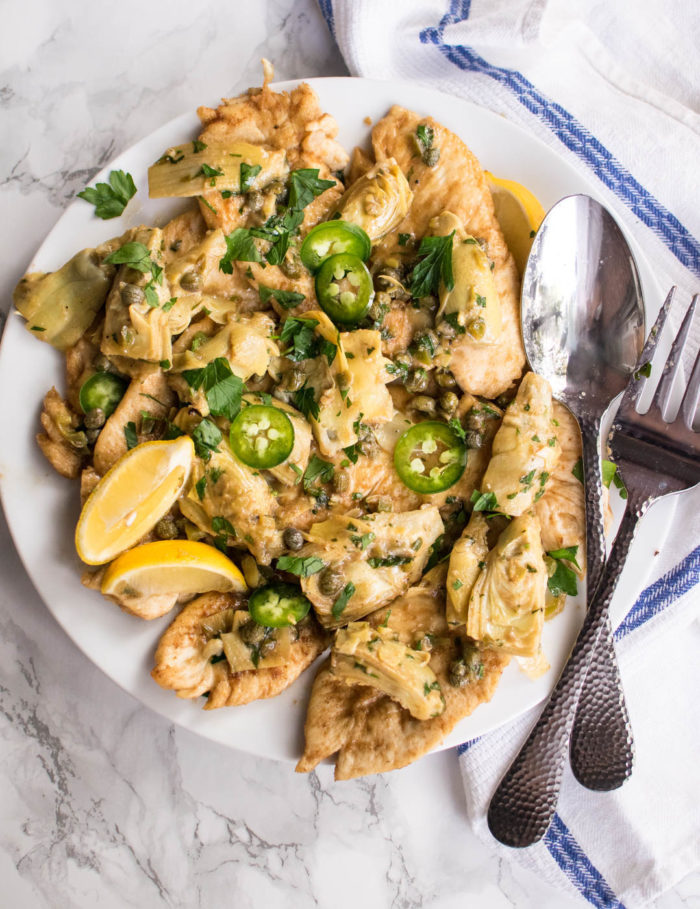 Everybody loves Chicken Piccata, right? Such a classic! While classics are always, well, classic, sometimes they need a little spicing up. That is exactly (literally) what I'm doing here! You're going to love the new, spicy chicken piccata.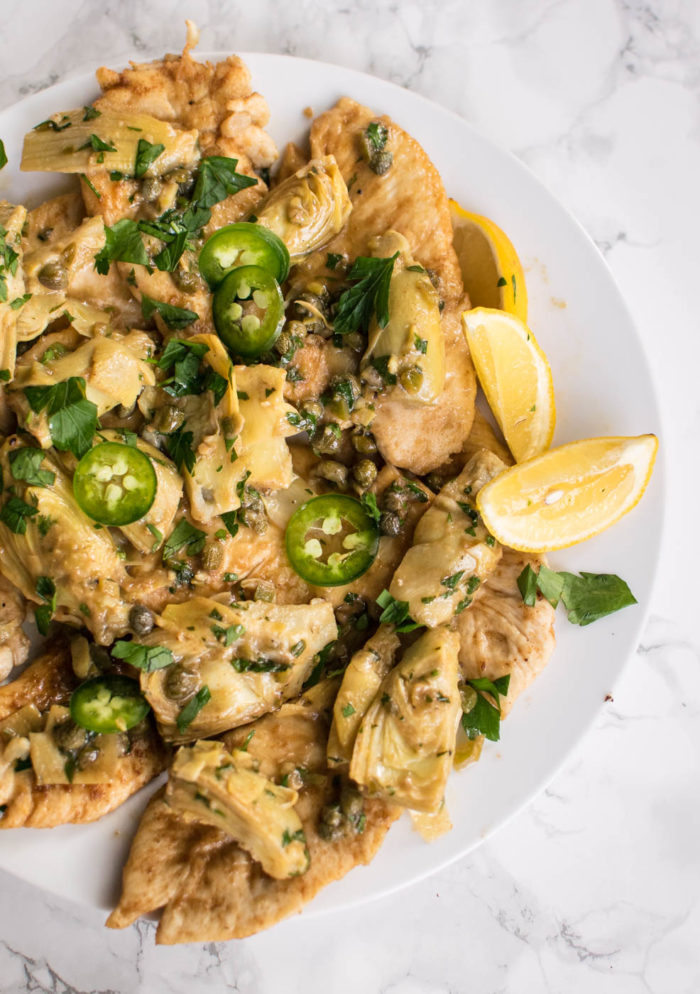 *This post may contain affiliate links. See disclosure for further details.
One of the most important parts of this recipe is the thickness (or should we say thinness) of the chicken. The chicken breasts should be pounded to about a fourth of an inch thick and they should be evenly pounded! That's very important because you don't want the chicken to cook unevenly and, with the chicken being so thin, it'll cook fast and you don't want to over cook it. So, grab some plastic wrap and lay the chicken breasts down in between two pieces and pound with a meat mallet until they are uniformly an eighth of an inch thick. Easy! And kind of fun?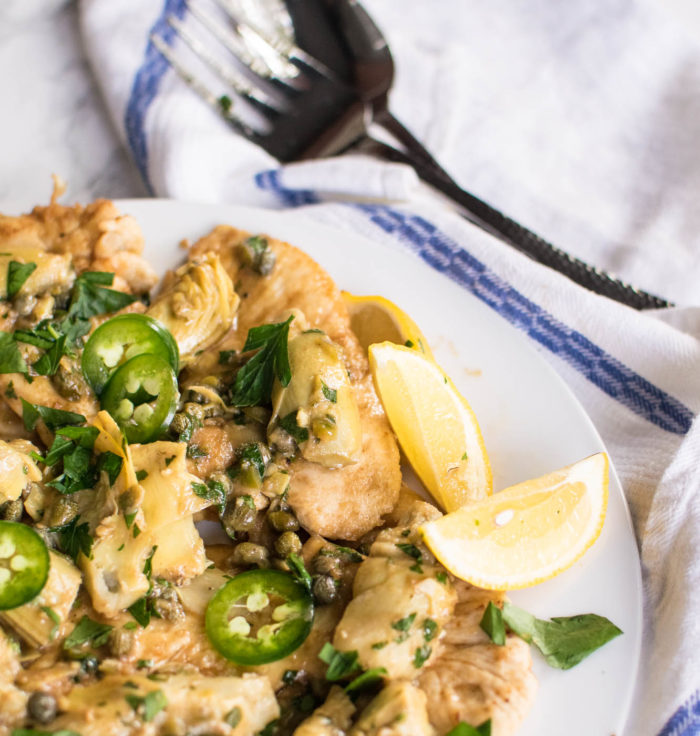 I like to get all my ingredients in place before I start cooking and don't worry I'm not trying to claim that I invented this concept or anything ("mise en place" ring any bells?!) but I know that lots of people don't actually do it and then end up scrambling to chop while checking on the cooking and, let's face it, that's just a recipe for disaster. If you want to end up totally flustered with over cooked food and possibly a knife cut, go that route. But please don't go that route.
So anyway, you've got your chicken pounded, your jalapeños chopped, capers measured out, artichokes thawed, dredging flour ready—you're totally prepared for a super fast and easy recipe!
And now that you've finished cooking, pour yourself a glass (or two) of that white wine you had to open for the recipe. Cheers!
You might also like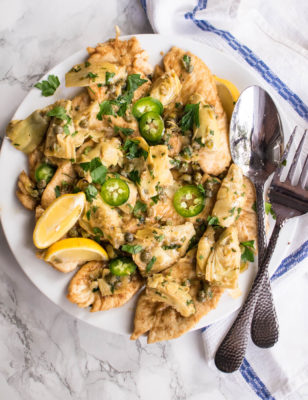 Chicken Piccata with Artichokes and Jalapeños
A spicy version of the classic chicken piccata
Ingredients
3

Chicken breasts

pounded to ¼ inch thick

5

Tablespoons

unsalted butter

divided

2

Tablespoons

olive oil

¼

Cup

all purpose flour

1

Teaspoon

kosher salt

⅛

Teaspon

garlic powder

optional

3

Ounces

frozen artichokes

thawed

2 ½

Tablespoons

capers

rinsed and drained

1

Jalapeño

chopped

¼

Cup

dry white wine

1

Lemon

juiced plus more wedges for serving

Fresh parsley

roughly chopped
Instructions
Place the chicken breasts between two pieces of plastic wrap and, with a meat mallet, pound them to ¼ inch thickness.

On a large plate, make the dredging flour. Mix the flour, salt, a pinch of pepper and a pinch of garlic powder if using. Dredge each piece of chicken in the flour mixture and shake off any excess.

Heat 3 tablespoons of butter and 2 Tablespoons of olive oil in a large sauté pan over medium high heat. Add the dredged chicken breasts to the pan and cook until done, flipping once; About 5 minutes.

Remove the cooked chicken from the pan and place on a plate, set aside.

Add the wine to the pan and scrape up all the brown bits. Cook down for about 3 minutes. Add the remaining butter to the pan. Add the artichokes, jalapeños, capers and lemon juice and some of the parsley; Cook for another 3-5 minutes. Spoon the sauce over the chicken.

Garnish with more parsley and jalapeños. Serve with lemon wedges and a glass of wine!