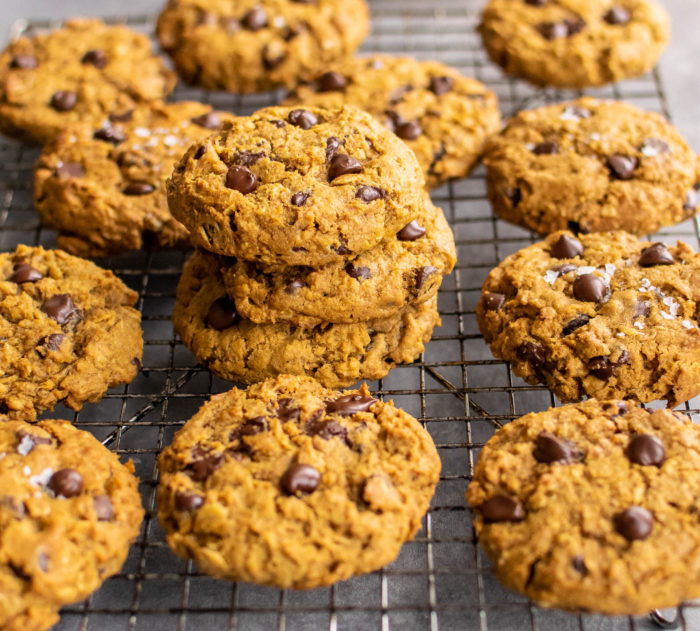 These Pumpkin Oatmeal Chocolate Chip Cookies are the perfect seasonal treat! Pumpkin spice meets oatmeal chocolate chip— what's not to love?
Oatmeal chocolate chip has always been my favorite kind of cookie so I thought doing a fall twist, and making them PUMPKIN oatmeal chocolate chip, would be delicious. Spoiler alert: I was right! Call me basic, but I love a good pumpkin treat during the fall!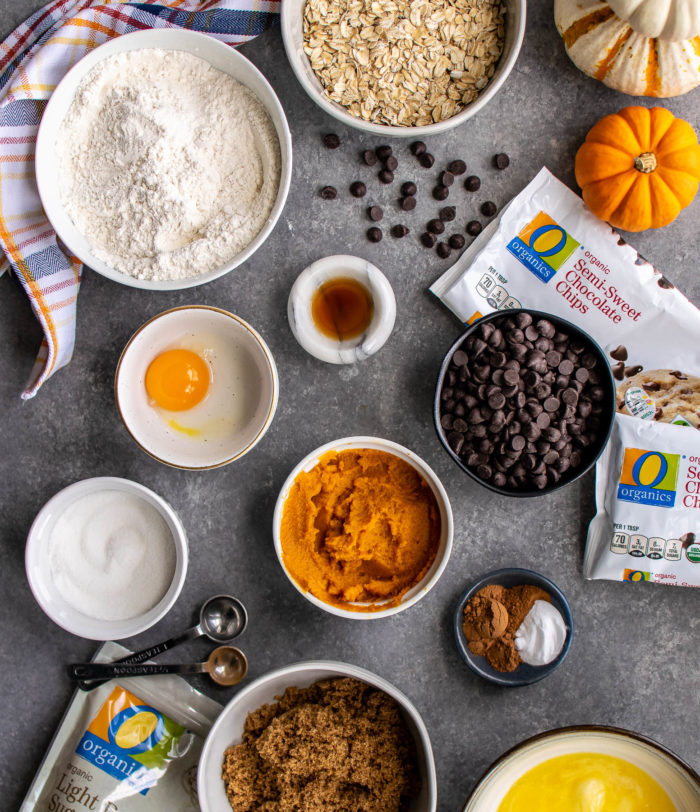 *This post may contain affiliate links. See disclosure for further details.
To get the ingredients I needed for the cookies, I headed to my local Jewel-Osco. They have a great selection and I love using products from their O Organics® line. Jewel-Osco stands behind their exclusive brands with a 100% money-back guarantee so I always know I'm getting good quality products I can trust!
Jewel is a great one stop shop, which is especially important to me in these times, and I know I can get everything I need in one trip. They also offer Grocery Delivery and DriveUp & Go™ for convenient ways to shop! Along with all of the cookie ingredients, I found these fun pumpkin serving dishes! How cute are they?!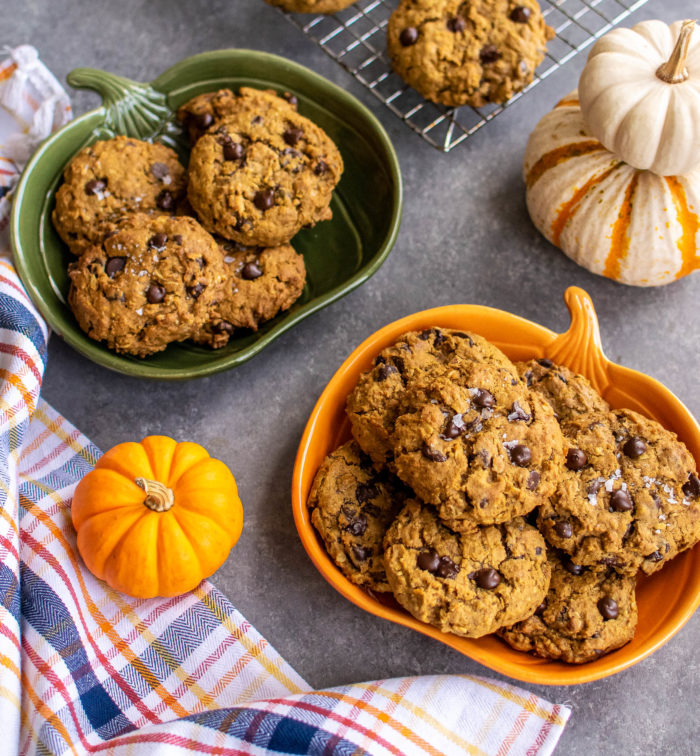 What makes these cookies stand out from regular oatmeal chocolate chip cookies is the pumpkin (of course) but also the pumpkin pie spice! This O Organics pumpkin spice was the perfect addition to the cookies, adding that little something extra that makes them so good!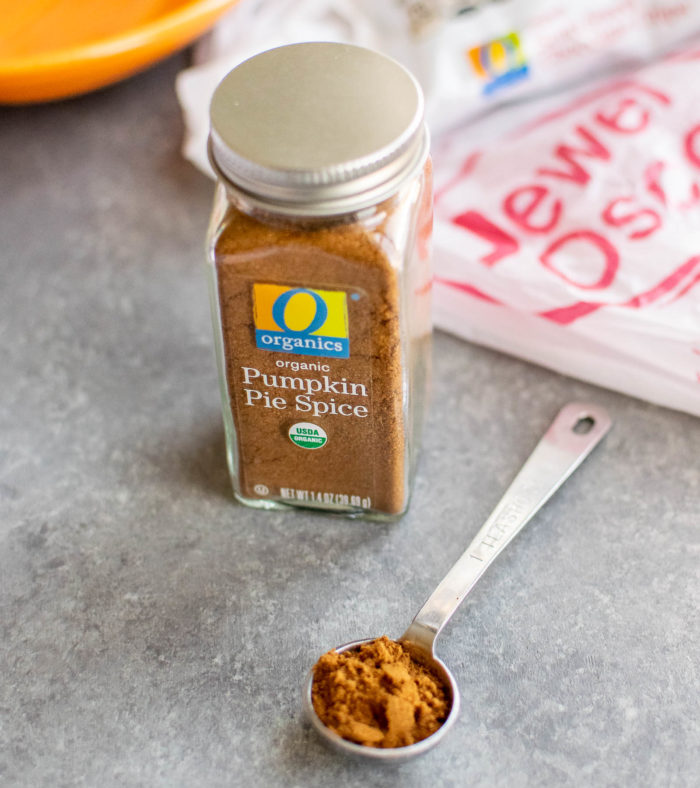 Making the cookies is easy and you can use a stand mixer or a hand mixer. Just whisk the dry ingredients together in one bowl, cream the wet ingredients and the sugar together in another, and combine the two to make the dough.
Once your dough is mixed, you'll need to chill it. Chilling the dough is a crucial step! If the dough isn't chilled, the cookies will spread too much while baking and won't have the right texture. I like to scoop the dough out with an ice cream scooper onto a parchment lined baking sheet first, and then put the baking sheets into the refrigerator to chill. If you can't fit the baking sheets in your fridge, you can just chill the dough in the bowl, and scoop it onto baking sheets after it's chilled.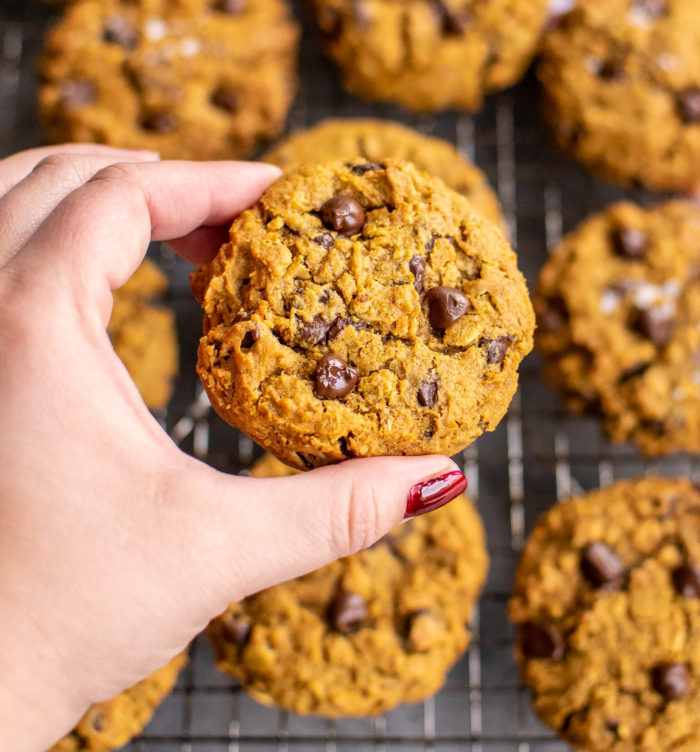 Other than chilling the dough, another important thing to remember is that each oven is different! While it may take 13 minutes to bake the cookies in my oven, it could take 15 for yours. Be sure to check on the cookie around the 12 minute mark to be safe! The cookies are ready when the edges are golden brown but the middles still look soft. Pressing a few extra chocolate chips into the soft cookies right when they come out of the oven makes them look extra pretty and instagram worthy—just saying!
I can't wait for you guys to try these cookies! They've quickly become one of my favorite fall treats. I shopped at Jewel-Osco, but you can also find all things pumpkin at the Albertsons Companies family of stores, including Albertsons, Safeway, ACME Markets, Jewel-Osco, Randalls, Shaw's Supermarket, Star Market, Tom Thumb and Vons. Just don't forget the ingredients for these cookies—I know you'll love them!
This is a sponsored post written by me on behalf of Jewel-Osco. All opinions are 100% mine.
You might also like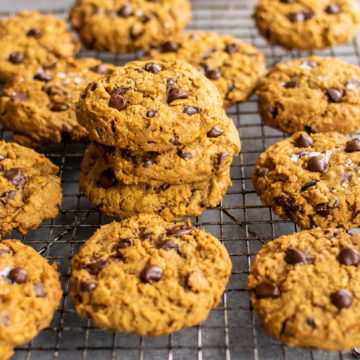 Pumpkin Oatmeal Chocolate Chip Cookies
These Pumpkin Oatmeal Chocolate Chip Cookies are the perfect seasonal treat! Pumpkin spice meets oatmeal chocolate chip— what's not to love?
Ingredients
2 Cups all purpose flour
1 ½ Cups quick oats
2 Teaspoons pumpkin pie spice
1 Teaspoon baking soda
½ Teaspoon cinnamon
½ Teaspoon kosher salt
¾ Cups unsalted butter melted and cooled
1 ½ Cups light brown sugar
½ Cup white sugar
1 Large egg yolk
1 Cup pumpkin purée
1 ½ Teaspoons vanilla extract
1 ½ Cups semi sweet chocolate chips
Flaky sea salt (optional)
Instructions
Pre heat oven to 350 degrees and line two large baking sheets with parchment paper.

In a large bowl, whisk the flour, pumpkin pie spice, baking soda , cinnamon, and salt together until well combined. Stir in the oats.

In the bowl of a stand mixer (or using a hand mixer) cream the butter and sugar together. Add the egg, pumpkin, and vanilla extract and blend until well combined and creamy.

Slowly add the dry ingredients to the bowl and mix on low speed, until combined. Add the chocolate chips and mix again.

Scoop the dough onto two parchment lined baking sheets, spacing 2-3 inches apart. Place the baking sheets in the refrigerator to chill for 1 hour. You can also chill the dough in the bowl and scoop onto baking sheets after it's chilled.

Bake for 13-15 minutes, or until browned at the edges but soft in the middle. Let the cookies rest on the baking sheets for a few minutes before transferring them to a wire rack to cool. Sprinkle with flaky sea salt, if using.

Enjoy pumpkin season!