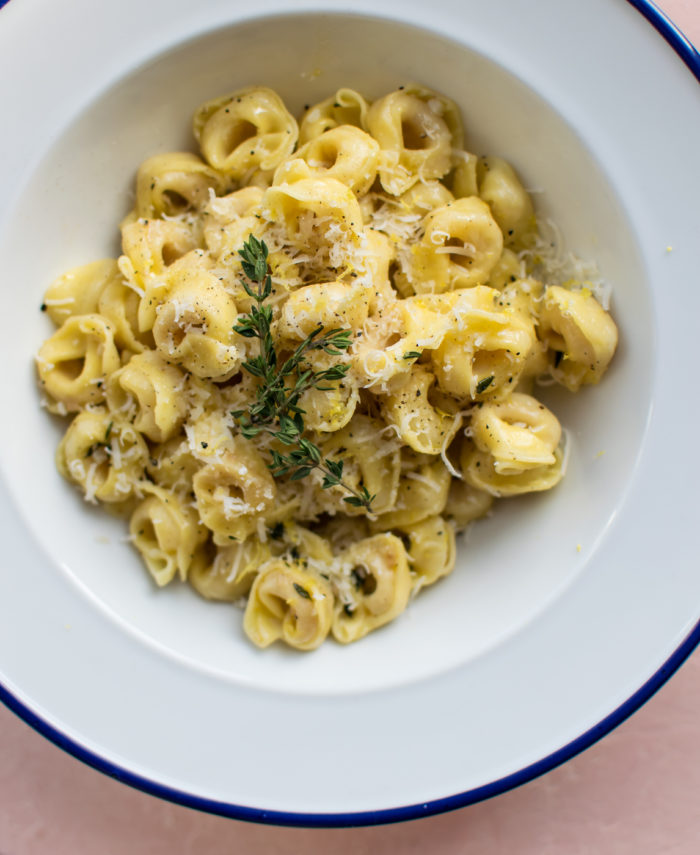 Nothing better than an easy weeknight dinner that can be on the table in 15 minutes, am I right? This Tortellini with Lemon Butter Sauce is so simple and easy to make, yet flavorful and totally satisfying!
Even though I always have a few bags of tortellini and ravioli in my freezer, I always forget to use them! Usually when I'm making pasta (which is a lot) I reach for the linguine or bucatini but I was cleaning out my freezer recently and found my tortellini stash—I vowed to make more tortellini dinners!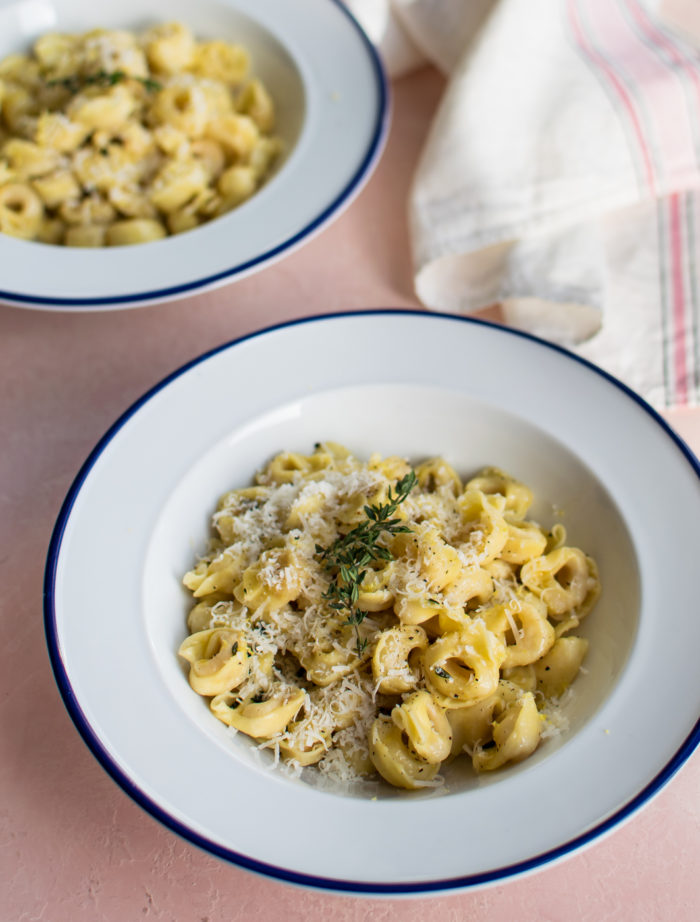 *This post may contain affiliate links. See disclosure for further details.
I love this sauce for weeknight dinners because of how easy it is to make, but it's also great because the flavors are so simple, you're still able to taste the tortellini! I feel like tortellini is so often served drowning in a sea of creamy sauce that you can't even tell what the filling is. You won't have to worry about that with this recipe—this sauce highlights the tortellini, it doesn't overwhelm it!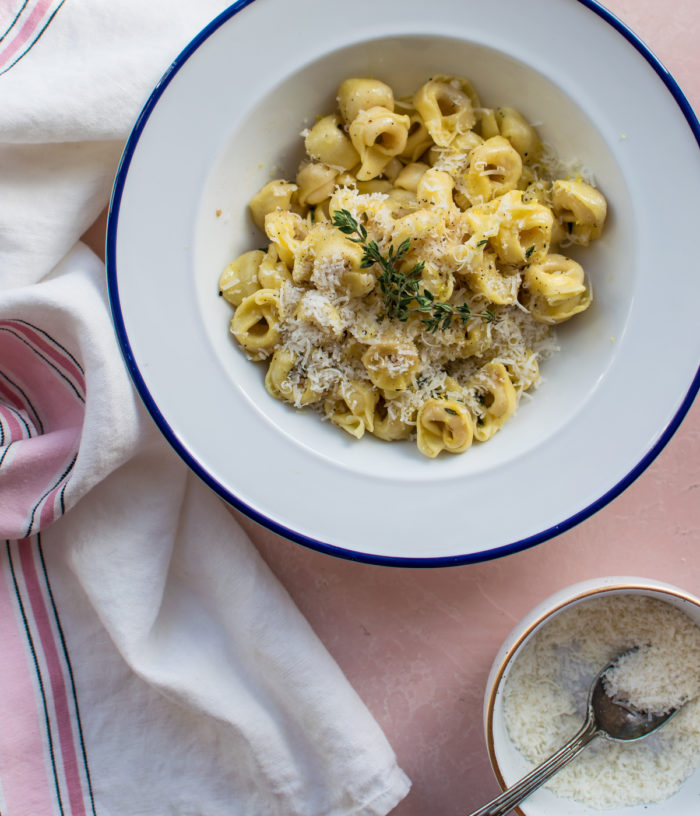 Speaking of the sauce, it comes together SO fast. This is a good thing, of course, but can also be a little tricky when you're trying to time everything right. You want to make sure you can transfer the tortellini right into the sauce without the garlic in the sauce burning so make sure you start cooking the pasta before you start the sauce! Cooking times for the tortellini are going to vary depending on what package you buy so make sure to check the instructions. If you've already started the sauce but the tortellini needs a couple more minutes, just take the sauce off the burner so that the garlic doesn't burn.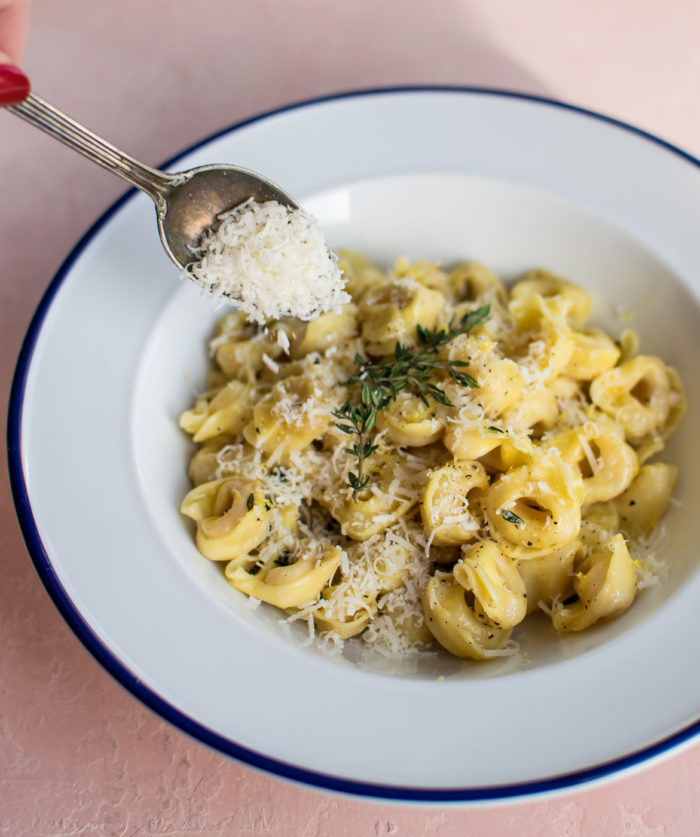 Now, if you're thinking that this recipe is just a whole bunch of carbs, cheese and butter...you're right. You could add a handful of arugula to "health it up" if you wanted to but honestly, don't we all deserve a bowl of buttery, cheesy carbs?! The answer is yes!
You might also like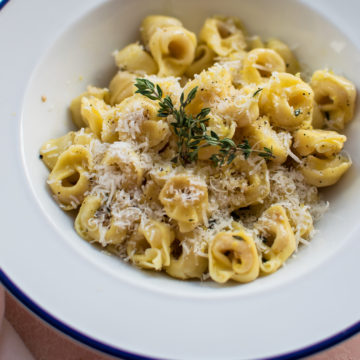 Tortellini with Lemon Butter Sauce
This Tortellini with Lemon Butter Sauce is so simple and easy to make, yet flavorful and totally satisfying!
Ingredients
1

12 Ounce

package cheese tortellini

2

Tablespoons

unsalted butter

1

Tablespoon

olive oil

2

Cloves garlic

minced

1

Tablespoon

fresh lemon juice

1

Teaspoon

fresh thyme

1

Teaspoon

lemon zest

plus more for garnish

Salt and pepper

to taste

Parmigiano Reggiano cheese

grated
Instructions
Bring a large pot of salted water to a boil and cook pasta to one minute less than the package directions state.

Meanwhile, heat butter and oil in a large skillet until the butter starts to foam. Add the garlic and cook for 1 minute. Add the thyme, the lemon zest, and the lemon juice. Season with salt and pepper to taste.

Reserve one cup of pasta water and drain the pasta. Add the pasta to the pan with the sauce along with ½ cup of the reserved pasta water and toss to coat, adding more pasta water as needed.

Serve with grated Parmigiano Reggiano, more lemon zest and pepper.