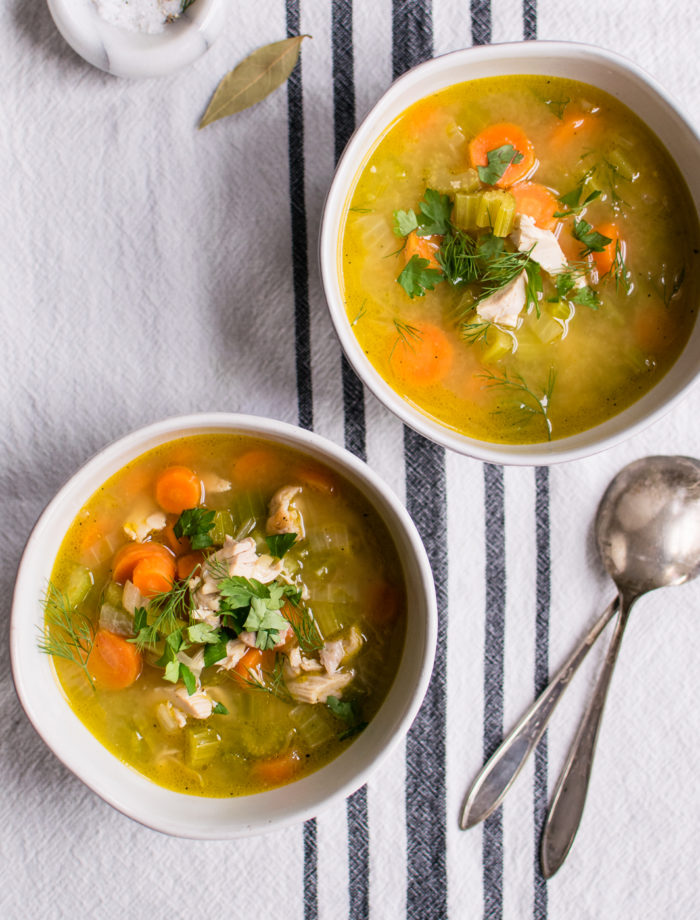 I make this when I want a cozy bowl of chicken soup but I don't feel like simmering it for hours. I found the best way to get flavorful chicken soup in a fraction of the time is to use chicken thighs and to cook them separately first, then add them to the broth!
Chicken thighs are juicier and more tender so you'll get the best texture and flavor from them. Of course you could use chicken breasts but since we're not simmering this soup for long, the meat from the chicken breasts might still be a little tough. Trust me, thighs are the way to go here!
*This post may contain affiliate links. See disclosure for further details.
I always choose boneless, skinless chicken thighs because they cook fast and I can always find them at the grocery store. However, bone-in thighs will work as well! While you've got the soup simmering on the stove, season the chicken thighs liberally with salt and pepper and cook them for about 5 minutes on each side in a large skillet. When the chicken is just cooked through, transfer it to a plate, shred it, and add it to the soup. I like to let the chicken simmer in the soup for another 10 minutes so that the flavors can come together.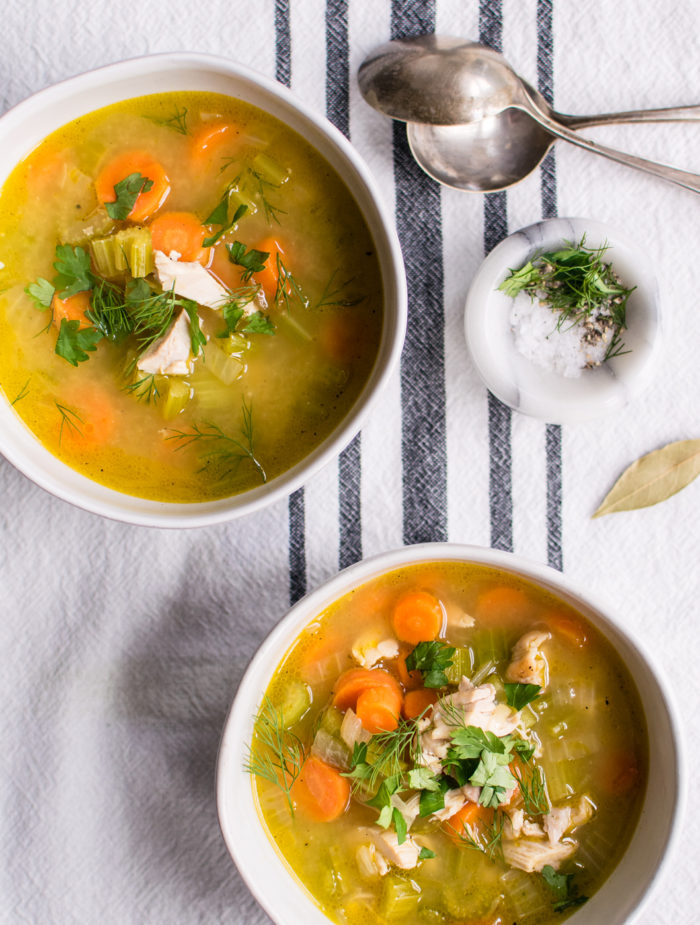 You may have noticed that I have not mentioned noodles in this post and that is because...this is chicken soup, not chicken noodle soup! Shockingly, I usually prefer my chicken soup to be noodle-less because it already fills me up and I like to feel all healthy when I'm eating it. Obviously, you can add noodles or rice to the soup if you please. I would cook the noodles or rice separately and then add the amount you want to your bowl. That way, if you have leftovers, the noodles won't get soggy in the broth.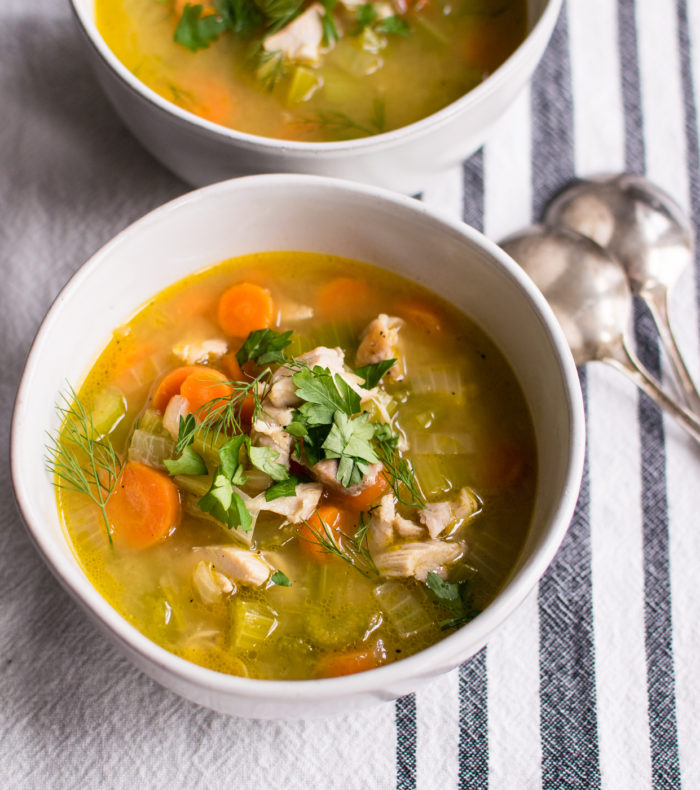 I always add parsley to my soups but for this soup, I love adding dill as well. If you've never had dill in your chicken soup, you need to try it! The fresh herbs brighten everything up and add lots of flavor. A Very important addition, in my opinion.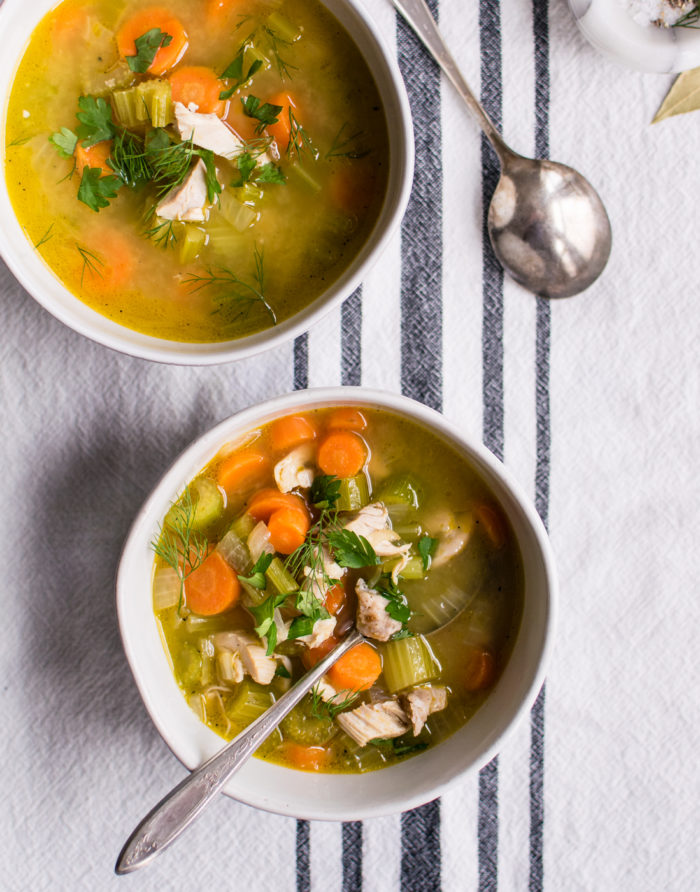 I don't usually bother trying to fish out the bay leaves from the pot so I just tell people, if you find the bay leaf in your bowl—that means good luck! Just don't eat it.
I hope you'll use this recipe next time you're feeling under the weather or are just in need of some cozy, comforting food.
You might also like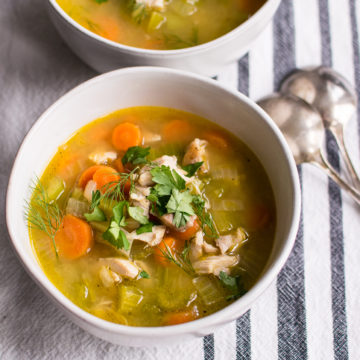 Easy Chicken Soup
This recipe is perfect for when you want a cozy bowl of soup, fast!
Ingredients
3

Tablespoons

olive oil

½

Large yellow onion

diced

3

Carrots

sliced into rounds

3-4

Celery stalks

sliced

4

Cups

low sodium chicken broth

4

Cups

water

2

Dried bay leaves

Salt and Pepper

to taste

Fresh parsley

roughly chopped

Fresh dill

roughly chopped
For the Chicken
1-2

Tablespoons

olive oil

3-4

Boneless, skinless chicken thighs

½

Teaspoon

garlic powder

Salt and pepper
Instructions
In a large, heavy bottomed pot, heat the oil over medium heat. Add the onions, carrots and celery and season with salt and pepper. Stir and cook the vegetables until tender; about 5-7 minutes.

Add the chicken broth, water, and bay leaf and bring to a boil. Lower the heat, and simmer for 20 minutes.

Meanwhile, make the chicken. Season the chicken thighs liberally with salt, pepper and the garlic powder. In a large skillet or cast iron pan, heat the olive oil over medium high heat. Cook the chicken thighs for 5 minutes on each side. Remove the chicken to a plate and cut into pieces.

Add the chicken to the broth and simmer for an additional 5-10 minutes to meld all the flavors.

Taste the soup and adjust seasoning to taste, adding more salt or pepper as needed.

Ladle the soup into bowls and garnish with fresh parsley and dill.