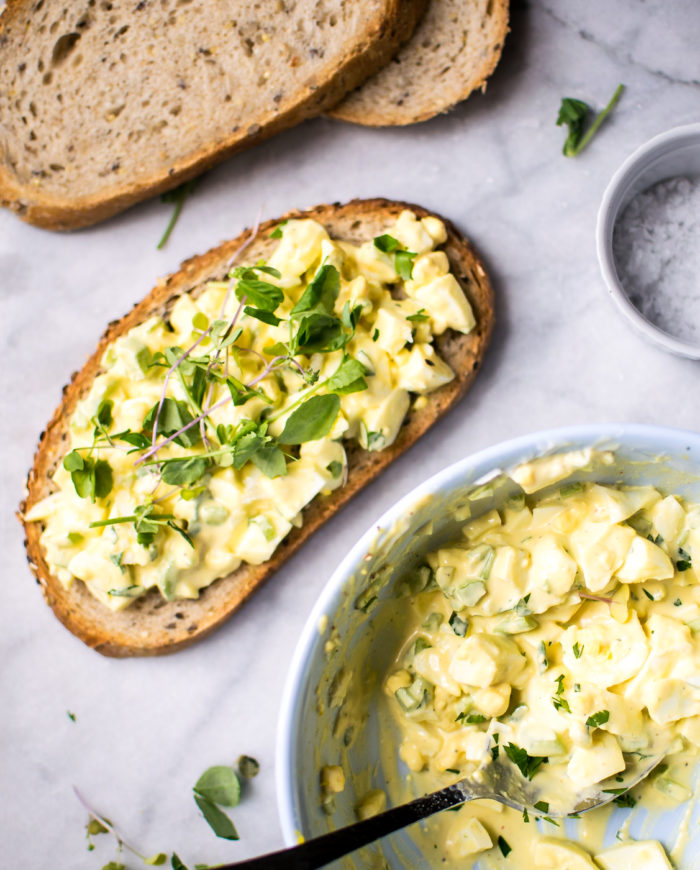 I have to admit something: When I was a kid, I didn't like egg salad. I'm not sure if I tried somebody's that I didn't like and then figured all egg salad tasted that way or what but that means that I spent years of my life missing out on one of my, now, favorite dishes! Don't worry, I've spent the last few years making up for it as it is now one of my staples. I like the make a big batch early in the week and eat it over the next coming days. It's definitely a great thing to have on hand when you're in a hurry or not in the mood to cook!
Most egg salad recipes, including mine, use celery and for good reason! That fresh crunch mixed with the creamy eggs is just perfect—there's no need to mess with it! What makes this recipe different than others is that I take it a little further with that "freshness". Using scallions, parsley and lemon help lighten this egg salad up a bit. I usually spread some on top of a piece of toasted multi grain bread and then top with micro greens and some sea salt for an open faced version of an egg salad sandwich. Of course, there are also those times when I just sneak a couple spoonfuls right out of the fridge, it's that good!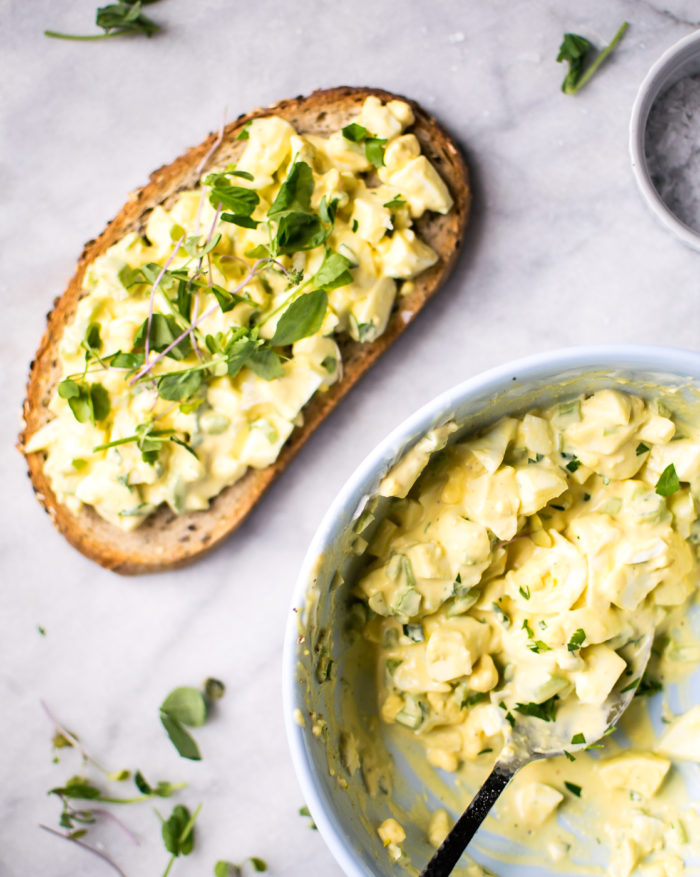 *This post may contain affiliate links. See disclosure for further details.
This recipe couldn't be more simple to make. Boil some eggs, do some chopping and mixing and you're done! If you have your tried and true method of hard boiling eggs, go ahead and do that. If not, here's mine: Place eggs in a large saucepan and fill with cold water only an inch or two over the eggs. Bring the water to a rolling boil. Once boiling, cover the pot and turn off the heat. Let the eggs sit in the water for 12-15 minutes depending on how hard you like them. Carefully remove the eggs with a slotted spoon and place into an ice bath to stop the cooking and then peel! I prefer a slightly softer yolk, so I take the eggs out at 12 minutes. Now all that's left to do is chop and mix! I like my egg salad a little chunky so I do a rough chop on the eggs but if you don't like it that way, chop them up real fine. Whatever you want! I don't know your life. #youdoyou
Alright, I'm getting hungry. Gotta go make some egg salad!
You might also like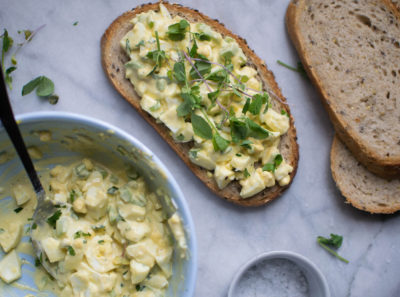 The Best Egg Salad
Ingredients
6

hard boiled eggs

roughly chopped

2

Tablespoon

mayonnaise

1

Tablespoon

dijon mustard

2

Celery stalks

diced

¼

Cup

scallions

thinly sliced

2

Tablespoons

fresh parsley

roughly chopped

Juice from ½ a lemon

Salt and pepper

to taste
Instructions
In a sauce pan, cover six eggs with cold water and bring to a boil. When the water is boiling, turn off heat, cover, and let the eggs sit in the water for 12-15 minutes.

While the eggs are cooking, chop the celery, scallions and parsley.

With a slotted spoon, remove the eggs from the water and place directly into an ice bath. Peel the eggs and chop.

Mix all the ingredients in a large bowl. If desired, place the bowl in the refrigerator to chill.