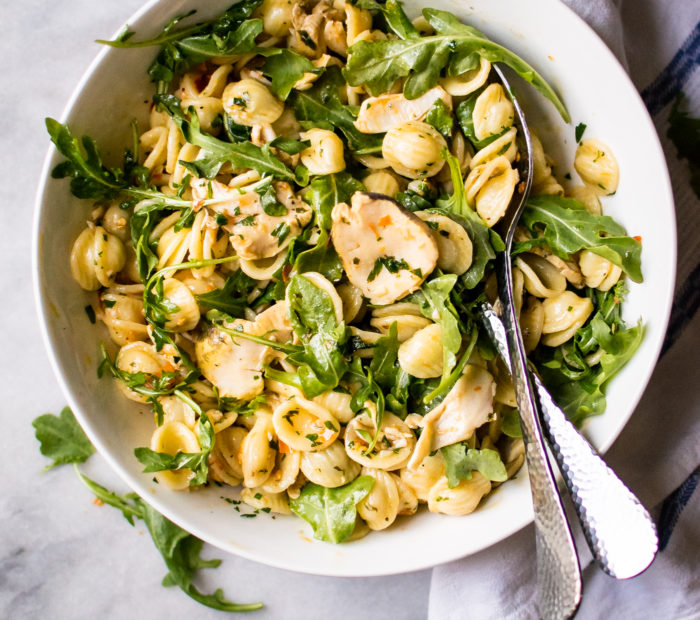 First things first: Neonata means newborn in Italian and I want to make it VERY clear that I am not suggesting that you add two tablespoons of a newborn baby to your sauce. In fact, please, please do not do that*. The Neonata that I am referring to is an Italian condiment made with baby fish—hence the name—and chiles. Despite being described as a "hot fish condiment" the condiment is only slightly fishy, mildly spicy, but COMPLETELY delicious. You can find it at it Italian specialty stores or order it online here.
Neonata (sometimes called Rose Marina) is definitely one of those great pantry staples to have on hand for punching up a bunch of different recipes- think pasta, pizza, crostini, even eggs!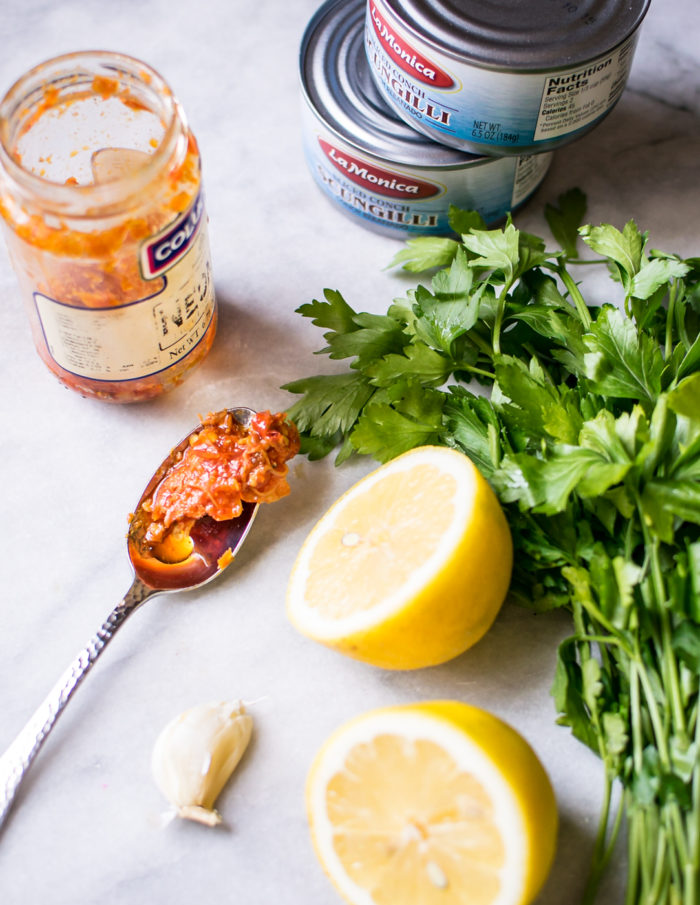 *This post may contain affiliate links. See disclosure for further details.
Scungilli is conch and you can get it in a can like any other tinned fish. I'm pretty crazy about tinned fish. I always have my pantry stocked with sardines, anchovies, clams, and tuna for easy, on hand protein that can add a lot of flavor to a variety of dishes. Scungilli is a little lesser known in the tinned fish world but it's really delicious, pretty mildly flavored and has a meatier texture than those other guys. If you can't find canned scungilli at the grocery store—check the international aisle—you could substitute canned clams but, I'm REALLY hoping you'll try the scungilli because it's totally underappreciated and totally tasty. You'll thank me later.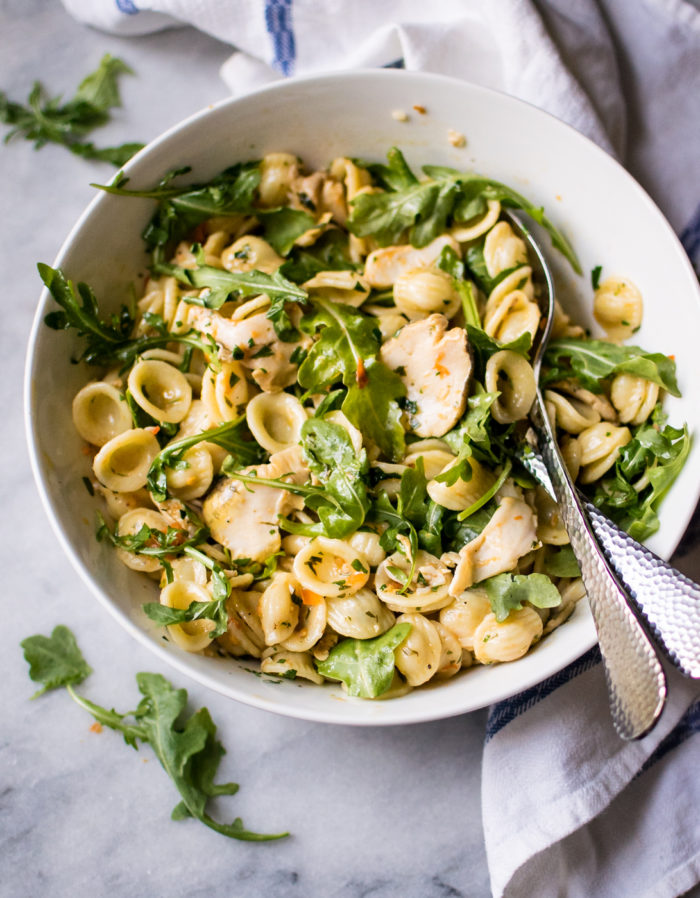 With the neonata and scungilli taking center stage, I kept the rest of the ingredients on the simple side—parsley, lemon, arugula—to balance things out. The result is a fresh seafood pasta that nobody would call boring!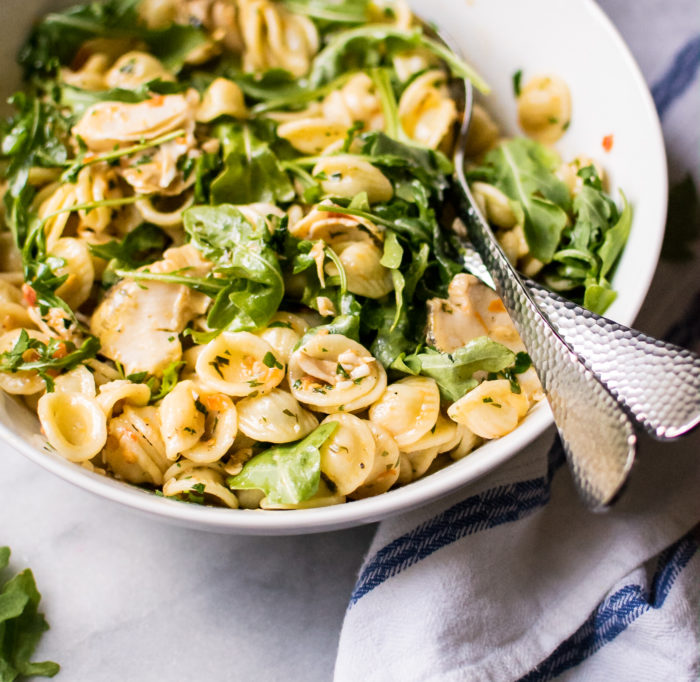 Let me know what you think!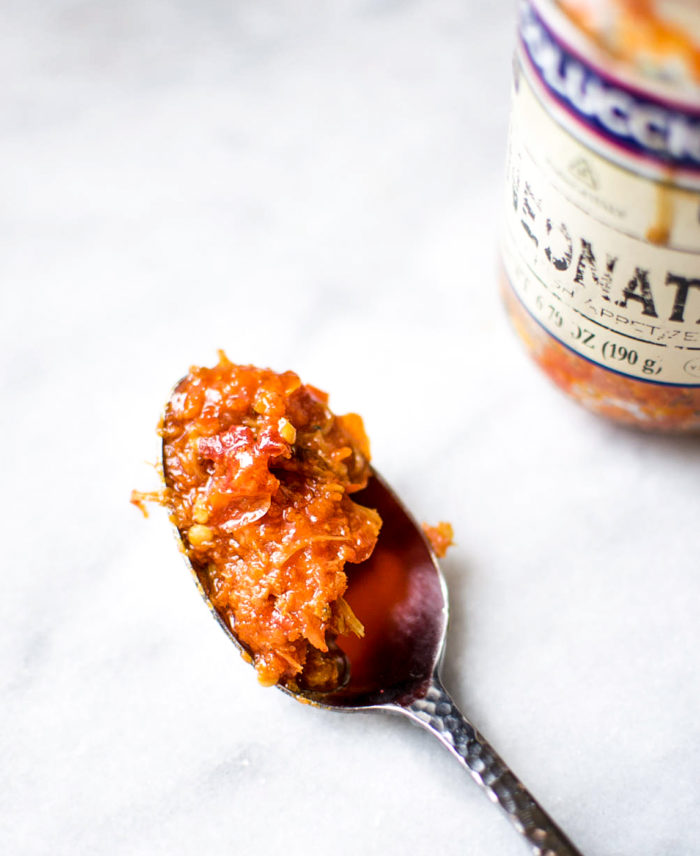 *No humans were harmed in the making of this recipe.
You might also like
Orecchiette with Scungilli and Neonata Sauce
This is an easy pasta made with Italian pantry staples.
Ingredients
1

Pound

Orecchiette

2

Tablespoons

olive oil

2

6.5 ounce

Cans scungilli

drained

2

Tablespoons

neonata

1

Lemon

juiced

2

Cloves garlic

minced

2

Cups

arugula

Fresh parsley

roughly chopped

Kosher salt

to taste
Instructions
Bring a large pot of salted water to a rolling boil and and cook pasta 1 minute less than package directions for al dente.

Heat olive oil in a pan and add the garlic. Stir until fragrant, about 1 minute. Add scungilli to pan and cook for about 5 minutes. Add the neonata to the pan and stir.

Drain the pasta, reserving a cup of the cooking water, and add it to the pan along with the lemon juice, some parsley and a pinch of salt. Stir in pasta water as needed to coat the pasta.

Divide the pasta between four bowls, toss with arugula and garnish with more parsley.