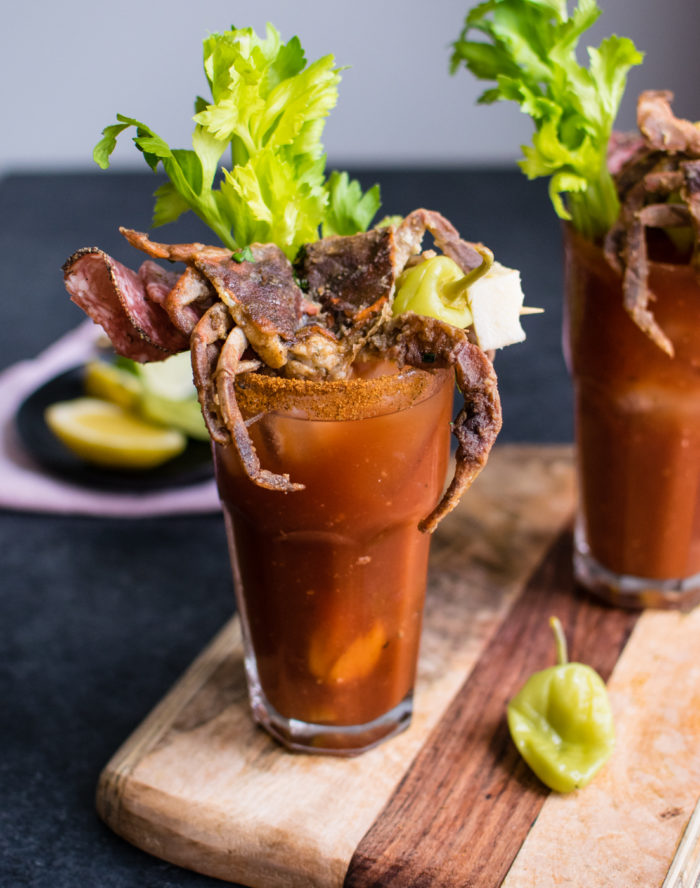 I swear I'm not a psycho (true, probably only a psycho would say that) but OH MY GOD, Soft Shell Crab Bloody Marys are a freaking revelation. You guys gotta trust me on this one, okay?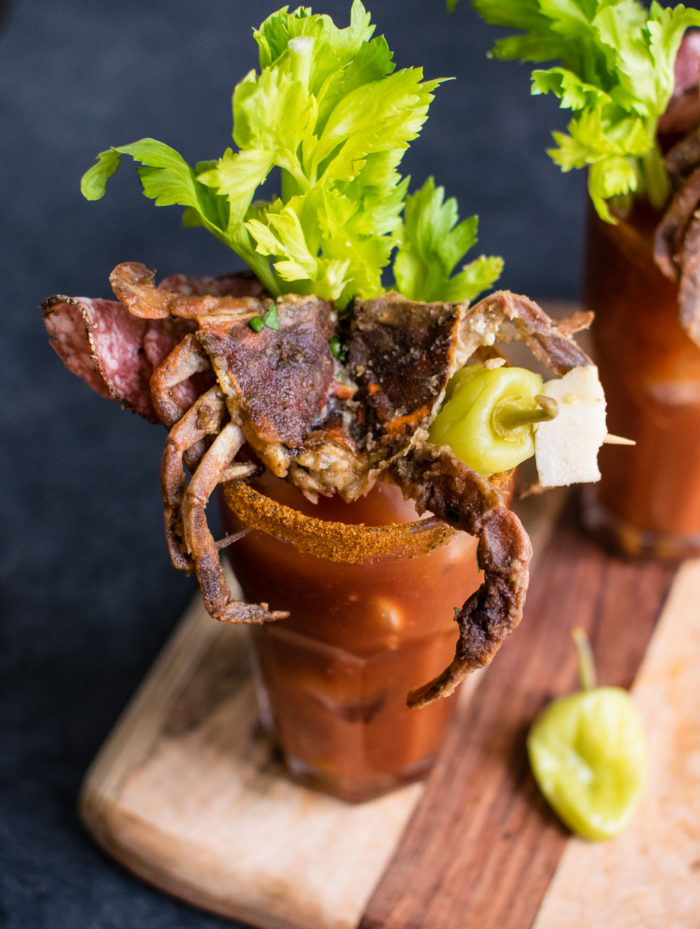 *This post may contain affiliate links. See disclosure for further details.
By now you might have noticed that I love crab and I LOVE soft shell crab. When soft shell crab season rolls around, it's all I want to eat! If I had the means, I'd probably go on a soft shell crab exclusive diet but lets be honest, these little guys are expensive! Prices vary depending on where you live but since I live in Chicago, and the crabs have to be shipped here, they're more expensive than if you live somewhere where you can buy them locally. My parents spend half the year in Virginia and they recently texted me that they bought some softies for $2.50 each while I'm over here dropping $7.00! The struggle is real. I suppose the positive side of soft shell crab season being so short is that my wallet gets a long break when it's over. That's probably the only positive though. I truly don't mind spending a little extra money on soft shell crab though because, when they're gone, they're gone. You'll be happy you got to enjoy them when you had the chance!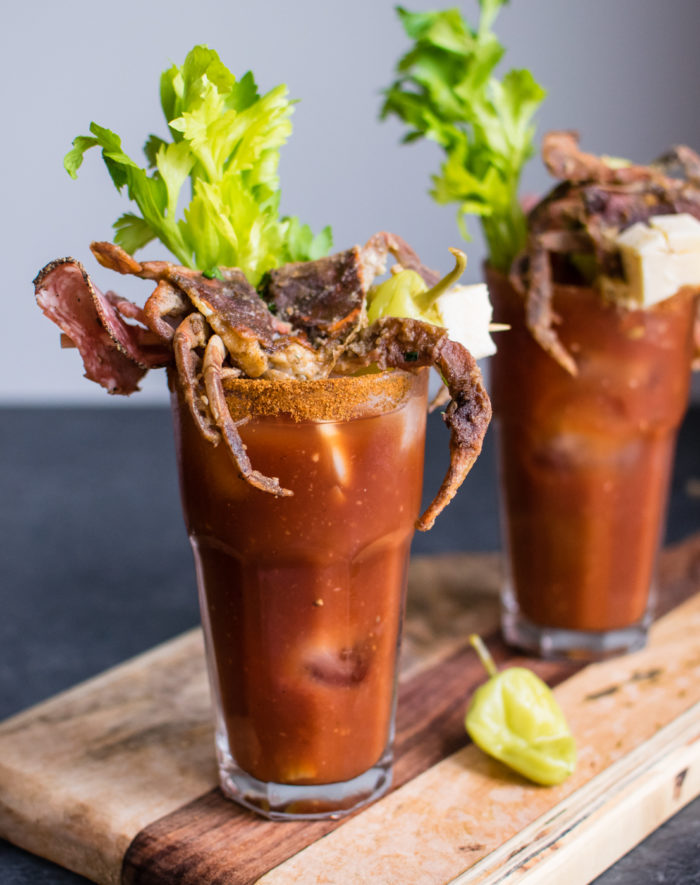 If you are not a fan of soft shell crab—lame, but okay—you might be tempted to skip this recipe but, the actual drink part of the recipe has no crab in it and is delicious! Just leave the crab off your skewer and you're good to go. You might not be into crab, but who doesn't love a Bloody Mary?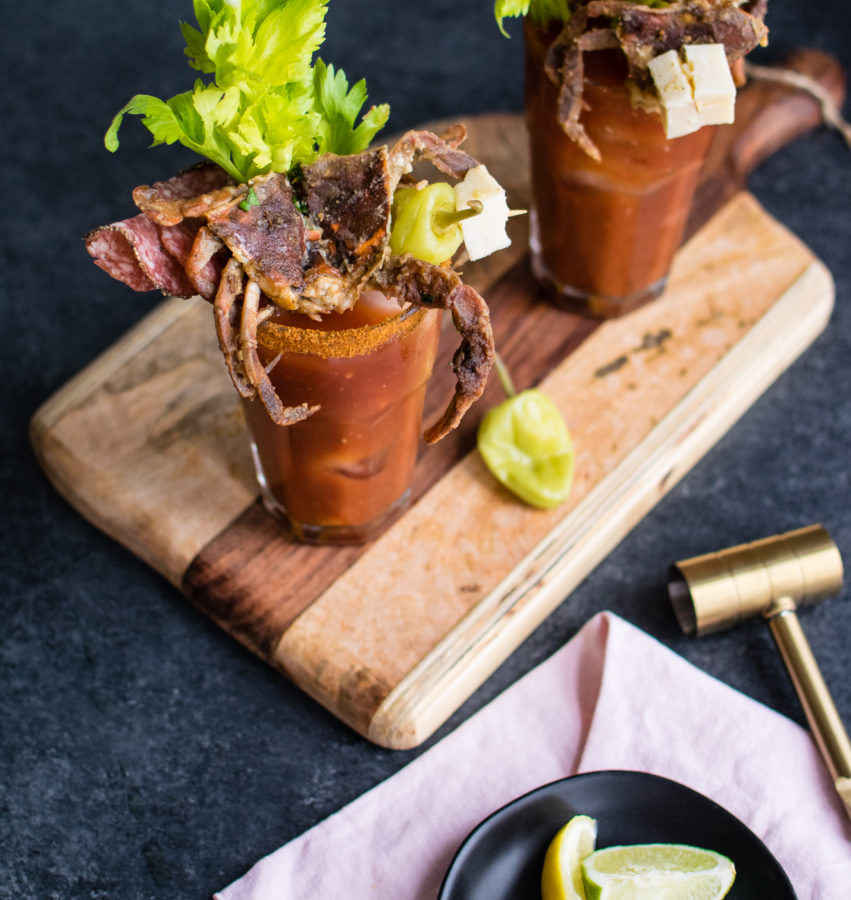 Memorial Day weekend is coming up, I say, have a brunch or barbecue and serve your crab loving guests a couple of these babies. They'll be so excited!
You might also like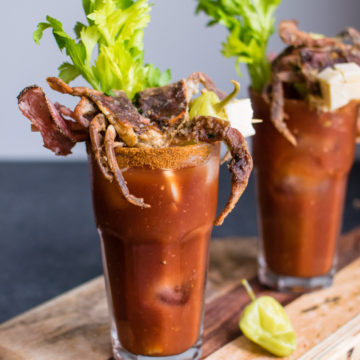 Soft Shell Crab Bloody Mary
This delicious Bloody Mary has an Old Bay rim and is topped with a crispy soft shell crab!
Ingredients
For the Bloody Marys
14

Ounces

tomato juice

6

Ounces

vodka

2

Teaspoons

pepperoncini juice

1

Teaspoon

worcestershire

1

Teaspoon

prepared horseradish

½

Teaspoon

lemon juice

½

Teaspoon

lime juice

½

Teaspoon

Old Bay seasoning

⅛-1/4

Teaspooon

kosher salt

to taste

1

Clove garlic

smashed
For the Crab
⅓

Cup

all purpose flour

¼

Teaspoon

garlic powder

¼

Teaspoon

Old Bay seasoning

¼

Teaspoon

kosher salt

⅛

Teaspoon

pepper

1-2

Tablespoons

unsalted butter

2

Soft shell crabs
Other
2

Celery stalks with leaves

4

Cubes of cheese such as Havarti, Cheddar or Pepperjack

4

Slices salami

2

Pepperoncini

Lemon wedges

Lime wedges

Old Bay seasoning

for rimming the glasses
Instructions
In a pitcher, combine all of the ingredients for the Bloody Marys and refrigerate until ready to use.

Make the crabs. Whisk the flour, garlic powder, old bay seasoning, salt and pepper. Dredge each crab in the flour mixture and shake off the excess. Heat the butter in a cast iron pan and add the crabs top side down. Cook for 4 minutes, flip and cook for an additional 4 minutes on the other side. Remove the crabs to a paper towel lined plate and sprinkle with salt.

Prepare the glasses and skewers. Sprinkle a good amount of Old Bay seasoning onto a plate. Wet the rim of two glasses with a lemon or lime wedge and dip them into the Old Bay, making sure to cover the whole rim. Return any unused Old Bay to the bottle (you don't want to waste that stuff!). When the crab has cooled enough to handle, thread the salami, peperoncini, crab and cheese onto skewers.

Fill the glasses with ice, pour the Bloody Mary mixture over the ice, top with the skewer and serve!