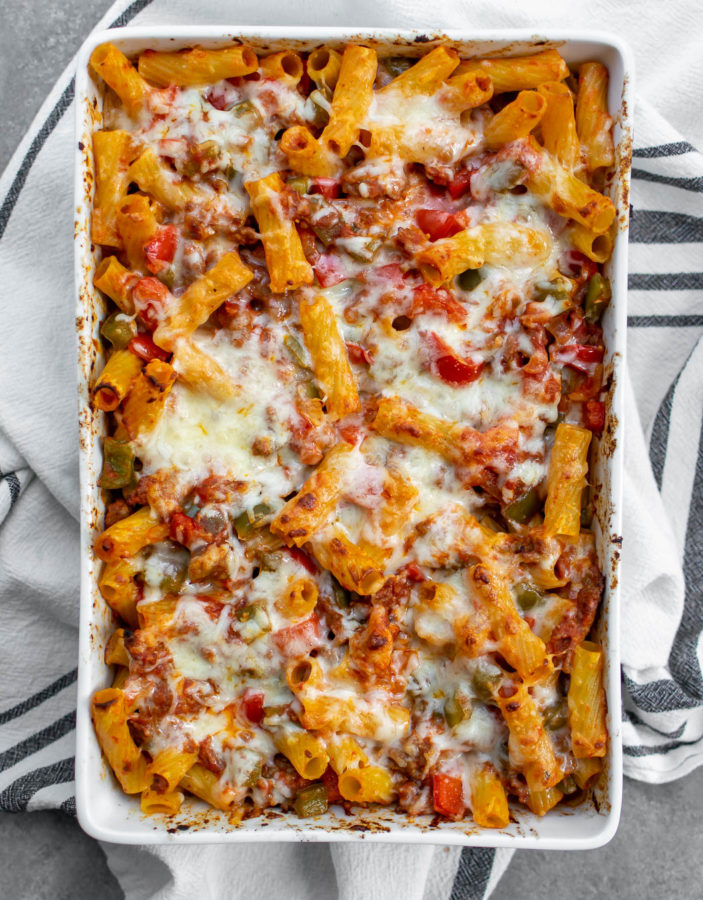 This is a fun twist on the classic Sausage and Peppers! Sausage and Peppers is an Italian American dish consisting of, you guessed it, sausage and peppers!
In this variation, we're taking things to the next level by adding a bunch of delicious cheese and baking it to bubbly, cheesy perfection. The perfect comforting meal!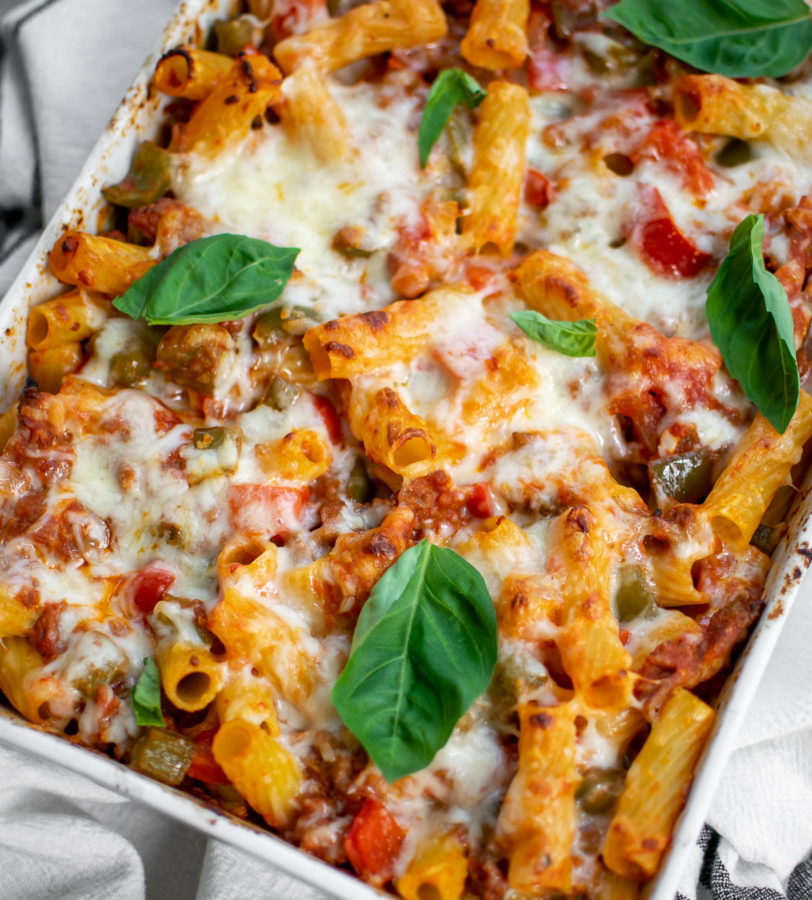 *This post may contain affiliate links. See disclosure for further details.
What is Italian Sausage and Peppers?
Sausage and peppers is a classic Italian American dish that's made with Italian sausages, onions, and bell peppers. It can be served on its own, in a roll, or tossed with pasta. It's served at Italian street festivals and made in most Italian American homes! It's super flavorful and easy to make.
This recipe is easy to make and uses ingredients that you can find at any grocery store. You can also easily customize the recipe to your tastes! For example: I like using green and red peppers, but you can choose whichever ones you like best. Hot, mild or sweet Italian sausages will work in this recipe, choose your fave! I like to add some hot peppers, whether jarred or fresh, but if you want to keep things mild, just leave them out! This dish will turn out delicious no matter what.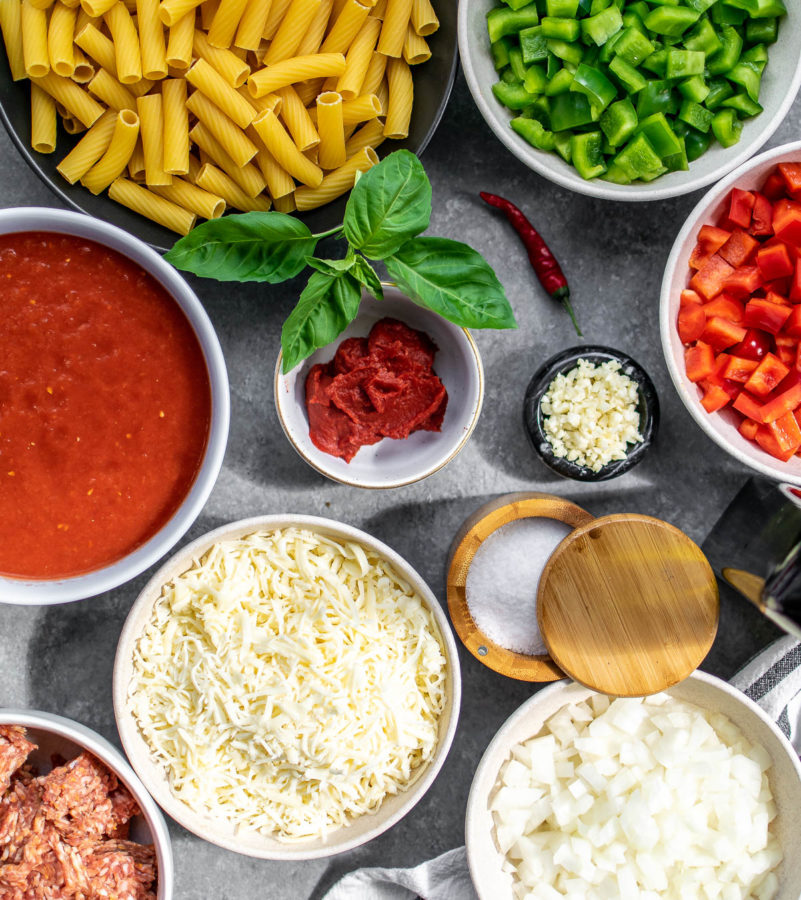 Ingredients
Italian Sausage: Hot, mild or sweet Italian sausage will work in this recipe. You can choose which style you like best! It's easiest to use bulk sausage for this recipe, but if you can only find links, just remove the sausage from the casing.
Bell Peppers: I like to do a combination of red and green peppers in this recipe, you can choose whatever type is your favorite.
Onion: The onion with the peppers gives this dish that classic sausage and peppers taste!
Garlic: duh.
Hot Cherry Peppers: This is optional, but I like to chop up a few jarred hot cherry peppers and add them to the sauce for a little heat and acidity. You can also use a fresh chili pepper to add some heat instead. Pictured above is a cayenne pepper from my garden that gave this pasta a slight kick.
Tomato Paste: Tomato paste will give the sauce a great depth of flavor.
San Marzano whole tomatoes: I like using whole tomatoes for most sauces because they tend to have better flavor. Crush them by hand or pulse in a food processor a few times to get them to the right consistency.
Rigatoni: I like using short, tubular pasta or shells for bakes because the sauce gets trapped inside the pasta and makes the best bites! I usually go for rigatoni but you could use penne, ziti, small shells, or any other short pasta shape you prefer.
Fontina: Fontina is an Italian semisoft cheese that has a mild, nutty flavor and melts really well. I love using fontina for pizza and pasta bakes!
Mozzarella: Mozzarella is a classic choice for a pasta bake and it goes perfectly with the fontina. For this recipe, I like using low moisture mozzarella as opposed to fresh.
Pecorino Romano: I like using Pecorino Romano as a finishing cheese for this recipe, but you can use Parmigiano Reggiano if you prefer!
Fresh Basil: A few fresh basil leaves for garnish are delicious!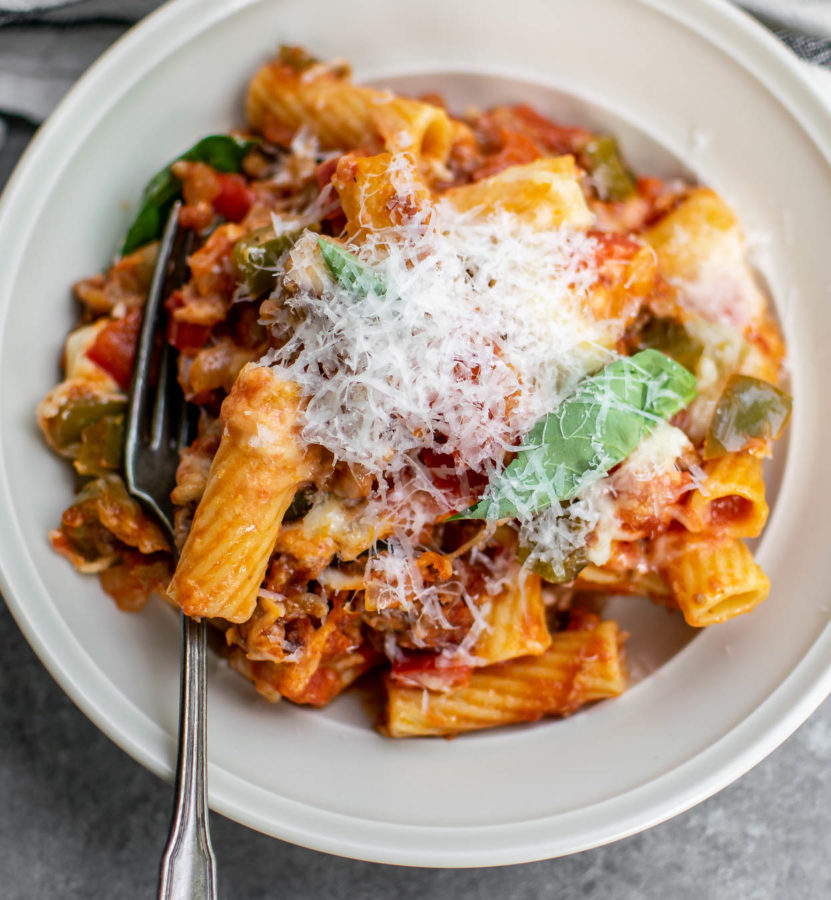 Recipe FAQ
What type of sausage should I use?
Italian sausage! You can use mild, hot or sweet for this recipe. I usually go for mild, but you can choose what you like best!
What if I can't find Fontina?
Fontina has become easier to find in grocery stores as of late. Check the "fancy" cheese section and if you can't find it there, you can use all low moisture mozzarella.
Can I prep this dish ahead of time?
Yes! This recipe is easy to prep ahead of time for guests. You can do all of the steps up until baking in the oven and then pop it in the oven 20 minutes before you're ready to serve.
Why reserve the pasta water?
I always recommend reserving ½-1 cups of the pasta cooking water before draining the pasta. It can be used to loosen the sauce or as "binding agent" for the pasta and sauce. The starch in the pasta water helps marry the pasta with the sauce. You may not need it for this recipe, but if you find your sauce it a bit too thick, you can add a splash of pasta water.
You might also like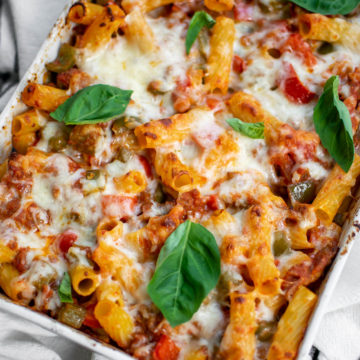 Sausage and Pepper Pasta Bake
A fun twist on the Italian American classic Sausage and Peppers! In this variation, we're taking things to the next level by adding a bunch of delicious cheese and baking it to bubbly, cheesy perfection.
Equipment
Baking dish

Large skillet
Ingredients
2-3

Tablespoons

olive oil

1

Pound

Bulk Italian sausage

mild, hot or sweet

1

Large yellow onion

diced

2

Green bell peppers

diced

2

Red bell peppers

diced

3

Cloves garlic

minced

2

Tablespoons

jarred hot cherry peppers

chopped, optional

3

Tablespoons

tomato paste

1

28 Ounce

can whole San Marzano tomatoes

crushed by hand or pulsed in food processor

¼

Teaspoon

dried oregano

1

Pound

rigatoni

or other short pasta

2

Cups

fontina

shredded

2

Cups

low moisture mozzarella

shredded

Kosher salt

Freshly cracked black pepper

Fresh basil

for garnish

Pecorino Romano

for serving
Instructions
Pre heat oven to 400 degrees and start a large pot of water boiling.

Add 2 tablespoons of olive oil to a large skillet over medium heat and add the sausage. Cook the sausage, breaking it up with the back of your spoon, until it's well browned and cooked through. Remove with a slotted spoon to a bowl.

Add the onions and peppers to the skillet and season with kosher salt. You may need to add an additional tablespoon of olive oil. Cook, stirring occasionally, until softened and starting to brown. About 10-12 minutes. Add the garlic and cook for an additional minute. Add the hot cherry peppers, if using.

Add the tomato paste to the skillet and stir to coat the vegetables. Let the tomato paste cook for 3 minutes and then add the tomatoes. Add the oregano and season again with a pinch of kosher salt and pepper. Simmer the sauce over medium low heat, stirring occasionally, to meld the flavors. About 10 minutes. Add the reserved sausage back to the sauce.

Meanwhile, generously salt the boiling water for the pasta and cook to 3 minutes less than package directions for al dente. The pasta will continue to cook in the oven. Reserve ½ cup pasta water and drain.

Add the drained pasta and sauce to a baking dish and stir to combine. If the sauce is too thick, you can add a splash of pasta water to loosen it. Stir in half of the cheese and sprinkle the remaining cheese over the top. Bake uncovered for 15-20 minutes, until the cheese is bubbly and browned in spots.

Let the pasta rest for 5 minutes. Serve with fresh basil and Pecorino Romano. Enjoy!