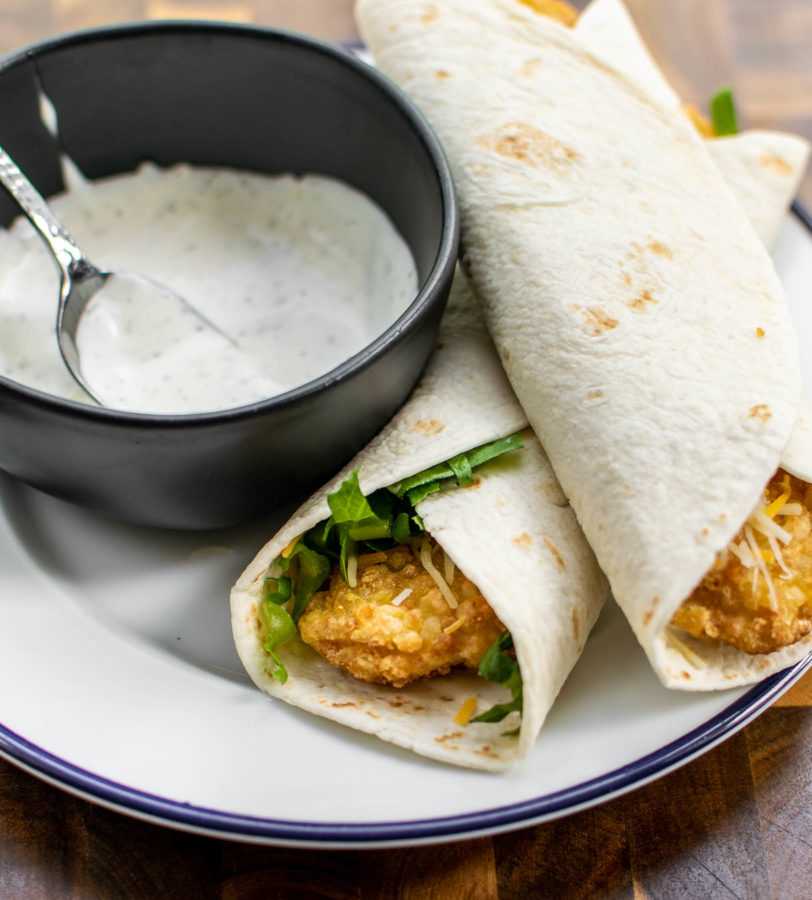 Making these copycat McDonald's Crispy Ranch Snack Wraps at home is so easy, you'll never miss the real ones again!
This is a non recipe, recipe. It's so easy! Just a few simple ingredients that you might already have on hand and the only rule is: measure with your heart! So why even write this post, you ask? Well I've got some tips and tricks to share!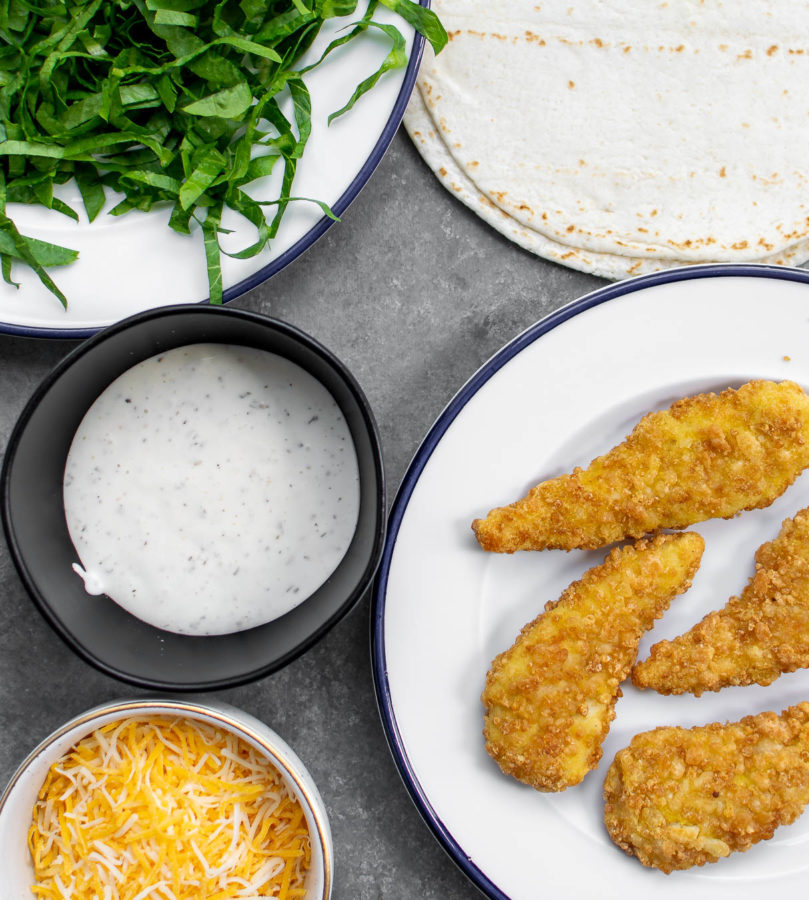 *This post may contain affiliate links. See disclosure for further details.
What is a Crispy Ranch Snack Wrap?
McDonald's used to sell snack wraps, with crispy ranch being the most popular flavor, but sadly they discontinued them in the US in 2016. Snack wraps consist of chicken, sauce, shredded lettuce and cheese wrapped in a warm flour tortilla. You could choose between grilled or crispy chicken and between ranch and honey mustard sauces.
I used to be bummed that they were discontinued before I realized I could easily make them at home! And no offense to McD's, but the homemade version is better.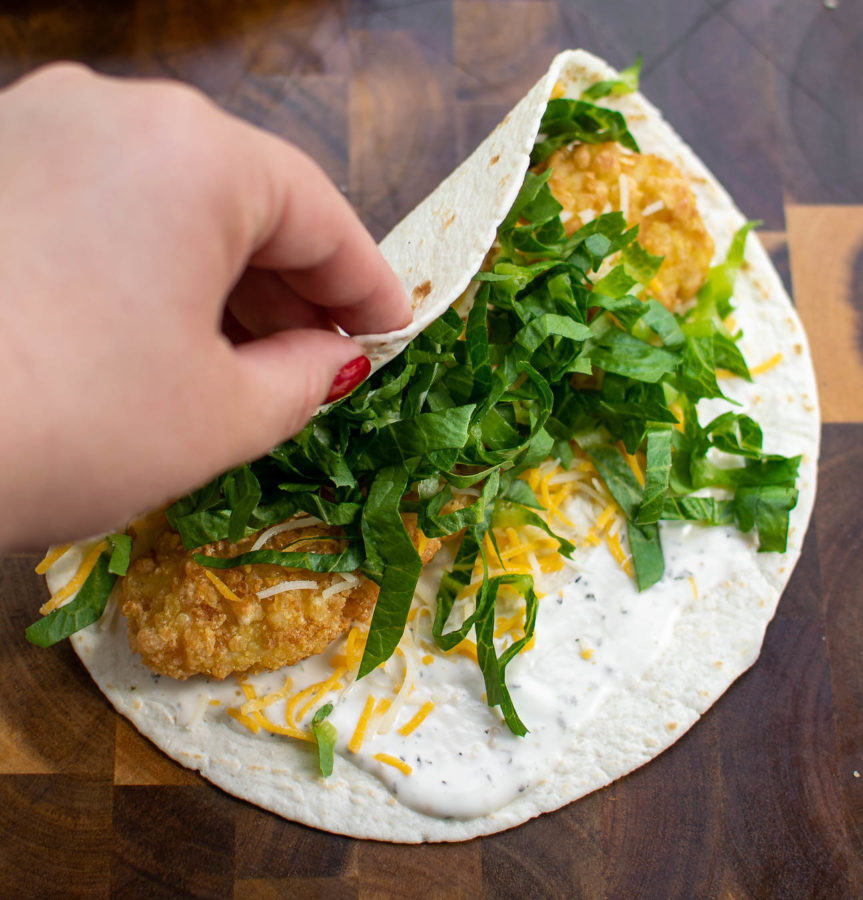 Ingredients
Flour tortilla: you want a soft flour tortilla for this recipe. I will often times use Mission Carb Balance tortillas for these snack wraps. The tortillas are really tasty, soft and the perfect size!
Crispy chicken tenders: I usually have a bag of frozen chicken tenders in my freezer for lazy nights and snack wrap emergencies. I like the Perdue gluten free chicken tenders. I am not gluten free, but I just like the way these ones taste!
Ranch: I usually have a bottle or two of ranch in the fridge. My favorite is Tessemae's Creamy Ranch, but I'm not overly picky. Right now I'm trying Follow Your Heart's Vegan Ranch and it's really good too! I am obviously not vegan but I like trying all the different brands.
Shredded Cheese: I like a cheddar blend for this recipe because cheddar and ranch go so well together, but any cheese will do! I usually use a cheddar and monterey jack blend and it's perfect.
Lettuce: Any crisp lettuce will work here! Shown in the pictures here is romaine, which I usually have at home, but iceberg is great too. I prefer to shred it, but if you want to use bigger pieces you can!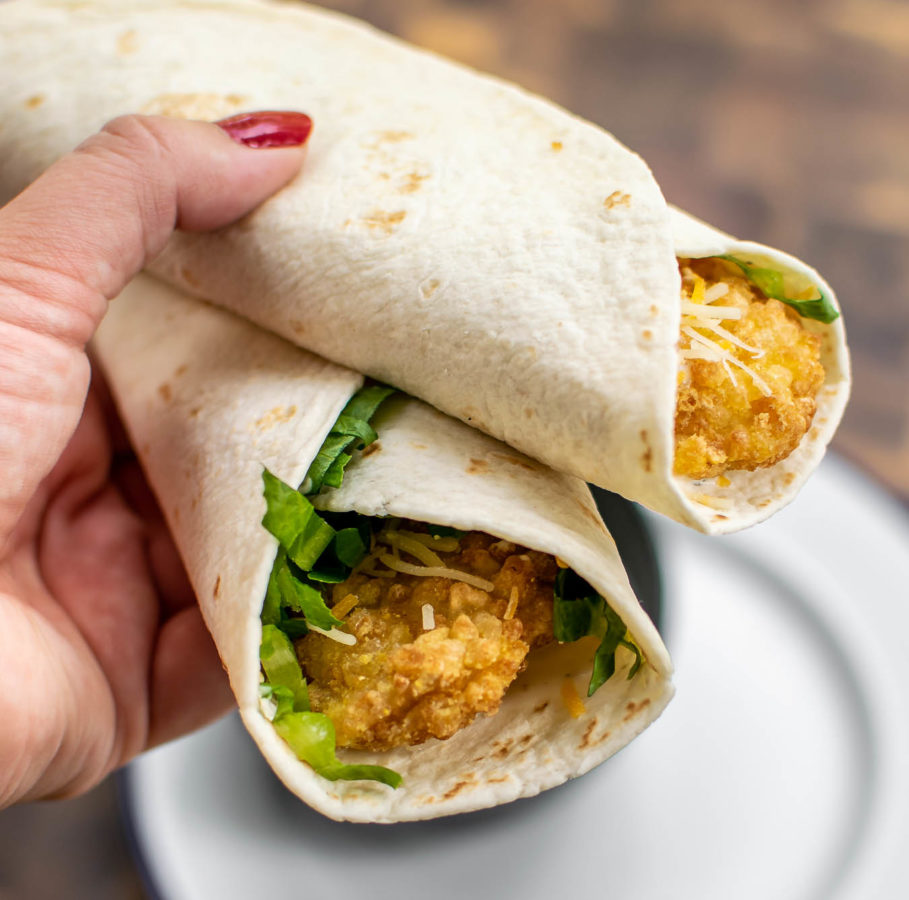 How to build the perfect snack wrap
This seems like a no-brainer, but there is a right way to build the best snack wrap! First, start with your warm tortilla (obviously) and then spread your ranch on the tortilla. Spreading the ranch on the tortilla as opposed to drizzling it over the chicken ensures that you'll get ranch in every bite. Also, the ranch works as a sort of glue when you roll the wrap! Next add the crispy chicken. I usually use two chicken tenders per wrap, but you may only need one depending on how big they are. Then comes the cheese. The cheese could go over or under the chicken, that's up to you! And most importantly, last comes the lettuce! The lettuce goes last so that it stays crispy. Then wrap it up and eat it right away!
Recipe FAQ
Can I use grilled chicken?
Of course! McDonald's snack wraps had a choice of grilled or crispy chicken so both are technically right.
Which crispy tenders are best?
Whichever ones you like best! This recipe is super flexible and works best if you use what you like best. There are tons of great frozen chicken tender options or you could even grab a couple from the grocery store hot bar.
How do I get the tortillas to wrap well?
Microwave the tortillas for 12 seconds! Is that a random number? Yes. Does it work? Yes. You want the tortillas to be warm and pliable but not too hot. If you microwave them for too long, they'll get weird and hard when they cool down. Microwave them right before you're about to assemble the wraps.
Which cheese is best?
Your favorite cheese is the best cheese to use! I like to use a blend that has cheddar in it because it goes great with the ranch, but any shredded cheese will work.
Can I make my own chicken?
Yes! To be honest, this recipe is so fast and easy (and gets devoured in minutes) that I prefer not to put in the extra effort of homemade chicken, but feel free! This is also a great way to use up any leftover chicken, crispy or grilled, that you might have.
Which ranch should I use?
You know what the answer is going to be...whatever you like best! This is a truly flexible recipe and the best part is that you likely already have a few, if not all, of the ingredients on hand. Use your favorite creamy, spreadable ranch.
You Might also like
Crispy Ranch Snack Wraps
Making these copycat McDonald's Crispy Ranch Snack Wraps at home is so easy, you'll never miss the real ones again!
Ingredients
4

Crispy chicken tenders

2

Flour tortillas

soft taco sized

Ranch

(measure with your heart)

Shredded cheese blend

(measure with your heart)

Shredded crisp lettuce

such as romaine or iceberg
Instructions
Make the crispy chicken tenders according to package directions. While the chicken is cooking, shred the lettuce.

Warm the tortillas in the microwave until soft and pliable, but not too hot. About 12 seconds.

Assemble the snack wraps by spreading ranch on the tortilla, then adding the crispy chicken followed by the cheese and lettuce.