Paglia e Fieno with Crispy Shallots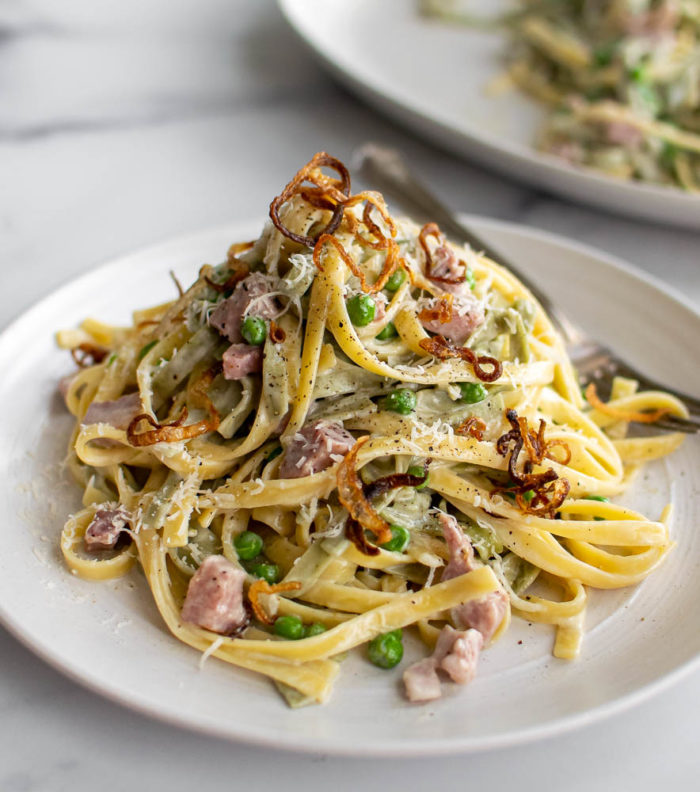 Palia e Fieno is a classic Italian dish that translates to "straw and hay". The recipe gets its name from the two types of pasta used—egg fettuccine for the straw, and spinach fettuccine for the hay. Straw and hay pasta is usually served with prosciutto, sweet peas and sometimes mushrooms in a cream sauce. For my version, I topped it off with crispy shallots—perfection! This pasta comes together quickly, so make sure to read through the recipe before you start cooking.
Shockingly, I actually didn't love this dish when I was younger and would be a little bummed out whenever my dad made it. Sorry dad! My family still makes fun of me for saying, "I don't like this prosciutto and beans!" once while eating Paglia e Fieno. I have no idea why I was calling peas beans, but that's the quote! Thankfully, my tastes have changed and I DO like this prosciutto and beans (peas). A lot. I may be a little late to the game, but I'm here!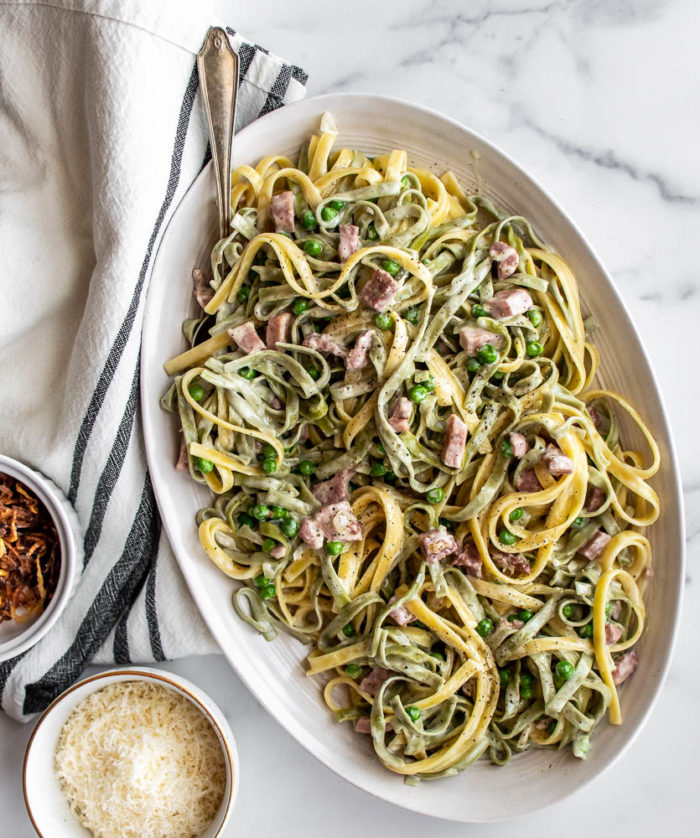 This pasta is super simple and easy to make and you can even make the crispy shallots ahead of time! The sauce starts with minced shallot and prosciutto in butter and olive oil, then you'll add in your heavy cream and bring that to a simmer to thicken a bit. Meanwhile, cook the pasta. About 2 minutes before you're done cooking the pasta, you'll add the peas to the pasta water to cook. Then, with a spider or slotted pasta spoon, transfer the pasta and peas directly into the sauce. Add some pasta cooking water and plenty of cheese and then toss to create the tastiest, creamiest sauce! Take a little bite of the pasta and add salt and pepper to your taste. The prosciutto is salty so you shouldn't need much! Then you'll top it all off with more cheese and a sprinkling of crispy shallots.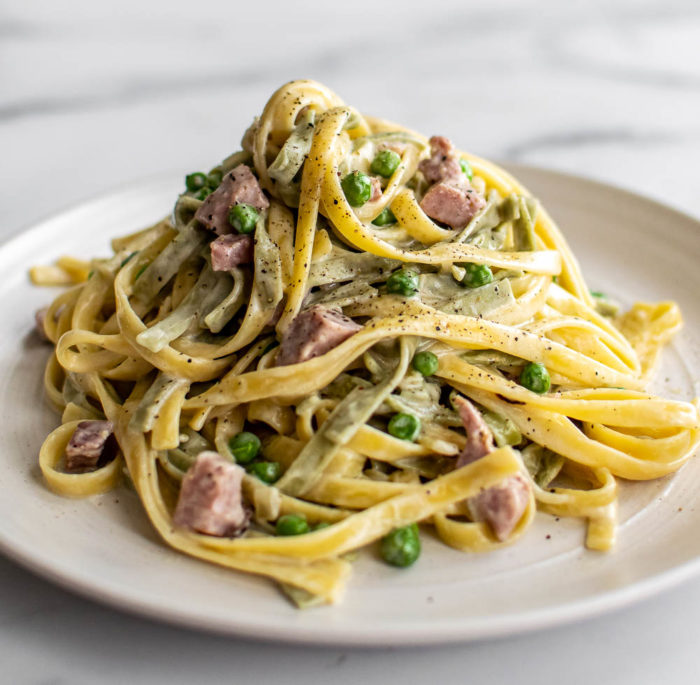 Speaking of those crispy shallots, I want to put them on everything! They are so easy to make too! You just thinly slice a couple shallots and then fry them in a neutral oil. To make sure they don't burn, you'll add the shallots and the oil to a pan at the same time and bring them up to temperature together, instead of heating the oil first. The shallots take about 10 minutes to get golden brown, but keep an eye on them to make sure they don't burn. Then transfer them to a paper towel lined plate and season them with a bit of flaky sea salt.
Of course, you don't HAVE to make the crispy shallots, but…you kind of have to. I mean like, I'm not going to show up to your house and force you to know the deliciousness of crispy shallots, but you will be doing yourself a great disservice if you skip them. That's all I'm saying.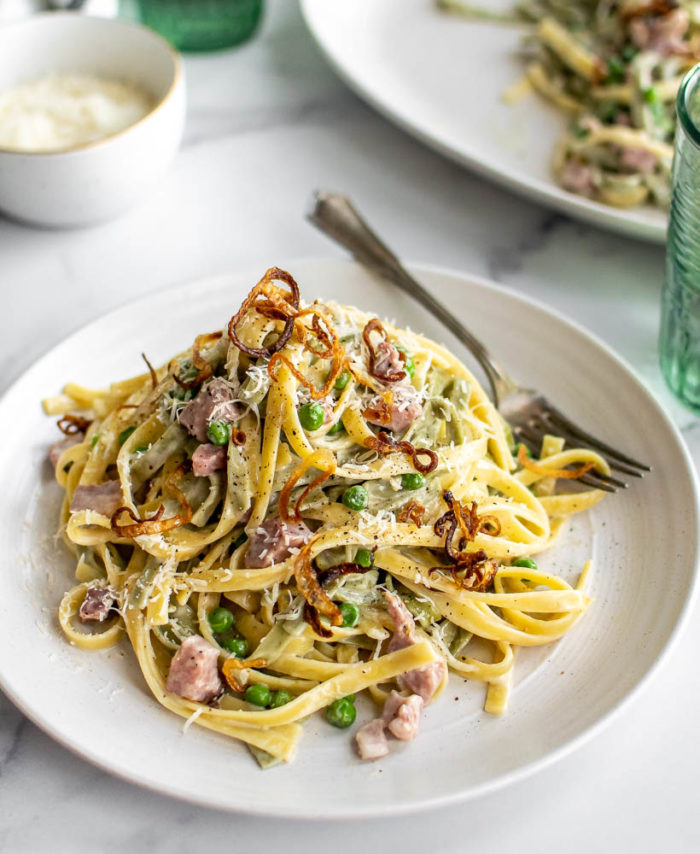 I like to use dried pasta for this dish because I think it holds up better when tossing it with the cream sauce. Of course, you can use fresh pasta if you want, but since it cooks so fast, you'll have to time the sauce to be ready when the pasta is. Whether using dried or fresh pasta, if you find that your sauce is done and your pasta isn't yet, you can just take the sauce off the heat until the pasta is ready and give the sauce a stir to bring it back together.
I love cubed prosciutto for this recipe, but if you can't find it, regular prosciutto cut into strips or even cubed cooked ham will work. You can use pancetta as well, but keep in mind that pancetta will give off a good amount of fat, so you'll need to adjust the amount of butter and oil used, or cook the pancetta first and drain off the fat. There are plenty of salted pork options that'll work here—and they'll all be delicious!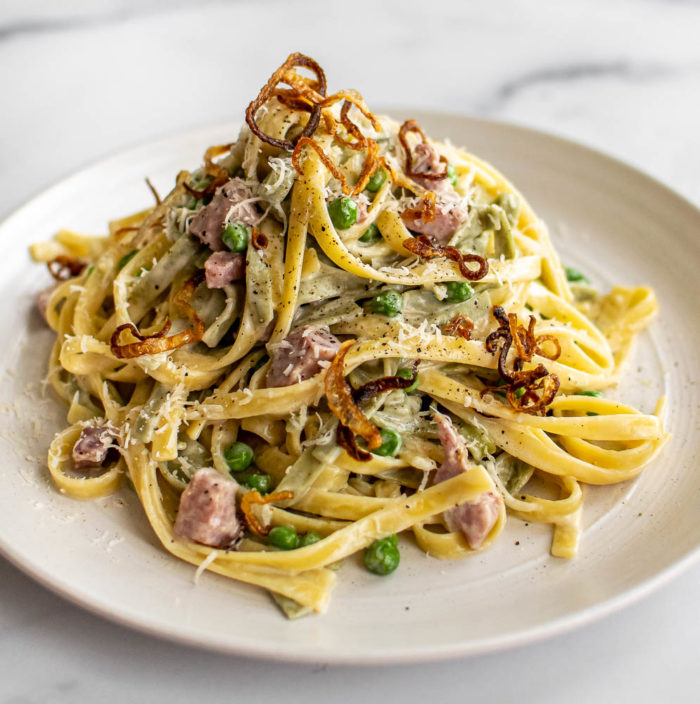 The sweet peas in this recipe make it the perfect springtime dish! Of course, you can make this pasta any time of year with frozen peas, but it's especially perfect for spring with all those pretty pastel colors.
Since the snow is just starting to melt here, and warmer days are ahead (hopefully but, who knows with Chicago weather!) it felt like the right time to share this recipe! I hope you love it.
Recipe Summary
Paglia e Fieno with Crispy Shallots

Level:

Easy

Servings:

4-6

Ingredients:

For the pasta

1/2 Pound dried egg fettuccine
1/2 Pound dried spinach fettuccine
2 Tablespoons unsalted butter
2 Tablespoons olive oil
1 Shallot, minced
1 (5 ounce) package cubed prosciutto
1 Cup heavy cream
1 Cup parmesan (Parmigiano Reggiano), grated
1 Cup fresh or frozen peas (thawed if frozen)
Salt and pepper to taste

For the Crispy Shallots

2 Shallots, thinly sliced into rounds
1/2 Cup neutral oil such as vegetable or avocado
Flaky sea salt, such as Maldon

Instructions:

Make the crispy shallots. Add the shallots and oil to a small sauce pan or skillet. Bring the heat up to medium low/medium and fry, stirring occasionally to separate rings, until golden brown, keeping an eye on them so that they don't burn; about 10 minutes. With a slotted spoon, remove the shallots to a paper towel lined plate and season with flaky sea salt. Set aside until ready to use.
In a large skillet over medium heat, melt the butter with the olive oil. Add the minced shallots and prosciutto and cook for 3 minutes. Add the cream, stir, and simmer until thickened slightly; about 5 minutes.
Meanwhile, bring a large pot of salted water to a boil and cook the fettuccine to 2 minutes less than package directions for al dente. Add the peas to the pasta water 2 minutes before the pasta is done. With a large spider or slotted pasta spoon, transfer the pasta and the peas into the cream sauce. Add 1/2 cup of pasta cooking water and 1/2 cup of the cheese and toss the pasta until you have a thick, creamy sauce and pasta is cooked to al dente; 2 minutes. Season with salt and pepper to taste.
Serve immediately with the rest of the cheese, the crispy shallots, and freshly cracked pepper.
Enjoy!