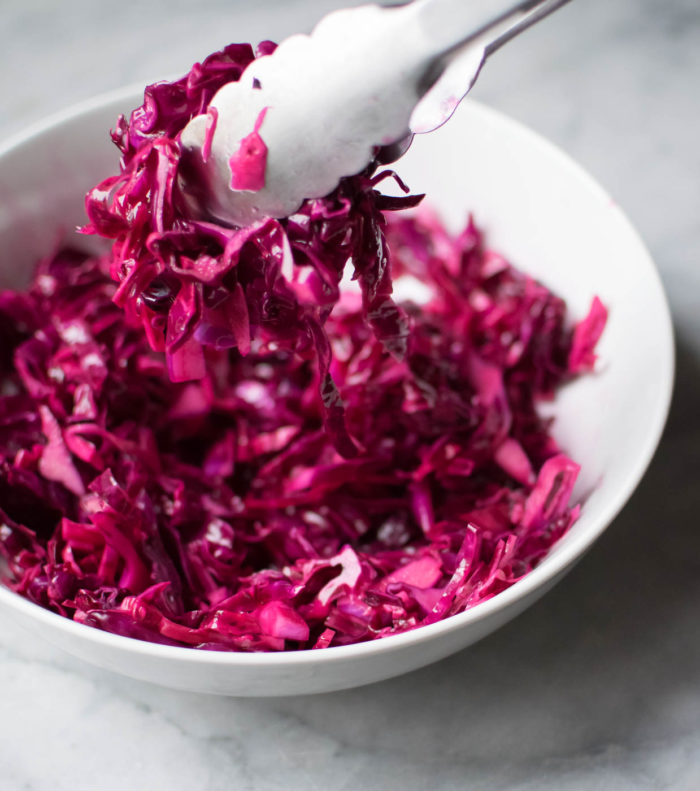 If you follow me on Instagram, you've probably seen me making and eating my favorite quick pickled cabbage. I make it alllll the time and that's because, I'm crazy about it! I know what you're probably thinking, "she's crazy about...cabbage?" I know, I know, that seems like a weird thing to go bonkers over but I'm telling you, once you start making it, you'll be obsessed too! I like to make a big batch of this cabbage in the beginning of the week and then eat it all week long in a variety of ways. I eat it with eggs, add it to salads, top tacos with it, put it on sandwiches, burgers and avocado toast, but I also just eat it alone—which is literally what I'm doing right now.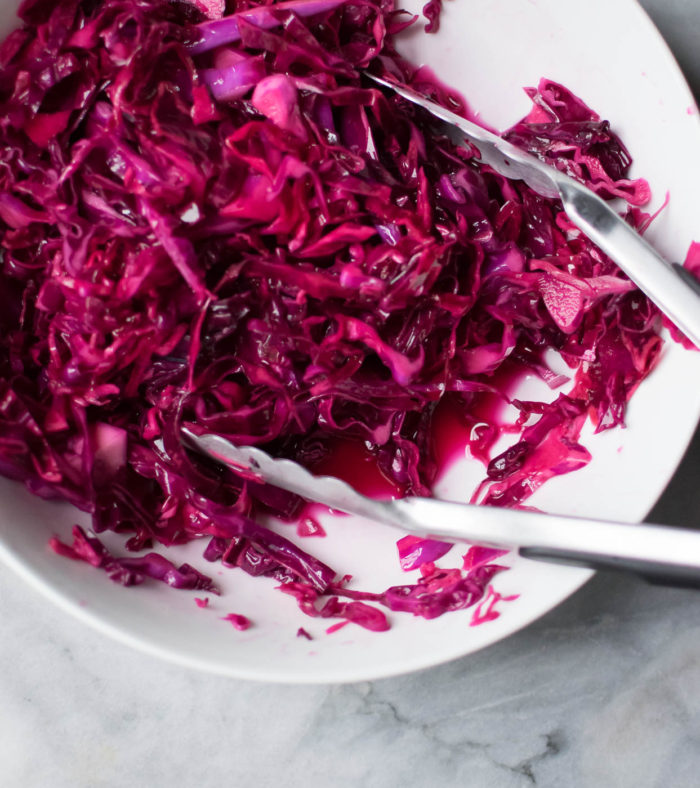 *This post may contain affiliate links. See disclosure for further details.
Cabbage is really good for you, it's got tons of vitamin C and vitamin K, It's loaded with antioxidants, it's anti-inflammatory and it's great for gut health! You're like, sign me up, right?! I like raw or cooked cabbage but this is by far my favorite way to eat it. The quick pickling softens it up a bit but it's still got a nice crunch and the brightness of the lime makes it super refreshing! The best part? It will only take you 5 minutes.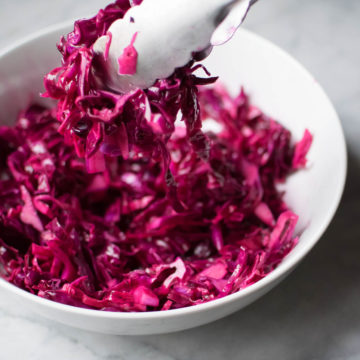 My Favorite Quick Pickled Red Cabbage
Ingredients
1

head red cabbage

thinly sliced

2

Limes

juiced

1

Tablespoon

honey

1

Teaspoon

kosher salt
Instructions
Using a sharp knife, cut the cabbage head in half and cut out the white core. Place the cabbage halves cut side down on a cutting board and carefully slice the cabbage into thin strips.

Add the cabbage, juice from 2 large or 3 small limes, salt and honey to a large bowl and toss with tongs.

cover the bowl and place the cabbage in the refrigerator to soften up.