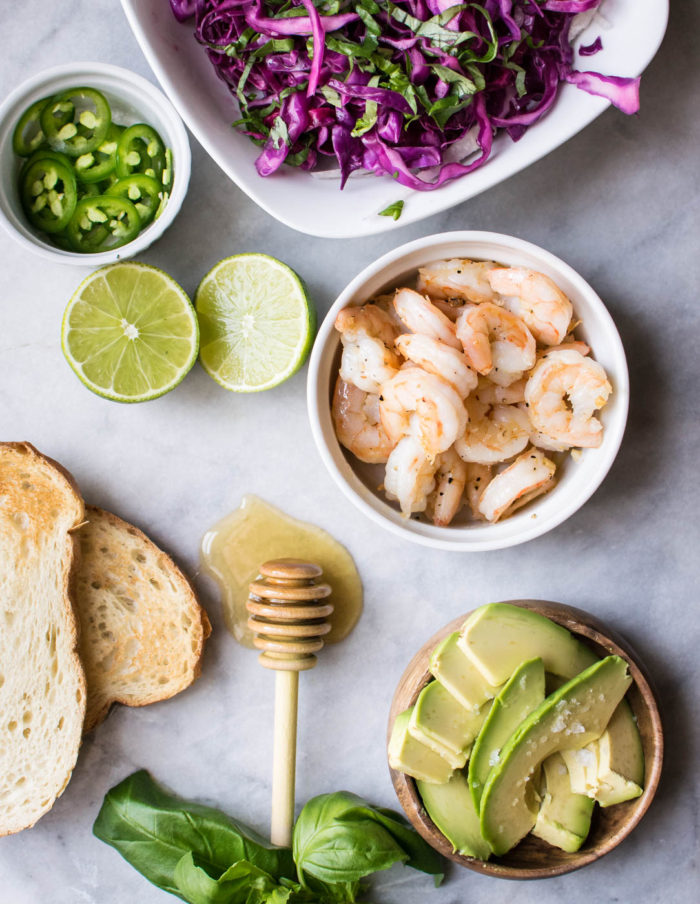 I realize the name of this recipe isn't exactly conventional but who cares? The recipe is not conventional and you know what? neither am I. Some other names in the running were "Cracked Out Avocado Toast" and "Jacked Up Avocado Toast" but I landed on "Roided Out" because I imagined a little scenario in my head that went like this: Normal, average piece of avocado toast is at the gym doing it's normal, boring workout and in walks this roided out avocado toast and intimidates the heck out of everyone and makes everyone want to be just like him. Picture it real quick. Okay, anyway, This toast is piled high with deliciousness and I swear, you'll thank me after you slam one of these babies in your face. And no, they do not actually contain steroids.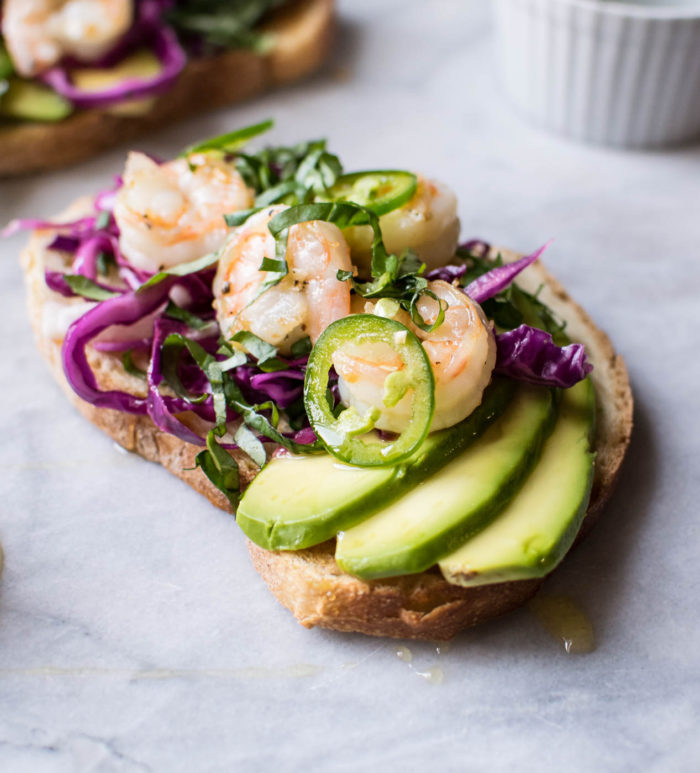 *This post may contain affiliate links. See disclosure for further details.
You might be thinking this combo of flavors seems weird but you'd be wrong. As luck would have it, I hold the official position as the "decider of what's weird and what's not" and this falls under the category of not. I, as a human, however, might fall under the former category but that's still under consideration. Anyway, back to the toast. It's salty, sweet, spicy, crunchy, smooth, all the things. The crunch comes from the cabbage and jicama slaw. We're actually using this recipe and just adding some jicama and basil to it to sweeten it up a bit. Measurements aren't too important for this recipe because you're just piling as much stuff onto the toast as you want. If you want more shrimp, add more. If you want it extra spicy, pile on those jalapeños. For example, the recipe calls for 18-24 shrimp and that's depending on if you want 3 or 4 shrimp on each piece of toast but, of course, you can feel free to add as many as you want!
Go ahead and try it! I hope you love it as much as I do. We can all be (not) weird together!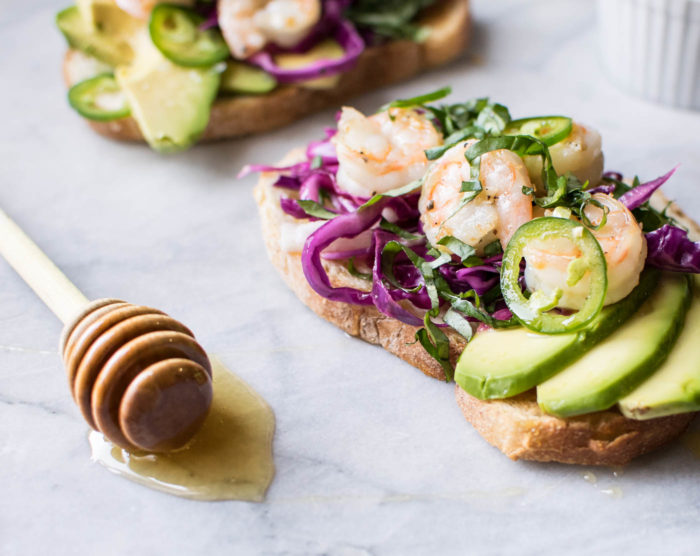 You might also like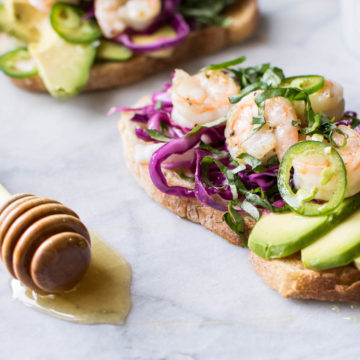 Roided Out Avocado Toast with Jicama Cabbage Slaw and Shrimp
Ingredients
Jicama Cabbage Slaw
½

Head of red cabbage

shredded

½

Cup

jicama

thinly sliced

1

Lime

juiced

1

Teaspoon

honey

½

Teaspoon

kosher salt

Fresh basil

chiffonade, to taste
Shrimp
18-24

Large raw shrimp

1

Tablespoon

olive oil

1

Clove garlic

minced

Kosher salt

to taste
Other
6

Pieces of crusty bread

toasted

3

Ripe avocados

sliced

Fresh basil

chiffonade, to taste

Jalapeño

thinly sliced

Honey

for drizzling

Pinch of salt
Instructions
Make the quick pickled red cabbage. Toss thinly sliced red cabbage with lime, salt and honey. Add the jicama and basil, set aside.

Cook the shrimp. Heat oil in saute pan and add the minced garlic. Stir and cook for about 1 minute or until fragrant. Add The shrimp and a pinch of salt and cook until the shrimp are opaque.

Assemble the toast in the following order: Toasted bread, Avocado slices, slaw, shrimp, and top with jalapeño, basil, a pinch of salt and a drizzle of honey.