This classic Argentine sauce is bright, fresh and easy to make! The perfect pairing to meat, fish and vegetables.
Chimichurri is a sauce or condiment from Argentina that's made with fresh herbs, garlic and oil that is most traditionally served with grilled steak. You might have seen some chimichurri recipes that call for cilantro, but an authentic chimichurri is made without it.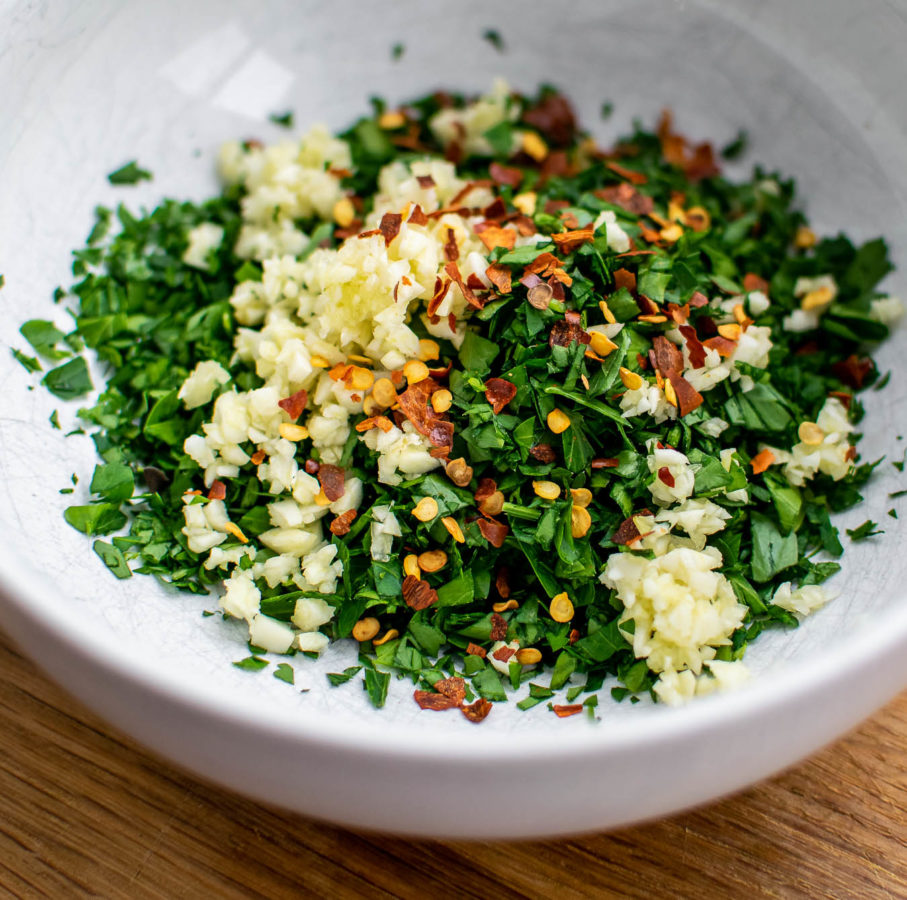 *This post may contain affiliate links. See disclosure for further details.
What goes in Chimichurri?
Fresh flat leaf parsley: This is the main, and most important ingredient. It has to be flat leaf, not curly!
Oregano: Traditionally, chimichurri is made with dried oregano but I prefer to use fresh, especially during the summer when I grow oregano in my herb garden. If you are using dried oregano, be sure to cut the amount down by half. Dried oregano is stronger than fresh.
Garlic: A must! Raw garlic can be a bit intense sometimes, but it works so well in this recipe! Make sure to mince it finely.
Red pepper flakes: A pinch of dried red pepper flakes give chimichurri a nice little kick.
Salt: Obviously.
Red wine vinegar: Chimichurri can be made with white or red wine vinegar. I prefer the taste of red wine.
Olive oil: Since this is a raw sauce, make sure to use a good quality, flavorful olive oil.
Lemon zest (optional): This is not a traditional ingredient, but I like to include it for an extra pop of brightness!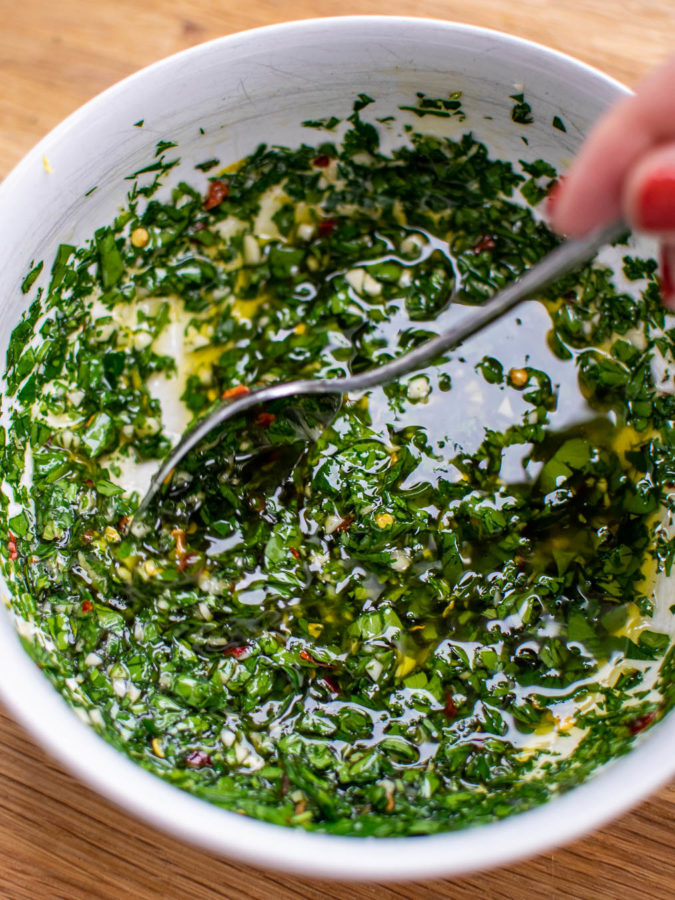 What else can I add to Chimichurri?
I always recommend trying a recipe as it was written first before making any changes. If after trying the original recipe, you'd like to make some adaptations, here are some good ones to try:
Cilantro: Many chimichurri recipes call for cilantro, although it is not traditional. If you are a cilantro fan, go for it!
Lemon juice/Lemon zest: Lemon juice and zest can add an additional layer of acidity and brightness on top of the vinegar. I like adding lemon zest!
Shallot: If you're looking to add some onion-y flavor to your chimichurri, shallot is a good choice.
Fresh chili pepper: Most recipes for chimichurri call for dried red pepper flakes, but if you want to switch things up, try adding fresh peppers. Fresno would be delicious!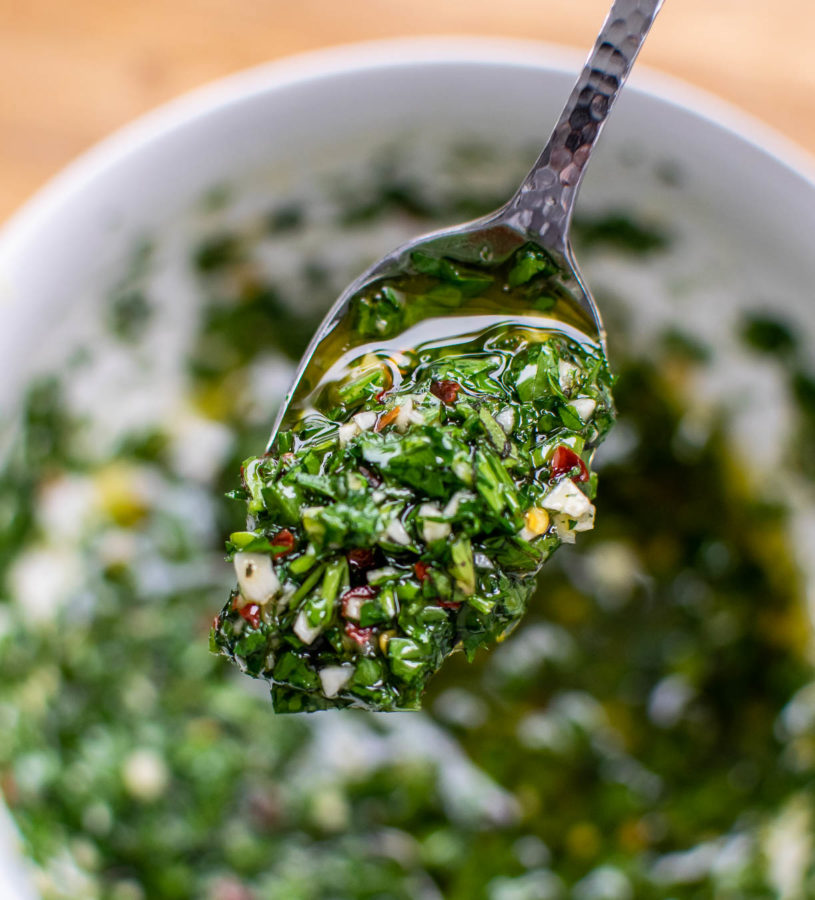 Chimichurri Sauce (No Cilantro) FAQ
What should I serve with chimichurri?
Chimichurri is traditionally served with steak, but it is incredibly versatile. Try it with grilled chicken, seafood, or vegetables.
How long does chimichurri keep in the refrigerator?
Many sites will tell you that chimichurri will last up to 2 weeks in your refrigerator. I prefer to eat chimichurri within a few days of making it so that the flavors stay fresh and the garlic doesn't become to strong. 3-5 days would be my suggestion!
Does chimichurri have cilantro in it?
Nope! Traditional chimichurri does not include cilantro, but you can add it if you want!
Is chimichurri spicy?
The red pepper flakes in chimichurri give it a nice little kick, but it's not overly spicy. Feel free to add as much or as little as you like!
Can I use a food processor to make chimichurri?
Chimichurri is supposed to be a roughly chopped sauce, not a pureed one. You can use a food processor, but your chimichurri will lose it's texture.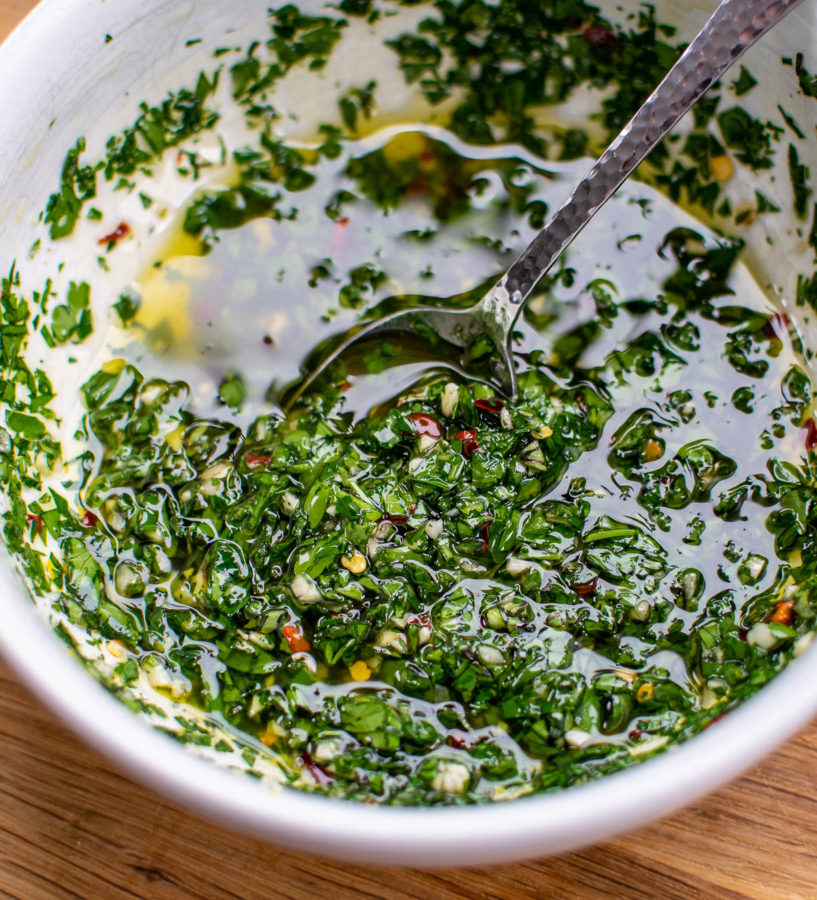 I hope you love this simple recipe! If you want to, double the recipe to use on dinners throughout the week.
You might also like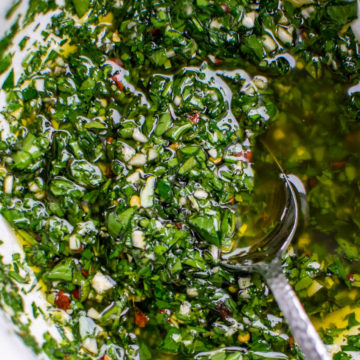 Chimichurri Sauce (No Cilantro)
This classic Argentine sauce is bright, fresh and easy to make! The perfect pairing to meat, fish and vegetables.
Ingredients
½

Cup

flat leaf parsley

roughly chopped

1

Tablespoon

fresh oregano

finely chopped

3

Cloves garlic

finely minced

⅓

Cup

olive oil

2

Tablespoons

red wine vinegar

1

Teaspoon

red pepper flakes

¼

Teaspoon

kosher salt

½

Teaspoon

lemon zest

optional
Instructions
Add the chopped herbs and garlic to a bowl and then pour the oil and vinegar over them. Add the red pepper, salt and lemon zest (if using) and stir until well combined.

Let the chimichurri sit for 15 minutes before using, so that the flavors can meld. Taste and adjust seasoning to your preference.

Serve with steak, chicken, fish or veggies!