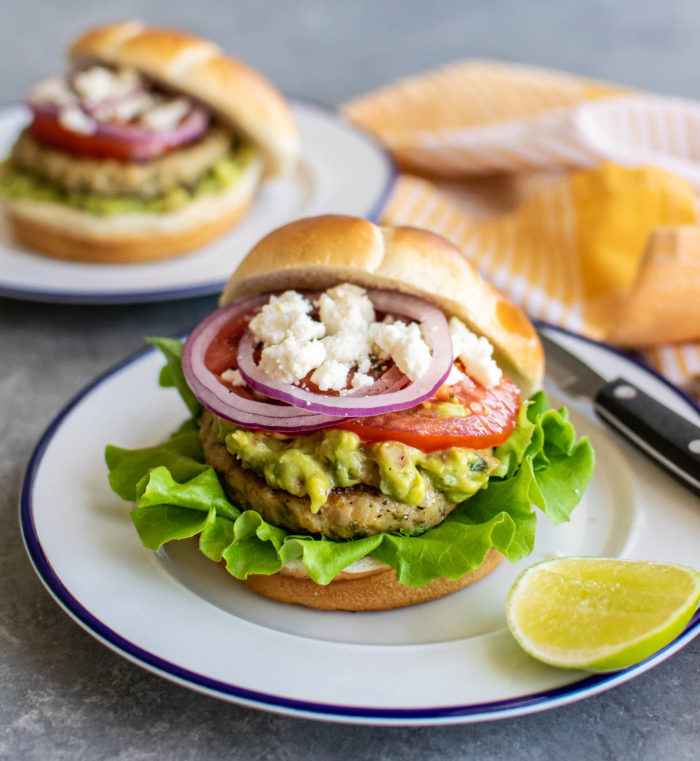 Flavorful chicken burgers with all the toppings that take only minutes to make? Sign me up! These Jalapeño Cheddar Chicken Burgers are perfect for an easy (and healthy!) backyard get together.
I was so excited to be able to get a "first taste" package of al fresco's newest product line–chicken burgers! I have been a huge fan of al fresco products for a while and used them in many of my recipes. I love the addition of their new chicken burgers for an easy and healthy take on burger night!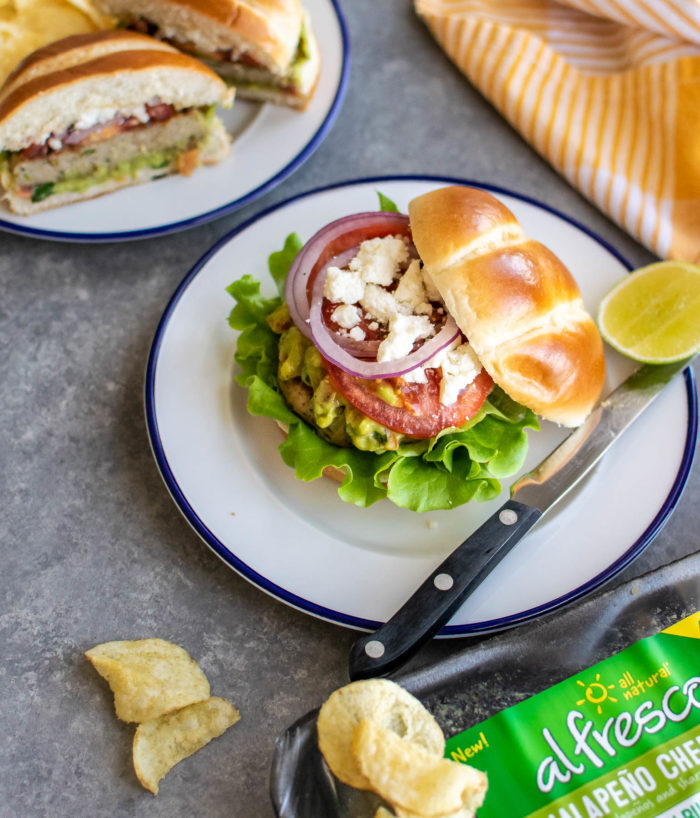 *This post may contain affiliate links. See disclosure for further details.
When I first tasted these burgers, I was surprised by how juicy they were! Let's face it, sometimes chicken or turkey burgers can be a little bit dry and these were not at all. I loved how the Jalapeño Cheddar burgers had just the right amount of flavor. The cheddar is subtle and delicious, and you can taste the jalapeño, but they're not too spicy.
The burgers were a hit with me so I decided to test them out on Larry and a couple friends!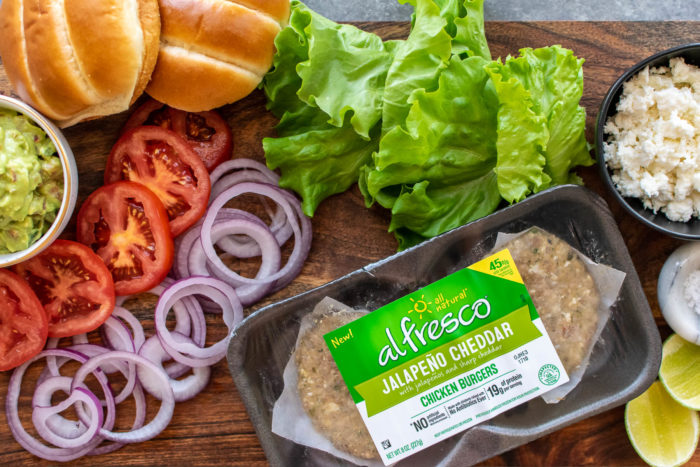 I like to put a bunch of toppings out for people to customize their own burgers, like a burger bar! I decided to keep my toppings in line with the flavor profile of the burgers—some fresh guacamole and mild Queso Fresco were perfect with these chicken burgers and didn't overpower the jalapeño cheddar flavor. Then I added the usual burger suspects, lettuce, tomato and onion. I always like to season the tomatoes with a bit of salt and pepper, and in this case, a squeeze of lime. Delicious!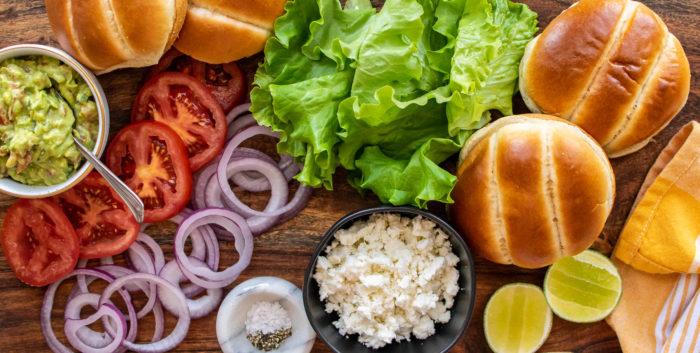 One of the things I love most about these chicken burgers is that they cut prep time by so much. Since they're already perfectly seasoned and formed into patties, all you have to do is cook them! I don't have an outdoor grill (one day!) so I cooked them in my cast iron grill pan for a similar grilled flavor. They only need about 4 minutes on each side and they're ready to go!
I prepped all of the toppings for the burger bar before cooking the burgers so everything would be ready to go all at once. Then I sprayed my cast iron pan with a light layer of olive oil and cooked the burgers over medium high heat, flipping once. While the burgers cooked, I toasted the buns in the toaster. If you're making your burgers on the grill, you can toast the buns right on the grill when the burgers are almost done. Then I put out the toppings platter and served up the burgers. Spoiler alert: everybody loved them!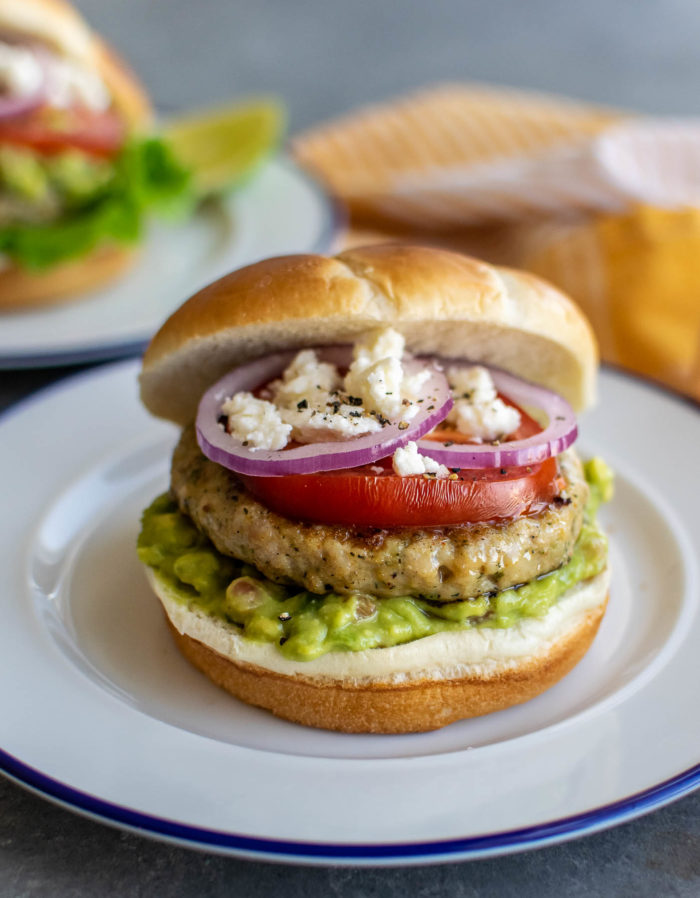 Along with the Jalapeño Cheddar, I tried al fresco's Simply Seasoned and Greek Style chicken burgers. The simply seasoned (with sea salt and cracked black pepper) is the perfect base for classic burger toppings or to customize to your liking—it literally goes with anything! The greek style (with oregano, garlic, and feta) were fun and flavorful! Next time I make them, I'm planning on topping them with an arugula salad, tomato and a greek yogurt sauce. Yum! These new chicken burgers will definitely be in the weeknight line up from now on.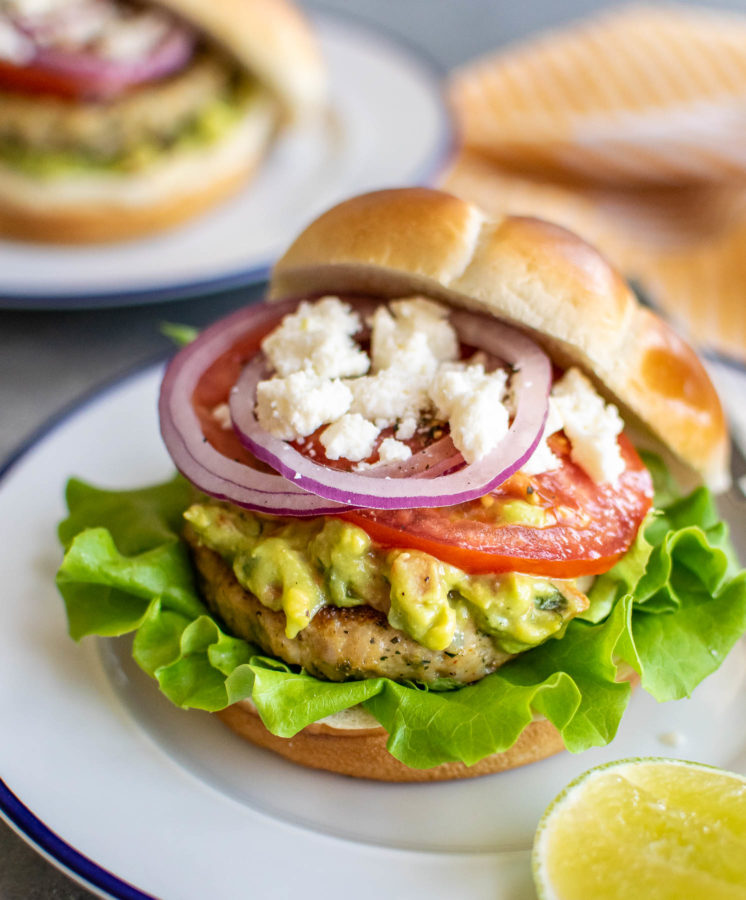 I'm super excited about this new al fresco's new chicken burger line so be on the look out for them in stores so you can try them yourself! In the meantime, I've linked some of my other recipes using al fresco products below!
Thank you, al fresco, for sponsoring this post and supporting Carolyn's Cooking! As always, recipe, photos and opinions are my own.
You might also like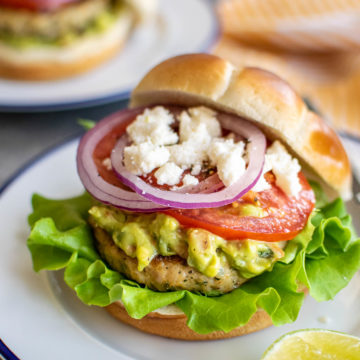 Jalapeño Cheddar Chicken Burgers
These Jalapeño Cheddar Chicken Burgers are perfect for an easy (and healthy!) backyard get together.
Ingredients
For the burgers
Olive oil spray

4

al fresco Jalapeno Cheddar Chicken Burgers

4

Buns

lightly toasted
Topping ideas
Tomato

sliced

Red onion

sliced into rings

Lettuce

Guacamole

Queso Fresco

crumbled

Lime wedges

Salt and pepper
Instructions
Prep the toppings for the burger bar and arrange on a platter.

Heat a cast iron grill pan or grill to medium high heat and spray lightly with olive oil. Cook the burgers for 4-5 minutes on each side or until internal temperature reaches 165 degrees.

While the burgers are cooking, toast the buns.

Use the toppings to customize the burgers to your liking.