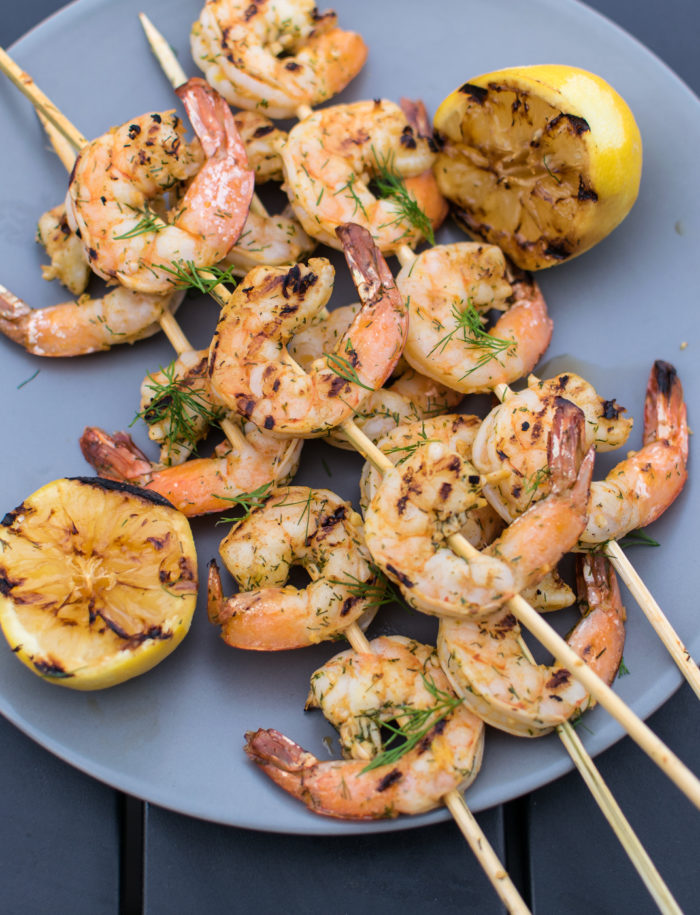 What's better than a couple grilled shrimp skewbobs in the summertime? Not much! Especially if you call them skewbobs, but that's just my opinion.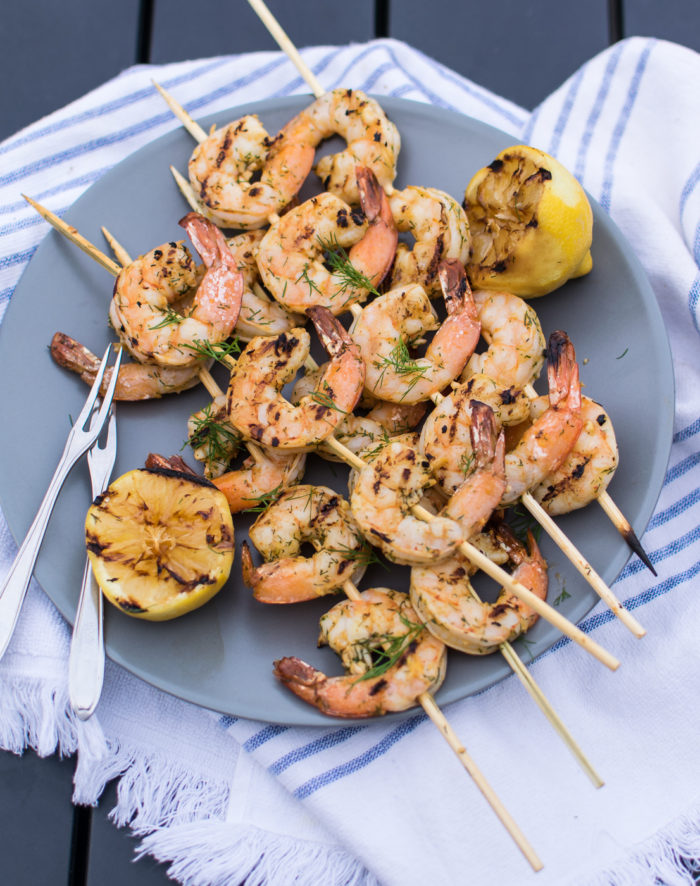 *This post may contain affiliate links. See disclosure for further details.
In all seriousness though, how good are Shrimp skewers in the summer?! I am requesting that all my meals, no matter what they are, be skewered and grilled in the summer. That's that. Since it's finally starting to get warm in Chicago (I hope I don't jinx it) it's time to eat all the summery things!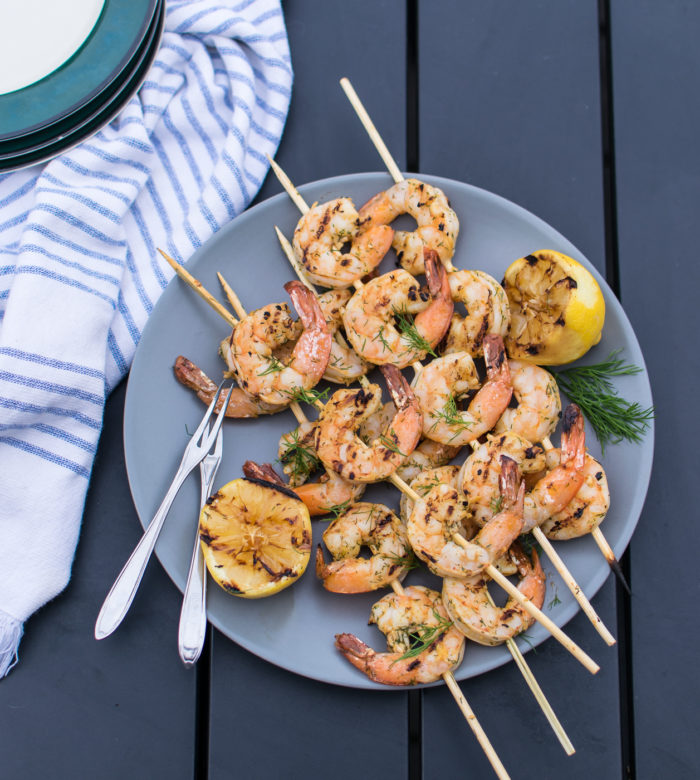 Truth is, I don't actually have a real, real grill. I can thank apartment living for that. So I use a grill pan. I recently bought a big reversible grill/griddle that has been a total game changer and puts my little old grill pan to shame. This new one fits over two burners on the stove and doesn't have sides so I can finally fit some freaking skewers on there! Naturally, that's the first thing I did. I have no idea why it took me so long to buy the new grill pan (it had been sitting in my shopping cart for almost a year!) but I'm so glad I finally pulled the trigger. I can't wait to grill all the things! I linked the exact one I bought, and a similar one below if you're interested.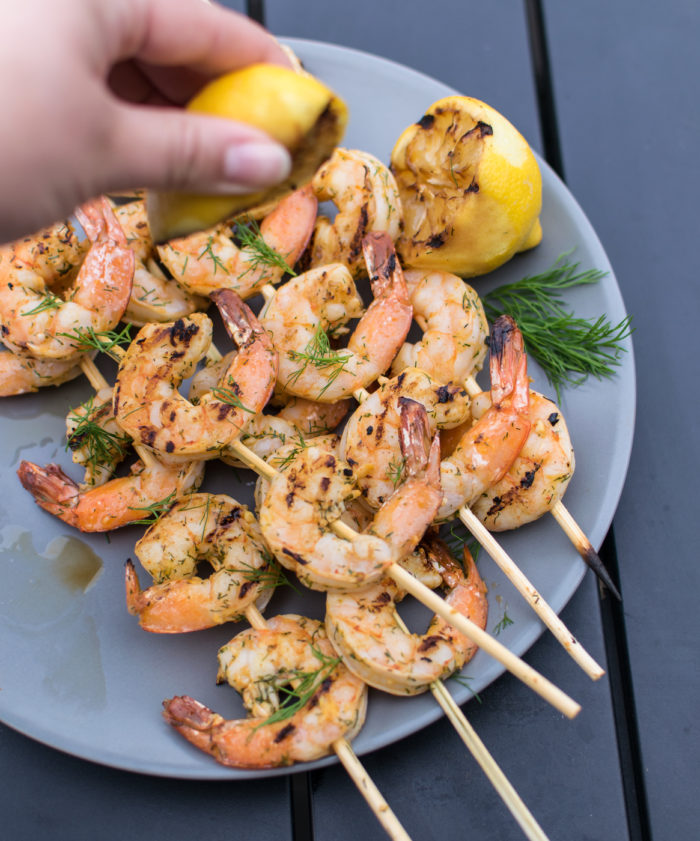 Whether you're using a grill pan or real grill, these shrimp skewers are so easy and fast to make! They *literally* only take a few minutes to cook and before that, they'll just need a little marinating to make sure they're super flavorful. Speaking of the marinade, it's mostly simple—dill, lemon, garlic—but add in some smoked paprika and a little cayenne? Whoa. Turns out, smoked paprika and dill are seriously awesome together.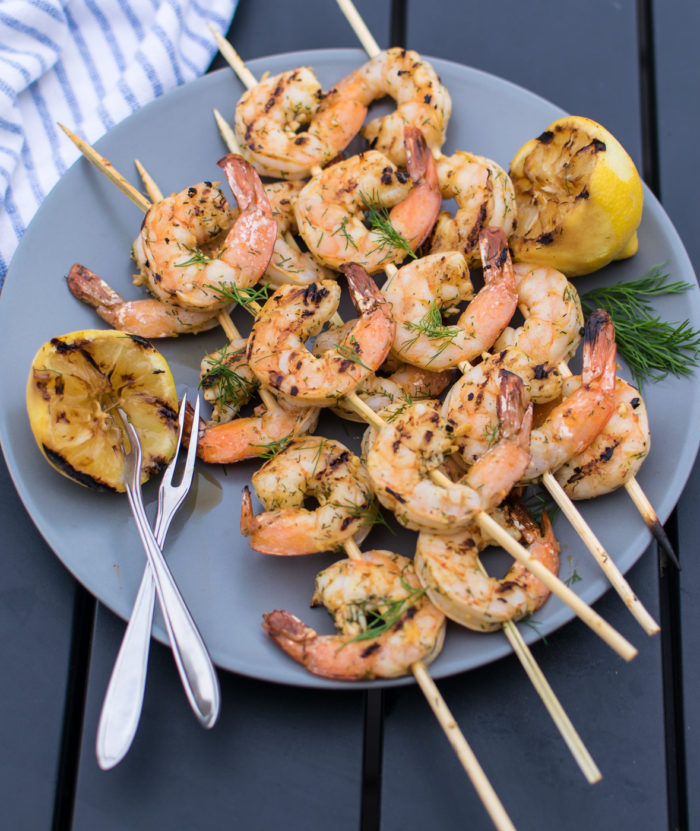 Grab a resealable plastic bag, add all the ingredients for the marinade and the shrimp. Marinate the shrimp for 30 minutes to an hour- don't go over an hour, or the lemon will start to cook the shrimp. Don't forget to soak the skewers (if you're using wooden ones) before grilling. I like to do this while I'm marinating the shrimp so everything is ready at the same time.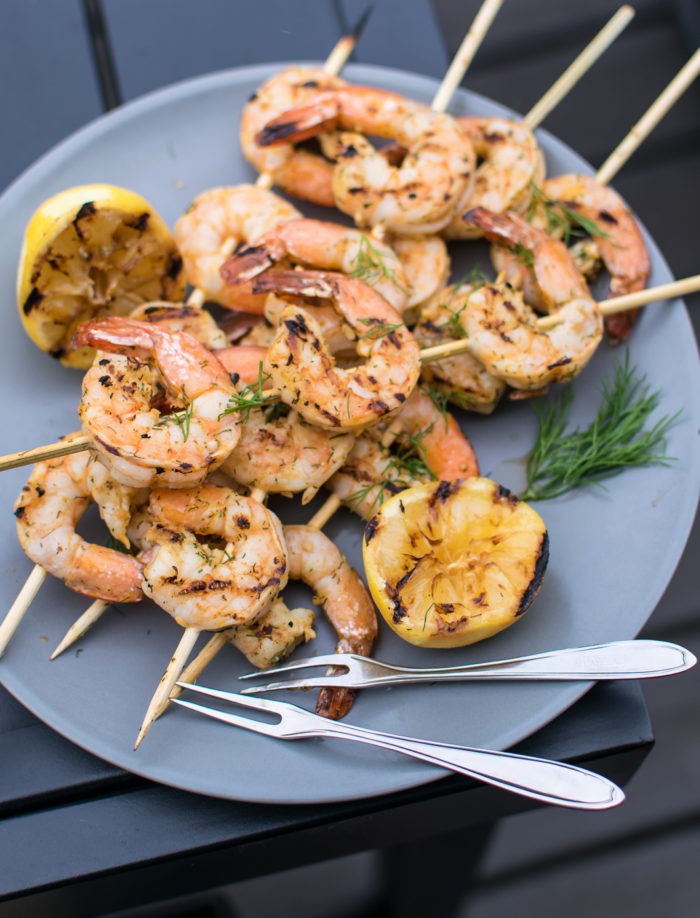 While you're grilling things, cut a lemon or two in half and grill those guys, cut side down, too. Grilling the lemon gets the juices flowing so they'll be peak for spritzing. Plus, they look cool—and that's important.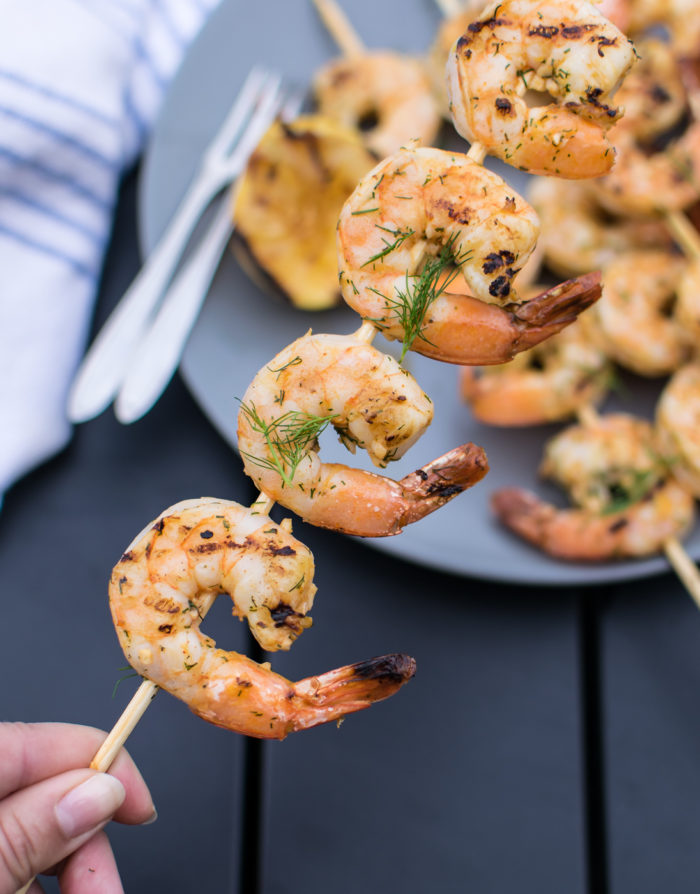 Serve these skewbobs up at your next barbecue—skewers make great party food—or just for a family dinner! Since they're so easy and quick, they're super versatile. These would be so good with some herbed rice or cauliflower rice. A little side salad, you're in weeknight dinner business.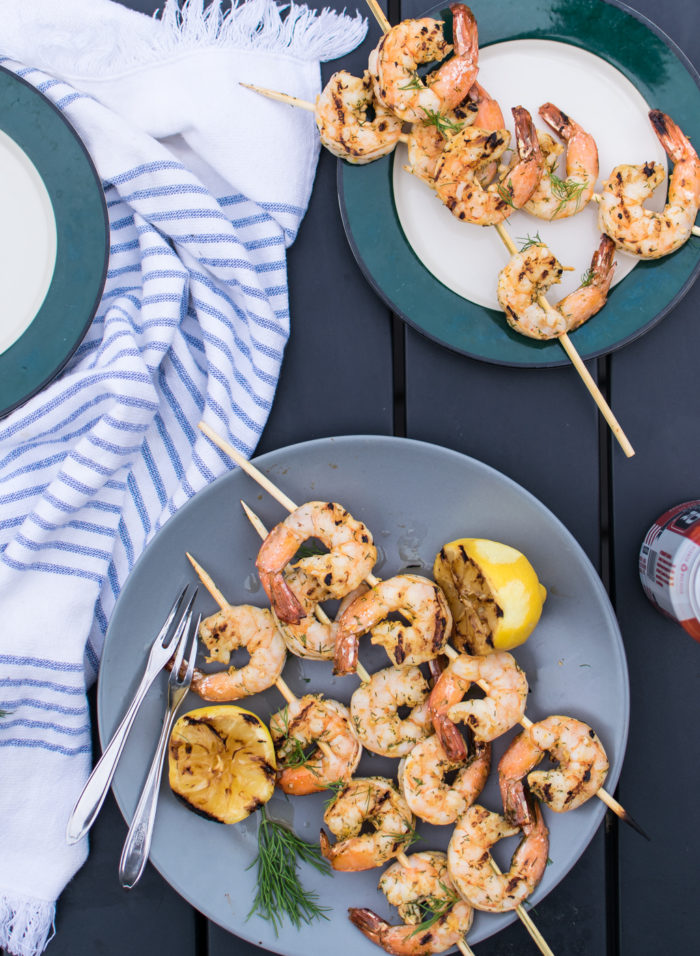 If you need any evidence as to how drool worthy these shrimp are, look no further than this next photo. I was babysitting these sweet pups, Boston and Fenway, at the time I was shooting this recipe and they were verrryyyy interested in the photo shoot. As you can see, Fenway is literally licking her chops! Yes, I know they are dogs and dogs can salivate over a dirty sock, but I promise you'll be licking your chops over these shrimp too!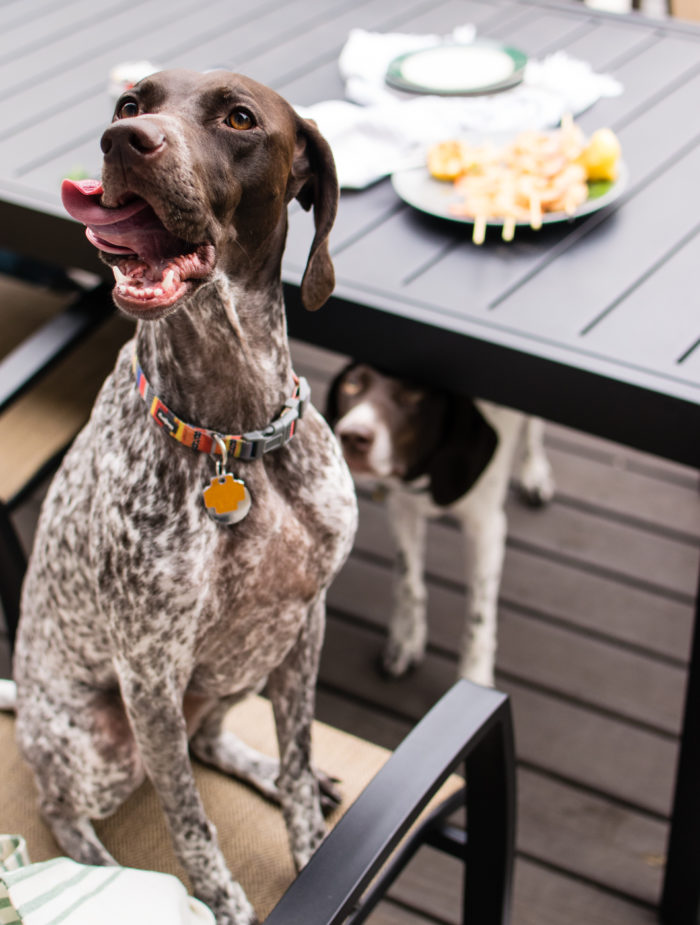 Anyway, that's enough rambling. I've shared a great recipe, I've showed you some adorable pups. Now go, make the shrimp, and enjoy grilling season!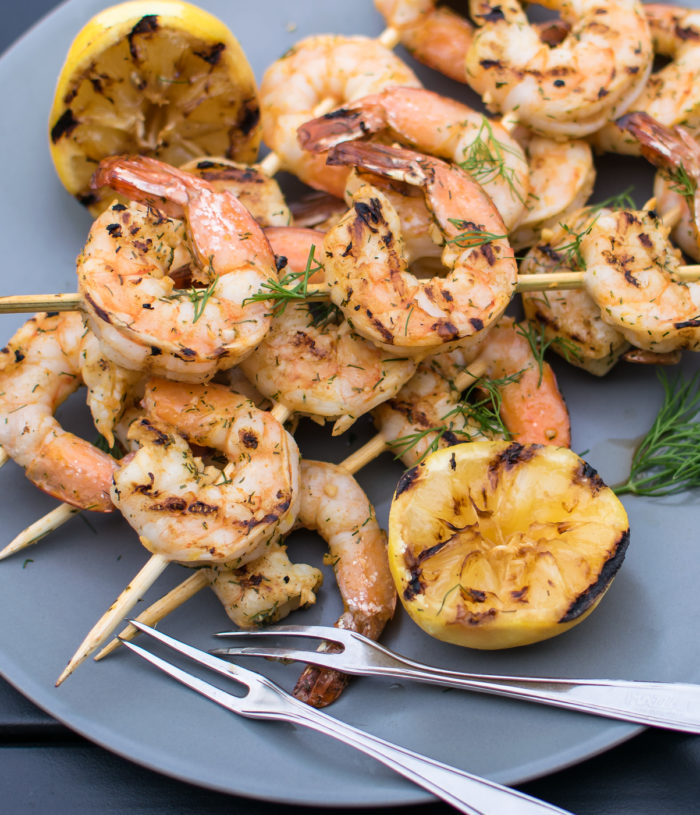 You might also like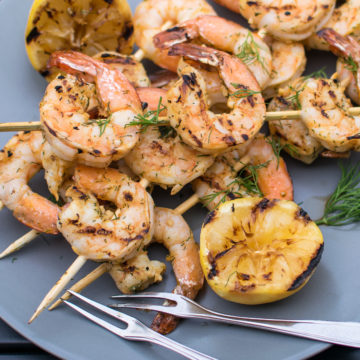 Grilled Dill Shrimp Skewers
What's better than a couple grilled shrimp skewbobs in the summertime? Not much!
Ingredients
For the shrimp
¼

Cup

olive oil

3

Cloves garlic

minced

3

Tablespoons

lemon juice

2

Tablespoons

fresh dill

finely minced

1

Teaspoon

lemon zest

¾

Teaspoon

smoked paprika

¾

Teaspoon

kosher salt

⅛

Teaspoon

sugar

⅛

Teaspoon

cayenne

1

Pound

large raw shrimp

peeled and deveined (about 20 shrimp)
Other
5

Bamboo skewers

soaked in water

1-2

Lemons

cut in half for grilling

Fresh dill

for garnish
Instructions
In a large resealable plastic bag, add all of the ingredients for the marinade and then add the shrimp. Seal and shake the bag so that the shrimp are coated evenly. Let shrimp marinate for 30 minutes to 1 hour.

Meanwhile, fill a shallow baking dish with a few inches of water and add the wooden skewers to it. Soak the skewers for at least 30 minutes.

Thread the shrimp onto the skewers, about 4 per skewer. Heat the grill or grill pan to high. Grill the skewers for about 2 minutes on each side or until opaque and pink.

Serve with grilled lemons and more dill for garnish.

Enjoy before the dogs steal them off the table!