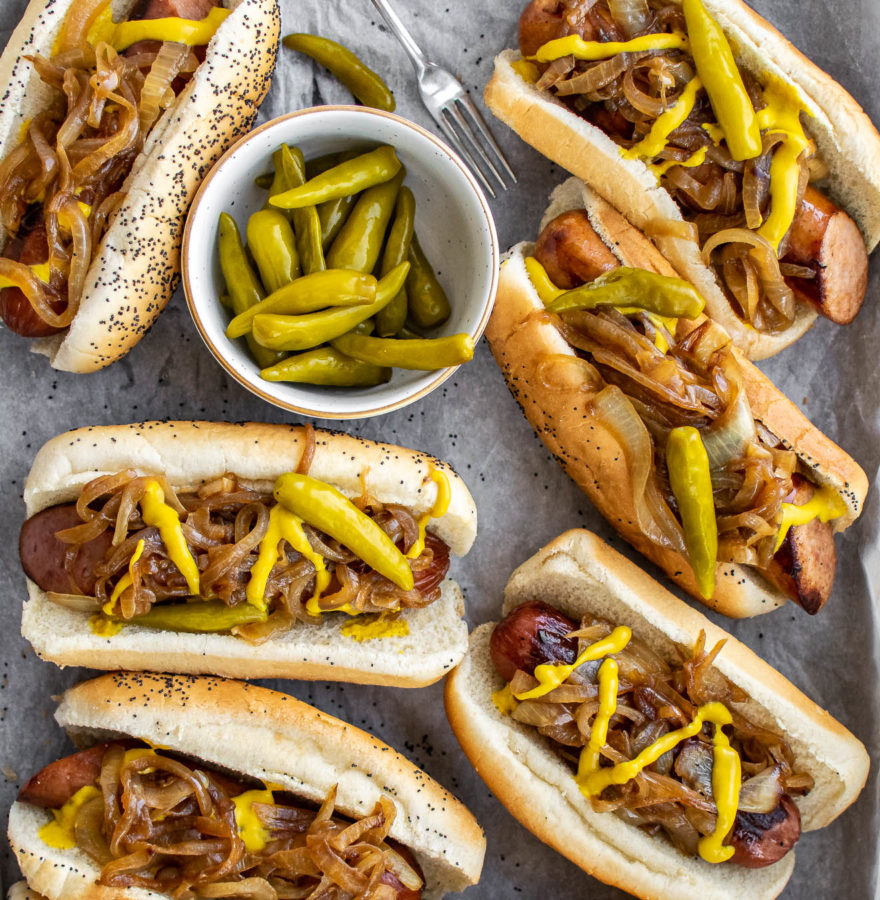 You've likely heard of a Chicago Style Hot Dog, but have you heard of a Maxwell Street Polish? This Chicago classic consists of grilled or fried polish sausages topped with yellow mustard, sweet grilled onions, and spicy sport peppers on a bun.
I'll show you how to make it just right!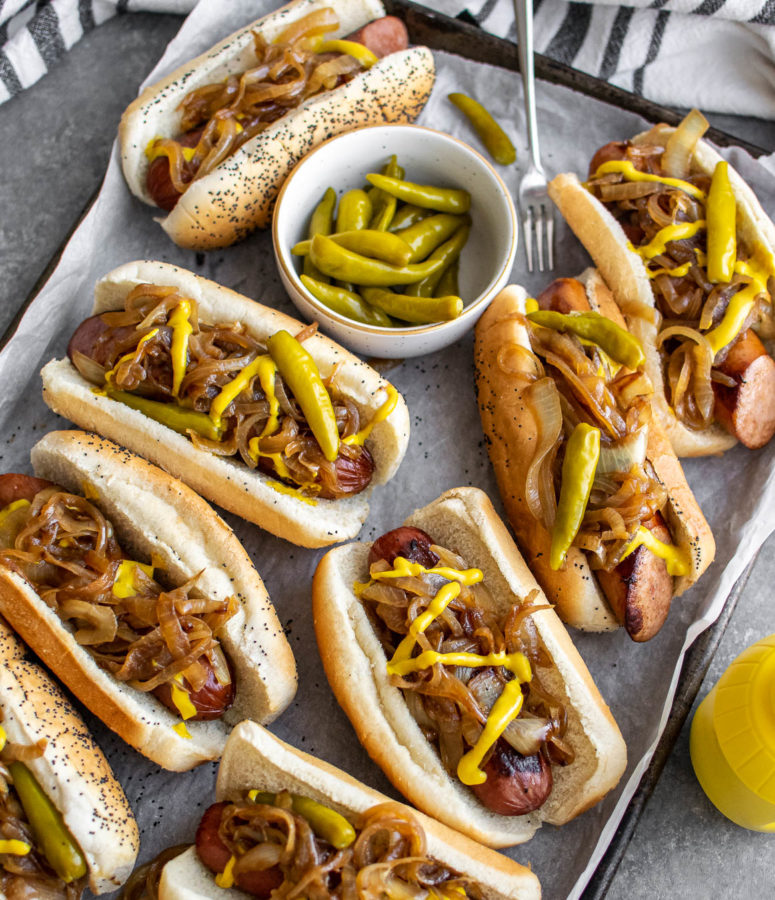 *This post may contain affiliate links. See disclosure for further details.
What is a Maxwell Street Polish?
A Maxwell Street Polish (I will be referring to them as "MSP" for the remainder of this post as I am simply too lazy to keep typing the entire name out) is a Chicago staple. A polish sausage topped with yellow mustard and grilled onions and served on a steamed bun. Spicy pickled sport peppers are also an optional add-on that I think shouldn't be missed.
The MSP was invented in 1943 by a man named James "Jimmy" Stefanovic at Jim's Original. Jimmy immigrated to America from Macedonia in 1939 and took over his aunt's hot dog stand on the corner of Maxwell and Halsted streets. After creating the Maxwell Street Polish, Jim's Original became famous! Jim's Original is no longer located on Maxwell street, but is still home to the original MSP. These days you can buy a MSP from any hot dog stand in the city and it's one of Chicago's most popular street foods.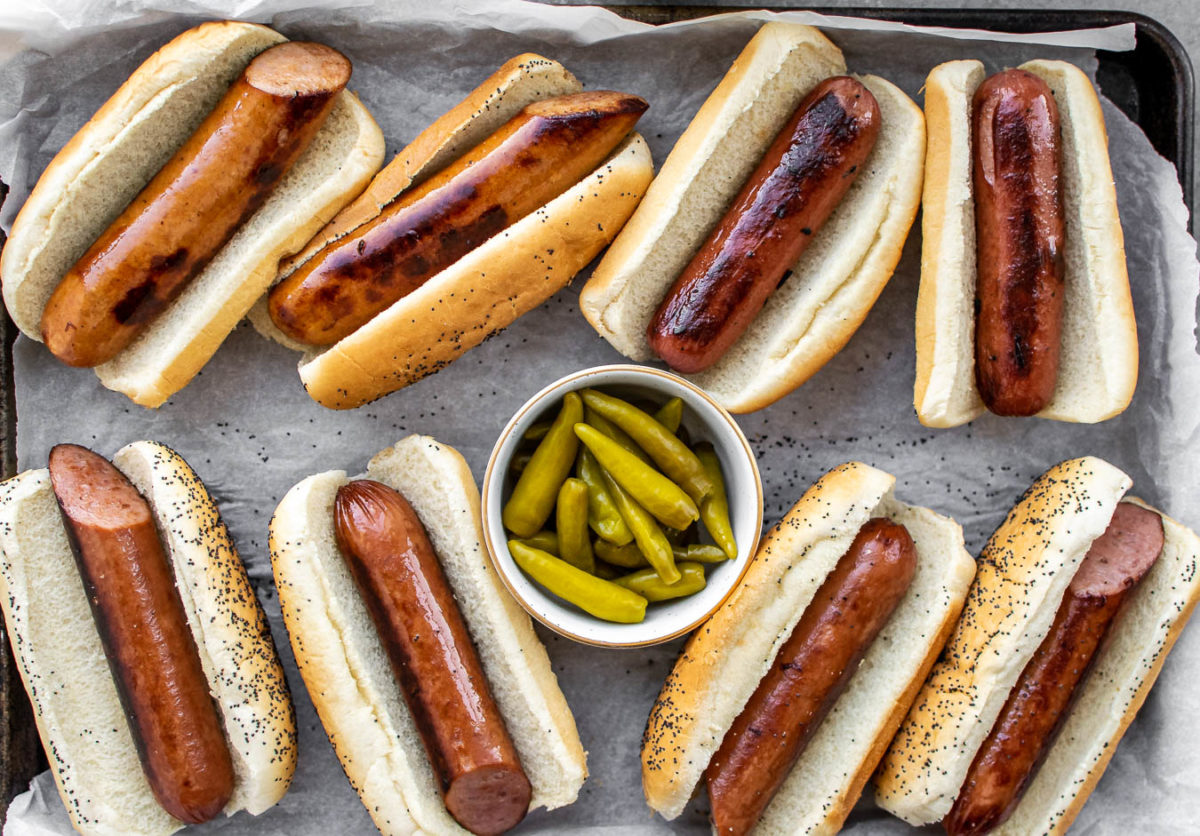 What is a Polish Sausage?
Polish sausage is a catch-all term referring to smoked sausages. The word kielbasa is often used in its place, even though "kielbasa" translates to "sausage" in the Polish language. Kielbasa can be smoked, fresh, or cured, but most Polish sausages that can be found in the US are made with pork, beef, or a comination of both and are smoked.
While I was testing this recipe, I realized how many types of Polish sausage there are. The MSP at Jim's Original is a smoked pork and beef sausage, so I knew I would be using those, but I wanted to try the others for my own curiosity. And for deliciousness. So I did what any normal person would do and bought 3 types of Polish sausage! All pork, all beef, and pork and beef. You can see the different types of sausages in the photo above. Top left is all pork, top right all beef and pork and beef at the bottom. Here are my findings:
All pork: Pretty tasty but on the blander side.
All beef: Too salty and overpowering.
Pork and beef: Perfect! Not too intense, not too bland. I liked the flavor and texture of this one the best.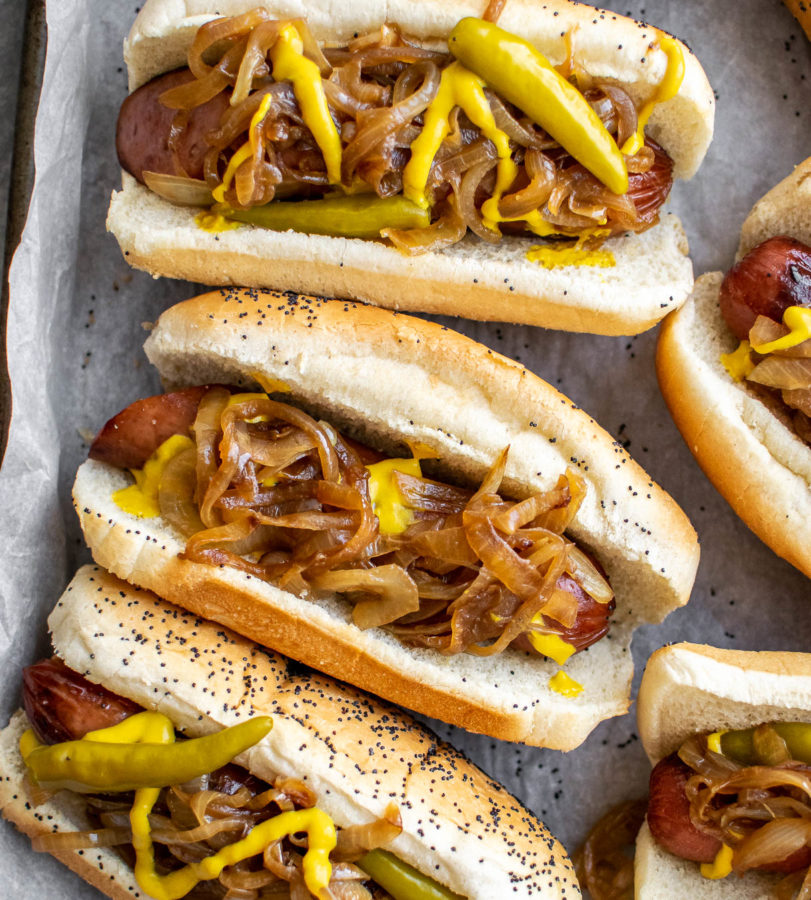 How do I cook polish sausages?
Easy! Most Polish sausages found in grocery stores are pre-cooked and smoked, so all you'll have to do is add them to a hot skillet for a few minutes to warm them through and get a nice crisp on the outside. You can also grill them if you want!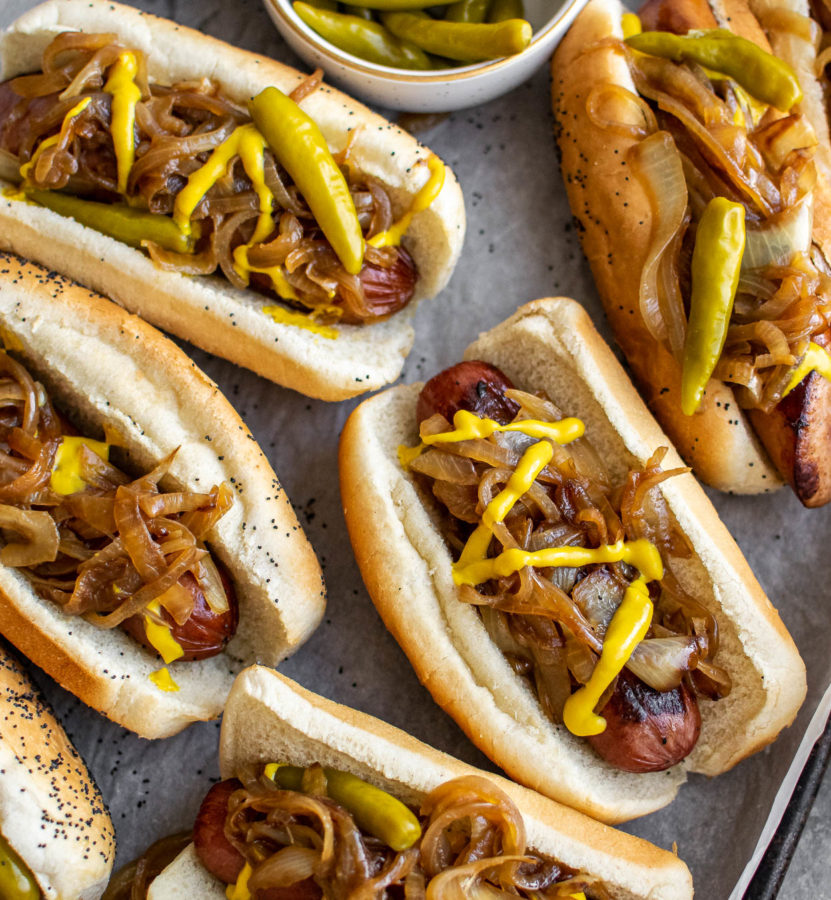 What about the toppings?
Fried onions. Yellow mustard. Sport peppers. That's it!
The onions are really easy to make, but they take about 20 minutes so cook them first! You'll fry the onions in a little oil until they become translucent and browned. The onions end up being somewhere between fried and caramelized. So delicious!
The MSP is served with yellow mustard. You can try it with other types, but it won't be the same!
Sport peppers are small, spicy pickled peppers that you'll always find on a Chicago style hot dog. They are optional for MSP, but I think you should definitely opt in! You should be able to find sport peppers in most grocery stores near the pickles. If you can't find them, pepperoncini will do in a pinch or you can order them online!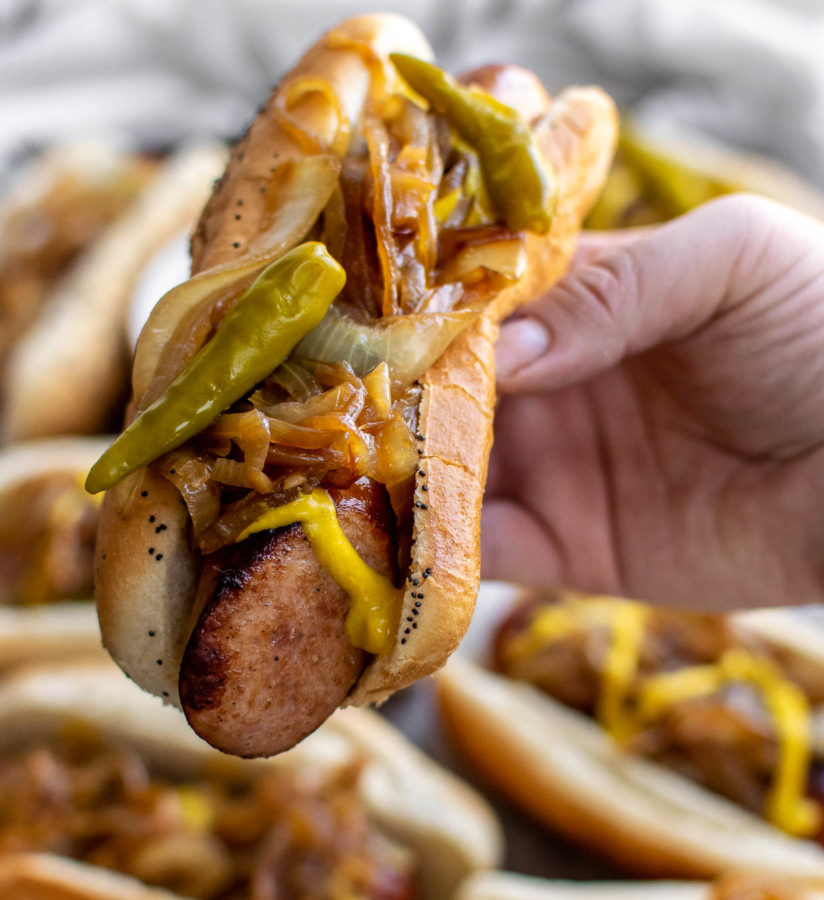 The Maxwell Street Polish takes just a few ingredients for a BIG flavor payoff, and they couldn't be easier to make! Instead of hot dogs, serve up the famous MSP at your next get together! You won't be disappointed.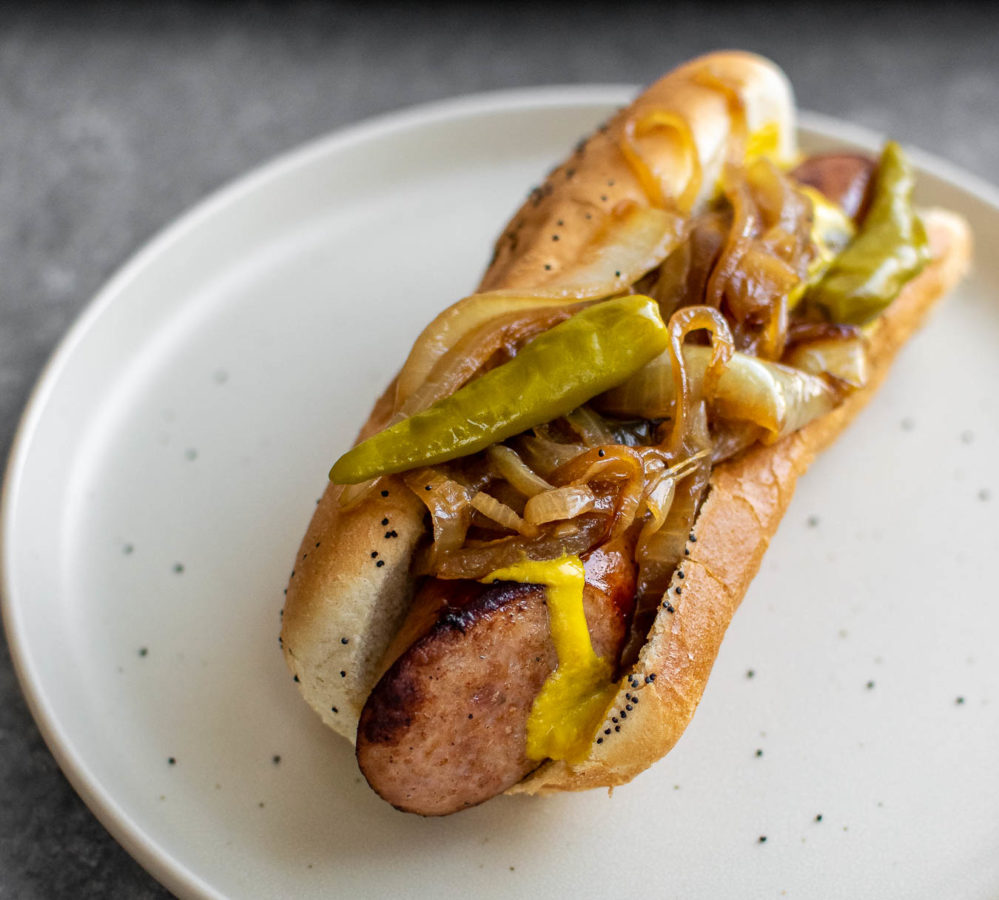 Frequently Asked Questions
What type of Polish sausage?
The original MSP is made using a smoked pork and beef sausage, but you can use whichever type you like best. I tried all pork, all beef, and pork and beef. I liked the pork and beef combo the best!
Poppy seed or plain buns?
This is a personal preference! The Original MSP from Jim's Original uses plain buns, but many other places in Chicago use poppy seed. I prefer poppy seed!
What type of mustard?
Yellow! Yellow mustard is the classic choice for this Chicago staple, but it would be tasty with spicy brown or coarse mustard as well.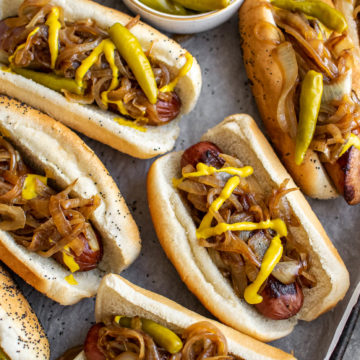 Maxwell Street Polish
This Chicago classic consists of grilled or fried polish sausages topped with yellow mustard, sweet grilled onions, and spicy sport peppers on a bun.
Ingredients
For the onions
2

Tablespoons

Oil

1

Large yellow onion

thinly sliced

Kosher salt

to taste
For the sausages
2

Tablespoons

oil

8

Polish sausages

8

Poppy seed or plain hot dog buns

Yellow mustard

Picked sport peppers

(optional)
Instructions
Make the onions. In a large nonstick skillet, heat the oil over medium heat. Add the onions and let them sit for a few minutes to develop some color, then stir. Continue cooking, stirring occasionally, until the onions are browned and translucent, but not quite caramelized. About 20 minutes.

Remove the onions to a bowl and cover with foil to keep warm. In the same pan that the onions were cooked in, heat the additional 2 tablespoons of oil and add the sausages. Working in batches, cook the sausages for 5 minutes on each side, until browned and crisp.

Place the buns on a plate and cover with a damp paper towel. Microwave for 15-20 seconds until warmed and steamy.

Add a sausage to each bun and top with the onions, yellow mustard and sport peppers, if using.
You might also like