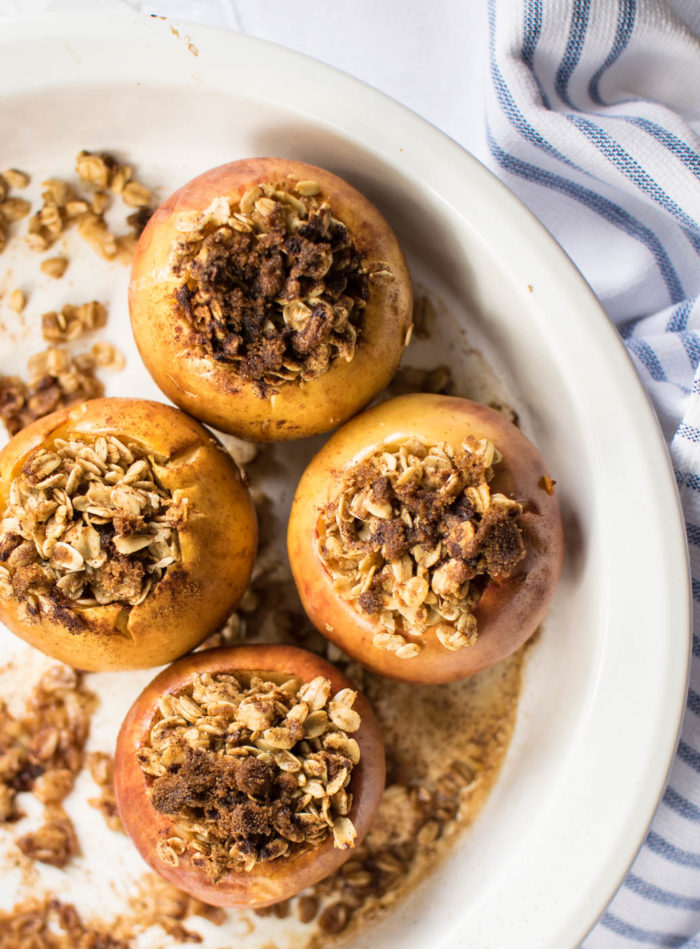 Hey! Were you just headed out to buy a fall scented candle? Scratch that off the to-do list and make these instead. These baked apples make your house smell INCREDIBLE. Oh, and they're seriously delicious too. May I introduce: Sweet and Salty Oatmeal Baked Apples.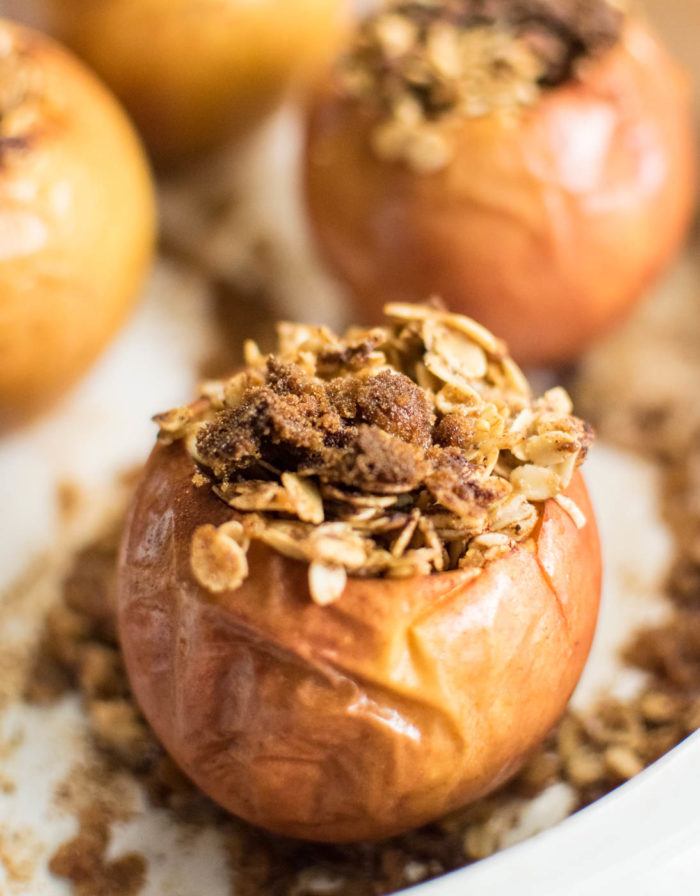 *This post may contain affiliate links. See disclosure for further details.
This recipe is one of my favorites for fall because it's so cozy and festive. I like to make these for friends and pretend that I went out of my way to make something super special and complicated when, really, it took almost no effort at all. Oops, I definitely just outed myself there but, it's for a good cause! I think I'm going to make these for a pumpkin carving party this year and then I'll be able to get out of the scooping job like, "You guys, I made the baked apples so you have to scoop the pumpkins. It's only fair!"
*Points to head, "Not just a hat rack."*
Now, I don't have much of a sweet tooth but I do like a good dessert every now and then, it just can't be too sweet. These are perfect because they're just the right amount of sweet! AND just a little bit salty. That mixed with the tartness of the apple and the warmth of the allspice and cinnamon?! Actual heaven (if you imagine heaven to be a perpetual cycle of autumnal treats.)
I love the little salty kick in these apples and don't worry, it's super subtle! But, if you think the salt from the butter is enough for you, you can leave out that extra pinch of salt. As always, you do you.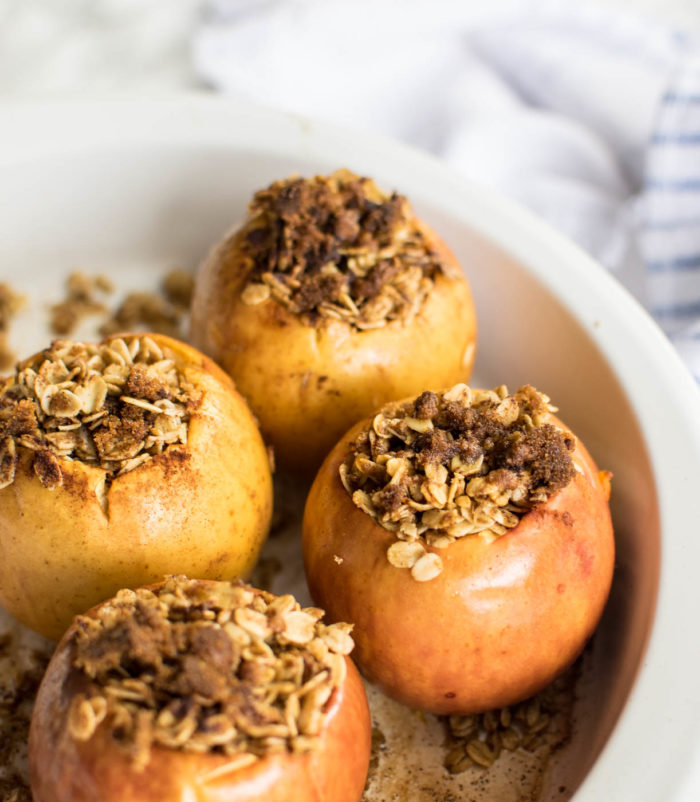 And the best part, these are super easy to make! Honestly, the hardest part of this recipe is waiting for them to be done baking. But then again, the longer they bake, the better your house smells sooooo really, it's a win-win. Best to let them do their thing in there.
When you're coring the apples, you'll want to hollow the apples out a bit wider than the core. Imagine an apple bowl, if you will. That apple bowl will hold all that oatmeal goodness which in my opinion, is the best part, the more room in the apple, the more room for oatmeal. Of course, you'll still want to have enough apple left so finding the ideal ratio of apple to oatmeal is important. Make sure not to cut all the way through the bottom of the apple—you don't want the juices leaking out into the pan!
The apples are ready to eat right when they come out of the oven but, if you want to kick it up a notch, topping them with walnuts and maple syrup is really delicious! My brain also tells me that vanilla ice cream would be good with these but, since I'm not a vanilla ice cream kinda gal, I cannot confirm such suspicions.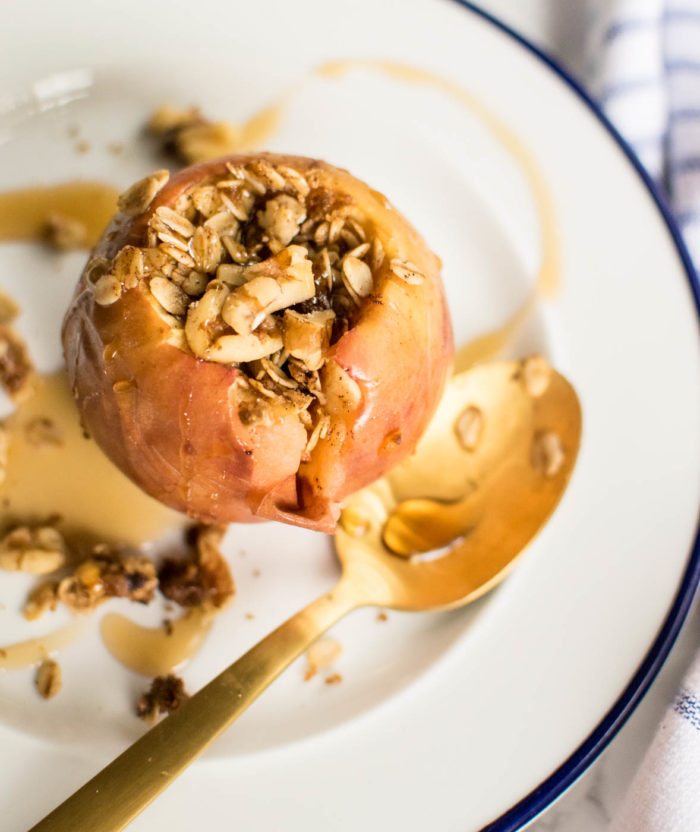 Alright, pop those babies in the oven! Let me know how you like this recipe or if you have any fall favorites of your own to share in the comments below!
You might also like
Sweet and Salty Oatmeal Baked Apples
This recipe is a fall favorite! These baked apples are cozy, delicious, and make your home smell like fall!
Ingredients
4

Gala or other baking apples

cored

1

Cup

oats

3

Tablespoons

salted butter

plus more for topping

1

Tablespoon

brown sugar

plus more for topping

½

Teaspoon

cinnamon

plus more for topping

¼

Teaspoon

allspice

⅓

Cup

water

plus more for baking

Pinch of salt

optional

Maple syrup

optional

Walnuts

optional
Instructions
Pre heat the oven to 375.

In a non stick pan, heat the butter over medium low heat. When the butter is melted, add the oats, brown sugar, cinnamon, allspice and a small pinch of salt if using. Stir to coat the oats in the butter and spices. Add the water to the pan, stir and cook until water is absorbed by the oats. The oats should be softened but not completely cooked; about 3-5 minutes.

Stuff each apple with the oat mixture then place a small pat of butter on top of the stuffed apples and sprinkle with more brown sugar and cinnamon.

Place the apples in a baking pan with ⅛ of an inch of water in the bottom and bake for 45 minutes to an hour.

Use the baked apples to get out of any seasonal chores your friends may ask you to do.