This zucchini bread is so flavorful and so easy to make! It's perfect to make during the summer, when zucchini is in abundance, but you can definitely make it year round as well. If you grow your own zucchini, I can't think of a better way to use it all up than to make this bread!
Since there's zucchini in this bread, it's a health food, right? Basically, this bread is a salad. More salads should come in bread form, if you ask me. This one is especially delicious, because it's spiced!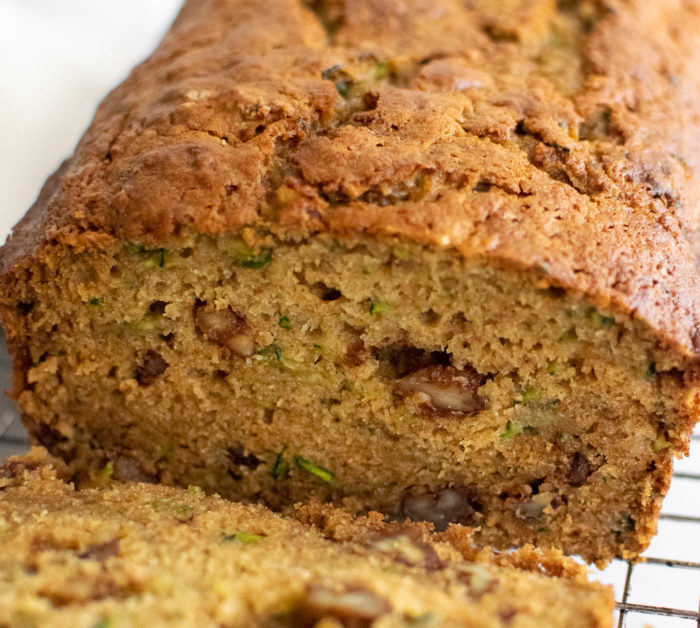 Sure, there's usually cinnamon in zucchini bread, but what makes this zucchini special (and mored spiced) is the addition of allspice and a little bit of cayenne pepper. The allspice gives this bread a warm, cozy flavor that's reminiscent of fall (hey, it's almost fall!) and the cayenne gives it a nice little kick. You wouldn't think that the small amount of cayenne in this bread would do much but really, it's not called a spiced bread for nothing! It's not spicy per se, but you can definitely taste that little kick of pepper and for lack of a better word, it's just fun! I also love adding some chopped walnuts to this bread but that's totally optional—up to you!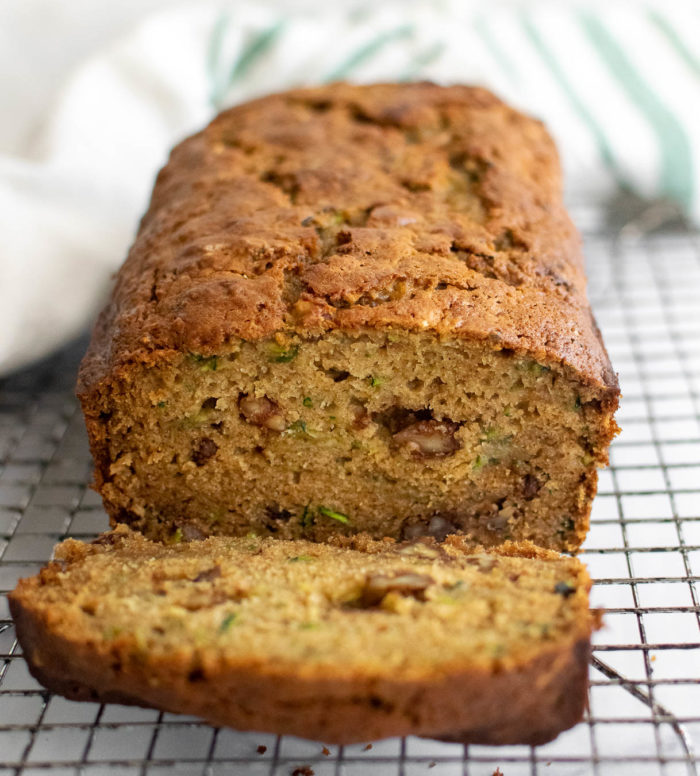 Somehow, this zucchini bread tastes even better the next day, if it lasts that long. It can be stored easily in an airtight container, left out on the counter. If you're like me, you'll be sneaking slivers of this bread all day. I just can't help it!
The goal for this bread is to make sure that it stays moist, but not undercooked. Using applesauce in the bread helps to keep the bread moist, but the real trick is checking the bread to see if it's done starting at the 45 min mark. The bread can take anywhere from 45 minutes to an hour but that depends on your oven (no two ovens are alike!) and the amount of moisture in your zucchini. Test the bread with a toothpick starting at the 45 minute mark and when the toothpick comes out clean, it's done!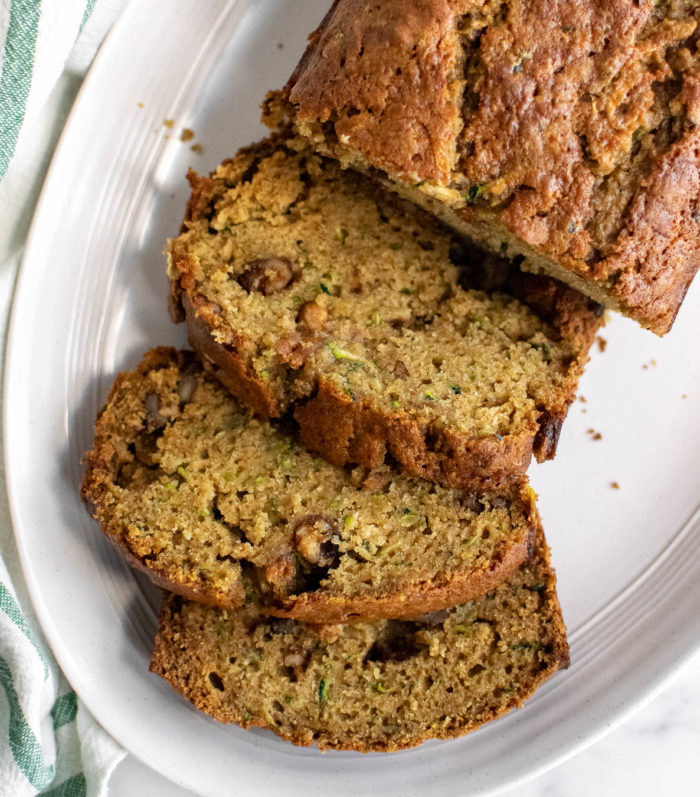 Now the hardest part: you have to let the bread rest! I know it can be tempting to slice into the bread right away, but you have to resist! Let the bread rest for 15-20 minutes on a cooling rack before slicing.
I like to eat this zucchini bread on it's own, but it's great with butter too. I hope you love it!
Recipe Summary
Spiced Zucchini Bread

Level:

Easy

Servings:

8

Ingredients:

2 Cups flour
1 Teaspoon kosher salt
1 Teaspoon Cinnamon
1/2 Teaspoon allspice
1/2 Teaspoon Cayenne
1 Teaspoon baking soda
1/2 Teaspoon baking powder
2 Cups grated zucchini, tightly packed
1 Cup brown sugar
3/4 Cup granulated sugar
1/2 Cup applesauce
1/2 Cup vegetable oil
2 Large eggs
2 Teaspoons vanilla extract
1/4 Cup chopped walnuts (optional)

Instructions:

Pre heat oven to 350 degrees. Grease a 9x5 loaf pan.
In a large bowl combine the flour, salt, cinnamon, allspice, cayenne, baking soda, and baking powder.
In another bowl, combine the zucchini, applesauce, eggs, vanilla extract, and oil. 
Add the dry ingredients to the wet ingredients and stir to combine.
Pour the batter into the loaf pan. Bake for 45 minutes to 1 hour, depending on your oven and the moisture content of the zucchini. Test the bread with a toothpick starting at 45 minutes, when the toothpick comes out clean, the bread is done. 
Let the bread cool on a wire rack for 20 minutes before slicing. Enjoy!