Holiday Antipasto Platter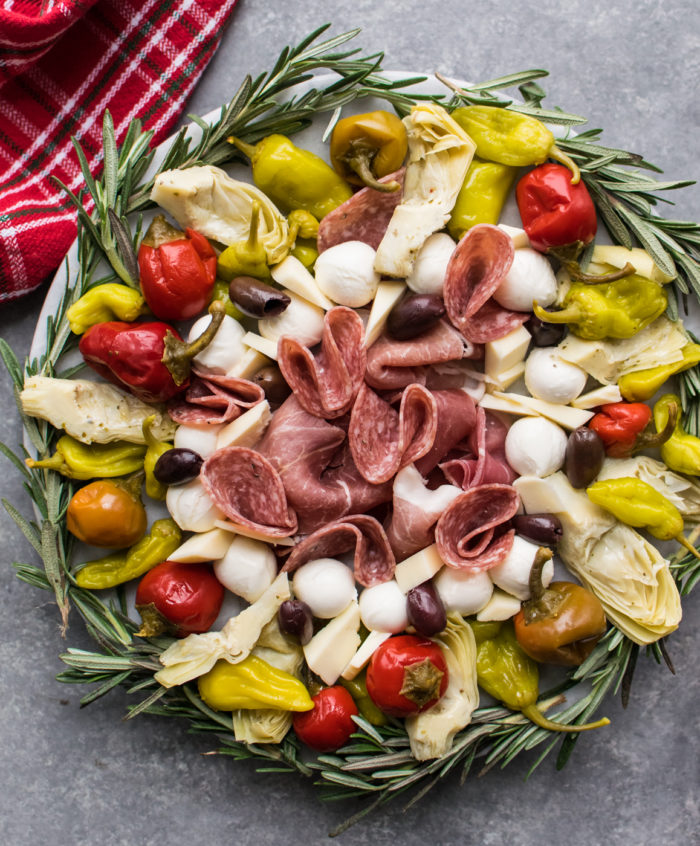 An antipasto platter is always a great idea for entertaining but around the holidays, it's the best! Adding rosemary around the edge gives it a festive wreath look!
When it comes to antipasti, which is the plural of antipasto, there are no real measurements. In fact, the ingredients are not set in stone either. Antipasto, which means "before the meal" in Italian, usually consists of cured meats, cheeses, pickled peppers and various vegetables.
I kept this platter fairly simple and chose red and green peppers to keep things Christmasy. I chose pepperoncini, sweet cherry peppers, kalamata olives, and marinated artichokes for the vegetables. I went with fresh mozarella and sharp provolone for the cheese and a pile of prosciutto and salami rounded things out!
Occasionally when I'm setting up an antipasto platter or cheese board, I use small bowls to keep certain ingredients like nuts or spicy peppers contained. On this platter, it's best to keep everything out of bowls because it all gets more delicious when it's sitting out together. Seriously, the juices from the peppers and artichokes get on the meats and cheeses and make them even better!
Because of all of those running juices, I would suggest skipping super spicy peppers for this platter unless you know all of your guests are okay with a little heat. I mean, imagine thinking you're just going to have a piece of cheese and then all of a sudden your lips are on fire? Don't set your guest's lips on fire, you know, unless that's what they want.
With no measurements and flexible ingredients, I'd say this is one of the most laid back holiday appetizers ever! I hope you'll give it a try this season!
Recipe Summary
Holiday Antipasto Platter

Level:

Easy

Servings:

10

Ingredients:

Pepperoncini
Sweet cherry peppers
Marinated artichokes
Kalamata olives
Fresh mozzarella ciliegine or bocconcini
Sharp provolone, cut into chunks
Prosciutto, thinly sliced
Italian dry salami
Fresh rosemary, for garnish

Instructions:

On a round plate or platter, arrange the meats in a pile in the center. Next, arrange the cheese around the meat and dot the olives over the cheese for texture. Finally, alternate the peppers and artichokes in a ring around the cheese. Tuck the rosemary around the outside of the platter for garnish.
Enjoy!